Rihanna's Performance At The Grammys Slammed On Social Networking As Ratings Plunge To The Lowest In The Show's History
February 2. 2018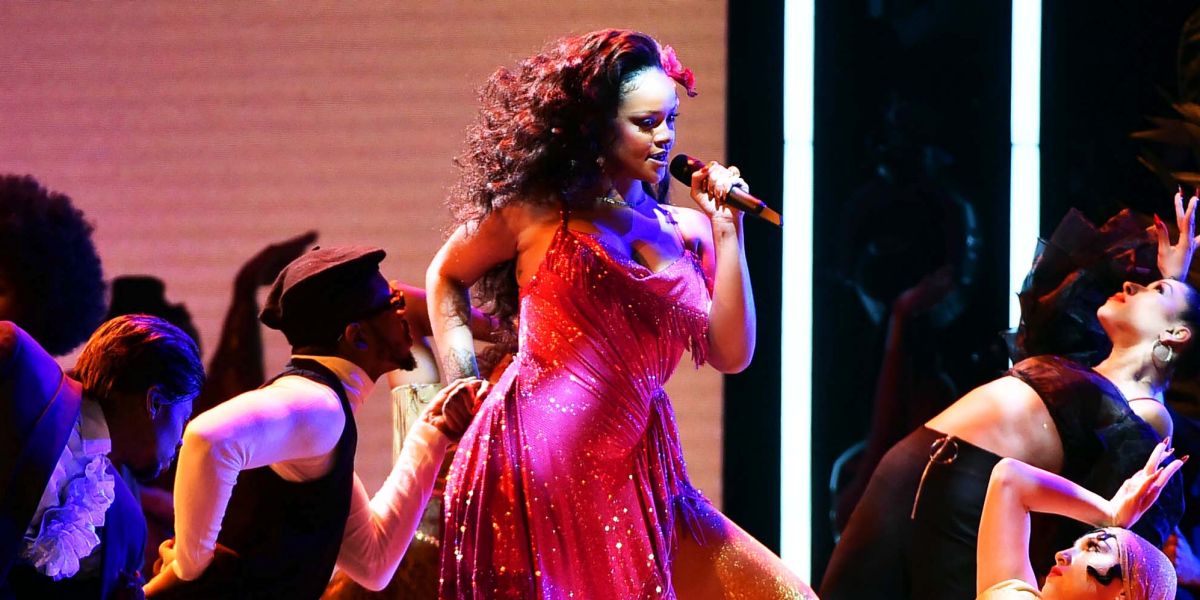 Rihanna
The 60th Grammy Awards was held this past Sunday in Los Angeles, California. The telecast experienced its lowest ratings in the show's history, dropping from 26,000,000 viewers in 2017 to 16,700,000 in 2018. It could not have occurred at a worse time, as industry sales have also hit an all time low.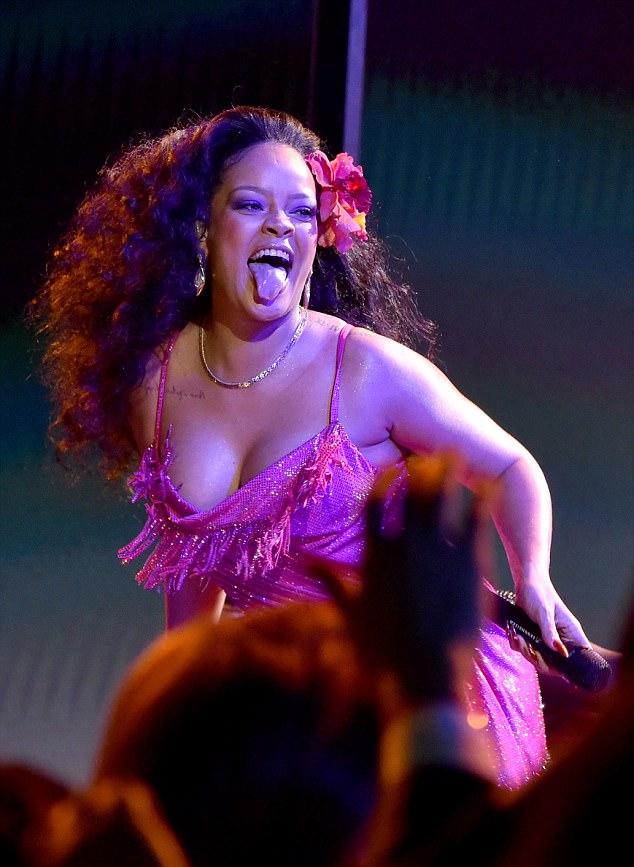 Rihanna was slammed on social networking and blog feedback sections for looking sloppy and making ugly faces while she performed
Audiences online are slamming the performance of untalented singer Rihanna as terrible. Rihanna did not look, sound or dance right. Rihanna was never a real vocalist to begin with, as she is a recording studio creation, whose vocals are plied with many processors to hide all its significant deficiencies. In short, she is no Whitney Houston.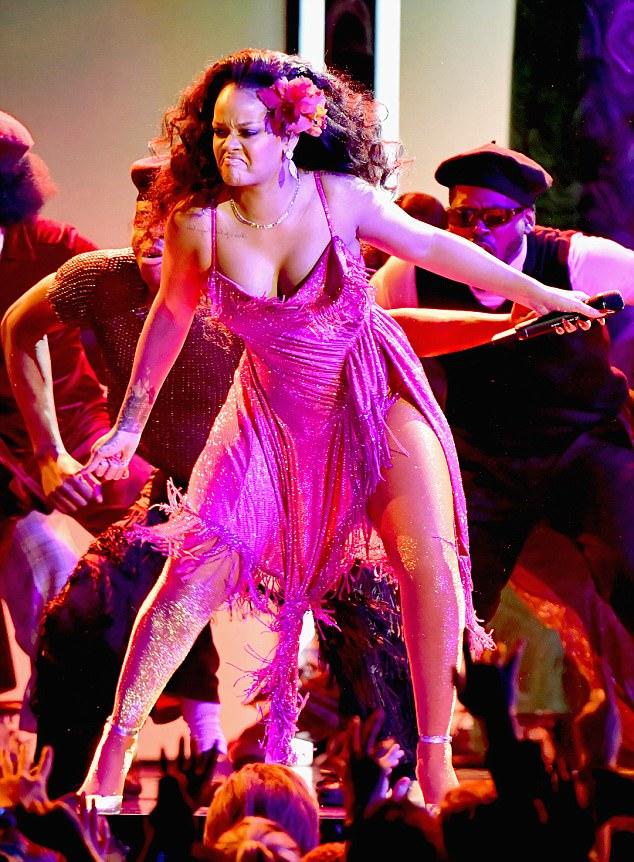 Rihanna making another unflattering face while stumbling around the stage
Rihanna is not a good dancer either. The 40-pound weight gain and her flouncing around in a tight dress that did not flatter her figure, made the choreography look bad and clumsy. Many on social networking also commented on how terrible Rihanna's dancing was during her performance.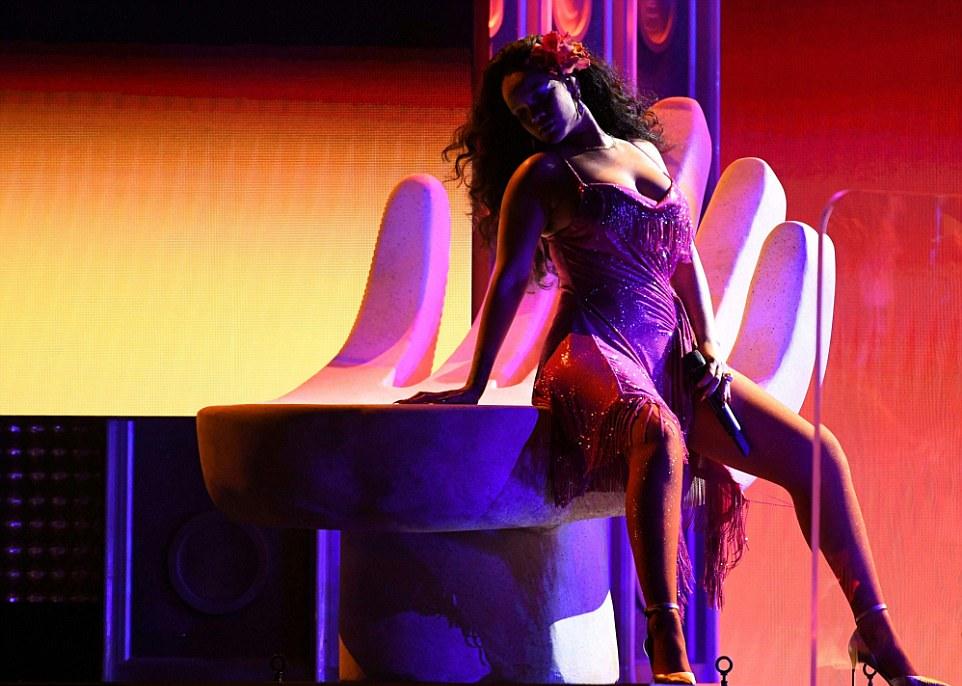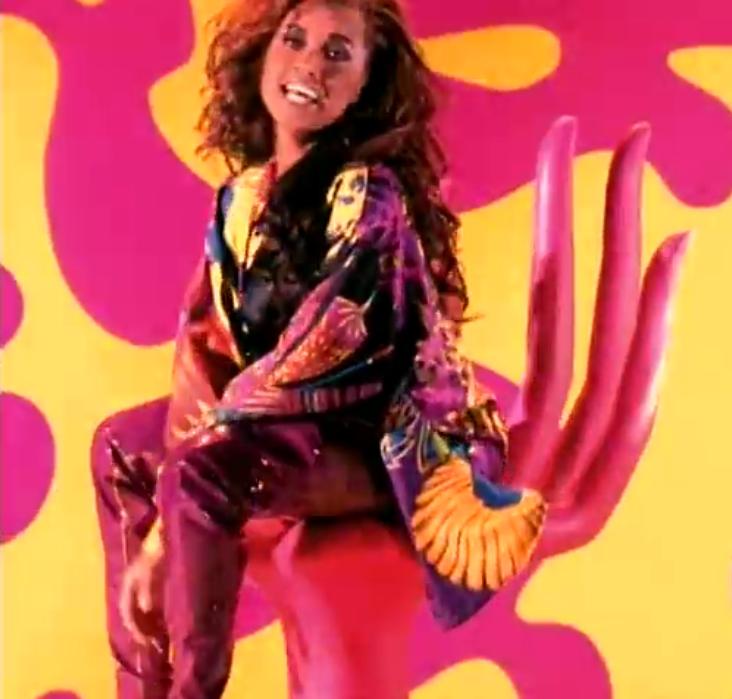 Rihanna (left) sitting on a giant chair hand (2018) looks like Vanessa Williams music video from 1991 entitled "Running Back To You" (pictured right). The dancers and the choreographed moves from Rihanna's performance, also ripped off items from the "Running Back To You" video.
Rihanna, who constantly steals from and copies other artists in violation of the law, resulting in many copyright infringement lawsuits, put on an unoriginal set at the Grammys as well. Rihanna's stage set, dancers, their costumes, wigs and dance moves were a rip off of the 1991 hit music video "Running Back To You" by singer/actress and former beauty queen, Vanessa Williams. Rihanna is foul for trying to claim she is a trendsetter when all she does is steal from other people, including a number of her songs, music videos, perfume lines and Fenty Beauty. She's a disgrace and it is going to catch up with her in a massive way.
STORY SOURCE
Here's Why The Internet Is Giving Thumbs Down To Rihanna At The Grammys
Wild, wild what?
Published 3 days ago - Rihanna, DJ Khaled, and Bryson Tiller took the stage at the 60th Annual Grammys Awards, and fans seem to have a lot of mixed emotions about their performance. While the Internet was excited about the trio performing their No. 1 hit, "Wild Thoughts," fans were just a tad bit underwhelmed over Rihanna's lackluster delivery.
As always, Rih looked stunning in a tropical, pink dress with a flower in her hair. The singer even kicked it up a notch with some danced moves. But for some reason, people were still pretty bored. A lot of fans suggested the singer shouldn't be allowed to sing and dance at the same time. Additionally, some people wanted to hear Rih's collaboration with N.E.R.D., "Lemon," rather than the Khaled single.
RELATED ARTICLES
Madonna, Jay Z, Beyonce, Rihanna, Rita Ora And Jessie J Sued Over Copyright Infringement, Invasion Of Privacy, Commissioned Criminal Harassment And Assault Via The Kabbalah Center