Rihanna's Bodyguard On Trial For Criminally Harassing A Police Officer
January 17. 2017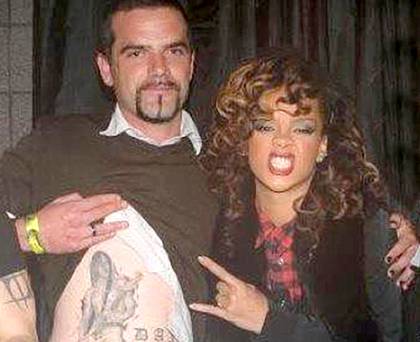 Rihanna making the devil horns sign with her fingers, posing next to her bodyguard Geoffrey Keating
Geoffrey Keating, the 39-year-old bodyguard and head of security for Hollywood Illuminati singer Rihanna, is on trial in Ireland for harassing Garda Police Sergeant, Brendan Carey. Keating was fired after his arrest. Keating sent Carey harassing messages using the Viber app, after obtaining the police officer's phone number. Keating originally entered a guilty plea, but changed his mind and withdrew it. Keating has now entered a not guilty plea. The criminal trial continues and will wrap up in Dublin District Court on May 8, 2018.
This is not the first time a Rihanna bodyguard has gotten into criminal trouble. In 2013, Rihanna, Jay Z and Beyonce's bodyguard, Norman Oosterbroek, was tasered to death by police in Miami. Oosterbroek was engaging in a form of criminal behavior common in the Hollywood Illuminati/Kabbalah, he broke into someone's home and was rifling through their things looking for specific documents. However, due to the cocaine he had consumed, common in that circle, he became reckless, stripped naked and made such a commotion while rifling through the pricey Miami home, the homeowners woke up and called police.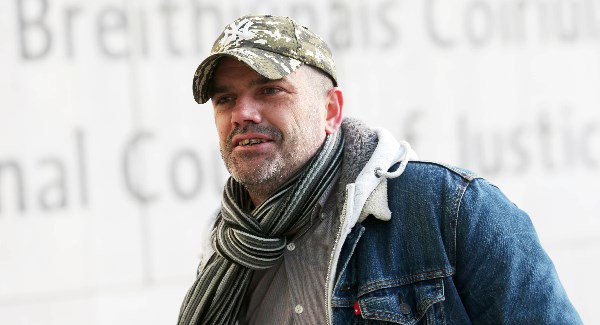 Geoffrey Keating
This is just how the Hollywood Illuminati/Kabbalah operate. They harass people, break into homes to steal valuable data and do large quantities of illegal narcotics. Madonna, Jay Z, Beyonce, Rihanna and others in the Hollywood Illuminati/Kabbalah do cocaine and other narcotics.
In another violent twist, Rihanna's cousin was shot dead this month in their native Barbados, in a strange incident (Rihanna Criticized Over Plea Against Gun Violence In The Wake Of Her Cousin's Murder In Barbados As She Has Espoused Violence).
STORY SOURCE
A former head of security for pop singer Rihanna will go on trial in May accused of harassing a garda in Dublin.
Tuesday, January 16, 2018 - 04:44 pm - Geoffrey Keating, 39, allegedly sent messages to the garda sergeant using the Viber app after being given his private phone number. Keating of Woodbank Drive, Finglas, had pleaded guilty earlier to one count of harassing Garda Sergeant Brendan Carey from the accused's home address on Aug. 21 last year.
However, his guilty plea has been vacated and he has changed it to not guilty. Judge Anthony Halpin agreed today that an accused may change a plea if sentencing has not yet taken place. He ordered that his trial, which is expected to last one day, at Dublin District Court will take place on May 8 next....
He was due to face his trial there on Sept. 5 last but Mr Keating did not appear and an bench warrant was issued for his arrest. Det Sergeant Ross said that warrant was executed on Sept. 19 last and the case was put back to Oct 10 when he pleaded guilty...
RELATED ARTICLE
Rihanna Criticized Over Plea Against Gun Violence In The Wake Of Her Cousin's Murder In Barbados As She Has Espoused Violence