Pregnant Kate Middleton Sports A Lighter Hair Color At Public Event While Launching New Mental Health Site The Public Is Criticizing
January 24. 2018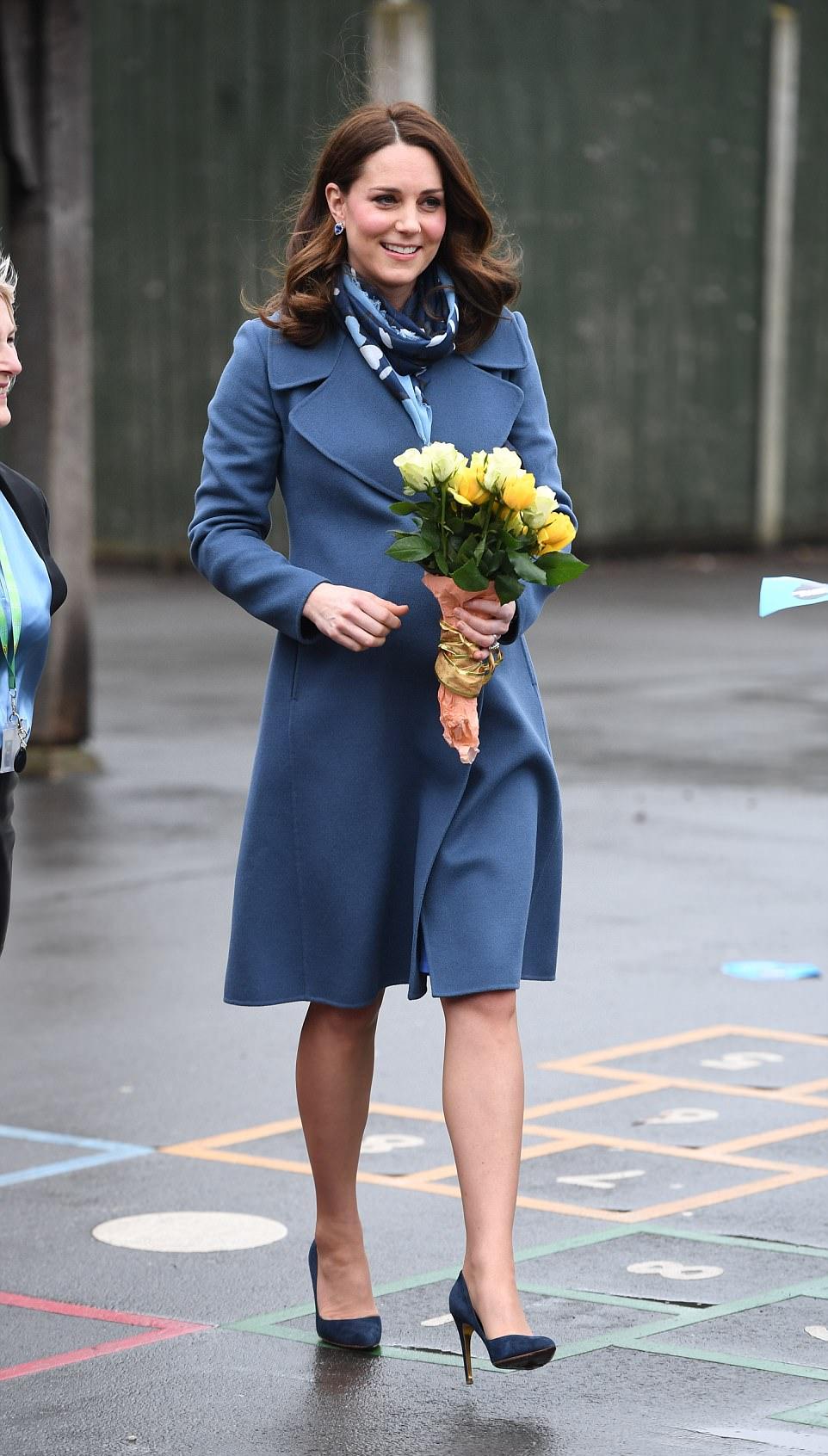 Kate Middleton arriving at a speaking engagement at a kids school in London this week. She was heavily criticized by Daily Mail readers in their site's feedback section for putting on a "fake" posh accent. Middleton comes from a blue collar family, who later made money from a party costume business.
This week, Kate Middleton, known as the Duchess of Cambridge, due to her marriage to William, the Duke of Cambridge, was seen sporting a lighter hair color at an event in north London, England. Middleton's hair is usually dark brown. This week it is auburn hair (dark reddish/brown), which members of the public commented on online. Middleton's grays are also absent.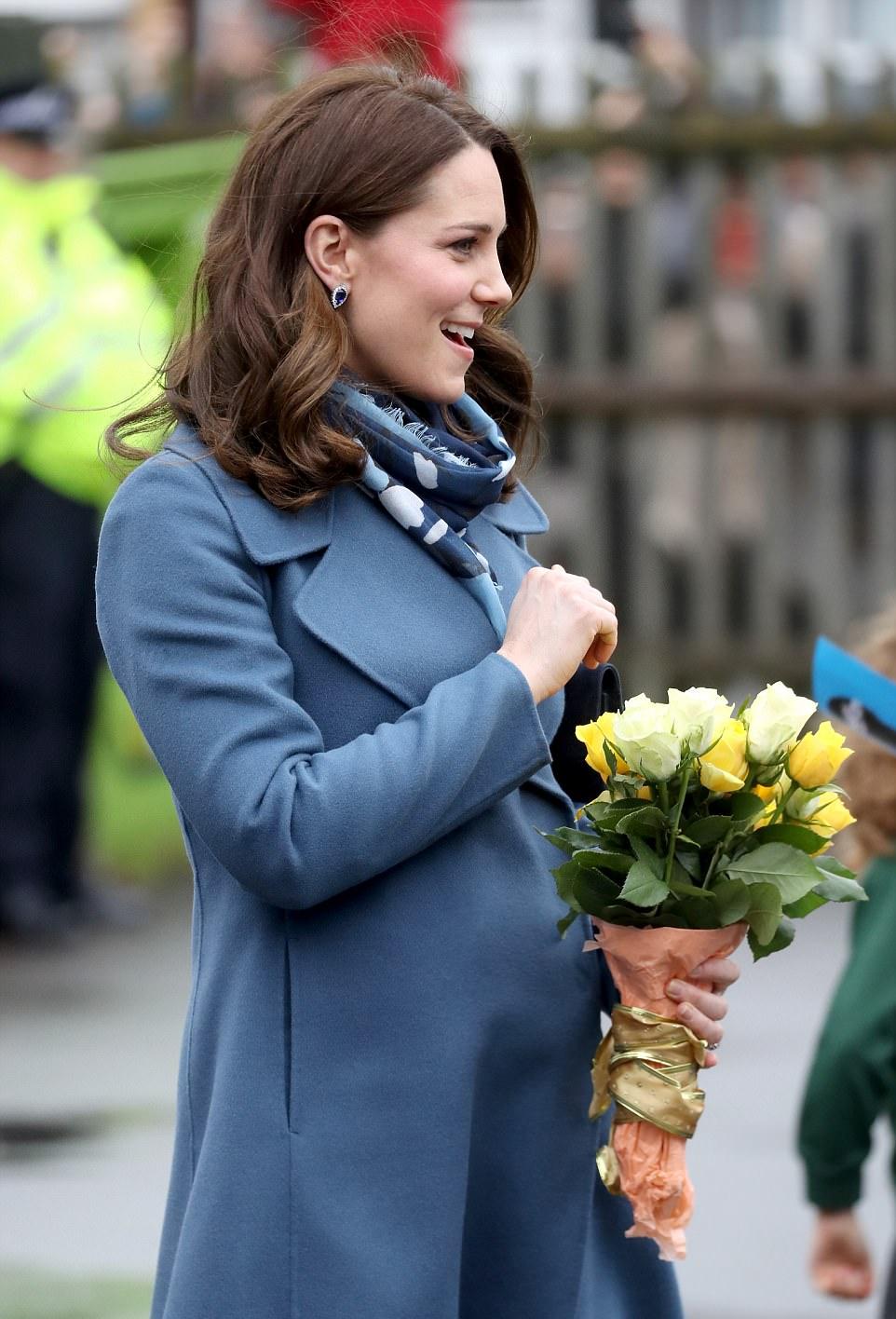 Kate Middleton this week in her sixth month of pregnancy sporting a lighter hair color
As Middleton's hair is naturally dark, to achieve the color she is sporting, she would have to lift her hair color to auburn, which requires the use of hair bleach/peroxide. Middleton is 6-months pregnant. Doctors advise against pregnant women coloring or bleaching their hair, as the chemicals in said products are harmful to the unborn baby.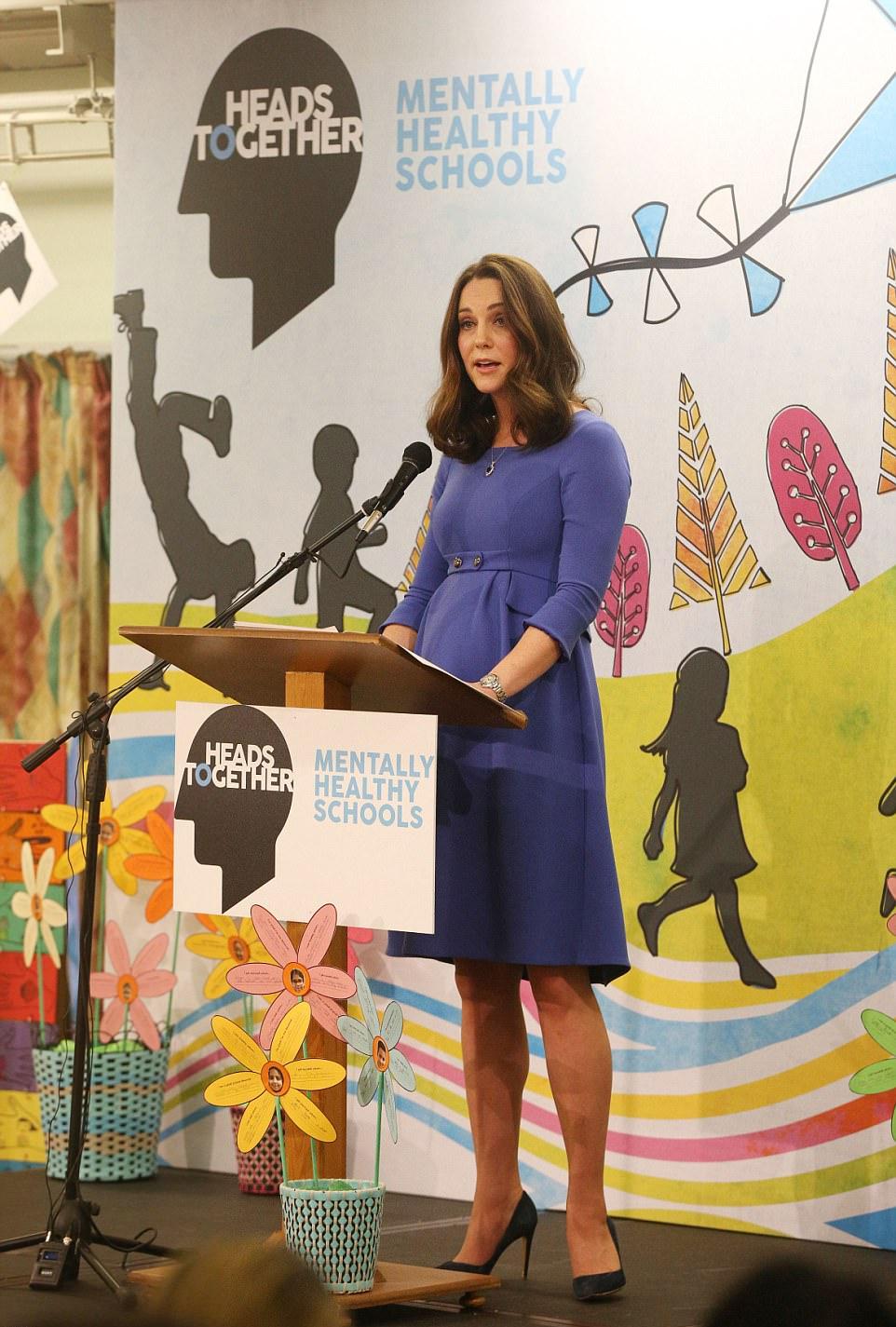 Kate Middleton this week with lighter hair during pregnancy
Middleton has been giving speeches about mental health, the most recent took place two-days ago at a school, as seen in the photo above. Middleton is being heavily criticized by the public on social networking and in the comment feedback section of the Daily Mail UK, over launching a mental health website (she did not design or author, but is only fronting) geared towards kids. Britons online are openly complaining Middleton has no training in the area of child psychology and should not be lecturing teachers on the subject.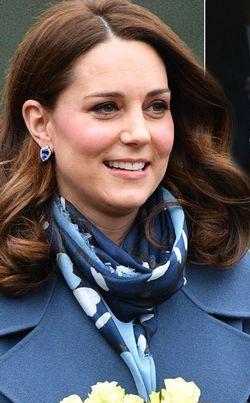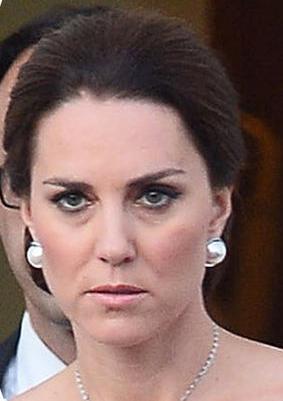 Kate Middleton this week (left) and during a a previous appearance in 2016 (right). The lighter hair color this week is apparent. The slightly darker root at the part line shows the color was done about a week ago. Her grays that showed in the last pregnancy are now absent.
Middleton attended St. Andrews University in Scotland, to chase after William, who had enrolled at the school. Middleton was obsessed with William from her teen years, plastering his photos and posters all over her bedroom wall. Middleton's degree is in art history, not psychology.
STORY SOURCE
Bumping along nicely! Pregnant Duchess of Cambridge shows off her growing tummy in a blue maternity dress - but looks a little weary as she delivers a speech three months ahead of her due date
Kate, 36, is visiting Roe Green Junior School, Kingsbury, north-west London
She is launching a free website called Mentally Healthy Schools to help primary school teachers support pupils
Dressed head-to-toe in blue with tanzanite accessories and a blue patterned scarf
Pregnant Duchess will give birth to her third child in April
Published: 05:49 EST, 23 January 2018 | Updated: 11:20 EST, 23 January 2018 - She's pregnant with her third child and has two young children at home as well as a hectic schedule of royal engagements. So it's no wonder the Duchess of Cambridge looked a little weary this afternoon, as she delivered a speech at Roe Green Junior School, Kingsbury, north-west London on child mental health.
The royal, 36, showed off her growing bump in a fitted blue maternity dress by Serpahine, after arriving in a recycled Sportmax coat she wore while expecting Charlotte in 2015, teamed with a £95 scarf from Beulah London, tanzanite earrings and navy blue heels. The Duchess was at the school to launch the pilot of the Mentally Healthy Schools website aimed at giving primary school teachers practical resources to help support the mental health of their pupils, coordinated and financed by the duchess' Royal Foundation.
During the launch Kate met teachers and pupils, and joined a class taking part in one of the lesson plans featured on the site before giving a speech. 'The role of teachers here is absolutely vital,' she said. 'You see our children as they grow, learn and play, as they build their social skills that will make the difference to their futures. The Duchess of Cambridge today showed off her growing baby bump in blue maternity dress by Serpahine as she gave a speech on child mental health at Roe Green Junior School in Brent, London.
RELATED ARTICLES
Princess Michael Of Kent Causes Outrage In Wearing Racist Slave Broach To Queen's Lunch Held To Meet Prince Harry's Black Fiancée Meghan Markle
Obama Administration Wastes Huge Sums Of American Taxpayer Money Breaking The Law In America, Britain And Jamaica On Behalf Of Madonna's Kabbalah Center In Committing Egregious Human Rights Abuses
Madonna's Criminal Conduct At The BBC In Britain Has Nasty Racist Slavery Connotations To It (Anthony Joshua, Daniel Kaluuya)
Prince Harry Slammed By The Family Of Fiancée Meghan Markle For Saying The Royals Are 'The Family She Never Had'