Police Decline To Take Robin Thicke's Son To Him In Custody Battle After The 6-Year-Old Informs Cops He Is Terrified Of His Dad Who Has Been Punching Him
January 16. 2017
TMZ published a video of actress, Paula Patton, speaking with Los Angeles police, regarding her 6-year-old son, Julian Fuego Thicke, refusing to leave her home with his dad, singer Robin Thicke, who came by to enforce a court order regarding shared custody. Thicke is accused of repeatedly punching the child and grabbing him by the neck. Julian expressed to his school teacher and the police he is afraid of his dad.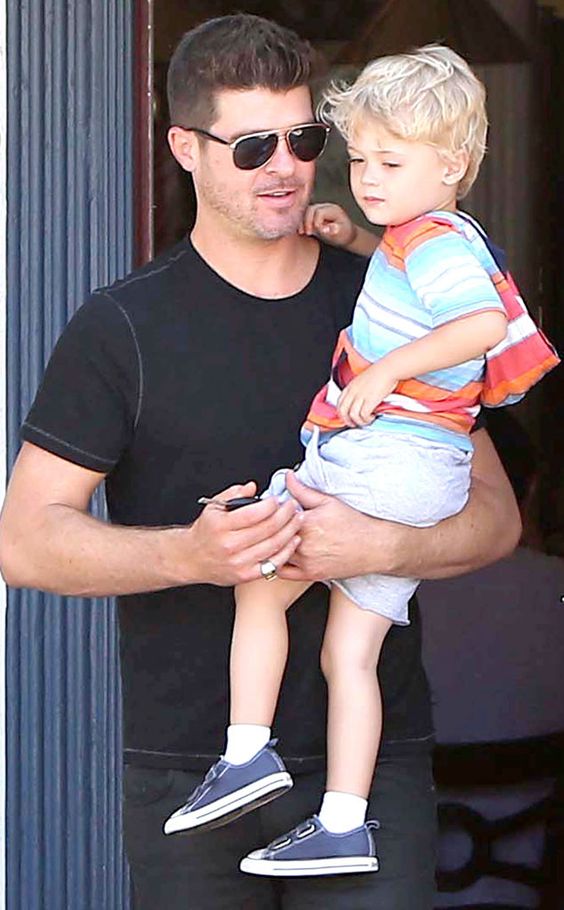 Robin Thicke and son Julian Thicke last year
Thicke is a drug addict and alcoholic who has been engaging in self-destructive behavior over the past few years. The police informed Patton and Thicke, who was present, they do not drag children from their families. A child is usually happy to see their parent. The mere fact Julian told his teacher, mother and the police that Robin is abusing him is a bad sign. The judge in the case needs to act in the best interest of the boy, not Robin's bruised ego.
STORY SOURCE
Video Shows Robin Thicke Shut Down By Cops in Paula Patton Custody War
1/13/2017 4:06 PM PST - Robin Thicke brought the cops to Paula Patton's home Friday morning because she allegedly violated their custody order by not allowing him to take their son ... but the video dramatically shows Robin walked away empty-handed. TMZ broke the story ... Robin won a victory in court Thursday when a judge refused to limit his custody to daytime monitored visits ... this after the L.A. County Dept. of Children and Family Services launched an investigation into allegations Robin was using excessive corporal punishment on 6-year-old Julian...

RELATED ARTICLE
Robin Thicke Under Criminal Investigation For Abusing His Son