Obama Engaging Federal Agents To Do His Bidding In America And Abroad In Illegal Conduct That Is Undermining Donald Trump's Presidency
May 9. 2017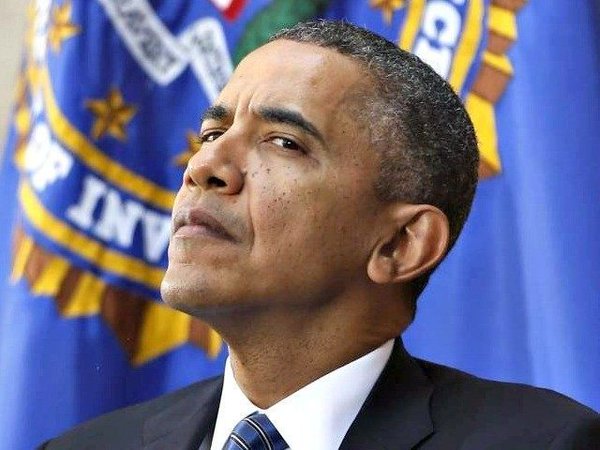 Former President Barack Obama
Former U.S. President, Barack Obama, who in 2016 irrationally stated in an interview that he is being forced out of office, though he served the maximum two terms as head of state, has returned from a long vacation. Prior to fleeing Washington a few months ago for a long vacation, in the wake of criticism from people slamming him for moving into a house right down the street from the White House, when it is customary for the former head of state to leave town to make way for the in-coming president, Obama alarmingly began laying out and executing plans for his shadow presidency, which is illegal (not to mention crazy).
Even his former Attorney General disturbingly announced Obama's comeback. Workers were brought into the Kalorama neighborhood of Washington, D.C. to create a very high tech office for Obama, installing sophisticated tech equipment suitable for a sitting president, not a departing one, which drew the attention of neighbors.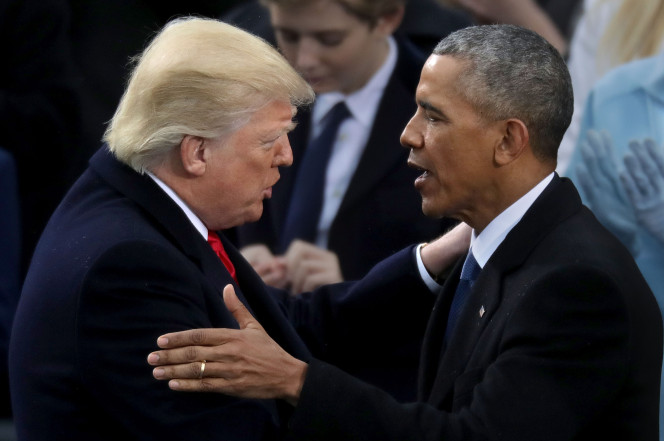 Donald Trump and Barack Obama
Obama began engaging in serious mischief using attorney generals and other government employees who were stalwarts from his administration. President Donald Trump then fired many of them. However, some are still in government. Obama has been engaging U.S. federal agents to do his bidding in America and abroad (some stationed in the international community) in acts that have been undermining the new U.S. president and violating people's rights. There are select federal agents Obama knew from his time in office that are currently aiding him with his agenda, in acts that are unlawful. Some of Obama's ongoing, illegal behavior through federal agents and international spies includes unlawful spying on Americans and foreigners.
The fact of the matter is Obama still thinks he is the President of the United States. Obama is still trying to execute his agenda and inflict harm on his perceived foes in America, who publicly oppose the political polices he promoted while in office and continues to espouse in public forums via speeches. There are also people in international governments Obama has contacted issuing illegal orders and directives, who had to politely remind his representatives "he is no longer the president" and "you are not the president anymore."
RELATED ARTICLES
Wikileaks Releases Hacked U.S. Federal Government Documents Showing The CIA And FBI Are Spying On People In Their Homes Via Hacking Smart TVs And Backdoors In Computer And Phone Operating System Confirming Previous Judiciary Report Site Claims
Obama's Hatred For Conservative Blogger Andrew Breitbart Resulted In The FBI Criminally Spying On And Harassing Him In Events That Has The Agency Illegally Withholding His File (FOIA)
Michelle Obama Joined Former President Barack Obama In Tahiti After Tongues Started Wagging Online That He's Having An Affair During Month Long Vacation
Obama Wants The Public To Leave His Children Alone But Did Not Extend That Courtesy To The Offspring Of His Rivals He Had Targeted By The FBI
Congressman Confirms President Donald Trump Was Being Spied On By Former President Barack Obama During The Presidential Elections
New Scandal Erupts Regarding The FBI And Justice Department Monitoring Calls Of AP Reporters Confirming Previous Site Claims
Reports Indicate Obama Is A Gay Muslim Who Hates Christians With News Surfacing That Three Former Lovers Have Been Killed
NSA Admits Employees Illegally Spied On Love Interests And Significant Others Confirming Site's Previous Claims
Wikileaks Email Leak Reveals President Barack Obama Blacklisted Christians From Jobs In His Administration
NSA Workers Admit To Reading The Emails And Listening To The Calls Of Americans In Violation Of The Law
Judge Rules The NSA Illegally Spied On Americans Confirming The Site's Previous Claims (Video)