NBA Star Carmelo Anthony Struggling To Get Wife La La Anthony Back After Claims He Knocked Up Another Woman
May 3. 2017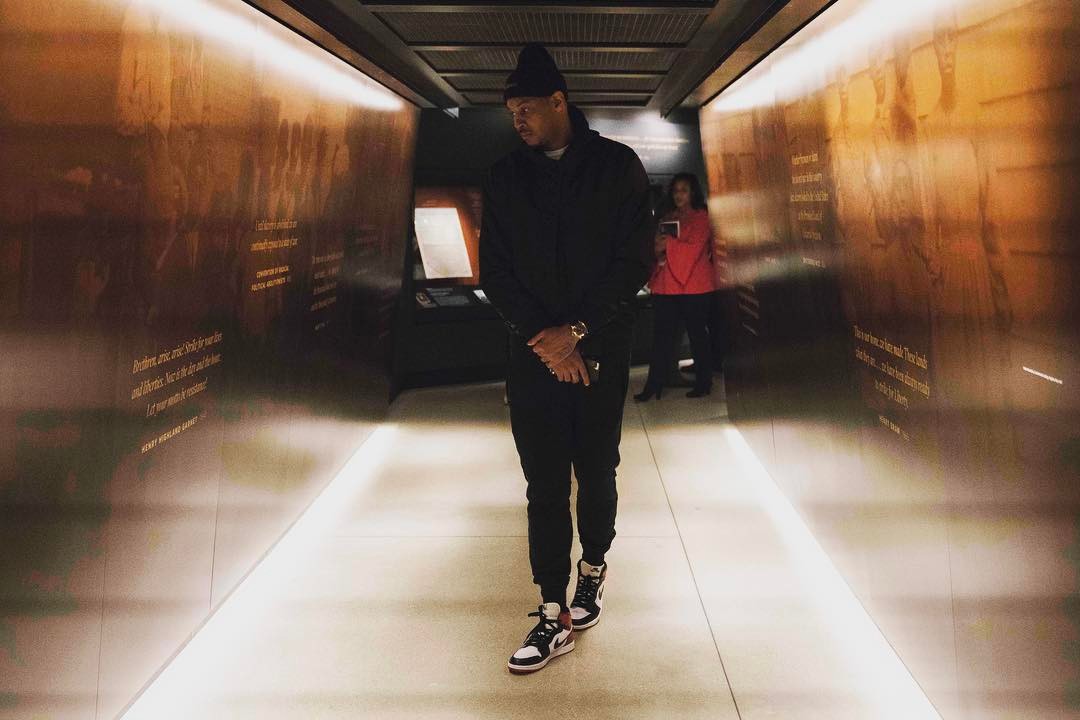 Carmelo Anthony
New York Knicks basketball star, Carmelo Anthony, is struggling to keep his marriage together, as his reality star wife, La La Anthony, has left him over claims he fathered a child outside their marriage with an unknown woman named, Mia Angel Burks. This news is disappointing. Many liked Carmelo and La La as a couple. However, La La has left Anthony over his betrayal of her with another woman.
La La has been making public appearances looking teary eyed and sad, which is understandable under the circumstances. She must be devastated. No wife could take that well. Carmelo and La La have a son and his infidelity and baby with another woman is destroying their family unit. Anthony was wrong to cheat and Burks is also to blame, as she did not get pregnant by accident. It was deliberate to cause trouble and further insert herself in a situation she never belonged.
Some women put themselves first and don't care who they hurt. They try to trap a man with pregnancy in trying to force his hand in marriage, while attempting to get rid of the woman he actually loves. It's an unwise thing to do. If Burks thinks the world would accept her as Carmelo's wife or even girlfriend, she's severely deluded and in for a nasty shock. Not to mention, Anthony has been trying to get La La back. For Carmelo it was clearly just sex for him with Burks.
Burks and other women who try to trap men with pregnancy do not think ahead to when the man simply is not there for the child as he should be and the offspring grows up heartbroken and with serious emotional issues. In this day and age, kids also read the internet and find out about scandals concerning their parents. No child wants to know mommy tried to trap daddy with a pregnancy. The problems for the mistress and her child are multiplied when the man moves on with someone else or goes back to his wife. Not to mention the resentment from the man's family members who deem the woman manipulative and scheming.
La La Anthony
This site has repeatedly repeatedly warned men to be careful with their sperm. If you go around knocking up women you do not want to be the mother of your children, you are creating a world of trouble for yourself and your offspring that you could not imagine. I've seen others go through this and it was nothing but a long series of serious heartbreak and disappointments. Not to mention, the children suffered emotionally and grew up disappointed on a regular basis. Trying to trap a man with a baby will not make him love you. It creates distrust, resentment and sometimes hatred.
Some people need to accept the fact they are not meant to be with a person they wrongly believe is their soulmate and try to force the situation with a deceitful, hurtful act. If a man loves you, he will make you the one. You won't have to proverbially twist his arm or try to trap him with a pregnancy. However, if you see that man with someone else he has made his girlfriend or wife, leave them alone. Let them be happy. That's who he wants to be with and trying to break that up will lead to resentment from him. Why ruin someone else's happiness.
It's really sad when things like this happen, as someone is losing the person they love, due to someone they don't, over a series of poor choices and a treacherous situation being forced on them as one of many consequences of bad decision making. Some women are so taken with fame in wanting a rich and famous man to be the father of their child for bragging rights and to greedily get as much of his money as possible, they don't give any thought to the fact their conduct will damage him. They don't care if it ruins his life, costs him sponsorships and fans.
I hope Carmelo and his wife can work things out, but let's not pretend, what's happened in the situation was not meant to be, not of God and is a terrible thing for La La to go through. It's really not fair to her at all. I hope her broken heart will heal. People need to think before they do things like this to other people. It's wrong on every level and God's blessing is not over such conduct. It has a price. If you go around hurting people like that in life, God will address it. He will forgive you, but the pain you cause will come back to you.
STORY SOURCE
Carmelo Anthony's alleged pregnant mistress revealed
April 20, 2017 | 7:07pm - Carmelo Anthony and alleged mistress Mia Burks. The woman at the center of the Carmelo and La La Anthony split is a coed from Chicago — and now she's pregnant with a baby they believe is his, a well-placed source told The Post. Mia Angel Burks, who graduated from Northwestern University with a master's degree in health communication last year, started seeing the 10-time All-Star in Chicago last summer, the source said. It's unclear when she got pregnant, but Melo, who is splitting from his wife, La La, believes the baby is his and is "taking care" of Burks, 24, until a paternity test can be performed, according to the source.
The pair planned to deal with the baby quietly — but one of Burks' former pals claims to have leaked her name to a blog to set the record straight after false reports emerged that Melo had gotten a stripper pregnant. That ex-friend, Anthony Jacobs, told Chicago radio station WGCI-FM this week that Melo and Burks fell for each other at a nightclub in the Windy City.
"Mia met Carmelo at Room Seven, a club in Chicago, when he was here for the NBA draft doing press," he told "Chicago Morning Takeover." "She's not a stripper … she works in education setting up programs." "I've known that [they've dated] for some months now," he added. Jacobs alleged that Burks would fly to New York to see Anthony on her own dime — and said La La likely didn't know a thing about it...Anthony is in the middle of a five-year, $124 million contract, and has raked in more than $200 million during his basketball career.