Mugabe Makes Deal
September 15. 2008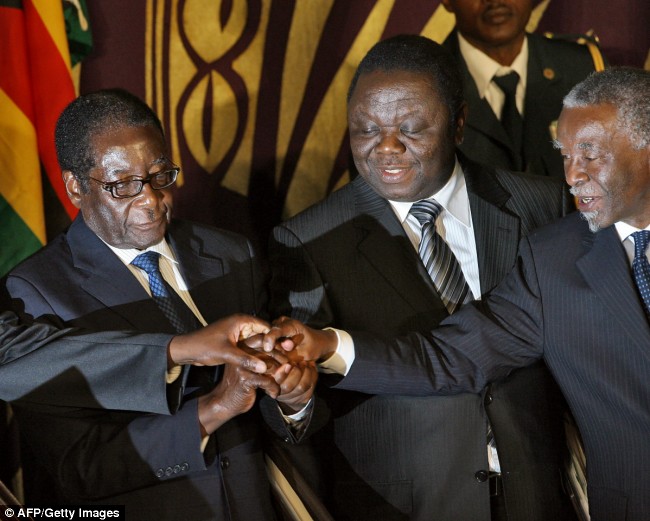 Robert Mugabe, Morgan Tsvangirai and Thabo Mbeki

After the bloody Zimbabwean elections of the past few months, that left many dead and others wounded, president and tyrant Robert Mugabe, has agreed to a power sharing deal with the rightful head of state, Morgan

Tsvangirai

, who will be prime minister. The deal was brokered by Thabo Mbeki. Here's hoping this will be the start of a new and prosperous time for Zimbabwe, that has seen too much hardship and despair.

Hope for Zimbabwe as leaders sign power-sharing deal ending 28 years of Mugabe rule

A handshake seals a historic power-sharing agreement between Zimbabwe's president Robert Mugabe and his rival Morgan Tsvangirai yesterday. Under the deal brokered by South African president Thabo Mbeki, Mr Tsvangirai will become prime minister and chair a council of ministers supervising the cabinet. Mugabe, who has ruled the country ruthlessly for nearly 30 years, will remain president and head the cabinet.