Migrants Who Have Fled To Britain, France, Germany And Sweden Must Assimilate And Learn The Ways Of The West
Crime Figures Show Massive Culture Clash Regarding Migrants Moving To Western Nations
February 27. 2017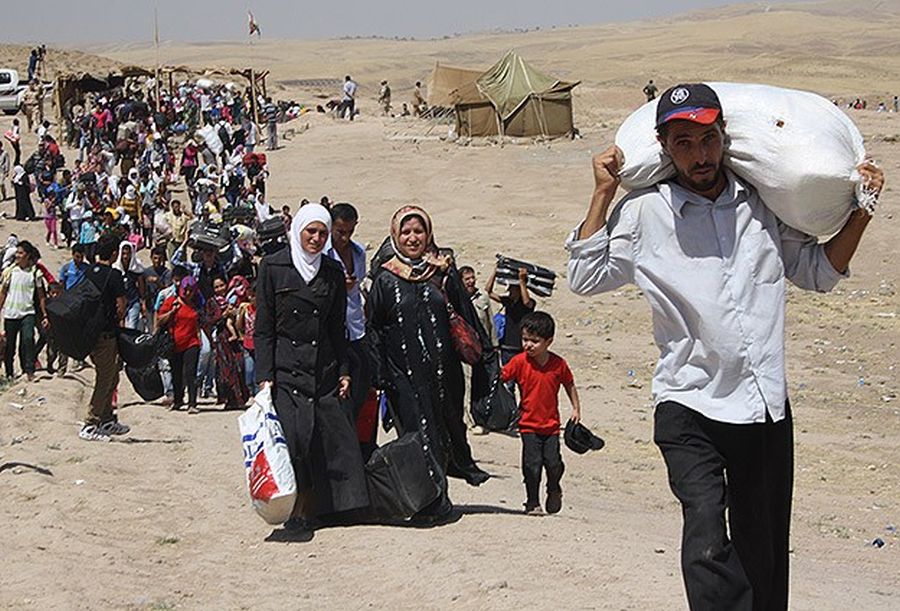 Syrian refugees on their way to the western world
Migrants who have poured into France, Germany and Sweden must assimilate. There have been many reports of anarchy and crime, such assault, sexual assault, rape (1,200 German women were sexually assaulted on New Years Eve by migrants), assault, robbery and arson committed by migrants from the Middle East, who have moved to Europe. There was a report issued weeks ago revealing of the 1,600 migrants Britain took in in 2016, 900 were arrested for criminal behavior, such as theft, sexual assault and child abuse. I would like to implore migrants to eschew criminal behavior and learn the laws and culture of the nations they have moved to, in a bid at escaping difficulty in their respective homelands in the Middle East.
I saw footage online recently of migrants leaving garbage and feces on major public streets, bathing in drinking and decorative fountains and erecting makeshift tents in tourist districts. This is not good for tourism in said nations, which should be a consideration, as countries need said foreign income. The countries who have graciously taken in the migrants should consider a few select sites outside major cities to house them in disused buildings.
Syrian refugees traveling to Germany seeking asylum
For the migrants to survive in the nations they have moved to, there should also be interpreters on site to administer daily culture and language lessons, in an effort to help them learn the national languages, which will assist with employment. Job center representative should also be on site to possibly place workers in jobs they are able to do.
For the migrants to fully function in society in the west, they must know the language, customs and culture. Migrants must embrace the fact they are in new surroundings and make a diligent effort to learn the ways of the places they have immigrated to, in order to assimilate. That is the only way things will work out. And I do hope everything works out.
RELATED READING
Leaked document says 2,000 men allegedly assaulted 1,200 German women on New Year's Eve
July 11, 2016 - Germany approves new sexual assault law after mass New Year's Eve attacks. Germany's parliament has approved a tougher new law against sexual assault based on "no means no," making any form of non-consensual sexual contact a crime. Its passage follows outcry over mass attacks on women in Cologne on New Year's Eve.
LONDON — At first, there was complete silence from officials. As rumors spread on social media, police had nothing to say about allegations of mass sexual assaults and other crimes carried out on New Year's Eve in the German city of Cologne. It was only days later that officials reported that hundreds of women were victims of assault in Cologne, Hamburg and other German cities.
But numbers that are now emerging are likely to shock a country still coming to terms with what happened in Cologne more than half a year ago. According to a leaked police document, published by Germany's Sueddeutsche Zeitung newspaper and broadcasters NDR and WDR, the previous estimates have to be dramatically revised — upward...
https://www.washingtonpost.com
New Year's Eve sexual assaults in Germany refers 2015/2016 New Year's Eve celebrations, incidents of mass sexual assaults, and numerous thefts in Germany, mainly in Cologne city center. There were similar incidents at the public celebrations in Hamburg, Dortmund, Düsseldorf, Stuttgart[26] and Bielefeld.
All of the incidents involved women being surrounded and assaulted by groups of men on the street. Police reported that the perpetrators were men of "Arab or North African appearance" and said that Germany had never experienced such mass sexual assaults before. The German Federal Criminal Police Office said the incidents were a phenomenon known in some Arab countries as taharrush jamai (translated as "group sexual harassment"). The attacks sparked an international outcry, a debate about women's rights, the sustainability of Germany's asylum policy, and social differences between European societies and those of North Africa and the Middle East. Taking place during the European migrant crisis (see timeline), the attacks also led to a hardening of attitudes against immigration.
Chief Prosecutor Ulrich Bremer stated that "the overwhelming majority" of suspects were asylum seekers and illegal immigrants who had recently arrived in Germany. Only a small number of the alleged perpetrators have been identified. By 9 April, police in Cologne had identified 153 suspects, 24 of whom were in investigative custody. Almost all of the suspects of the Cologne crimes were non-Germans; two-thirds of them from Morocco or Algeria. 68 suspects were asylum seekers; 18 were residing in Germany illegally, and the legal status of 47 others was unclear. Four suspects were underage, unaccompanied refugees. By July, four perpetrators had been convicted,[24] and it was reported that half of the 120 outstanding suspects had been in Germany for less than a year, most of them from North Africa.
Syria crime wave Hundreds of Syrians in UK arrested over string of offences including rape and child abuse
POLICE forces have released shocking figures for England and Wales
31st July 2016, 12:39 am - HUNDREDS of Syrians in Britain were arrested last year for a string of offences including rape, death threats and child abuse. Police forces have revealed the figures which show 897 were held in England and Wales. Almost 900 Syrians were arrested in England and Wales over the past year.
There have been concerns that refugees allowed to settle in the UK can find it difficult to assimilate into the country. The issue has been highlighted in Europe, where Germany has been rocked by attacks including the machete murder of a woman and a suicide bombing outside a restaurant carried out by Syrian refugees. In England and Wales the majority of offences that Syrians were arrested for were immigration violations, but there were other serious crimes...
Police arrest 900 Syrians in England and Wales for crimes including rape and child abuse
SHOCKING police figures released for England and Wales have shown nearly 900 Syrians have been arrested in just one year.
PUBLISHED: 02:40, Mon, Aug 1, 2016 | UPDATED: 07:20, Mon, Aug 1, 2016 - And officials say the migrants were accused of sickening crimes including rapes and child abuse. Now critics say they are concerned that the thousands of Syrians entering Britain each year under resettlement schemes are being allowed to enter the country unchecked. Among those arrested are four Syrian immigrants have been charged after two 14-year-old girls were allegedly sexually assaulted - just yards from Newcastle United's stadium.
The UK Government is working to resettle up to 20,000 Syrian refugees in the UK by the end of the Parliament in 2020, under its Syrian Vulnerable Person Resettlement scheme. Official statistics show that 1,602 people had been resettled in the UK under the scheme by the end of March 2016. According to Parliamentary research paper it is possible for Syrians to claim asylum upon arrival or after-entry to the UK...
PICS: Arson Attacks, Unrest Grows in Migrant-Heavy French Suburbs
8 Feb 2017 - A group of French suburbs, including one with past links to violent extremism, have experienced another night of violence and arson after a resident was reportedly assaulted while in police custody. Daytime protests followed by nighttime attacks have followed the arrest on Thursday of a 22-year-old man identified as 'Theo', who according to claims was penetrated anally with a police truncheon while under arrest. While police report violence in the French suburb of Aulnay-sous-Bois after Theo made a plea from his hospital bed for calm, attacks have spread to other areas.
North-Eastern Paris suburbs, including Tremblay-en-France, Montfermeil, Clichy-sous-Bois, Villepinte, and Blanc-Mesnil, experienced attacks on Tuesday night and Wednesday morning, reports Le Figaro, with police stations attacked, Molotov cocktails thrown, and bins set alight. These suburbs of the heavily migrant-populated Seine-Saint-Denis region of Paris have become well known for violence, drug crime, and religious extremism. Terror raids in the area followed the 2015 Paris Bataclan Attacks.
VIDEO: French Police Flee Armed Mob as Week-Long Paris Riots Spread to City Centre
16 Feb 2017 - French police have been filmed fleeing from armed mobs as riots continue in Paris for the second week and the unrest has now spread to the city centre. Hundreds of violent thugs took to the streets on Wednesday night near the Barbes Metro station, close to the major transport hub Gare du Nord. Windows were smashed, shops looted, fires lit, main roads blocked, and police cars targeted during the disturbance.
According to Le Figaro, the destruction is getting worse. At the beginning of the week, on the nights of the 12th and 13th, 32 vehicles were burnt out. On the 14th and 15th, some 47 cars were destroyed by fire as well as 59 bins. Police appeared to have completely lost control at times, with unverified videos surfacing on Twitter of officers being chased out of certain neighbourhoods by rioters...
Sweden, Nation of Open Arms, Debates Implications of Immigration
24, 2017 - MALMO, Sweden — It has been only three years since she came to Sweden from Syria, but Hiba Abou Alhassane already says "we" when speaking about her new home country. "Did we, I mean did Sweden, take too many refugees? Should we close the border?" she pondered this week after President Trump's remarks that Sweden's immigration policies had failed. "It already happened. People aren't coming anymore."
In many ways, Ms. Alhassane is a perfect example of Sweden's long-held belief in the rightness of sheltering and helping to support migrants and refugees. She has worked hard to integrate. Already nearly fluent in Swedish, she teaches at two local primary schools. But recently Swedes also find themselves questioning the wisdom of their generosity to outsiders in need, and its potential limits, leading to the country's harshest debate ever over immigration.
Some residents see the clash as a refreshing chance to voice long-held concerns over immigration and its effects. Others see it as both racist and redundant, since Sweden is already changing its immigration policies. Swedes are not rushing to a hard-line Trump-like approach to immigration, nor are they ready to throw out their country's humanitarian values when it comes to sheltering refugees, values that remain firmly rooted in the national psyche.
Until a year and a half ago, Sweden offered lifetime protection, along with family reunification, to people deemed legitimate refugees. In 2015, about 163,000 people came and sought that protection, and the sheer numbers led this country of roughly 10 million to tighten the rules. Protection is now subject to review after one or three years and family reunification is more difficult, making Sweden less accessible and less attractive to immigrants.
"Sweden has been a top recipient of asylum seekers per capita in Europe, priding itself on a humanitarian approach to immigration," said Daniel Schatz, a visiting scholar at Columbia University's European Institute. "During the Iraq war, Sodertalje, a small Swedish municipality, took more Iraqi refugees than the U.S. and U.K. combined."
"Sweden is experiencing a clash of ideals," he added. "While the country seeks to maintain a humanitarian ideal, public concerns around immigration have begun to shift the politics of traditionally liberal Sweden to tighter immigration controls and more restrictive policies. The debate on migration is thus a very personal one for many Swedes."
Mr. Trump is not the only person pointing to what he considers to be the troubling consequences of immigration to Sweden. This month, a seasoned investigator with the police department in Orebro, Peter Springare, caused a stir with a Facebook posting in which he discussed the case files on his desk.
"What I've been handling Monday-Friday this week: Rape, rape, serious rape, assault rape, black mail, black mail, assault in court, threats, attack against police, threats against police, drugs, serious drugs, attempted murder, rape again, black mail again and abuse," Mr. Springare said. He went on to list the first names of the people he said were suspects, all but one of which were traditionally Middle Eastern...
Swedish policeman blames migrants for the majority of country's rapes and shootings and accuses politicians of 'turning a blind eye'
'This is a different criminality that is tougher and rawer'
Published: 04:43 EST, 26 February 2017 | Updated: 09:12 EST, 26 February 2017 - A Swedish detective who has triggered a row by blaming violent crime on migrants has gone one step further and accused politicians of turning a blind eye to the problem because of 'political correctness'.
Earlier this month Peter Springare, who has spent more than 40 years in the police, aired his anger on social media when he was told not to record the ethnicity of violent crime suspects. Springare, 61, who is based in the central city of Orebro, wrote: 'Countries representing the weekly crimes: Iraq, Iraq, Turkey, Syria, Afghanistan, Somalia, Somalia, Syria again, Somalia, unknown, unknown country, Sweden.
'Half of the suspects, we can't be sure because they don't have any valid papers. Which in itself usually means that they're lying about your nationality and identity.' Prosecutors launched an inquiry, suggesting he had incited racial hatred, but later dropped the charges. Now Springare has told The Sunday Times: 'The highest and most extreme violence - rapes and shooting - is dominated by criminal immigrants.
Violent riots broke out in the Stockholm suburb of Rinkeby (pictured) just days after President Trump's comments, prompting Swedish politicians, policemen and locals to admit he was right to highlight the impact of mass immigration. 'This is a different criminality that is tougher and rawer. It is not what we would call ordinary Swedish crime. This is a different animal.'
In his Facebook post Springare wrote: 'I'm so f***ing tired. What I will write here below, is not politically correct. But I don't care. What I'm going to promote you all taxpayers is prohibited to peddle for us state employees.' He wrote: 'Here we go; this I've handled Monday-Friday this week: rape, rape, robbery, aggravated assault, rape-assault and rape, extortion, blackmail, off of, assault, violence against police, threats to police, drug crime, drugs, crime, felony, attempted murder, Rape again, extortion again and ill-treatment.
'Suspected perpetrators; Ali Mohammed, mahmod, Mohammed, Mohammed Ali, again, again, again Christopher... what is it true. Yes a Swedish name snuck on the outskirts of a drug crime, Mohammed, Mahmod Ali, again and again.'...
RELATED ARTICLES
Angela Merkel Political Party CDU Loses State Election In Germany Due To Open Door Policy Regarding Influx Of Syrian Migrants
The European Union Must Address Immigration Imbalances Threatening Select Member Nations Economic Future And Stability
Some Syrian Migrants Refusing To Work In Germany Posing A Problem For The State Regarding Supporting The Refugees