Michelle Obama Joined Former President Barack Obama In Tahiti After Tongues Started Wagging Online That He's Having An Affair During Month Long Vacation
April 13. 2017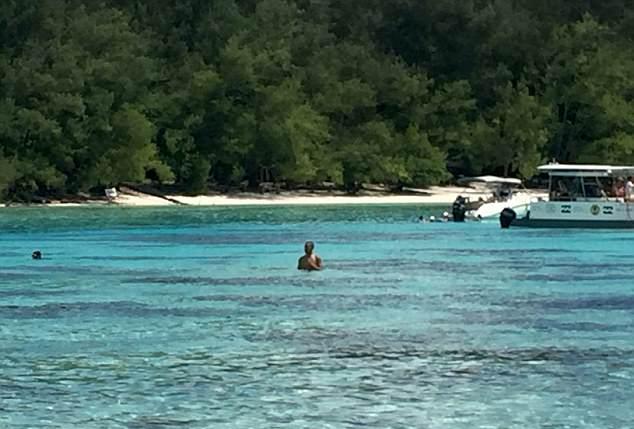 Barack Obama in Tahiti
In the March 15, 2017 Judiciary Report article "Barack Obama Runs The Risk Of Being Run Out Of Town By President Donald Trump" the site stated former U.S. president, Barack Obama, attempting to run a shadow government in Washington, places him in danger of incumbent commander-in-chief, Donald Trump, chasing him out of the city for undue and illegal interference.
Shortly after, it was announced Obama would be headed to Tahiti for a month long vacation and without his wife, former First Lady Michelle Obama, which people deemed strange (Michelle Obama And Barack Obama Marriage Unraveling Again). Who takes a month long vacation and in such a romantic setting, without their spouse (if nothing is wrong).
Ladies, would you allow your husband to go to a romantic place on vacation without you, for at least one month. It doesn't matter who you are, president or not, if you go on vacation without your wife for a month, who does not have work commitments barring her from accompanying you, people will assume the worst regarding your marriage.
It doesn't help appearances regarding their marriage being in trouble that White House records made available to the public reveal, the Obamas spent the least amount of time together, under the same roof at night, of any first couple that was in residence at the White House. As they say, where there is smoke there is fire.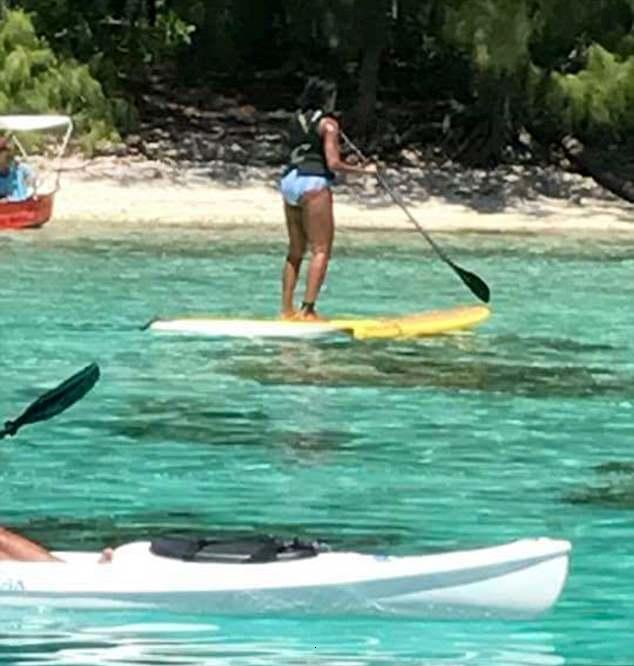 Michelle Obama finally joined her husband on vacation weeks after people started talking about their extended time apart
The Obamas stated they have remained in Washington after his presidency expired in January 2017, to permit 16-year-old daughter Sasha, to complete high school. This was another unusual precedent set by the Obamas, as presidents leave Washington after their term has elapsed, as a traditional and symbolic gesture that a new head of state is in office at the White House. However, what did the former first couple do, after Obama kept irrationally and strangely stating he was being "forced out" of office, despite the fact he served the maximum two terms - moved right down the street from the White House.
In the 3 and a 1/2 weeks Obama spent in Tahiti, his wife has been out of Washington on different occasions. In short, she went out of town often, despite their claims of staying in Washington for their daughter. Furthermore, Mrs. Obama's mother, Marian Robinson, has played a huge role in taking care of the couple's daughters, while the duo had work commitments between 2009-2017 during his presidency.
Mrs. Robinson could have taken care of Sasha in Washington for the 3 and a 1/2 weeks Obama spent in Tahiti without his wife, which would have allowed her daughter, Michelle, to accompany him from the very first day of the luxury vacation. However, that didn't happen, because Obama clearly did not want his wife there. Villagers in Tahiti spotted him without his wife for weeks.
3 and 1/2 weeks into Obama's trip, just days before it ended, his wife Michelle joined him on vacation, as tongues had begun to wag online that her husband went to Tahiti to have an affair...with a man. People on political sites and blogs kept openly speculating Obama was there without his wife to get with a man, as gay rumors have swirled around him for years.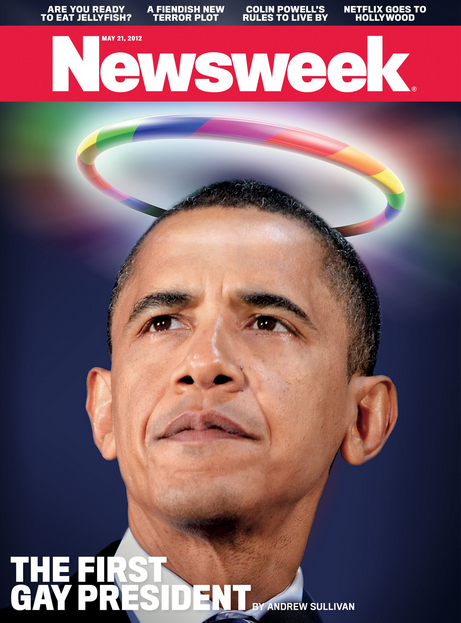 Newsweek branded former commander-in-chief America's "First Gay President"
For example, while he was president, Newsweek referred to Obama as America's "First Gay President." Many stories have circulated for years, regarding the mysterious murders of 3 men in different incidents, who had all publicly claimed to have engaged in extramarital sexual affairs with Obama in Chicago (Reports Indicate Obama Is A Gay Muslim Who Hates Christians With News Surfacing That Three Former Lovers Have Been Killed).
If these men were lying, why not sue them for defamation, slander and libel, then obtain an injunction to prevent further claims. Instead, the 3-men from Obama's unorthodox and controversial church, ended up brutally killed under strange circumstances during the election. One was even shot to death in a strange, unsolved mystery. These men deserve justice.
Obama even misused said unorthodox church in Chicago, as a front to help him win the evangelical vote in the 2008 and 2012 elections, despite the fact his behavior indicates he hates Christians and rails against heterosexuality via legislation he repeatedly rammed through office (Wikileaks Email Leak Reveals President Barack Obama Blacklisted Christians From Jobs In His Administration and News Report: The IRS Targeted Christians).
There are gay bars and bathhouses in Chicago, where men have attested to journalists for years that Obama was a frequent customer, before running for president. When Obama took office, rumors began to swirl all over Washington, filtering out to journalists in America that Obama was having an affair in the White House with his body man, Reggie Love. Obama never commented on the rumors, but they have been loud and rampant.
Obama's presidency was mostly about passing legislation on gay issues. Everyone else took a back seat, which led to many groups from different walks of life in America complaining that Obama did nothing for them during his time as president, branding him a tone deaf failure. A good head of state should help many groups. It should not be all about one demographic.
STORY SOURCE
Hang loose! Barack and Michelle Obama enjoy South Pacific escape by swimming and paddleboarding
Published: 17:00 EDT, 10 April 2017 | Updated: 09:23 EDT, 11 April 2017 - Former President Obama and his wife Michelle were pictured enjoying some boat activities off the island of Mo'orea in French Polynesia this weekend. Mr Obama has been spending the past month at the exclusive Brando resort, while he writes his White House memoirs. His wife jetted out to visit him on Saturday
Former President Obama and wife Michelle were seen enjoying some island activities this weekend, as their French Polynesian vacation wrapped up. Fellow vacationers took pictures of the forty-fourth president swimming in the pristine waters off Mo'orea island on Sunday, while his wife worked on her upper-body strength with some paddleboarding.
RELATED ARTICLES
Reports Indicate Obama Is A Gay Muslim Who Hates Christians With News Surfacing That Three Former Lovers Have Been Killed
Wikileaks Email Leak Reveals President Barack Obama Blacklisted Christians From Jobs In His Administration
Barack Obama Runs The Risk Of Being Run Out Of Town By President Donald Trump