Mariah Carey In Danger Of Being Dropped From Her Record Deal Due To Flopped Single, Reality Show And Concert Tour
March 10. 2017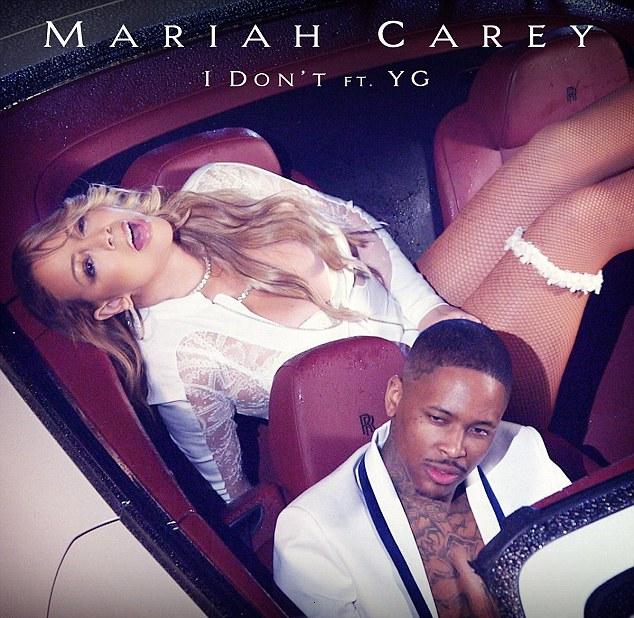 The cover of Mariah Carey's single "I Don't"
It is being reported that singer Mariah Carey is in danger of being dropped from her record deal with Epic Records, over the very poor sales and chart performance of her single "I Don't." The subpar song is a diss track about her engagement to Australian billionaire, James Packer, who dumped Carey for coveting and spending excessive sums of his money, in acts that were plain greedy.
Considering Carey's last two albums flopped thanks to her "lambs" and no label is going to resign her with a decent signing fee if she gets dropped now, you would think she would be more careful about her career moves. She will be given less money, marketing and promotion. She will not be seen as a priority, who can make the label money. Carey is currently blowing through money on forthcoming songs, including collaborations, she will not financially recoup, due to her vocal damage and unreliable conduct regarding performances. Sales for her upcoming concert are not selling and tours are used to boost record sales.
Carey's manager Stella Bolochnikov is not being truthful with her and acting out of self-interest. Bolochnikov created the reality show "Mariah's World" and gave herself a co-starring role, because she wanted to be famous. It was not in Carey's best interest. Bolochnikov, like a number of people behind the scenes in Hollywood, want to be in the limelight as well.
Bolochnikov wasn't thinking about the fact her client Carey is mentally ill and unstable. Carey is also grossly out of touch with reality. These elements are a liability for a reality show centered on an established entertainer with something to lose, as it can create a massive train wreck (and regarding an artist, Carey, who had already become a train wreck, making the problem even worse).
When I read Carey was doing a reality show, prior to its release I wrote it was not a good idea and would flop, especially with the content she was proposing (Mariah Carey Looks Back On Wedding Dress From Cancelled Engagement With Sadness After Being Dumped By Billionaire James Packer While Her Current Husband Knocks Up Aspiring Star).
Carey is mentally unsound and engages in behavior that would draw significant criticism and ridicule, when put on display as never before in a reality show. For that reason I knew it would flop and create bad publicity for the singer. The show has now flopped. The first episode benefited from the "Real Housewives of Atlanta" lead-in, but subsequent editions of the show plummeted to 500,000 viewers.
I do not subscribe to the entertainment industry adage, "All publicity is good publicity." Some publicity can ruin - such as boycotts and bad New Years Eve performances. Careers are supposed to be properly managed. The work should be top notch. There should be an air of dignity not desperation about an entertainer.
A true entertainer should only release projects when at their best and when the material is right. Putting out something for the sake of putting out something, even if it is subpar, is a bad idea. It damages and destroys legacies in some cases. "I Don't" "Mariah's World" and Carey's catastrophic New Years Eve performance has done a great amount of damage to her legacy.
STORY SOURCE
Mariah Carey 'laughs off' claims she might be dropped by her label after latest single flops
Published: 17:16 EST, 8 March 2017 | Updated: 20:16 EST, 8 March 2017 - She's in the top ten selling acts of all time, has more US number ones than any other solo artist, and sang the longest-running number-one song in US chart history. But Mariah Carey is not good enough for her record label, according to one tabloid column.
Her manager Stella Bolochnikov has rubbished claims by website Showbiz411 that Epic are thinking of parting ways with the star. 'We laughed it off!' Mariah Carey's manager Stella Bulochnikov has rubbished a tabloid claim the singer might be dropped by her label. 'We laughed it off!' Mariah Carey's manager Stella Bulochnikov has rubbished a tabloid claim the singer might be dropped by her label. She insisted the claims were 'stupid' and 'inaccurate,' according to InTouch...
RELATED ARTICLES
Mariah Carey Looks Back On Wedding Dress From Cancelled Engagement With Sadness After Being Dumped By Billionaire James Packer While Her Current Husband Knocks Up Aspiring Star
Mariah Carey Blames Dick Clark Productions For Her Botched Lip Sync Job At New Years Eve Show In Times Square But They Slam Her For Defaming Them (Videos)
Mariah Carey Blames Everyone But Herself Including Her Dancers For Her Latest Fall From Grace On New Years And Flopped Single 'I Don't'
Mariah Carey Taking A Break From Social Networking And The Press After New Years Eve Mauling Due To Her Botched Performance
'Mariah's World' A Real Snoozefest Giving Audiences More Of The Same Old Stuff That Puts Mariah Carey In A Bad Light
Mariah Carey Mocked By NBA Basketball Team The San Antonio Spurs Over Botched New Years Eve Show (Video)
Mariah Carey's New Boyfriend Bryan Tanaka Looking For Financial Favors From The Recently Dumped Star
Mariah Carey Lied About Sex With Ex-Fiance James Packer Who Dumped Her
Mariah Carey Sues Promoter Over Concerts She Cancelled In South America
Mariah Carey's Mental Illness Apparent In 'Mariah's World' Reality Show
Mariah Carey Postpones Poorly Selling Tour While Under Vocal Strain