Man Kills 1 Year Old Daughter Live On Facebook In Alarming Trend Of Attention Seekers Engaging In Violent Acts On Social Networking
April 28. 2017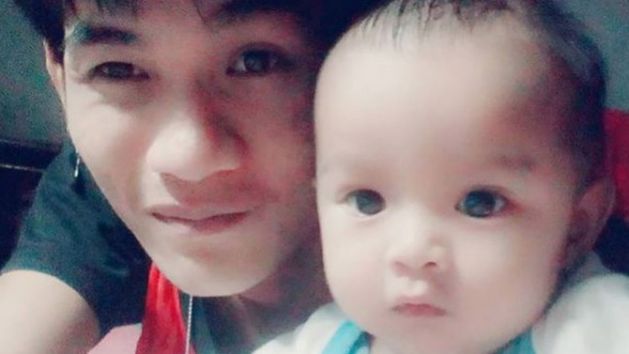 Wuttisan Wongtalay and daughter Natalie
20-year-old Wuttisan Wongtalay of Thailand, became angry with his wife, Jiranuch Triratana, during an argument in a home suffering from acts of domestic violence at his hands. Wongtalay was being physically abusive to his wife's 5-year-old child from a previous relationship and hitting her as well in different incidents.
After a year of marriage, to get back at her for perceived or imagined offenses, violent Wongtalay took their 1-year old to an abandoned hotel and hung the baby with a rope, while streaming it live over the social networking website Facebook. The child was heard crying while dying, then the noise eerily stopped.
Police later found both bodies hanging from a ledge in what is an awful tragedy that never should have occurred. Viewers were appalled to see the live footage of a baby being killed and reported it to authorities and Facebook. The illegal content has since been removed. Wongtalay had no excuse for his evil, abhorrent behavior against an innocent, beautiful child. However, some people have no conscience and wrongly abuse and use children to get back at and or exploit their other parent.
As stated previously on the site, people need to be careful regarding who they choose to be the parent of their children (Woman Beats, Burns And Suffocates Her 1-Year-Old Son To Get Back At His Father For Finding Another Girlfriend). Sometimes the person seems okay, but is not, you are easily fooled, then find out the hard way they are not decent. However, sometimes the person shows outward signs of questionable behavior indicating they cannot be trusted and are a danger to you. Be careful of such people, as they could damage you and or your child.
People have been streaming acts of violence over Facebook and Instagram, in a worrying pattern of exhibitionism that needs to stop. In Chicago, underage girls have been gang raped and beaten on Facebook by other minors, in acts streamed over the site. A young disabled teenage boy was also viciously beaten during a live Facebook feed in Chicago. Authorities have been investigating the cases and have made arrests. The victims and offenders were not named in the press, as they are minors.
In Sweden, three men gang raped an innocent woman and live streamed the crime over the internet on Facebook. They were arrested and tried in court. This week, the three men (Reza Mohammed Ahmadi, Maysam Afshar and Emil Khodagholi) were sentenced to varying prison terms for the nightmare they put the victim through. Not only was she brutally raped, she was exposed to further indignity via it being streamed on the internet by men behaving like savages.
In Ohio, a sadistic local counselor, Steve Stephens shot and killed elderly man, 74-year-old Robert Godwin Jr., live on Facebook and threatened to randomly murder others. People on social networking were horrified at the innocent man's brutal killing. Stephens killed himself when cornered by police outside a fast food restaurant, where workers had recognized him from news alerts and contacted authorities. Stephens was angry his girlfriend, Joy Lane, dumped him. Considering his terrible behavior that had been simmering, can you blame her.
Live social networking video streams have become an outlet for socially deranged people to harm others for attention. This is not the purpose of social networking. It is sad and regrettable that some choose to turn good outlets with the potential of so much good, into instruments of hatred, harm and death. People who use social networking for unlawful activities must be punished in court to the full extent of the law.
STORY SOURCE
Father Hangs Baby Daughter on Facebook Live, Then Commits Suicide: Police
April 25, 2017 - A Thai man videotaped himself killing his 11-month-old daughter and posted it to Facebook, then took his own life, police said Tuesday.
íThe clip was visible on the fatherís Facebook page for nearly 24 hours before it was taken down, authorities said. "This is an appalling incident and our hearts go out to the family of the victim," a Singapore-based spokesman for the social media giant said in an email to Reuters.
"There is absolutely no place for content of this kind on Facebook and it has now been removed," the wire service reported. Wuttisan Wongtalay, 20, was upset with his wife and took their daughter to an abandoned hotel, where he hung his baby with a rope on camera, police said. He then hung himself, but that act was not filmed. A police spokesman said the child, whose name was Natalie, is heard crying on the video, but then stops...