Lawsuits Against John Travolta For Sexual Battery Support Long Running Gay Rumors
May 10. 2012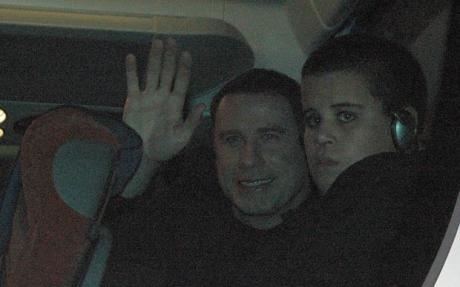 John Travolta and son Jett
Hollywood actor and Scientologist, John Travolta, has been sued by a masseur for "sexual battery" after he rendered services to him at the Beverly Hills Hotel. A second lawsuit by another masseur is said to be on the way, alleging the same thing. The first lawsuit seeks $2,000,000 in damages, claiming "sexual assault." According to the lawsuit, Travolta touched the man's genitals and started to grope him without permission or consent. The lawsuit is very graphic, explicit and cringe inducing on every level.
Here's were the lawsuit gets sketchy, "The massage was arranged by an anonymous phone caller who met the masseur at a streetside location, picked him up and drove him to the hotel where he was to be paid $200 per hour."
Ok, why would you allow a stranger to pick you up on the street and drive you anywhere, especially to give someone a massage, which has a sexual connotation to it under those circumstances. It's like the woman that went to Mike Tyson's hotel room at 2:00AM in the morning - what did you think was going to happen. Sexual assault is wrong, but do not place yourself in situations where such things could happen.
One part of the lawsuit made me laugh, "Travolta kept purposely sliding the towel down that covered his buttocks to reveal about half of gluteus area. This back-and-forth activity of Defendant sliding it down, and then Plaintiff would slide it back up occurred over 10 times in the first hour." Ok, you should have left from the first time he allegedly flashed his booty at you. You stood there and let him flash you at least 9 more times. Dude, why?
Travolta is known online for being a closeted homosexual, who is married to actress Kelly Preston (oops, I nearly put Kelly Price, the names are so similar, but she would have kicked his butt if this story is true). It was previously alleged, the male caregiver of Travolta's his late son, Jett, who died of a seizure, was his sex partner. A photo taken of Travolta and said caregiver entering a private jet, in a moment they were not aware of the paparazzo, revealed the actor on his tippy toes kissing the other man full on the mouth.
The lawsuit gets very sad and if true, reveals how tormented Travolta is, as he is accused of snapping at the masseur and stating, "Defendant (Travolta) got to where he is now due to sexual favors he had performed when he was in his Welcome Back, Kotter days; and that Hollywood is controlled by homosexual Jewish men who expect favors in return for sexual activity. Defendant then went on to say how he had done things in his past that would make most people throw up."
Irrespective of this lawsuit, the casting couch is alive and well in Hollywood, with many people, even underage teens, telling the same story about being taken advantage of sexually by men and women in the industry and feeling an overwhelming sense of guilt and shame over it. When some of said people in Hollywood are rejected, they get very vicious, having people stalked, threatened and harassed, in criminal violation of the law. It is a very ugly industry.
STORY SOURCE
John Travolta sued for $2m by masseur 'over sexual assault'
RELATED ARTICLES
John Travolta Soliciting Sex In Gay Baths