'Keeping Up With The Kardashians' Faces Ratings Plunge And Calls For Cancellation
April 4. 2017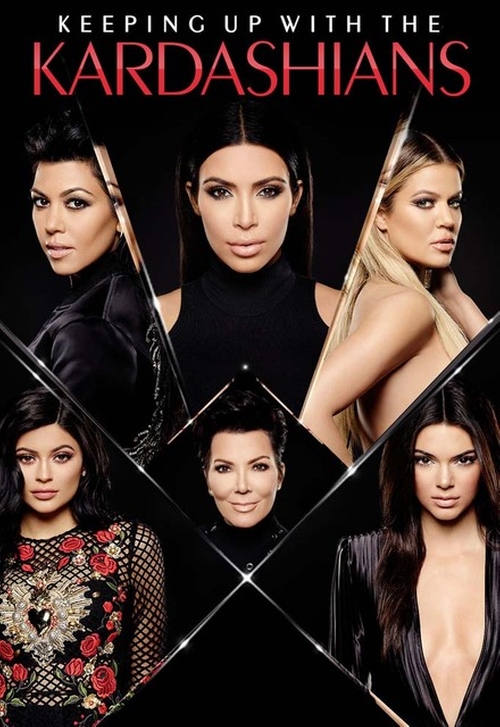 "Keeping Up With The Kardashians" poster looks like an old Revlon ad
The scripted reality show "Keeping Up With The Kardashians" is experiencing a ratings plunge. The public has gone off the show that has heavily relied on publicity stunts and controversy to attract viewers. A few years ago the show attracted 4-million viewers per episode. Over the last two episodes the program went from 1,580,000 to 1,410,000 viewers. People are tuning out in big numbers.
The public perception is the Kardashians/Jenners are very dysfunctional. Initially public attraction to the show had to do with curiosity, for some it was envy, but that has turned to concern and contempt. The public has watched as men in or associated with the Kardashian/Jenner clan went off the rails.
Kris Jenner emasculated, bullied and embarrassed her husband Bruce Jenner, who processed it by becoming a woman, Caitlyn Jenner. Scott Disick, tired of the publicity stunts, controversy and control from matriarch Kris, turned to substance abuse and ran away. Kanye West had a complete and total meltdown and was committed to a psychiatric ward.
Rob Kardashian could no longer deal with his family's crazy publicity stunts for fame and the controlling behavior pouring from his mother in bids at gaining ratings and money, prompting him to move away and become a recluse. Rob began binge eating into obesity, using food as a means of comfort to deal with his depression. Tyga got into all sorts of wild and mentally damaging sexual behavior with women and men, which his ex-girlfriend Blac Chyna publicly exposed this month. Tyga also went broke trying to spend like the Kardashians.
None of this makes for good viewing. People can tell something is wrong and it is emanating from the domineering women in the family, who are very fame obsessed to the point it has damaged and destroyed many of their relationships.
STORY SOURCE
Beginning Of The End! 'KUWTK' Ratings Drop To Historic Low

Posted on Mar 28, 2017 @ 19:02PM -It's crisis time for the Kardashians! Kris Jenner's Keeping Up With the Kardashians reality show had another ratings crash this week, with hundreds of thousands of viewers tuning out of the E! series. Once a huge traffic draw, the latest episode of the Sunday night series hit a new low in the ratings, leading to speculation that the family's time on TV could be coming to an end.
According to Nielsen, only 1.41 million viewers tuned in to the show. That was a significant drop from the previous episode, where Kardashian tearfully said she was afraid she was going to be raped and murdered by the armed men who tied her up and stole her jewelry during her Paris heist in October 2016. The first two episodes of Season 13 had 1.48 million and 1.58 million, respectively.
"This sucks," a source close to production told Radar. "These were big episodes and they were supposed to bring in big numbers. This is bad." Viewers took to Twitter to rant about the show, calling for it to be cancelled. "#IHaveBeenThinkingAnd I think the network needs to cancel #KUWTK it's just no use to anyone anymore…" one person wrote...