Jay Z Has Bragged Of His Crimes In His Songs Including Being A Cocaine Dealer And Pimp
December 23. 2017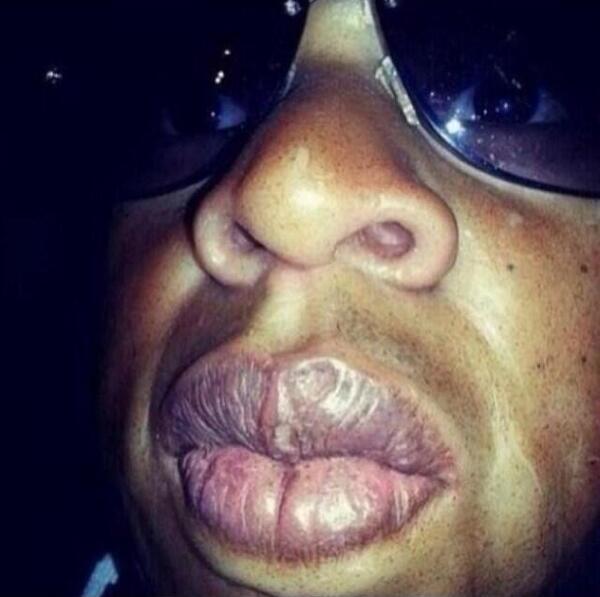 Jay Z
As rapper and former Def Jam Recording executive Jay Z continues to sweat bullets during the Harvey Weinstein sex scandal, regarding his fellow Kabbalah cultist and sexual harasser, it pays to note that he has a history of rapping about his illegal behavior in songs, for street credibility and to thumb his nose at the law. It is a known fact Jay Z was a crack cocaine dealer and violent man in the 1980s (he admitted it in Vanity Fair magazine in 2013 and on songs such as "99 Problems"). To this day, Jay Z is still a violent man with thugs and killers on his payroll.
On December 1, 1999, Jay Z tried to murder record executive and film director, Lance "Un" Rivera, founder of the Undeas Recordings label, distributed by Atlantic Records. Rivera, known in urban music circles, worked with rappers the Notorious BIG, Lil Kim and Junior Mafia, who recorded for his label.
Jay Z accused Rivera of bootlegging his album "Vol. 3...Life And Times Of S. Carter" prior to its release. Jay Z approached Rivera at a night club in New York during an album release party for Janet Jackson collaborator, rapper Q-Tip ("Got 'Til It's Gone"). Jay Z repeatedly stabbed Rivera, who was hospitalized with serious injuries. To avoid a lengthy prison sentence, Jay Z pleaded guilty to second degree felony assault and was given 3-years probation over the violent, vicious incident.
In Jay Z's profane, explicit rap song "I Just Wanna Love U (Give It 2 Me)" the rapper distastefully states, "I'm a pimp by blood not relation." He also has a copyright infringing song entitled "Big Pimpin" bragging about his dirty ways, which was the subject of a massive intellectual property lawsuit, as Jay Z ripped off an Egyptian music legend and thought no one would notice. Jay Z is an ignorant idiot, who is a thief with many trademark and copyright infringement lawsuits against him.
Jay Z used to pimp out women when he was a crack cocaine dealer. Jay Z went back to doing so again when he signed singers Rihanna (who was underage) and Rita Ora, had sex with them on many occasions, then sexually passed them around the entertainment and sports industries in exchange for songs, music videos, movie roles, marketing and promotional opportunities.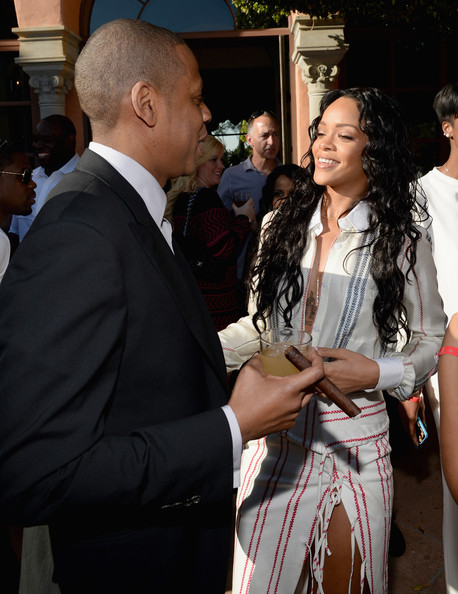 Jay Z and Rihanna
Rihanna and Rita Ora have been sexually pimped out by Jay Z as illegal inducements for athletes to sign with his floundering Roc Nation Sports company [Rita Ora Ripped To Shreds On Social Networking For Referring To Conor McGregor As Her Date Despite The Fact He Has A Longterm Girlfriend And New Son At Home (Jay Z Pimping Her Out Again For His Roc Nation Sports)].
Roc Nation Sports is already the subject of several lawsuits filed by many people in unrelated incidents, as Jay Z is a fraud who has been going around poaching athletes and promising money and career opportunities he cannot deliver on. He has caused athletes to break lucrative contracts by outright lying to them in promising more money than they were getting with their present agents and promoters, only to damage their careers with no real traction or money coming in. He does not know what he is doing. It's a "monkey see monkey do" situation with him mimicking others.
So arrogant is Jay Z, he sent Rihanna after British racecar driver, Lewis Hamilton, because he read the news about Mercedes Benz wanting to sign the Brit for £120,000,000 (which is $160,000,000). Jay Z had his hand stretched out, wanting to be cut in on the potential deal, in similar conduct to what had already landed him into trouble in America, regarding the National Football League (NFL), who enacted "the Jay Z rule" to block him from poaching athletes from their agents.
Hamilton and his team already did all the work to make him a star. However, greedy Jay Z was trying to push Hamilton's team out of the picture, to unethically take a cut of the £120,000,000 Mercedes Benz deal he did not create or work for in anyway. So, he sent Rihanna as a sexual inducement, as he had repeatedly done regarding other athletes, some of whom signed to Roc Nation Sports days after, as noted in the press.
Hamilton had a quick sexual fling with Rihanna, which he publicly spoke about in an interview in the British press, then they broke up. Hamilton did not sign with Roc Nation Sports. Rihanna also tried to turn him into Chris Brown, with bleached blond hair and clothing choices that did not fit buttoned-down Hamilton. In fact, journalists in the British press, bloggers and commenters on numerous websites began to complain about Hamilton's new image and lifestyle changes (partying/drinking), worried it would cost him races (he did lose a few races, but has bounced back).
RELATED ARTICLES
Rachel Roy's Emails Hacked As People Try To Find Out If She Is Cheating With Beyonce's Husband Jay Z While Rita Ora's Cousin Makes Statement That Causes Adultery Claims About The Rapper To Worsen
Madonna's Rabbi Yehuda Berg Sued For Sexual Assault And Threatening To Beat And Kill Student At The Kabbalah Center For Not Having Sex With Him
Hollywood Illuminati Has Engaged In Sex With Underage Teen Stars (Britney Spears, Lindsay Lohan And Rihanna)
Rihanna's Career In Freefall As Album Flops, Grammy Appearance Was Cancelled And Tour Postponed
Kabbalah Rabbi That Extracted $100,000 From Lebron James Thrown In Jail For Bribery
Boxer David Haye's Wife Files For Divorce After Cheating Incidents (Rita Ora)
Rihanna's New Album 'Anti' Officially Flops Selling Only 460 Copies
Rita Ora Bragging About Cheating With Jay Z Is A Dumb Move
Jay Z Is A Pimp (Rihanna And Rita Ora)