Jay Z Given Platinum Certification From The RIAA Despite The Fact He Hasn't Sold Any Copies Of His New CD
People Used To Earn Platinum Albums
July 7. 2017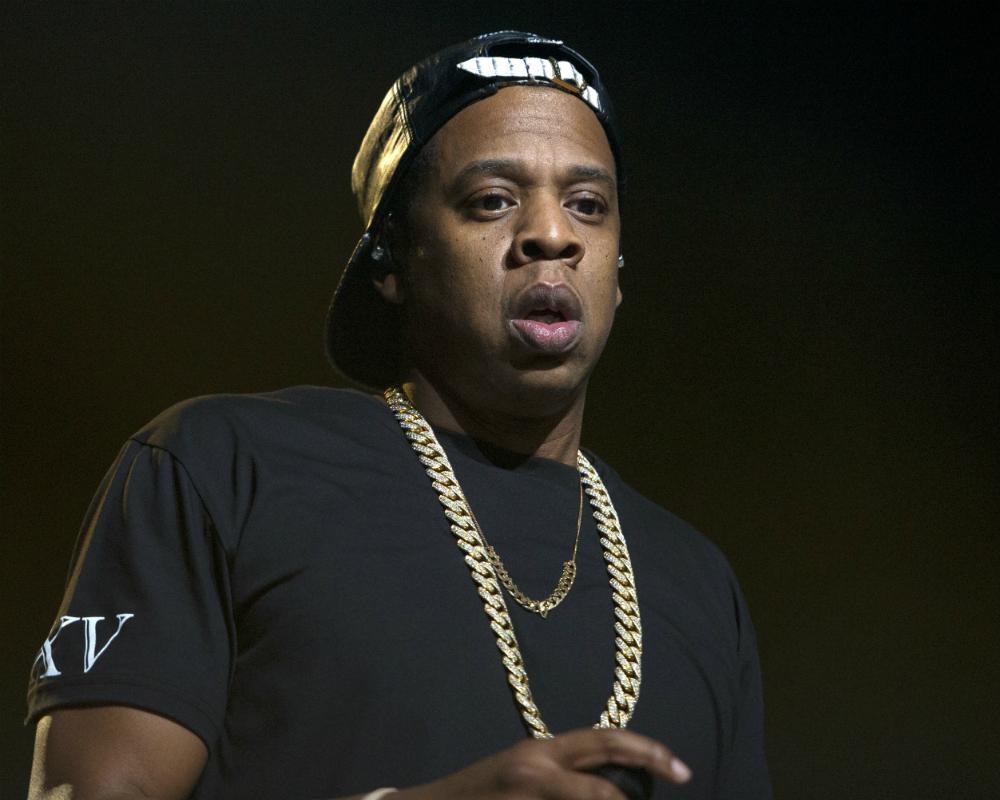 Jay Z
The music industry has devolved into madness. People are getting platinum plaques, certifying 1,000,000 copies sold, but without selling any music. That is crazy and desperate (much like Jay Z claiming he is cute and a billionaire). Jay Z, who is Kermit the Frog's long lost twin, cut a deal with Sprint to buy a million copies of his new wack CD, where he pretends to apologize for cheating on his wife, Beyonce, with Rihanna, Rita Ora, Amber Rose, Blu Cantrell and a host of side chicks and groupies.
The platinum certification comes from the one million copies of the album Sprint bought, plus inflated streams from Jay Z's Tidal music streaming. There are already allegations and lawsuits regarding Jay Z falsifying music streaming numbers at Tidal and he has falsified his numbers in the past. What a farce. The platinum plaque is meaningless and discredited.
The industry has lost its business sense. Just about every modern song in existence is on You Tube for free. You Tube pays publishers and labels a few cents each time someone goes to the site and clicks on content containing their music. However, people are actively ripping the music using free software and sites online, eliminating the need to buy music. Google is killing off album sales and so are artists who have corporate sponsors buy all their music, then falsely try to claim the copies were legitimately sold. What a scam. This is the equivalent of Bernie Madoff winning a sales award from Wall Street, when he was running a ponzi scheme/stealing and never made a single trade.
STORY SOURCE
JAY-Z's '4:44' Certified Platinum Following Sprint Promotion
7/5/2017 - JAY-Z keeps piling on the platinum, according to the Recording Industry Association of America (RIAA). His latest album, 4:44, has been certified platinum by the RIAA, reflecting 1 million equivalent album units earned in the U.S. Itís the hip-hop kingís 13th platinum-certified studio album.
One equivalent album unit, as recognized by the RIAA, is equal to: one album sale, 10 tracks sold from an album, or 1,500 on-demand audio and/or video streams from an album. The RIAA revamped its Gold & Platinum Awards Program on Feb. 1, 2016, growing from a pure album sales certification process to one that includes tracks and streams...
RELATED ARTICLES
Wikileaks Releases Hacked U.S. Federal Government Documents Showing The CIA And FBI Are Spying On People In Their Homes Via Hacking Smart TVs And Backdoors In Computer And Phone Operating System Confirming Previous Judiciary Report Site Claims
Obama Administration Wastes Huge Sums Of American Taxpayer Money Breaking The Law In America, Britain And Jamaica On Behalf Of Madonna's Kabbalah Center In Committing Egregious Human Rights Abuses
Madonna, Jay Z, Beyonce, Rihanna, Rita Ora And Jessie J Sued Over Copyright Infringement, Invasion Of Privacy, Commissioned Criminal Harassment And Assault Via The Kabbalah Center
Beyonce And Jay Z Twins Hospitalization Exceeds Standard Treatment Time For Jaundice Indicating There Are Other Health Problems That Necessitate Expensive Medical Care
TMZ Changes Story About Beyonce And Jay Z Buying A $40,000,000 House In Los Angeles And Are Now Stating They Have No Home
Madonna Illegally Borrowing Money From Banks To Fund Kabbalah Center Cult's Criminal Invasion Of Privacy
Jay Z's Roc Nation Sports Told Alex Rodriguez To Stiff His Lawyers By Not Paying $400,000 In Legal Fees
Beyonce And Jay Z Twins Born A Week Ago But Have Been In Intensive Care For The Past Several Days
Hollywood, FBI And CIA Holding Up Life Saving Pharmaceutical Drug Patents Out Of Financial Greed
Aaron Hernandez Killing Odin Lloyd Has The Appearance Of A Hollywood Illuminati Sacrifice
Social Networking Brands Beyonce And Jay Z's Daughter Blue Ivy 'Ugly' At The VMAs