Janet Jackson And Her Husband Wissam Al Mana Split Due To Religious Difficulties Under Shariah Law Coupled With Post Partum Depression
April 11. 2017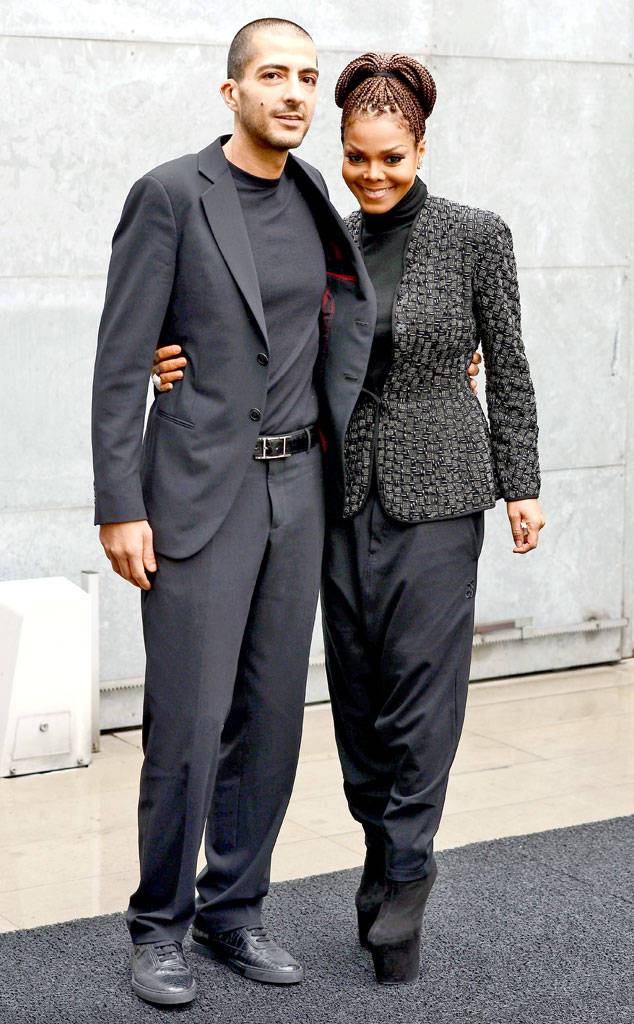 Wissam Al Mana and Janet Jackson
Janet Jackson, whose estimated net worth is $125,000,000 has split from her husband of 5-years, Qatari businessman, Wissam Al Mana. Estimates indicate his net worth is between $400,000,000 to $800,000,000. The couple recently had a son, Eissa, who was born in London, England.
Regarding Jackson's marriage troubles I heard, "She got tired of him." Jackson has been having trouble adapting to her husband's religion of Islam. She was raised in luxury in Los Angeles, living in mansions most of her life and shopping for luxury cars and revealing high price designer clothes. Jackson is also a singer, who has been hearing music in her home, in the recording studio and on stage most of her life.
For much of their marriage, Jackson lived in Qatar with her husband at a high security compound in Doha, Qatar. Jackson was not permitted to wear designer clothes, only the black Abaya, which covers a woman from head to toe. Jackson had to ditch all her hoe clothes. Jackson was also not permitted to drink alcohol, listen to music or drive a car, things the 50-year-old singer has been doing since her teens. There are also other aspects that have been raised by writers online, such as some in Islam engaging in acts of prejudice against black people, using the slur "raisin heads."
A report online stated Jackson became suicidal due to the strict religious changes in converting to Islam. Jackson's depression has worsened since having a baby. Jackson was already depressed from her drastic lifestyle change from Jehovah's Witness to Muslim and now is dealing with post partum depression as well.
Some of Jackson's touring problems came from her conversion to Islam. Al Mana was not happy with the types of costumes she had worn previously, the sex acts she simulated on stage or the fact she was on stage at all performing to music. It put a strain on their marriage. The baby was the concession that got Jackson off tour.
Life for women under Shariah law is different from what Jackson was used to in the west (America and Britain). For example, in 2013 Jackson's husband Al Mana fired a female employee, Norwegian businesswoman Marte Deborah Dalelv, after she went to police in Dubai complaining she was raped.
In Dubai, women who state they were raped are arrested and prosecuted for fornication, which is sex outside of marriage. Dalelv was thrown in jail and given a 16-month sentence for reporting she was raped. Dalelv's rapist was given 3-months less jail time. In the Koran, a woman is worth half of a man and different rules apply than would to a male.
Dalelv's sentence was pardoned when the Norwegian government got involved. She was advised to state she was not raped, but had sex voluntarily, in order to get her passport back and be released from jail. This was the only way to get her released from jail. Dalelv was released after 4-days being jailed by committing perjury in stating she was not raped.
In another case, Australian woman Alicia Gali, who was working at a hotel chain in Dubai, stated she was thrown in jail in for 8-months, after she reported 3 co-workers to police for spiking her drink and gang raping her. The 27-year-old stated she awoke to find 3 co-workers raping her. In another case, an 18-year-old girl from the Arab Emirates was gang raped by 6 men in Abu Dhabi, but thrown in jail for 1-year for sex outside of marriage. It is a completely different way of life from the west.
Side Bar: You know, Christianity frowns upon fornication, but if a person does it the most we'll do is quietly call you a hoe...
STORY SOURCE
Janet Jackson Spotted for the First Time Since Split From Wissam Al Mana
Mon, Apr 10, 2017 4:18 PM - Janet Jackson is carrying on with her life. Following news of her split from Wissam Al Mana over the weekend, the Grammy winner was spotted for the first time while shopping in London on Monday. According to eyewitnesses, after her assistants returned some flowers to one shop, the star stepped into an artificial plant store for an hour and later perused sofas at a furniture shop. As a source told E! News, she was shopping for a light-colored sofa and had her eye on a grey piece...
Janet Jackson Regrets Converting To Islam, Reveals Suicide Attempt
June 3, 2016 - The late Pop star, Micheal Jackson's sister who was last month rumoured to be quitting the entertainment industry following her conversion to Islam has opened up on her near suicide attempt. Janet Jackson who is married to the Qatari Muslim billionaire Wissam Al-Manna said she was pushed to a point where she almost committed suicide because the transformation her religion change demanded was too tasking.
The pop star's sister revealed to MTV News that the transformation has denied her access to everything in life as she was not allowed to listen to music, drive a car, wear designer clothes except the 'Black Abaya'. She added that the transformation has also denied her access to stepping outside her residential home located in Doha which is heavily guarded by armed security men. She further explained that her woes are all captured in her 'No Sleep' single on which she featured J. Cole..

"I almost committed suicide" - Janet Jackson
Janet Jackson added, she was deprived of almost everything in life, as she couldn't listen to music, drive a car, wear designers clothes. Late Micheal Jackson's sister, Janet Jackson and wife to Quatari Muslim Billionaire, Wissam Al Mana has revealed in a recent interview with MTV News that she almost committed suicide because of the restrictions and burdens her new life and religion brought upon her, she said it wasn't an easy transition at all.
Janet added, she was deprived of almost everything in life, as she couldn't listen to music, drive a car, wear designers clothes only the Black Abaya and she couldn't even move outside her residential home in Doha and was always surrounded by heavily armed security men. She said her new song featuring J.Cole "No Sleep" says it all; from her marriage, to the difficulties involved in adapting to her new life, the stress involved in being a muslim wife and the regrets she had due to the choices she made...
Dubai rape victim who was jailed for having sex outside of marriage is finally pardoned after global outcry
Published: 06:08 EDT, 22 July 2013 | Updated: 09:54 EDT, 23 July 2013 - A Norwegian woman at the center of a Dubai rape claim dispute says she has been pardoned and is free to leave the country. Marte Deborah Dalelv said she was given back her passport Sunday by the public prosecutor's office and that her 16-month sentence for having sex outside marriage has been dropped.
The 24-year-old designer claimed she was raped in March by a co-worker, but she was charged with the sex offense after going to police in Dubai in a case that highlighted the clash between the city's Western-friendly atmosphere and its Islamic-based legal codes...
If Blacks Read These Islamic Texts About Muhammad, They'd Never Be Muslims
February 13, 2016 - Islamic Text On Muhammad's Racism Prove There Should Be No Black Muslims. Do you think these African Muslims know about the white Islamic Prophet Muhammad's abuse and insult of his own black slaves, or do they simply support it?
Islam is the fastest growing religion among blacks around the world, with dark-skinned races flocking to mosques across the globe. However, what lesser known Islamic scriptures reveal about Muhammad's skin color and what he preached about black people prove not only that Islam is the most racist religion on earth, but that no black person should ever convert to Islam.
Philosophy lecturer David Wood takes us on a sarcastically witty journey through forgotten and often purposefully hidden hadith passages that extensively detail the Islamic Prophet Muhammad's racist past. In his brilliant video, Wood quotes countless chapters that prove Islam's "perfect man," the only example by which Muslims are commanded to live, was nothing more than a white, bigoted slave master who has led 1.6 billion souls into submitting to a primitive ideology.
Pointing out Muhammad's fair-skinned features, Wood reads hadith verses in which multiple witnesses and authors describe their beloved prophet's naturally pale complexion. For reference, I've provided all quotes with unbiased hyperlinks to official hadith websites that also contain the original Arabic:
He made his camel kneel down in the mosque, tied its foreleg and then said: "Who amongst you is Muhammad?" At that time the Prophet was sitting amongs us leaning on his arm. We replied, "This white man reclining on his arm." [Bukhari 63]
"I saw the Messenger of Allah with a white complexion and some white hairs." [Muslim 2343]
"I said to him: 'Did you see the Messenger of Allah?' He said: 'Yes, he was white with an elegant face.'" [Muslim 43]
…the whiteness of his shins. [Ahmad 15273]
…the whiteness of the thigh of Allah's Prophet. [Bukhari 371]
…the whiteness of his stomach. [Bukhari 2837]
…the whiteness of the armpits of the Messenger of Allah… [Majah 881]
…the whiteness of his cheeks… [Majah 914]
Islamic Text On Muhammad's Racism Prove There Should Be No Black Muslims
According to his closest companions and most dedicated followers, Muhammad was so white, he was easily identifiable by his pale features.
Again, I've provided each of the word-for-word scriptures with links to the original Arabic, which has never been edited since the time it was written:
I went to (the house of the Prophet) and behold, Allah's Messenger was staying in a Mashruba (attic room) and a black slave of Allah's Messenger was at the top of its stairs. [Bukhari 7263]
Allah's messenger was on a journey and he had a black slave called Anjasha, and he was driving the camels (very fast, and there were women riding on those camels). [Bukhari 6161]
The man from Banu Ad-Dubaib, who was called Rifa'ah bin Zaid, gave the Messenger of Allah a black slave who was called Mid'am. [an-Nasa'i 3827]
Wood clarifies that, according to the hadith, Muhammad beheaded men and children, had sex with a 9-year-old girl, and raided caravans, but he would go to Jannah (paradise) and his black slave who simply took a cloak for himself before the booty was divided was burning in hell.
The Islamic hadith describes the "whiteness" of nearly every body part of Muhammad.
It is unknown how many black slaves Muhammad owned during his lifetime, but in Imam Ibn Qayyim Al-Jawziyya's Provisions of the Afterlife, he names 30 of the Islamic prophet's dark-skinned personal property. Of course, Allah's messenger believed that black slaves were half the worth of Arab slaves, proving this by trading two of his own blacks for one Arab Muslim in an-Nasa'i 4625.
Adding insult in slavery, Muhammad told his followers that mindless submission to Islamic authority is so important that "you should listen to and obey your Imam even if he was an Ethiopian slave whose head looks like a raisin." Again, we see the racist prophet referring to African features as being raisin-like. Still, Muhammad makes it clear that women are even lower than black slaves, reminding that they should never be appointed as rulers.
Again, Islam's prophet offensively announced that if anyone wants to see the face of Satan, just look at Nabtal, his black slave, who has long-flowing hair, flaming eyes, and dark, ruddy cheeks. Of course, we can see the effects of Muhammad's racism, supremacy, and slavery on blacks today, as there are at least 14 million blacks owned by Muslims to this day.
Coming around full circle, we can see the ignorance of the majority of Islam's followers. Muhammad was a racist white man, Satan is a black man, and Islam is the quickest growing religion among the black community. Blacks throughout the world are continuing to convert to a religion whose "perfect man" owned blacks of his own and continues to own them today through ignorant submission.
RELATED ARTICLES
2003 Police File In Michael Jackson Arrest Unsealed Revealing He Collected Child Porn And Photos Of Little Kids Being Tortured
Bobby Brown States Michael Jackson Behaved In A Sexual Manner Towards Sisters Janet Jackson And Latoya Jackson