Iranian Government Arrests British Journalist Labeling Her A Spy And Detains Her 2-Year-Old Demanding Ransom For Their Release
January 31. 2017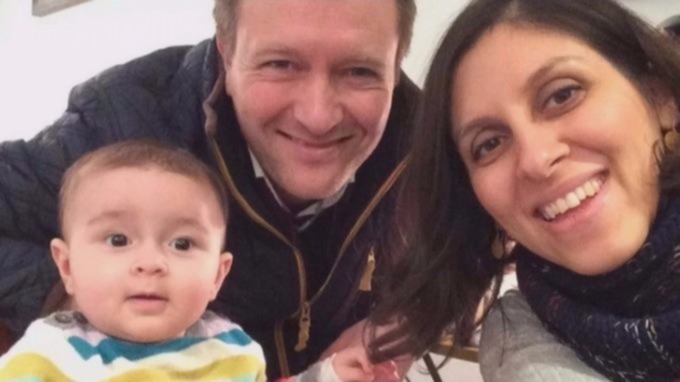 Richard Ratcliffe (center) his wife Nazanin Zaghari-Ratcliffe (right) and their daughter Gabriella Ratcliffe (left)
In April 2016, British-Iranian journalist and charity worker, Nazanin Zaghari-Ratcliffe, was arrested while visiting her home country of Iran, with her 2-year-old daughter. Zaghari-Ratcliffe had been living in Britain's wealthy Hampstead neighborhood, with her daughter Gabriella and husband, Richard Ratcliffe, when she went back to Iran to visit her parents.
The Iranian government branded Zaghari-Ratcliffe a British spy and without warning detained her on this improbable premise, as they have done to so many from the West, including Americans, who have visited Iran. It is dangerous to visit select foreign nations when one is from the West. One can be summarily detained for a variety of reasons that are a violation of international human rights laws.
Being Iranian born, Zaghari-Ratcliffe, probably assumed she was safe from such persecution and prosecution. However, she was mistaken. Reports from her family indicate Zaghari-Ratcliffe has experienced a deterioration in her mental and physical health, after being placed in isolation while in prison. She was recently convicted of spying by a secret Iranian court, which is highly questionable. She has been sentenced to 5-years in prison, which is outrageous. Where is the evidence?
No evidence has been presented proving Zaghari-Ratcliffe is a spy. Zaghari-Ratcliffe's baby, a British citizen, has been unlawfully detained and currently resides with the charity worker's parents. The latest development in the case reveals a source within the Iranian government has demanded £125,000 for Zaghari-Ratcliffe release, which is corrupt. Much like former U.S. President, Barack Obama, giving Iran $1.7 billion dollars in U.S. taxpayer money, against the American public's wishes (U.S. Attorney General Loretta Lynch Pleads The Fifth In Congress Keeping Silent About Why President Barack Obama Gave Iran $1.7 Billion Dollars In Violation Of American Government Policy).
Essentially, Zaghari-Ratcliffe and her daughter have been kidnapped. While I do not believe states should pay ransom or bribes to release citizens, in this case I think they should, as I am concerned regarding Zaghari-Ratcliffe's declining health. The mere fact a year has not passed and she has already faced a deterioration in her health, gives me concern that she may not make it through a 5-year sentence without irrevocable damage or death.
STORY SOURCE
Family of British mother held in Iran refuse to pay £125,000 demanded for release
Last updated Sat 28 Jan 2017 - The family of a British-Iranian woman held in Iran since last year said they have refused to pay £125,000 demanded in return for her release. Nazanin Zaghari-Ratcliffe's family received an offer to release her from Evin Prison in return for around £125,000. Her husband Richard, who has been campaigning for her release, said it was a "predatory attempt to exploit a suffering family".
Nazanin Zaghari-Ratcliffe was held by police while trying to leave the country with her baby daughter, Gabriella, in April 2016. Her five-year jail sentence 'on security charges' was confirmed last week. The emotional strain of this experience for my wider family continues to astonish. This is a predatory attempt to exploit a suffering family. It also highlights the attempts to exploit the legal system. I continue to hope that justice is served...