Hollywood, FBI And CIA Holding Up Life Saving Pharmaceutical Drug Patents Out Of Financial Greed
April 26. 2017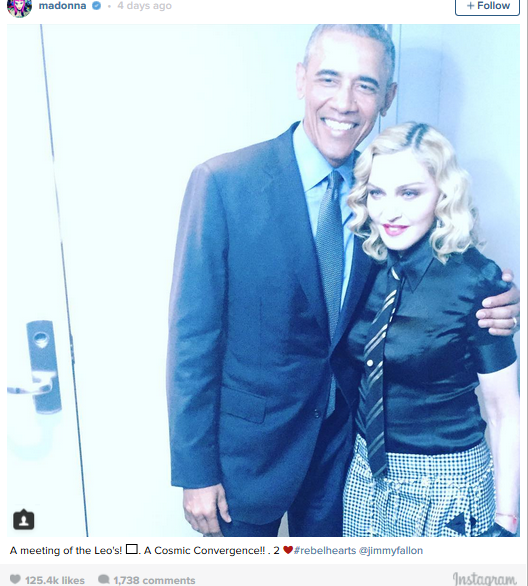 Former U.S. President Barack Obama and Madonna have committed crimes against humanity
As previously stated on the site, I have been diligently working on life saving pharmaceutical patents regarding cancer and HIV/AIDS, among other things. As my longtime readers have seen, I have also authored groundbreaking articles on disease that I've published to this site, which were later proven true and correct, such as the U.S. Food And Drug Administration Confirms Breast Implants Can Cause Breast Cancer As Stated Previously On This Site and Man Contracts HIV While On PrEP Drug Truvada Confirming Site's Previous Claims.
However, my forthcoming patents are being delayed, due to the criminal conduct of deranged pop singer Madonna, who is a massive copyright thief. For those of you who need background on the case, please read Obama Administration Wastes Huge Sums Of American Taxpayer Money Breaking The Law In America, Britain And Jamaica On Behalf Of Madonna's Kabbalah Center In Committing Egregious Human Rights Abuses and Madonna, Jay Z, Beyonce, Rihanna, Rita Ora And Jessie J Sued Over Copyright Infringement, Invasion Of Privacy, Commissioned Criminal Harassment And Assault Via The Kabbalah Center.
My work has repeatedly been criminally disrupted by Madonna's cult, on her orders. Madonna is a deranged, obsessed old madwoman. The FBI (and CIA internationally) is facilitating Madonna's criminal behavior through the Kabbalah Center and disease sufferers are paying the price for it with their lives.
They are still stealing my copyrights, defrauding me out of money, hacking and monitoring my bank account trying to find ways to access and take the money (I have received notices from the bank regarding the criminal intrusions/attempts) and 3-weeks ago issued another death threat against me while talking about Madonna, Jay Z and the so-called "illuminati."
They do not want my life saving pharmaceutical patents to come out and are fighting against it in depraved, vile ways. As they see it and have stated, once the patents come out they have to stop stealing and will have to answer criminal court questions as to the grand theft larceny (copyright theft) and other illegal behavior they have been engaging in regarding me (illegal wiretapping, phone hacking, email hacking, death threats).
I find it quite disgusting that the FBI, Madonna and others in her sick Kabbalah cult, such as Rihanna and Beyonce, among others, have also knowingly used cancer sufferers, worst of all children suffering from cancer (some of whom have died) for publicity in light of their vile behavior in blocking progress regarding the cure, so they can steal copyrights. It takes some extraordinarily evil people to fight to block cures for selfish financial reasons (stealing copyrights) then contact or look a dying cancer sufferer in the face while posing for photo-ops for publicity. They are some wicked, worthless people to do that in light of how they've been fighting against the cure.
However, mark my words, I will get the pharmaceutical patents completed and released. My question to the FBI, Madonna, Hollywood and those they've conscripted into their depraved behavior, what are you going to tell the world regarding all the sick people who died while you fought like junkyard dogs to block the pharmaceutical drugs, so you can steal copyrights for undue money and accolades and shaking your nasty, overexposed backsides on stage. The reasons they did it for is inexcusable and evil. You are a disgrace and an embarrassment to America. This is the sickest thing I have ever witnessed.
STORY SOURCE
After Beating Cancer, Boy Gets Big Surprise From FBI, Make-A-Wish
March 27, 2017 5:34am - The Make-A-Wish Foundation surprised Sam Allen, 8, and his family with a big visit to FBI Chicago. LITTLE VILLAGE — When Sam Allen used to think about what made him different from other kids, he'd think of his lymphoma. Now the thing that sets Sam apart is his FBI Chicago badge. He's the only junior agent in school.
Sam, 8, of Glenview, had been diagnosed at 6 when his mom found a small lump on his back. Doctors were surprised the lymphoma hadn't spread anywhere, said his mom, Lisa Allen. But it came back a year later, and Sam spent months in the hospital getting treatment. He was 8 when he entered remission and the Make-A-Wish Foundation asked him what he'd like to do.
The Make-A-Wish set that up — and did him one better. They arranged a trip to FBI Chicago headquarters in Little Village. Sam and Katie, who love books and shows about spies and like to play games where they spy on their parents, thought they'd get a tour when they showed up Wednesday. Instead, the FBI agents and Make-A-Wish arranged for a "bad guy" to pretend to rob the bank at headquarters once the Allens arrived...
Beyoncé Grants a Stage 4 Cancer Patient's Final Wish
Published March 23rd - Just a call away. As is the case with her unexpected announcements and albums, Beyoncé has remarkably mastered the art of surprise. Now, with a simple FaceTime call, Queen Bey's latest surprise just made the ultimate dream of a high school student battling a rare form of cancer come true.
Ebony Banks received the call from her idol on Wednesday (March 22) while in the hospital. According to local news station KIAH, she is a senior student at Alief Hastings High School in Bey's Houston hometown, spending the majority of her final year of high school in the MD Anderson Cancer Center while in the fourth stage of the rare cancer form.
KIAH reports that the school district held an early graduation ceremony for the young fan, and her closest friends teamed up to present her with the most unforgettable graduation gift yet: a FaceTime call from Bey. With efforts to make the hashtag "#EBOBMEETSBEYONCE" go viral, they were able to raise enough of a buzz to reach Mrs. Knowles-Carter. Sure enough, Bey rang the young fan up with a warm exchange. "I love you, Beyonce," Banks said to her idol on the call as Bey smiled, waved and returned an "I love you," right back. Many blessings and prayers for Ebony!
Drake and Rihanna Pay Tribute to Fan Who Died From Cancer
Jul 11, 2016 - Drake and Rihanna are mourning the loss of one their most loyal fans, Megan McFlores, who passed away from cancer Sunday. The teenage girl — who who was also known as OVO Megan — met Drake in March through the Make-A-Wish Foundation and inspired the Toronto rapper to dedicate his album Views to her. "This body of work is dedicated to Megan Flores," he wrote. "I pray for your well being every day."
Drake posted an Instagram honoring McFlores Sunday. "Rest in peace my angel. I know heaven is celebrating today," he captioned the photo. "Thank you for the moments and emotions we share I am blessed to have known you in this lifetime."
Rihanna — who was introduced to McFlores through Drake — also shared a tribute to the superfan. "I had the pleasure of meeting an angel on earth!," the "Work" singer wrote. "After my show in Miami, [Drake] introduced me to Megan! She's inspired me so much with her strength and her perspective on life! So fearless and kind! It's heavy news that I can't slide in your DMs anymore like I used to!! There was always a smile waiting for me there! You brightened any day! Rest up baby girl! We will miss you!!"
Wish Come True: Drake & Rihanna Surprise Cancer Patient In Miami
Drake made a Make-A-Wish Foundation cancer patient named Megan's dream come true. While in Miami to make a surprise appearance on Rihanna's ANTI tour, Drake also did a good deed. Alongside RiRi, Drake made a Make-A-Wish Foundation cancer patient named Megan's dream come true and he even hopped in her Instagram video.
"BEST DAY OF MY LIFE!," captioned Megan's Instagram video of herself and Drake. "I MET THE LOML. He was so sweet & down to earth. Gave me and my family some OVO clothing. BEST DAY EVER. NO LIE. @champagnepapi LOVE YOU!" Aubrey even took over Megan's Snapchat and said, "This is the best Snapchat I've ever done before."
https://globalgrind.cassiuslife.com
RELATED ARTICLES
Congress Rips The CDC For Lax Safety Procedures That Led To Anthrax Exposure Confirming This Site's Previous Claims (Video)
The U.S. Food And Drug Administration Confirms Breast Implants Can Cause Breast Cancer As Stated Previously On This Site
New Controversy Erupts As It Is Revealed Select Scientists Have Been Playing Around With Flu Virus To Create Super Strain
Man Contracts HIV While On PrEP Drug Truvada Confirming Site's Previous Claims
Scientists Agree To Halt Super Swine Flu Trials After Government Outcry
Study Claims People With Vitiligo Have Skin Cancer Protection
Swine Flu Reboot Being Attributed To Human Error
Radiation Concerns Regarding Airport Scanning