Hollywood Actor James Franco Slammed For Sexually Harassing And Sexually Assaulting 17-Year-Old Girls
January 18. 2018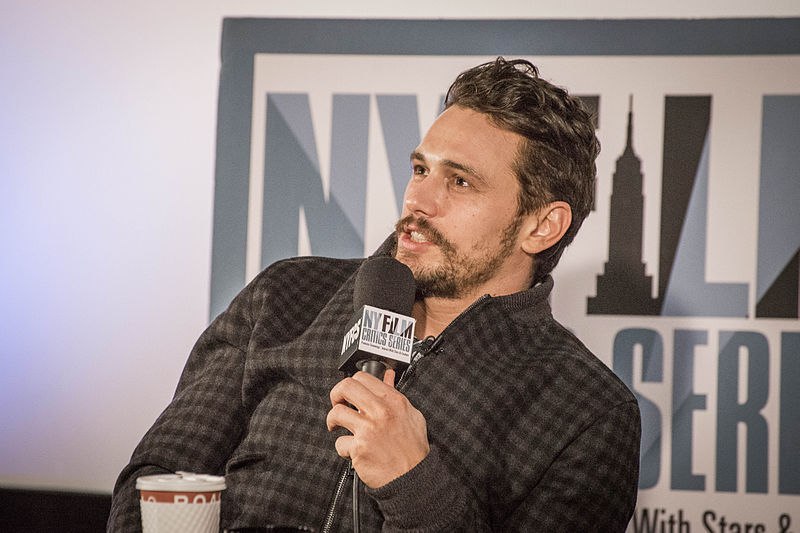 James Franco
39-year-old Hollywood actor, James Franco, has been publicly accused of sexually assaulting and raping 17-year-old girls, in the wake of the Harvey Weinstein sex scandal. In total five women, ranging in ages from 17 to 28, have accused Franco of sexual harassment and sexual assault.
17-year-old girl, Violet Paley, who is an actress, stated Franco forced her face to his exposed penis while they were in a car. She also states he told her 17-year-old friend to come to his hotel room. Paley revealed she felt pressured into having sex with Franco, who recently apologized.
Previously, in 2014 Franco tried to rent a hotel room to have sex with 17-year-old British student, Lucy Clode, whom he sexually harassed on Instagram. Franco met the teen and others after performing in "Of Mice And Men." Even after Franco found out she was underage, he bombarded her with messages on Instagram and persisted with wanting to rent a hotel room for sex. The underage girl declined and went public slamming his behavior. Franco apologized.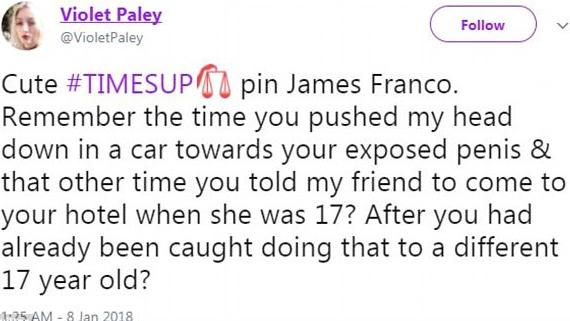 Other allegations that surfaced this month are from acquaintances and women who were students at Playhouse West and Franco's Studio 4 acting school. Franco charged $300 per month at his acting schools, but quickly closed them down right when the Weinstien scandal broke.
Former students have come forward stating they were being sexually harassed and sexually assaulted by Franco. For instance, Franco removed protective guards during an orgy scene and simulated oral sex on women without permission. Women were also bullied and harassed by Franco when they refused to appear nude or topless in scenes from various acting school projects. Students complained that Franco would sexually harass them in letting them know that if they performed sex acts on him, they would get movie roles. If not, they would not get roles (and once again, this is all while paying a so-called tuition fee of $300 per month).
One student complained that a topless scene Franco convinced her to do for an alleged short film, is now on a porn site, which is not something an actress needs on her résumé /CV. Rather than being taken seriously as an actress, 26-year-old Sarah Tither-Kaplan is now labeled a porn star. Directors of major motion picture films will be unlikely to cast her in their projects with the porn star tag attached to her name.
STORY SOURCE
Five women accuse actor James Franco of inappropriate or sexually exploitative behavior
Jan 11, 2018 - It should have been a pure moment of triumph for James Franco. He collected one of Hollywood's top prizes at the Golden Globe Awards on Sunday, validating an untraditional career in which he's been a bankable leading man, Ivy League academic and eccentric auteur.
But as he stood on the ballroom stage, some were paying more attention to the Time's Up pin on his lapel than the gold statue he picked up for his turn in "The Disaster Artist." It "was like a slap in my face," said Sarah Tither-Kaplan, a former acting student at the film school Franco founded who went on to appear in several of his productions.
Tither-Kaplan is one of five women who, in interviews with The Times, accused Franco, 39, of behavior they found to be inappropriate or sexually exploitative. Four were his students, and another said he was her mentor. In some cases, they said they believed Franco could offer them career advancement, and acquiesced to his wishes even when they were uncomfortable.
"I feel there was an abuse of power, and there was a culture of exploiting non-celebrity women, and a culture of women being replaceable," said Tither-Kaplan, who was one of many women who took to Twitter on Sunday night to vent anger over Franco's win and his support of Time's Up, the initiative combating sexual misconduct in Hollywood.
She told The Times that in a nude orgy scene she filmed with Franco and several women three years ago, he removed protective plastic guards covering other actresses' vaginas while simulating oral sex on them...
James Franco fallout begins: New York Times CANCELS talk by the actor over sexual harassment claims as he insists the allegations are 'not accurate' in awkward Colbert interview
Published: 01:31 EST, 10 January 2018 | Updated: 17:43 EST, 10 January 2018 - The New York Times has cancelled a talk by James Franco hours after the actor denied allegations of sexual harassment on Late Night with Stephen Colbert. Franco was asked by Colbert about allegations of sexual misconduct being made by a number of woman on Twitter in the wake of his Best Actor win at Sunday night's Golden Globe Awards.
'The things I heard are not accurate, but I completely support people coming out because they didn't have a voice for so long. I don't want to shut them down in anyway. I think its a good thing and I support it,' Franco told the host. He then added, however, that he had not read the actual accusations. 'There were some things on Twitter, I haven't read them. I've heard about them,' Franco added.
On Wednesday, the New York Times pulled the plug on a TimesTalk event with Franco and his younger brother Dave. The two were due to discuss their award-winning movie The Disaster Artist. 'The event was intended to be a discussion of the making of the film, The Disaster Artist. Given the controversy surrounding recent allegations, we're no longer comfortable proceeding in that vein,' a Times representative said in a statement.
Bratpack star Ally Sheedy was the most notable name to call out Franco on Sunday, doing so in a series of tweets throughout the Golden Globes. 'Why is a man hosting? Why is James Franco allowed in? Said too much. Nite love ya,' wrote Sheedy at the start of the telecast. 'Ok wait. Bye. Christian Slater and James Franco at a table on ‪@goldenglobes ‪#MeToo‪,' she continued. And in her final tweet, posted right after Franco's victory in the Best Actor category, she said: 'James Franco just won. Please never ever ask me why I left the film/tv business.'...

RELATED ARTICLES
New York District Attorney Cyrus Vance Looked The Other Way To Harvey Weinstein's Crimes In 2015 Due To Pressure From The FBI And Obama White House And A Bribe
Barack Obama, Michelle Obama And Hillary Clinton Slammed For Their 'No Comment' On Harvey Weinstein Finally Issues Statements
Madonna's Kabbalah Cult Is A Threat To British National Security (Harvey Weinstein, Rupert Murdoch, Kevin Spacey)
Harvey Weinstein Sexual Assault And Rape Victims Speak Out About Not Being Invited To The Golden Globes
Harvey Weinstein's Fall From Grace As Sexual Harassment And Charity Fraud Claims Surface