Hillary Clinton Catches Bill Clinton Lustfully Staring At Donald Trump's Daughter Ivanka (Video)
January 21. 2017
Former U.S. President Bill Clinton is known for being a womanizer and adulterer. His most famous act of adultery came via his former intern, Monica Lewinsky, which created a big scandal in the 1990s. Some people change. Others do not .Clinton is one of them.
Yesterday was the inauguration for America's new president, Donald Trump, who defeated Bill's wife, Hillary Clinton, in the November 8, 2016 presidential election. It's safe to say, yesterday was one of the worst days of Hillary Clinton's life, having to watch the inauguration of her political rival who beat her at polls in a bitter election.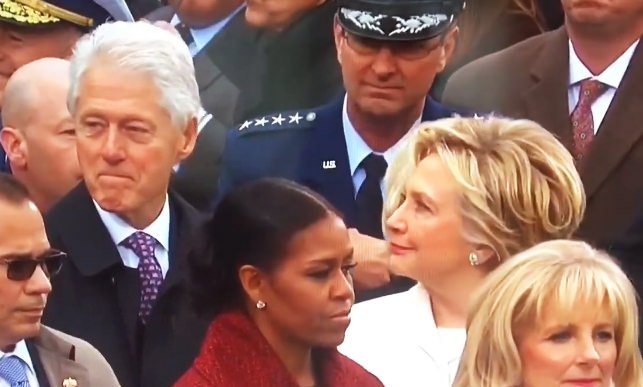 Bill Clinton staring at Ivanka Trump and Hillary Clinton looking at him annoyed
And what is Bill Clinton doing during this terribly difficult moment for Hillary, you ask? Lustfully licking his lips, while staring and nodding at Ivanka Trump, the daughter of Hillary's rival, Donald Trump. Hillary turned around just in time to see Clinton ogling Ivanka. Hillary tried to remain calm, but you could see the anger forming on her face.
Hillary needed moral support and there he clearly was thinking about oral support with another woman, which is what got him in trouble in the first place with Lewinsky. He keeps embarrassing his wife and it's not cute. Someone please cut off Bill Clinton's Viagra prescription, before Hillary cuts off his...
RELATED ARTICLE
Is Russia Really To Blame For Hillary Clinton Losing The 2016 Presidential Election