Harvey Weinstein Labeled A Rapist Confirming Previous Site Claims
October 12. 2017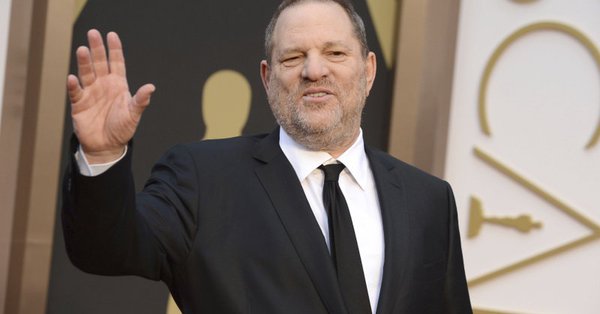 Harvey Weinstein
This is another follow up to the sex scandal surrounding Hollywood rapist Harvey Weinstein, whom I slammed as a depraved pervert and misogynist back in February 2017 and prior to that in 2012 here and here. In the October 10, 2017 article Social Networking Calls For A Boycott Of Donna Karan Clothes Over Her Defending Sexual Predator Harvey Weinstein In Stating Women Dress In A Manner That Asks For Sexual Assault I stated Hollywood executives like Harvey Weinstein have not only sexually assaulted, but raped people. In the article I stated, "Cult members like Weinstein and Karan are so used to sexually exploiting younger people in Hollywood and the fashion industry, they reason it away in their depraved minds, making up excuses like a person dressed in provocative clothes wants to be sexually assaulted, harassed or raped. That's how sick crazies think while trying to rationalize evil behavior."
I published the article labeling Weinstein a rapist at 3:30 AM and placed it on Twitter at 3:45 AM: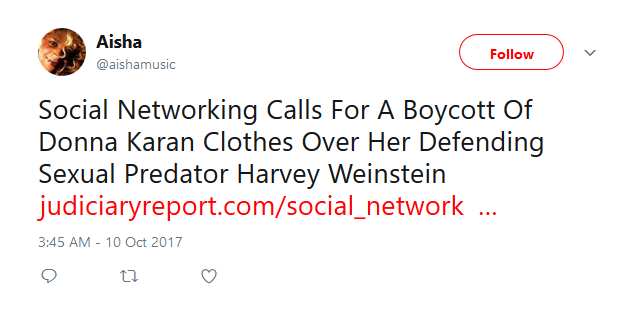 5-hours later at 7:50 AM the New Yorker magazine exposed Weinstein as a rapist in a detailed article expose, confirming my earlier claims about him: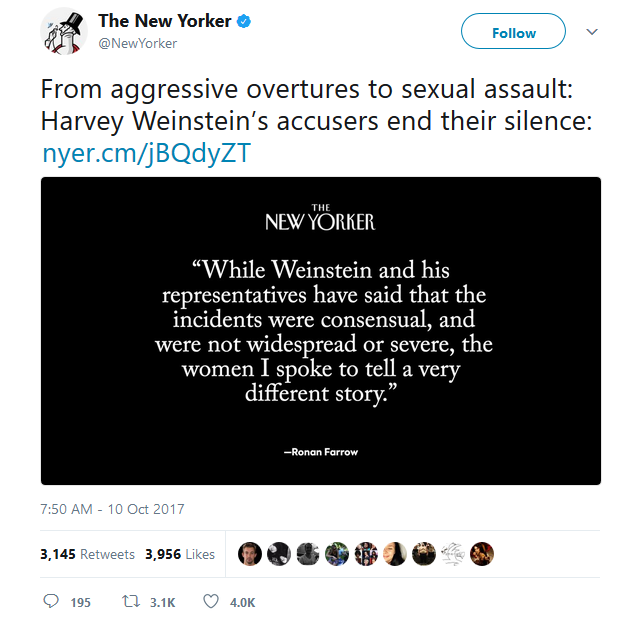 The New Yorker magazine's article slammed Harvey Weinstein stating he raped actress Asia Argento at a hotel. The article contained quotes from Argento who stated,"He asks me to give a massage. I was, like, 'Look, man, I am no f**king fool.' But, looking back, I am a f**king fool. And I am still trying to come to grips with what happened."
The magazine stated, "After she reluctantly agreed to give Weinstein a massage, he pulled her skirt up, forced her legs apart, and performed oral sex on her as she repeatedly told him to stop. Weinstein 'terrified me, and he was so big,' she said. 'It wouldn't stop. It was a nightmare.' At some point, Argento said, she stopped saying no and feigned enjoyment, because she thought it was the only way the assault would end."
Argento stated, "I was not willing. I said, 'No, no, no'...It's twisted. A big fat man wanting to eat you. It's a scary fairy tale. The thing with being a victim is I felt responsible. Because, if I were a strong woman, I would have kicked him in the balls and run away. But I didn't. And so I felt responsible. She described the incident as a 'horrible trauma.' Decades later, she said, oral sex is still ruined for her. 'I've been damaged,' she told me. 'Just talking to you about it, my whole body is shaking.'"
The magazine further added, "Argento recalled sitting on the bed after the incident, her clothes 'in shambles,' her makeup smeared. She said that she told Weinstein, 'I am not a whore,' and that he began laughing. He said he'd put the phrase on a T-shirt. Afterward, Argento said, 'He kept contacting me.' For a few months, Weinstein seemed obsessed, offering her expensive gifts."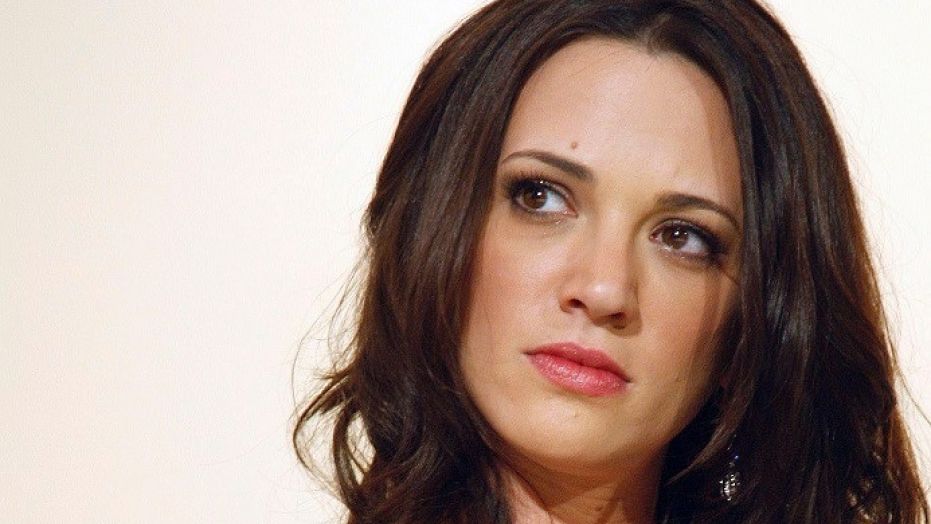 Asia Argento
Argento like many other women were afraid vindictive and evil Weinstein would destroy their careers if they resisted or spoke out. Rosanna Arquette and Mira Sorvino resisted his sexual advances and he destroyed their thriving careers, by having them blacklisted all over Hollywood, like a deranged, obsessed psychopath.
Weinstein forcefully exually harassed Ashley Judd, Rosanna Arquette, MiraSorvino, Angelina Jolie, Heather Graham, Rose McGowan, Gwyneth Paltrow, among others. Weinstein also sexually assaulted several models such as Ambra Battilana Gutierrez and Cara Delevingne, among others. Women in the industry have stated he forced them to perform oral sex on him by grabbing them by the head and forcing their faces to his crotch. A journalist stated Weinstein masturbated in front off her, without her consent.
This is one of the things that disgusts me about Hollywood - they refuse to leave people alone. They won't confine their evil and madness to themselves. They target, stalk, harass and pester innocent people, who have absolutely no interest in them. There are willing people who for money and fame would date them, but industry perverts insanely go after those who do not want them, engaging in acts of sexual assault and rape to take what does not belong to them. They are arrogant and ugly, believing they should have anyone they want.
Men like Weinstein delude themselves into thinking they are hot studs that everyone wants. The fact of the matter is most people in Hollywood find Weinstein rough on the eyes. In the looks department Weinstein is to white women what wack Roc Nation owner Jay Z is to black women - very unattractive. Jay Z is another sexual predator who preys on women, that want to become famous in music and or maintain their careers.
There are other misogynistic in Hollywood who do not treat women well, such as director Michael Bay. As stated previously, music executive David Geffen (Dreamworks, Geffen Records) targets young men, some of whom are not gay, but fear he will destroy their careers if they do not comply. L.A. Reid and Dr. Luke have sexually harassed and sexually assaulted women and threatened their careers in the music industry.
STORY SOURCE
From Aggressive Overtures to Sexual Assault: Harvey Weinstein's Accusers Tell Their Stories
Multiple women share harrowing accounts of sexual assault and harassment by the film executive.
October 10, 2017 - In the course of a ten-month investigation, thirteen women interviewed said that, between the nineteen-nineties and 2015, Weinstein sexually harassed or assaulted them. Since the establishment of the first studios a century ago, there have been few movie executives as dominant, or as domineering, as Harvey Weinstein. As the co-founder of the production-and-distribution companies Miramax and the Weinstein Company, he helped to reinvent the model for independent films, with movies such as "Sex, Lies, and Videotape," "The English Patient," "Pulp Fiction," "The Crying Game," "Shakespeare in Love," and "The King's Speech."
Beyond Hollywood, he has exercised his influence as a prolific fund-raiser for Democratic Party candidates, including Barack Obama and Hillary Clinton. Weinstein combined a keen eye for promising scripts, directors, and actors with a bullying, even threatening, style of doing business, inspiring both fear and gratitude. His movies have earned more than three hundred Oscar nominations, and, at the annual awards ceremonies, he has been thanked more than almost anyone else in movie history, just after Steven Spielberg and right before God.
For more than twenty years, Weinstein has also been trailed by rumors of sexual harassment and assault. This has been an open secret to many in Hollywood and beyond, but previous attempts by many publications, including The New Yorker, to investigate and publish the story over the years fell short of the demands of journalistic evidence. Too few people were willing to speak, much less allow a reporter to use their names, and Weinstein and his associates used nondisclosure agreements, monetary payoffs, and legal threats to suppress these myriad stories. Asia Argento, an Italian film actress and director, told me that she did not speak out until now—Weinstein, she told me, forcibly performed oral sex on her—because she feared that Weinstein would "crush" her. "I know he has crushed a lot of people before," Argento said. "That's why this story—in my case, it's twenty years old; some of them are older—has never come out."
Last week, the New York Times, in a powerful report by Jodi Kantor and Megan Twohey, revealed multiple allegations of sexual harassment against Weinstein, a story that led to the resignation of four members of his company's all-male board, and to Weinstein's firing from the company. The story, however, is more complex, and there is more to know and to understand. In the course of a ten-month investigation, I was told by thirteen women that, between the nineteen-nineties and 2015, Weinstein sexually harassed or assaulted them, allegations that corroborate and overlap with the Times' revelations, and also include far more serious claims.
Three women—among them Argento and a former aspiring actress named Lucia Evans—told me that Weinstein raped them, allegations that include Weinstein forcibly performing or receiving oral sex and forcing vaginal sex. Four women said that they experienced unwanted touching that could be classified as an assault. In an audio recording captured during a New York Police Department sting operation in 2015 and made public here for the first time, Weinstein admits to groping a Filipina-Italian model named Ambra Battilana Gutierrez, describing it as behavior he is "used to." Four of the women I interviewed cited encounters in which Weinstein exposed himself or masturbated in front of them...
RELATED ARTICLES
Social Networking Calls For A Boycott Of Donna Karan Clothes Over Her Defending Sexual Predator Harvey Weinstein In Stating Women Dress In A Manner That Asks For Sexual Assault
Crooked Judge Illegally Presided Over And Threw Out Kesha Rape Case Against Dr. Luke Due To Blaring Conflict Of Interest Via Husband Working For Sony Music
Harvey Weinstein Is No Different From Appalling Industry Men Like Jay Z And LA Reid Who Sexually Harass Women While Threatening Their Careers
More Information On The Obama Administration Using The IRS To Harass And Intimidate Politically Outspoken People
Harvey Weinstein's Fall From Grace As Sexual Harassment And Charity Fraud Claims Surface
T-Boz Of TLC Says She Is Not Surprised LA Reid Is In Trouble For Sexual Harassment