Floyd Mayweather And Conor McGregor Fight Earns $23 Million Less In Ticket Sales Than Manny Pacquiao Bout
September 6. 2017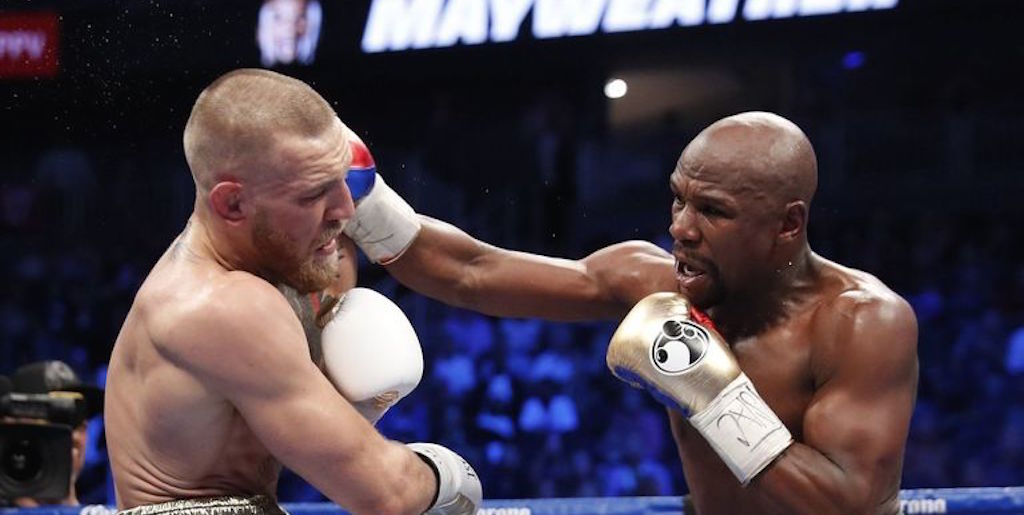 Conor McGregor vs. Floyd Mayweather fight on August 26, 2017 in Las Vegas, Nevada.
For months leading up to the Mayweather v. McGregor boxing match, I wrote on this site and my Twitter page that the ticket prices were way too high. A few tickets were $500, but the majority were placed on sale for $3,000 to $100,000. Over 5,000 were unsold. The promoters of the fight were overconfident in thinking the tickets would sell out, but they were not quickly snapped up by the public. Ticket brokers also shied away from buying many tickets, for fear they would be unable to unload them.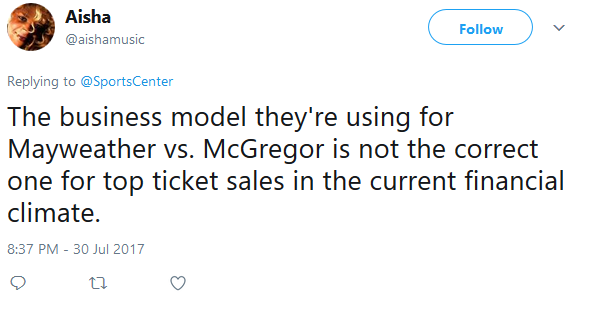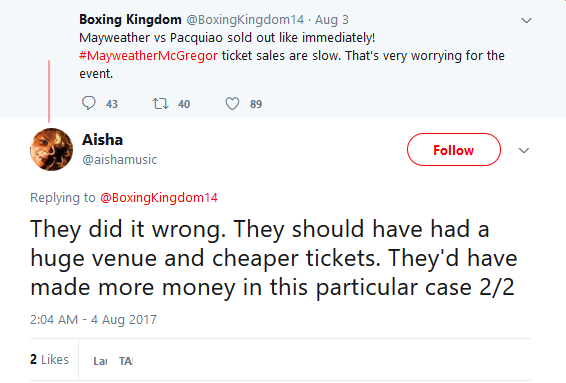 Tweets from my Twitter page prior to the fight
Reports initially stated Mayweather v. McGregor grossed $80,000,000 in ticket sales. However, the Nevada State Athletics Commission refuted earlier numbers, revealing the fight actually grossed $55,414,865.79. This figure is $23,000,000 below Mayweather's ticket sales for his 2015 fight against Manny Pacquiao.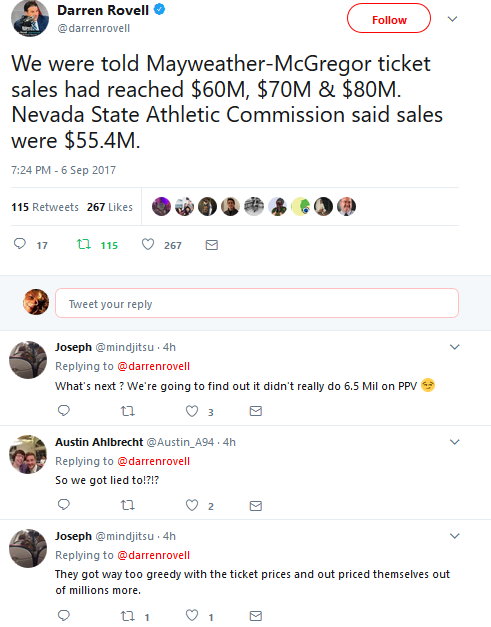 The public and press are now questioning if the pay-per-view numbers for Mayweather v. McGregor are lower as well. There are estimates of the pay-per-view numbers floating around online. However, no official figures with receipts have been released to verify sales.
STORY SOURCE
Floyd Mayweather vs. Conor McGregor gate falls well short of Mayweather vs. Pacquiao record number
Sep 6, 2017, 12:03pm EDT - One of the key financial numbers is in from Floyd Mayweather vs. Conor McGregor. The Aug. 26 boxing match made $55,414,865.79 in ticket sales at T-Mobile Arena in Las Vegas, MMA Fighting confirmed with the Nevada Athletic Commission (NAC) on Tuesday.
The news was first reported by Jed I. Goodman on Twitter. The figure is far below the record gate number produced by Mayweather's fight with Manny Pacquiao in 2015, which generated $72,198,500 at the MGM Grand Garden Arena in Las Vegas for the sale 16,219 tickets...
RELATED ARTICLES
Floyd Mayweather Is Having Money Problems And Is In Financial Trouble With The IRS As Predicted Previously On This Site
Floyd Mayweather Owes The IRS $22,000,000 In Taxes From 2015 Manny Pacquiao Fight
Lawsuits Filed Over Mayweather McGregor Fight Due To Pay Per View Network Outages