Felon Turned Model Jeremy Meeks Cheats On His Wife With Heiress Chloe Green On A Yacht While His Devastated Wife Cries At Home
July 4. 2017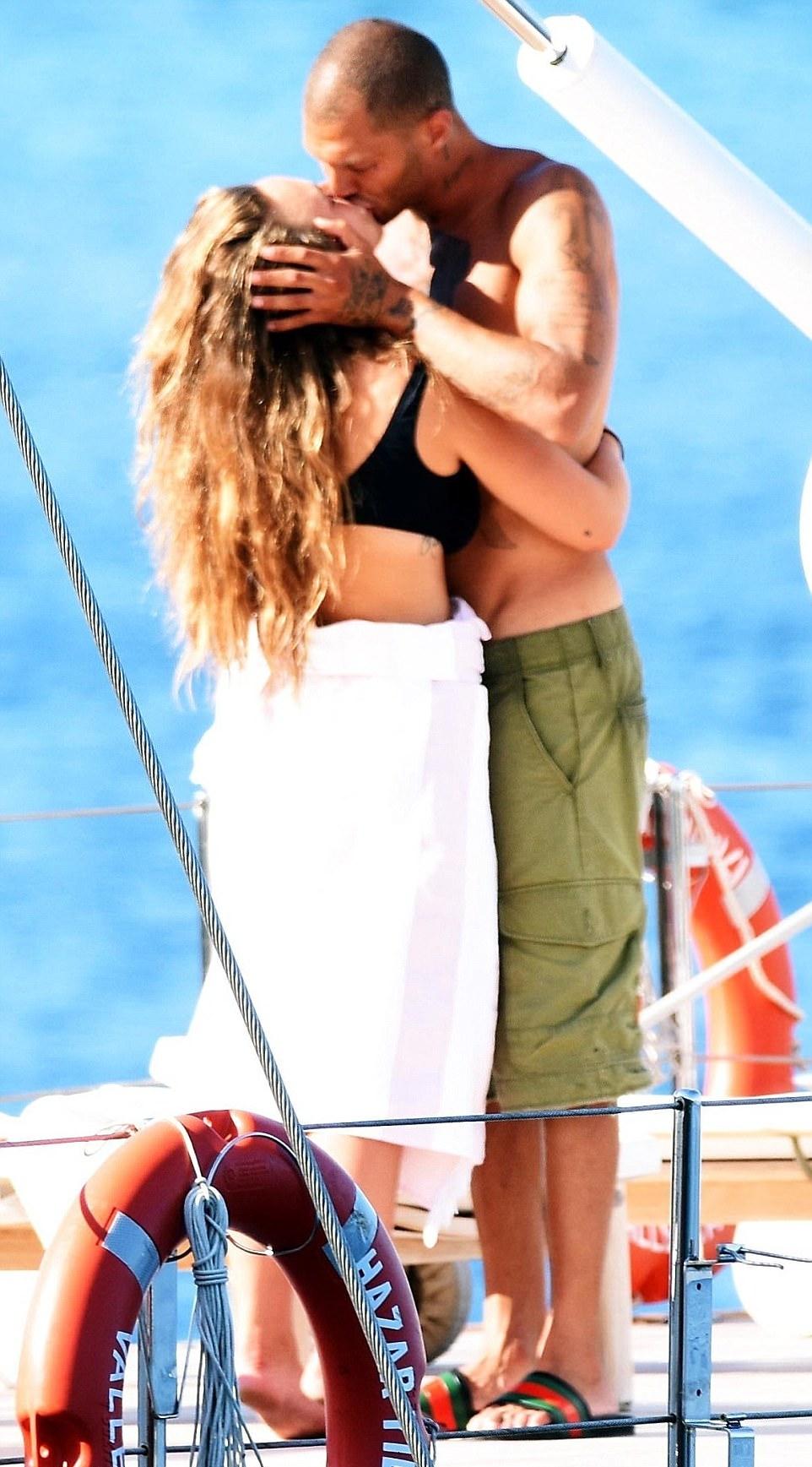 Chloe Green and Jeremy Meeks. Green can do a lot for his fashion career, as her dad Phillip Green owns clothing stores worth billions of dollars.
Newly released felon, Jeremy Meeks, 33, garnered a significant amount of attention online, after his mug shot was posted on a website. Meeks has been capitalizing on that attention by modeling for various fashion houses. In an incident last month, he was turned away from Britain, where he was denied entry by the government, due to his felon status, which is standard regarding British immigration and that of many other nations. That didn't stop Meeks from making another British entry of sorts, as he has been spotted having an adulterous affair with Top Shop heiress, Chloe Green, who is from London, England.
He is married to Melissa Meeks, his wife of several years and the mother of his three children, whom he left at home in California, to go cheat with Green on a yacht in Turkey. Meeks is being slammed on his social networking pages for cheating on his wife and so publicly with an heiress. Meeks tried to project the image of being a family man, even making comments to that effect, which is now shattered, much like his wife's heart.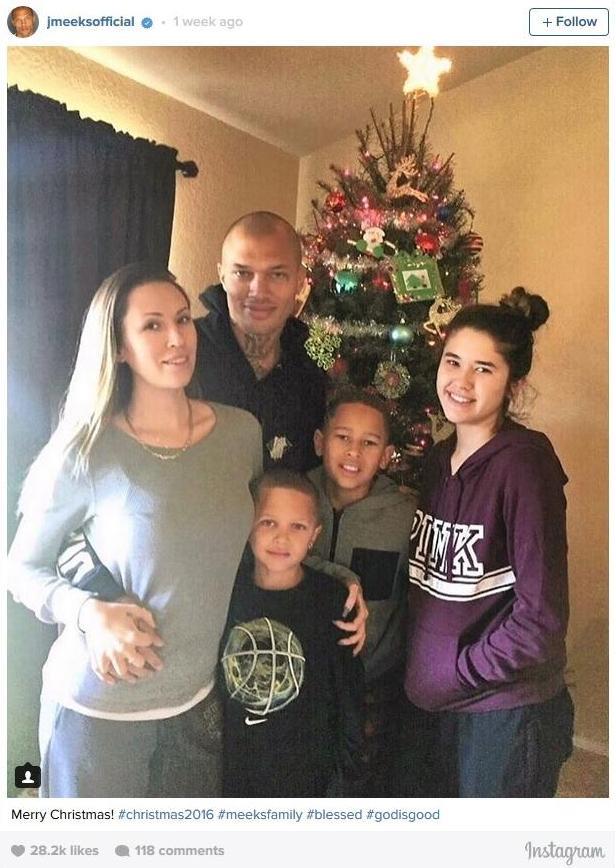 Jeremy Meeks and his family in December 2016
In my previous article on Meeks, I stated people need to look at a person's deeds not their looks. Yes, it is very easy to become attracted to a good looking man, but looks mean nothing if the person lacks morals. Meeks laundry list of crimes alarmed me. For a man to have a family and get in that type of criminal trouble anyway is selfish. All some people were looking at were his blue eyes and strong jaw line, but I was looking past that to his lack of character, which once again alarmed me. He's shown that selfishness again, cheating on his wife with the first rich woman who paid him any attention.
While it is good Meeks is out of prison and has not gotten into more criminal trouble, he handed his wife a cruel blow. The poor woman is probably feeling very betrayed and embarrassed. I have nothing to do with his situation and even as a bystander looking on at the photos of him passionately kissing a woman who is not his wife, I'm taken aback. The pictures look very intimate, like they are two people who have been having sex.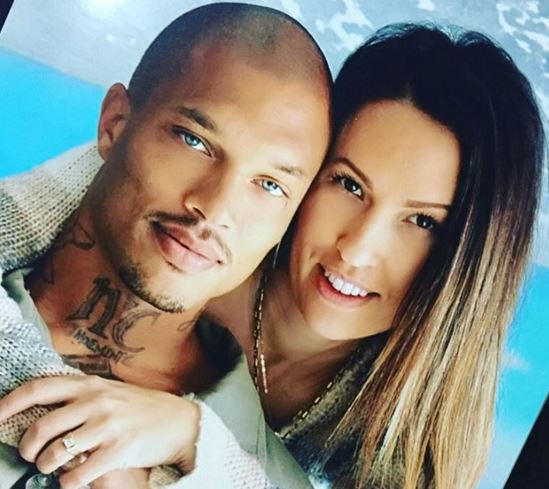 Jeremy Meeks and Melissa Meeks. After his cheating was discovered via photos hitting the press, his trip with Green to Turkey was abruptly cut short.
How do you betray your wife like that. Not to mention, he has kids old enough to read the internet and they are going to be devastated. It's all over the press and social networking. Meeks and Green's behavior is selfish and cold-blooded. Green also needs to stop. She is being a home wrecker and young kids are involved. Her family is already in controversy over financial deals her dad Phillip Green made that cost many people their jobs and pensions.
STORY SOURCE
Topshop heiress Chloe Green, 26, is seen snogging 'hot felon' Jeremy Meeks, 33, on private yacht
15:34, 1 JUL 2017Updated16:27, 1 JUL 2017 - They are hardly what you'd call an obvious couple. So it's not unreasonable for people to be surprised by the fact Chloe Green was spotted getting close to 'hot felon' Jeremy Meeks, this week. The Topshop heiress, 26, was seen smooching the hunky American, 33, while holidaying near Turkey on Friday.
And, clearly keen to publicise it, the daughter of Sir Phillip Green detailing it on her Instagram account, where she has 126,000 followers. There she shared two snaps - the first of herself posing in a skin-tight swimsuit, the second a shot of Meeks sitting on the private vessel, shirtless.
"Sir Philip is very protective and will likely be concerned his daughter is getting close to a married former gangster." Who is Jeremy Meeks? Everything you need to know about the 'Hot Convict' storming New York Fashion Week. Jeremy Meeks became a viral hit in 2014 when his sexy mugshot was posted on Facebook by the Stockton Police Department.
His picture was shared far and wide with some people branding him the 'hottest convict ever'. He had been arrested facing federal gun charges and a federal grand jury returned an indictment charging him with being a felon in possession of a .45 caliber semiautomatic pistol. Jeremy told news channel KXTV that he was a gang member and that he had a gun in the trunk of his car when arrested... The American stud has also previously served a nine-year sentence for a felony grand theft conviction from 2002.
http://www.mirror.co.uk

RELATED ARTICLES
Blue-Eyed Black Inmate Popular On Social Networking Gets A Manager And Death Threats
Blue Eyed Black Felon Causes A Stir On Social Networking Over His Looks (Video)