FBI Text Messages Expose The Fact Barack Obama Meddled In The 2016 Presidential Election In Illegally Spying On Donald Trump For His Political Party
February 7. 2018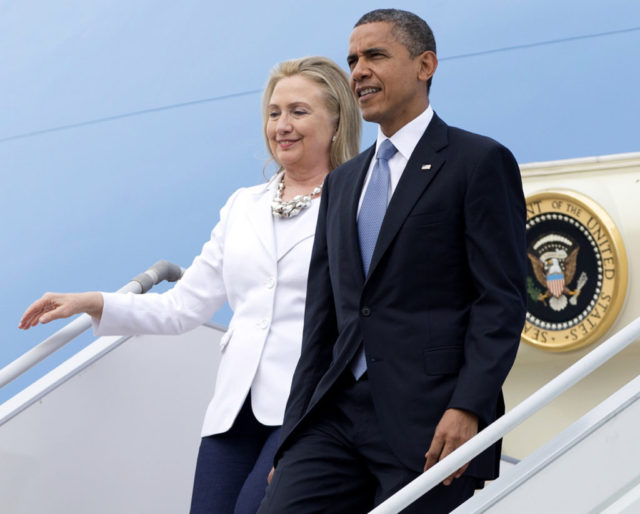 Hillary Clinton and Barack Obama
Former U.S. president, Barack Obama, publicly insisted he did not meddle in the Clinton emailgate criminal investigation at the FBI. However, evidence has surfaced illustrating Obama blatantly lied. Text messages between two FBI officials revealed Obama contacted them throughout the investigation.
FBI lawyer Lisa Page sent a text to her lover FBI agent Peter Strzok stating, "Yes bc potus (President of the United States) wants to know everything we are doing." Strzork and Page are also Clinton supporters who referred to Trump as "a f**king idiot" and Republican voters are "ignorant hillbillys." Republicans in Congress are stating it reveals a bias during the investigation.
Obama and Clinton had orchestrated the entire investigation, in a criminal conflict of interest, to rig the election for the Democrats. Obama and Clinton illegally had the Trump campaign wiretapped, hacked and stalked, They conspired to destroy their rival's presidential bid and did so through illegal means.
STORY SOURCE
New texts between FBI's Strzok, Page show Obama wanted updates on Clinton investigation
Updated: 11:45 a.m. on Wednesday, February 7, 2018 - A new batch of text messages between FBI officials Peter Strzok and Lisa Page revealed President Barack Obama wanted updates on the bureau's investigation into Hillary Clinton's use of a private email server, according a report released Wednesday.
On Sept. 2, 2016 — just weeks away from election day — Ms. Page texted Mr. Strzok, her lover, about preparing a report for then-FBI Director James B. Comey because "potus wants to know everything we're doing." That raises questions about Mr. Obama's involvement in the Clinton investigation, the report said...