FBI Has Been Spying On Black Lives Matter As I Previously Stated Online
April 26. 2017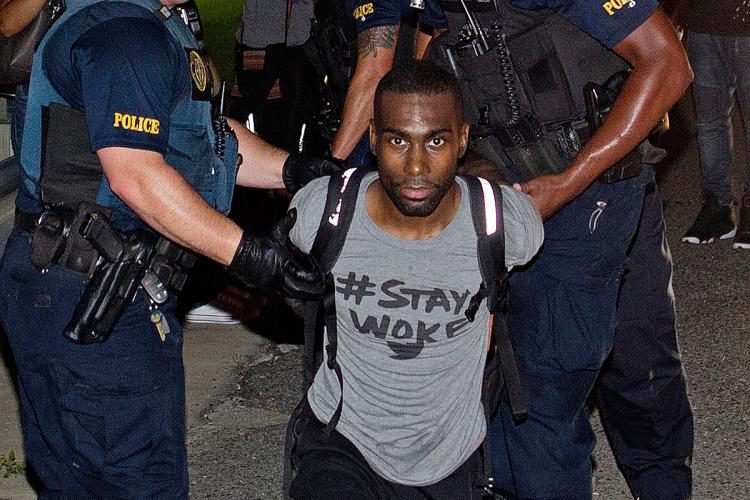 Black Lives Matter leader Deray McKesson during a protest in Louisiana
As my longtime site readers know, I do not like the FBI. Based on my experience regarding the FBI they are corrupt, crooked, evil and treacherous. The FBI has engaged in terrible conduct that has caused innocent people to die. The FBI breaks more laws than they follow. The FBI commits more crimes than they solve. As such, I have broken a number of stories on the FBI.
On July 10, 2016, I tweeted on my Twitter.com page that the Federal Bureau of Investigation (FBI) placed the protest group Black Lives Matter, led by Deray McKesson, under illegal surveillance (see screencap of my tweet below). 2-months after my tweet, Black Lives Matter formally requested their file from the FBI, who played dumb and refused to release it, in violation of the Freedom of Information Act.
4-months after my tweet, Black Lives Matter sued the FBI and the Department of Homeland Security (DHS) in October 2016 to obtain the files the government is keeping on them, which reveal the illegal surveillance. I found out last year that the FBI has been using unlawful COINTELPRO tactics on Black Lives Matter, which is illegal, as it is the same program they used to harass, terrorize and murder the late civil rights hero, Martin Luther King jr. In fact, two members of Black Lives Matter have committed suicide due to the harassment from the FBI that was done in a clandestine and evil manner.
The FBI is dirty and love trying to drive people to suicide. The FBI demanded Martin Luther King Jr kill himself. The FBI drove innocent scientist Bruce Ivins to suicide, under a vile and disgusting harassment, bullying and terrorization campaign that even targeted his wife, children and family friends. They truly are disgusting.
Another part of the problem regarding obtaining incendiary records showing flagrant criminal activity by the FBI against innocent people is the agency has a secret file room, which illegally does not get filtered into Freedom of Information Act request. I broke the story first via this website regarding the FBI's secret file room.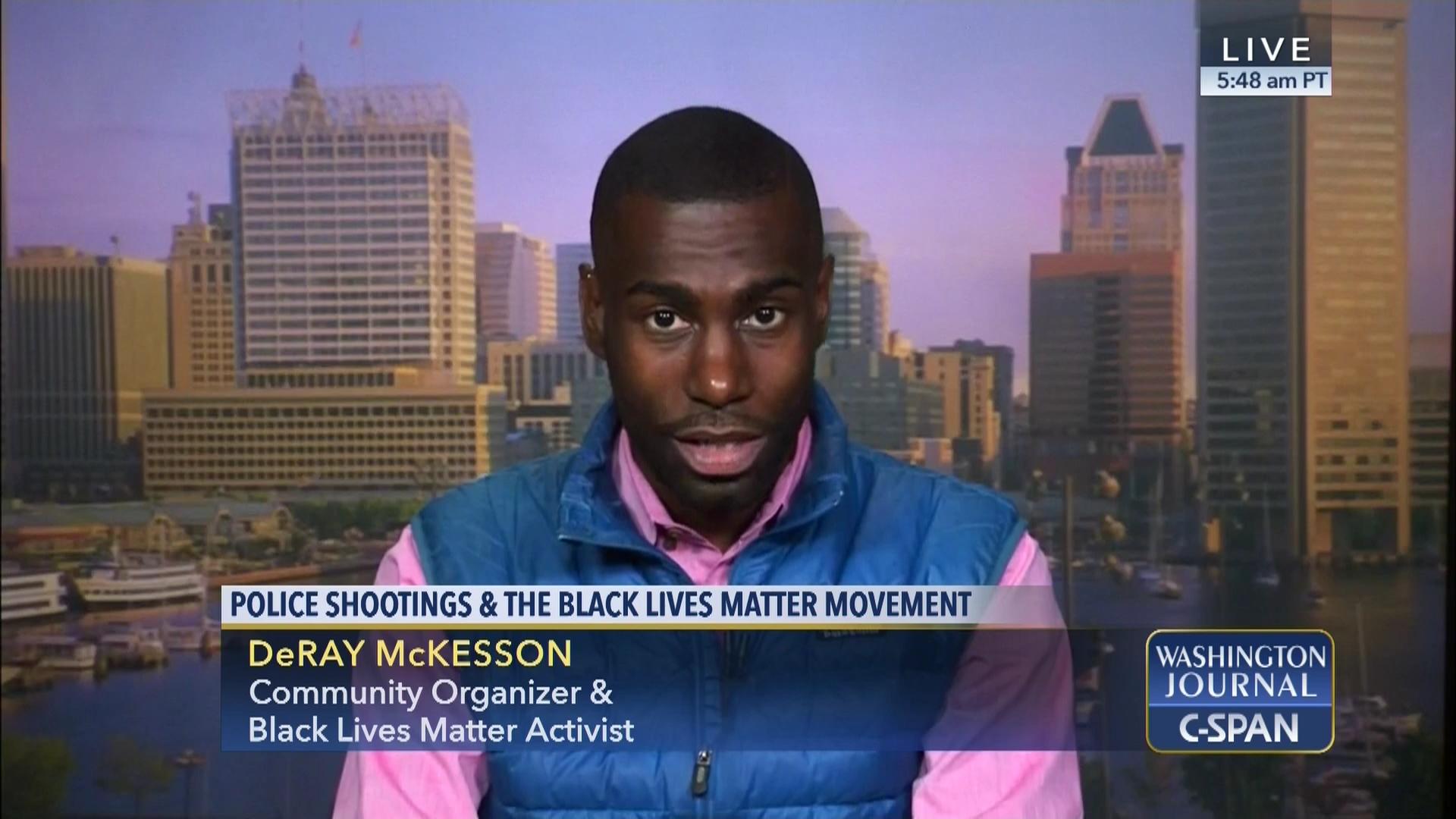 Black Lives Matter's Deray McKesson on television
The FBI routinely misspells the name of people in files they wish to hide from requests under the Freedom of Information Act. However, within their agency, they have different codes used to correctly identify the individual whose file is illegally lodged under the misspelled version of their correct legal name, in order to flout Freedom of Information Act requests.
When I tried to obtain my file from the FBI they hid it. Not only did the FBI deliberately misspell my name as "Alisha" rather than its correct spelling of "Aisha" they put items from it in their secret file room. The FBI repeatedly refused to release my file - declining to do so in writing three times. First they played dumb, then they acknowledge there may be a file, then they acknowledge there is a file, then they refused to release it.
I had to sue the FBI under the Freedom of Information Act seeking the release of my files, which is the only other remedy under congressional law. A corrupt Miami judge who used to work for the FBI/DOJ, Jose E. Martinez, went against all legal precedent and refused to release the file giving the FBI "sovereign immunity."
The term "sovereign immunity" is a corrupt and archaic legal defense used by governments steeped in criminal activity and corruption, who can find no legal justification for lawless, evil, heinous behavior that constitute human rights abuses under domestic and international law. So, to indemnify themselves from the legal liability of their crimes, they invoke the disgraceful "sovereign immunity" defense.

Tweet on my Twitter.com page regarding Black Lives Matter's Deray McKesson prior to their request for their FBI file
To this day, the FBI continues to hide the full files of Martin Luther King Jr, as what they did is so evil and vile, they world would demand any surviving employees and third parties conscripted into the abhorrent, murderous criminal plot against the late civil rights legend and other affiliated figures of the time who were brutalized and killed by the demonic agency, be executed under established U.S. state laws and in the Hague.
The contents of my file are in reference to matters concerning my vast copyrighted catalog and Hollywood's criminal thefts thereof, as criminally commissioned by chronic thief and satanic, washed up pop singer Madonna. The thieving conduct has mushroomed into illegal wiretapping, phone hacking, death threats and other criminal behavior, which led to me breaking the phone hacking case story first, regarding Madonna's business partner, Rupert Murdoch and providing spoken testimony to an FBI agent that aided in them arresting and convicting her private investigator, Anthony Pellicano.
The contents of the files also include items regarding patents I have been working on regarding medical cures and the FBI aiding Hollywood in criminal bids at thwarting them, so they can continue to criminally steal copyrights, while disease sufferers die in deaths that could be prevented (Hollywood, FBI And CIA Holding Up Life Saving Pharmaceutical Drug Patents Out Of Financial Greed ). I'm doing a documentary on the matter and will fully disclose what I have been told by a very credible source is in the files and like Madonna, it's not pretty.
STORY SOURCE
FBI and DHS sued over Black Lives Matter surveillance
Friday, October 21, 2016 - Attorneys for Black Lives Matter activists sued the federal government this week in an effort to obtain information about its monitoring of constitutionally protected protests. Filed Thursday in Manhattan federal court, the lawsuit says the FBI and Department of Homeland Security should be compelled to produce records concerning their surveillance of demonstrations related to the Movement for Black Lives (MBL), a recently formed coalition composed of more than 50 civil rights groups including the Black Lives Matter Network and the National Conference of Black Lawyers.
Activists requested the documents in July under the Freedom of Information Act (FOIA), but the agencies have either denied the existence of any records or ignored the requests: the DHS said in a Sept. 20 letter that a search of its files reveled no responsive documents, and the FBI hasn't done anything except acknowledge the groups' initial request, according to the lawsuit.
Specifically the group seek information about "policies and actions involving the monitoring and surveillance of public protests surrounding police violence, policing reform, racial justice and the Black Lives Matter movement." Attorneys with the Center for Constitutional Rights (CCR) and the Milton A. Kramer Law Clinic Center at Case Western Reserve University School of Law sued on behalf of the racial justice network Color of Change this week in hopes of having a federal judge force the agencies into releasing information about the surveillance operations.
"Government is supposed to protect our rights, not suppress our freedom—and yet for decades we've seen our government engage in a number of illegal surveillance practices that do just that," Brandi Collins, campaign director at Color Of Change, said in a statement. "Despite their denials, it is clear the Department of Homeland Security and FBI are continuing their disturbing legacy of employing secretive surveillance tactics with murky legal parameters to chill the Movement for Black Lives, along the way targeting individuals in a number of terrifying ways."