FBI Director James Comey Has Been Fired By President Donald Trump (Video)
May 9. 2017
FBI Director, James Comey, has been fired by U.S. president, Donald Trump. Comey's misconduct in a number of matters led to the termination. Comey began his day in Florida, then flew to Los Angeles, California. While in Los Angeles giving a speech to FBI agents, the television screens in the background flashed a news bulletin stating he has just been fired. Comey, in shock, thought it was a practical joke. However, it was no joke.
The New York Times reports, "Mr. Comey laughed, saying he thought it was a fairly funny prank. Then his staff started scurrying around in the background and told Mr. Comey that he should step into a nearby office. Mr. Comey stopped addressing the group." Comey was barred from flying back to Washington on the FBI's private plane.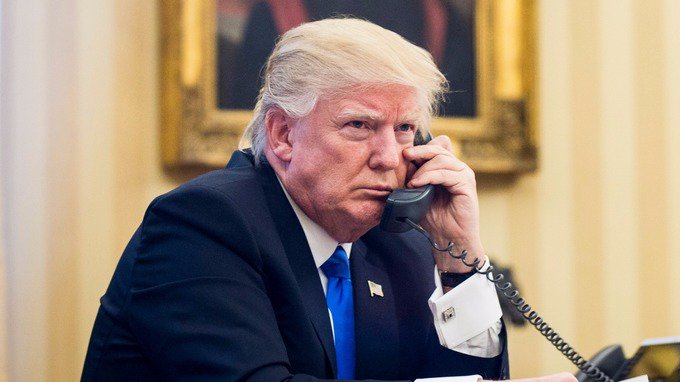 Donald Trump to James Comey: you're fired
Trump was not under investigation by Comey. Michael Flynn, who was hired by Trump when he took office, has been under investigation. Trump fired Flynn when items illegally leaked about him (Flynn) possibly being vulnerable to targeting from the Russian government.
Clinton mishandled classified material which is illegal. Comey called for a press conference and corruptly told the world she broke the law but will not be prosecuted. However, he stated if anyone else tried to do what Clinton did, the FBI would arrest and prosecute them. The internet erupted in anger, slamming the FBI in stating the agency is corrupt and the U.S. government and election rigged (FBI Hit With Massive Backlash From Americans Labeling Them 'Corrupt' For 'Rigging' Hillary Clinton Investigation Into Mishandling Classified Information And Not Charging Her For Crimes She Committed). This is a part of the reason Comey was fired.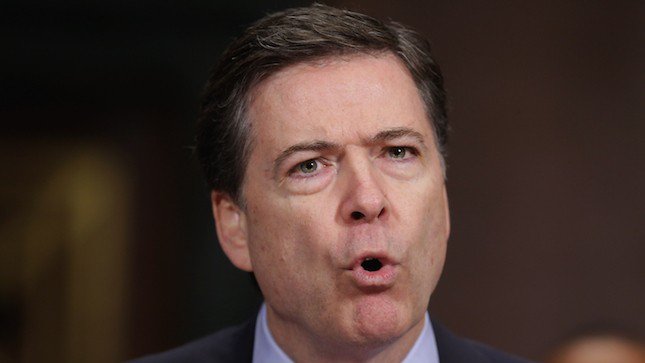 James Comey: what?!
ABC News reporter Major Garrett field a report from outside the White House this evening, stating live on the air, "Comey had to be fired because of actions and the lack of actions he took with regards to Hillary Clinton in 2016 and the investigation into her email server. Those senior Justice Department officials say not only was Comey wrong not to pursue charges, he was wrong to have a press conference announcing that fact and that he had failed to acknowledge both of those errors and both of those breaches with protocols and that forced the president to accept their advice that Comey be terminated." U.S. Deputy District Attorney Rod Rosenstein stated of Comey not pursuing criminal charges against Clinton, "The FBIs reputation and credibility have suffered substantial damage."
Clinton and company also unlawfully rigged the Democratic presidential primaries to steal the nomination from a more deserving Bernie Sanders. A hack into the computer servers of the Democratic National Committee exposed Clinton's criminal behavior in this regard.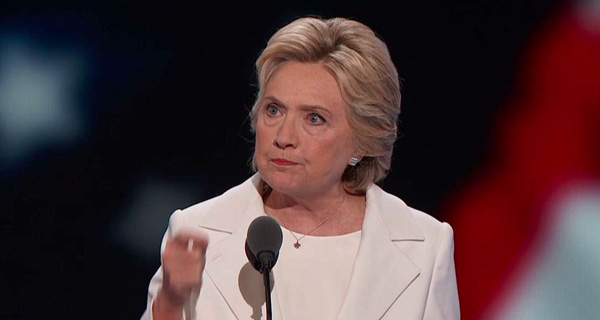 Comey destroyed the FBI's name on a grand scale in letting Hillary Clinton skate on serious criminal charges over misconduct the agency found she is guilty of on several levels
While the FBI has been described as "Trumpland" due to the fact many FBI agents support Trump, some stalwarts at the agency, as well as the CIA, are still in contact with former President Barack Obama and have been doing his bidding regarding spying on people and forwarding the data to the previous head of state (as stated on this site early this morning: Obama Engaging Federal Agents To Do His Bidding In America And Abroad In Illegal Conduct That Is Undermining Donald Trump's Presidency).
Maxine Waters slamming FBI Director James Comey months ago
For several months Democrats in Congress such as Maxine Waters called for Comey to be fired, wrongly blaming him for former presidential candidate Hillary Clinton losing the 2016 election to Trump. However, now that he has actually been fired, Democrats are crying foul and demanding a special prosecutor. Senator Chuck Schumer stated today, "Mr. President, in all due respect, you're making a very big mistake."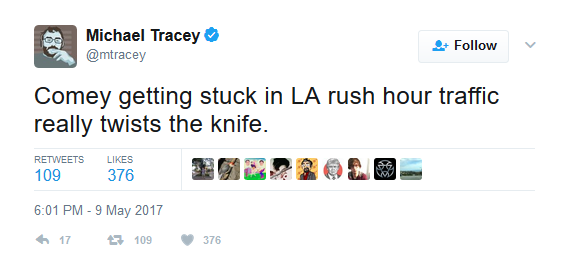 STORY SOURCE
Live Updates and Reactions to F.B.I. Director Comey's Firing
UPDATED 9:30 PM - President Trump has fired James B. Comey, the F.B.I. director, the White House spokesman Sean Spicer said on Tuesday. Mr. Comey was delivering a speech in Los Angeles when he learned he had been fired. His dismissal drew a quick rebuke from Democrats, with several calling for an independent prosecutor to take over the investigation into Russian meddling in the election.

Comey heard the news while giving a speech. Mr. Comey was addressing a group of F.B.I. employees in Los Angeles when a television in the background flashed the news that he had been fired. In response, Mr. Comey laughed, saying he thought it was a fairly funny prank. Then his staff started scurrying around in the background and told Mr. Comey that he should step into a nearby office.
Mr. Comey stopped addressing the group. He proceeded to shake hands with the employees he had been speaking to. Then he stepped into a side office, where he confirmed that he had been fired. At that point, he had not heard from the White House. Shortly thereafter, a letter from Mr. Trump was delivered to the F.B.I.'s headquarters, just seven blocks from the White House. Mr. Comey's day had begun in Florida, where he spoke to a group of police officers. He then flew to Los Angeles, where he was also scheduled to speak at a diversity meeting...