Ed Sheeran Was Booed At The Grammys For Winning 'Best Pop Solo Performance'
February 1. 2018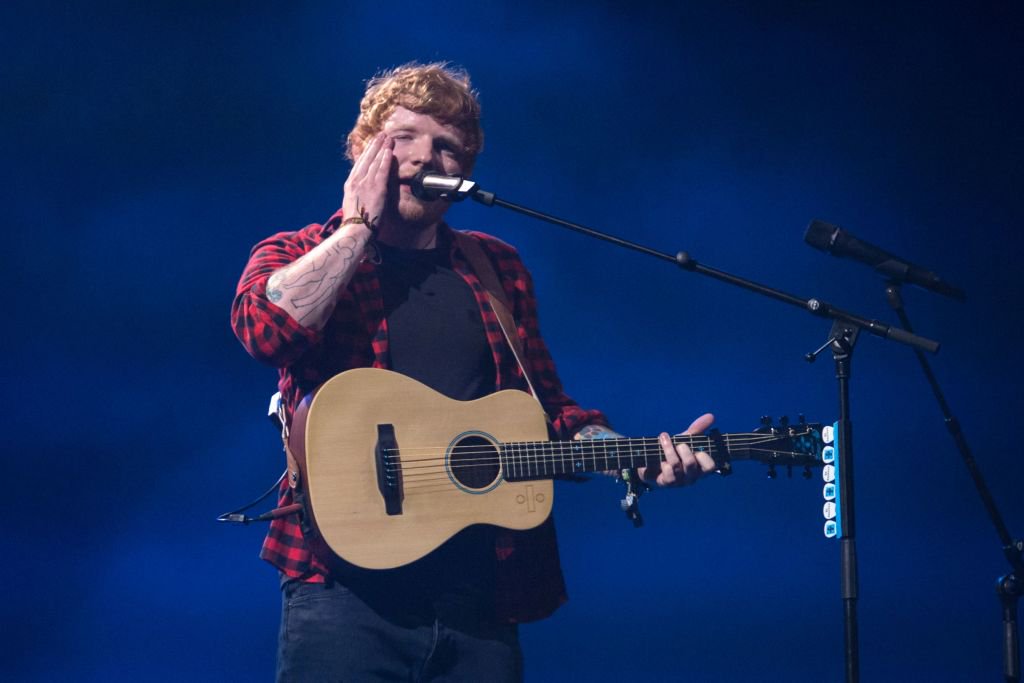 Ed Sheeran
Unoriginal singer/songwriter Ed Sheeran, who has been repeatedly sued by high profile songwriters for copyright infringement, was loudly booed at the Grammys last week. When Sheeran's name was announced as the winner in the "Best Pop Solo Performance" category for his 2017 song "Shape Of You" the audience erupted in loud boos.
The audience did not believe Sheeran should have won the award. Prior to the show, Sheeran was slammed on social networking for ripping off the 1994 hit "No Scrubs" by girl group TLC. "No Scrubs" was written by former Xscape girl group members turned reality stars, Kandi Burruss, of "Real Housewives Of Atlanta" and Tameka Cottle of "TI & Tiny: The Family Hustle". They had their attorneys contact Sheeran's representatives, he settled the lawsuit, gave them royalties and credit on "Shape Of You."
The trouble began for Sheeran when people on social networking began complaining about the similarities between the songs and slamming him for the theft. Eventually it got back to the writers of "No Scrubs" and litigation was initiated. More and more audiences are outing thieving singers and so-called songwriters for stealing music. It is leading to social consequences and sales losses.
RELATED ARTICLES
Rita Ora Ripped To Shreds On Social Networking For Referring To Conor McGregor As Her Date Despite The Fact He Has A Longterm Girlfriend And New Son At Home (Jay Z Pimping Her Out Again For His Roc Nation Sports)
Beyonce Steals Again Illegally Using Copyrighted Footage For Her Deceitful New Video 'Formation' While Ripping Off A Model's Pictures And Is Slammed By The National Sheriffs' Association
Madonna, Jay Z, Beyonce, Rihanna, Rita Ora And Jessie J Sued Over Copyright Infringement, Invasion Of Privacy, Commissioned Criminal Harassment And Assault Via The Kabbalah Center
Serial Copyright Thieves Beyonce And Jay Z Sued For Stealing 'Drunk In Love' And Even Including A Clip Of The Original Artist's Voice On The Track
Beyonce Continues To Fraudulently File Trademark Applications For The Name 'Blue Ivy' In Trying To Steal Preexisting Intellectual Property
Beyonce Steals Again This Time Ripping Off Short Film For HBO Lemonade Special Resulting In Copyright Infringement Lawsuit
Taylor Swift And Ed Sheeran Keep Getting Credibly Sued For Committing Copyright Infringement And With Good Reason
Beyonce And Jay Z Twins Born A Week Ago But Have Been In Intensive Care For The Past Several Days
Beyonce Steals Again But This Time From Sam Cooke, En Vogue And A European Artist
Beyonce Slammed For Taking Credit For A Company's Athletic Line She Did Not Create
Beyonce Following In Her Father Mathew Knowles' Footsteps With Substance Abuse
Beyonce Slammed By Rapper For Stealing Images From His Album 'Lemonade'
Beyonce Steals "Countdown" Music Video From European Artist's Work