Complaints Intensify Regarding Pedophilia Claims Against Hollywood Director Bryan Singer Who Has A Penchant For Teenage Male Twins
November 17. 2017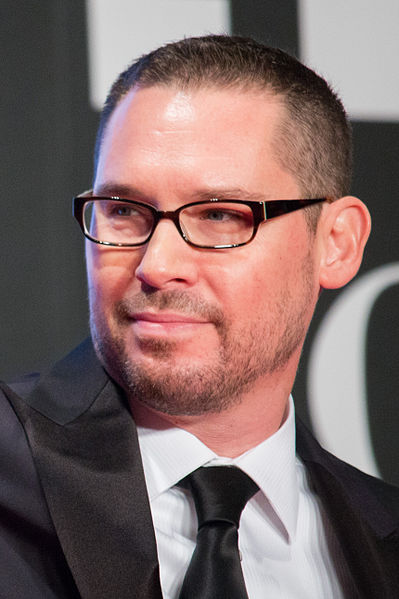 Bryan Singer
For years people have accused creepy, copyright infringing Hollywood director Bryan Singer of being a pedophile. 52-year-old Singer is constantly seen in the presence of young gay boys who are in their mid to late teens, disturbingly referred to as "twinks." Based on items published online, Singer also has a penchant for dating teenage gay twins. He throws massive pool parties at his house and fills the pool with teenage boys, as seen in photos online. What normal 52-year-old man does that. There's something very wrong with Singer.
On the set of the film "Apt Pupil" Singer demanded 14-year-old boys get naked and shower together for a scene in the film. Singer was accused of sexual assault against a minor on the "Apt Pupil" film set. In 2014, Singer was sued for drugging and sexually assaulting a minor, Michael Egan, who is now an actor and male model. Singer is said to have met Egan at a party held by convicted sex offender, Marc Collins-Rector. The case was later dismissed and knowing firsthand the way Hollywood operates in legal cases, it was likely out of fear due to threats.
Singer was also sued along with 63-year-old pedophile Hollywood director, Gary Goddard, whom he worked with on the film project "Broadway 4D." The lawsuit against the two directors alleged sexual assault against a young British boy. The case was later dismissed, like so many Hollywood cases when the victims are subjected to questionable conduct from violent private investigators and the thugs they employ (see: Harvey Weinstein Exposed For Hiring Private Investigators To Violate The Privacy Of His Victims Of Rape And Sexual Assault).
Hollywood also has a way of criminally and quietly bribing judges with stock, to dismiss valid cases, which I have seen firsthand (and was later exposed via stock filings). They have completely corrupted the judicial system and the Federal Bureau of Investigation (FBI), who has been getting complaints about Singer and other pedophiles in Hollywood for years, but looked the other way.
Recently, veteran actor, Anthony Edwards, came forward and stated Goddard molested him when he was 12-years-old. Edwards also stated Goddard repeatedly raped his underage friend for many years. Edwards recently wrote about the horrible sexual abuse he endured in Hollywood as a child. He is one of many who have been raped and molested by people in Hollywood.
There are many accusations in Hollywood from famous and non-famous people stating Singer sexually assaults underage teen boys in his pool at his Los Angeles mansion. Singer's name is mentioned in the documentary "An Open Secret" regarding pedophilia in Hollywood, which in the industry is as the title states. Major studios and record companies look the other way to the sexual molestation, abuse and rape that goes on, because the perpetrators are making them money. Hollywood has been shielding a number of pedophile actors, directors, producers and executives and it is high time it stops.
Hollywood does not need these people. They are not talented. The cult are thieves exploiting talented people. Not to mention, these cult crazies are going to end up destroying Hollywood with their madness and damaging the U.S. government as well, which they have been actively and inappropriately meddling in to the nation's detriment (Barack Obama, Michelle Obama And Hillary Clinton Slammed For Their 'No Comment' On Harvey Weinstein Finally Issues Statements and New York District Attorney Cyrus Vance Looked The Other Way To Harvey Weinstein's Crimes In 2015 Due To Pressure From The FBI And Obama White House And A Bribe). These Hollywood crazies belong in prison, as they are committing criminal offenses that constitute felonies.
The Daily Beast published an article regarding weirdo Singer, whom people are afraid to talk about on record, as he is a part of the violent and depraved Hollywood "Illuminati":
"And when people make allegations that are later withdrawn or dismissed, it becomes that much more difficult for victims to speak up. Famed director Bryan Singer (X-Men) has had accusations leveled against him for years, from a lawsuit alleging that he made minors shower in the nude on film for Apt Pupil in 1997 to sexual-abuse allegations in 2014. The Apt Pupil lawsuit was later dismissed due to lack of evidence, and the other sexual-abuse lawsuits were withdrawn by the accusers. However, that hasn't stopped actors from singling out Singer. On Sunday, as the Weinstein scandal continued to unfold, actress Evan Rachel Wood tweeted, "Yeah lets not forget Brian [sic] Singer either."
And then there was former The Real O'Neals star Noah Galvin, who in a since-deleted quote from an interview with Vulture, said: "Yeah. Bryan Singer likes to invite little boys over to his pool and diddle them in the f—ing dark of night. (Laughs.) I want nothing to do with that. I think there are enough boys in L.A. that are questionably homosexual who are willing to do things with the right person who can get them in the door. In New York there is a healthy gay community, and that doesn't exist in L.A."
The quote was later removed from the interview and Galvin issued an apology on Twitter: "I sincerely apologize to Bryan Singer for the horrible statement I made. My comments were false and unwarranted. It was irresponsible and stupid of me to make those allegations against Bryan, and I deeply regret doing so." The Singer allegations were also to be included in An Open Secret, filmmaker Amy Berg's eye-opening documentary on the child sexual-abuse epidemic in Hollywood, but were later excised from the final cut. (Singer, for his part, stated that, "The allegations against me are outrageous, vicious, and completely false.")"...
STORY SOURCE
Hollywood's Other 'Open Secret' Besides Harvey Weinstein: Preying on Young Boys
'This is a place where adults have more direct and inappropriate connection with children than probably anywhere else in the world,' claimed former child actor Corey Feldman.
10.16.17 11:15 PM ET - Last week, former child actor Corey Feldman (Stand by Me, The Goonies) tweeted that he'd been asked for a statement about Harvey Weinstein's sexual-harassment and rape allegations. It makes sense, since he has spent years speaking out about sexual abuse in Hollywood—not of women, but of young men. He has long alleged that pedophilia is the worst problem in Hollywood and that it's in part responsible for his best friend Corey Haim's eventual death by drug overdose.
Speaking to The Hollywood Reporter in 2016, Feldman said: "[Haim] had more direct abuse than I did. With me, there were some molestations, and it did come from several hands, so to speak, but with Corey, his was direct rape, whereas mine was not actual rape. And his also occurred when he was 11. My son is 11 now, and I can't even begin to fathom the idea of something like that happening to him. It would destroy his whole being. As I look at my son, a sweet, innocent, 11-year-old boy and then try to put him in Corey Haim's shoes, I go, 'Oh my G-d—well of course he was erratic and not well-behaved on sets and things like that.' What more could we expect of him really?"...
Anthony Edwards Says He Was Molested by Producer Gary Goddard as a Child (Update)
"I was molested by Goddard, my best friend was raped by him ?– ?and this went on for years," "ER" star writes
November 10, 2017 @ 10:40 AM Update 8:05 p.m. PT: - Actor Anthony Edwards' allegations that producer Gary Goddard molested him when he was a child were "unequivocally" denied by Goddard's publicist, Sam Singer, in a statement released Friday night: I am responding on behalf of producer and writer Gary Goddard to allegations posted and made today by actor Anthony Edwards on the website Medium.
Gary first met Anthony more than 40 years ago. Gary was a mentor, teacher and a friend to Anthony, which makes this story all the more disturbing to him. As to the allegations that Mr. Edwards made in his post today, I can unequivocally deny them on Gary's behalf. Gary played an important role in helping start Anthony's acting career and acted as his personal manager. He has nothing but the greatest respect for Anthony as a person. Gary is saddened by the false allegations.
The post by Anthony, as well as many of the news stories today reference a legal claim made against Gary approximately four years ago regarding sexual harassment. The complaint was demonstrated to be fraudulent as it was completely fabricated, and ultimately withdrawn by the complainant and his attorneys. Previously:
Actor Anthony Edwards has opened up, saying he was molested as a child by director and producer Gary Goddard. The former "ER" TV star penned an essay published Friday, saying that the entertainment executive abused him and his friends when he was 12 years old. "I met Goddard when I was 12, and he quickly became a dominant force in my life," Edwards wrote in a Medium post. "He taught me about the value of acting, respect for friendship, and the importance of studying. Pedophiles prey on the weak."
Edwards goes on to say that he and his group of friends, who viewed Goddard as a father figure, were all abused. "My vulnerability was exploited," he wrote. "I was molested by Goddard, my best friend was raped by him ?–? and this went on for years. The group of us, the gang, stayed quiet."...In 2014, Goddard was named in a lawsuit by Michael Egan, alongside "X-Men" director Bryan Singer and two other executives, accusing them of sexually abusing him as a teenager. That lawsuit was later dropped.