Comedian Kathy Griffin Fired For Sick Beheaded President Trump Photo
June 2. 2017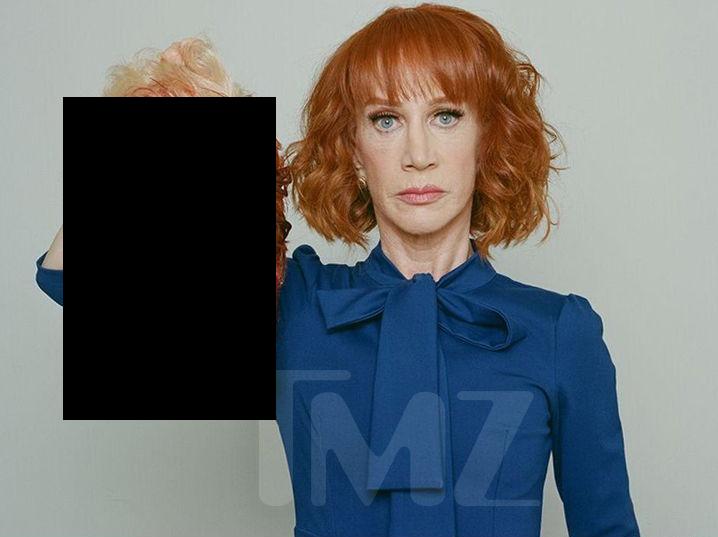 A redacted photo of Kathy Griffin holding up a realistic looking severed head replica of U.S. President Donald Trump. The photo has been redacted by me, as it is grotesque and I don't want to see that gore on my site.
Hollywood star, Kathy Griffin, has gotten herself into a world of trouble, by posing for a photo with a bloody, beheaded mold of U.S. President Donald Trump's head. The photo is sick and disgusting to look at. I don't know why anyone would think this was a good idea.
It is mentally ill. However, that's Hollywood for you. Hours before the story broke, I slammed the "Baywatch" reboot as disgusting, over a severed, bloody hand a character in the movie was told to pick up for good luck. What's with Hollywood and severed, bloody body parts. Please stop. It's sick, as it doesn't look like fake plastic, but real human flesh.
Griffin's conduct has been slammed all over the internet, as some perceived it as a death threat against the president. The U.S. Secret Service even became involved, which prompted a nervous video apology from Griffin. The comedian has been fired by CNN from her New Years Eve hosting job in New York. She has also lost paid endorsements over the incident.
It is fine to disagree with a politician's policies. However, Griffin's method is not how you do it. Once again, the photo is disgusting. I don't want to see that from terrorists...or anyone claiming to be an entertainer. How did some become so desensitize, as Griffin clearly has, that they believe doing such things is acceptable.
Trump's 11-year-old son, Barron, who is currently in New York, didn't know who Griffin is, saw the photo on television and panicked, believing someone had killed his dad. I don't care which political party you belong to, no kid should be subjected to that.
RELATED ARTICLE
Dwayne 'The Rock' Johnson Whines Over Bad Reviews Of Terrible 'Baywatch' Movie