Chris Brown's Lawyer Mark Geragos States Karrueche Tran Is Stalking Chris Brown
April 21. 2017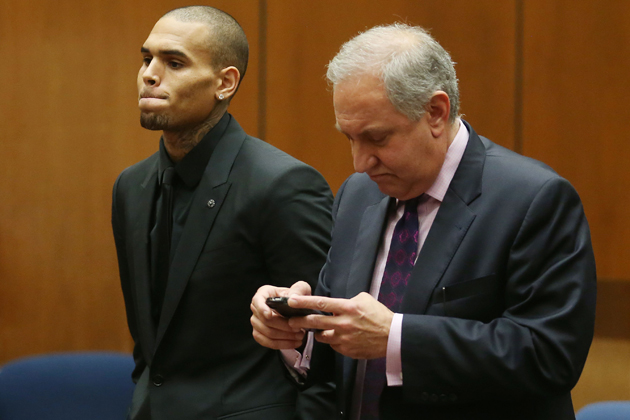 Chris Brown and Mark Geragos
Chris Brown's attorney, Mark Geragos, has slammed Karrueche Tran, the ex-girlfriend of the singer, for filing a restraining order against the troubled star. Tran alleges in the restraining order that Brown punched her in the stomach twice and threw her down a flight of stairs. The physical violence Tran alleges occurred in the aftermath of the Rihanna domestic violence case, for which he cut a plea deal for 5-years on probation, in lieu of a prison sentence over the bloody fight with the female singer, who had very visible injuries.
Geragos is accusing Tran of using Brown for publicity to further her career. Tran has experienced difficulty in serving Brown the restraining order, which would allow the hearing on the matter to proceed in court. Geragos stated, "They can't even serve CB with a lawsuit. Maybe they should ask their client to do it when she is following CB around the country." For the record, Geragos was being facetious, as you can't serve your own lawsuit.
Brown and Tran were in Miami last week at the same time. The Miami stop on Brown's "Party" tour was Saturday, April 15, 2017. Tran arrived in Miami around the same time. Tran's current television show "Claws" is about Miami. Brown's next tour stop was in Tampa, Florida, on Saturday, April 16, 2017, where he later got into trouble for beating up a club photographer at the after party.
It has been very difficult to serve Brown the restraining order, as he is touring and has security guards to keep people at bay. However, in many U.S. states, one can have a lawsuit or restraining order served through the local sheriff's office. It is unwise to dodge a sheriff, who also has the ability to state they obtained a visual of the respondent, but they refused to accept service, which gave the officer the right to leave the lawsuit on the porch or in the proximity of the fleeing defendant (dropping it at their feet).
There are also legal cases where record labels were served lawsuits regarding their recording artists and it held up in court as proper service, as they are considered adults with sufficient mental capacity to understand and deliver the documents to the defendant. As a last ditch attempt, one can place an ad in the newspaper notifying the defendant of the lawsuit and send a copy of the complaint and summons via certified mail (United States).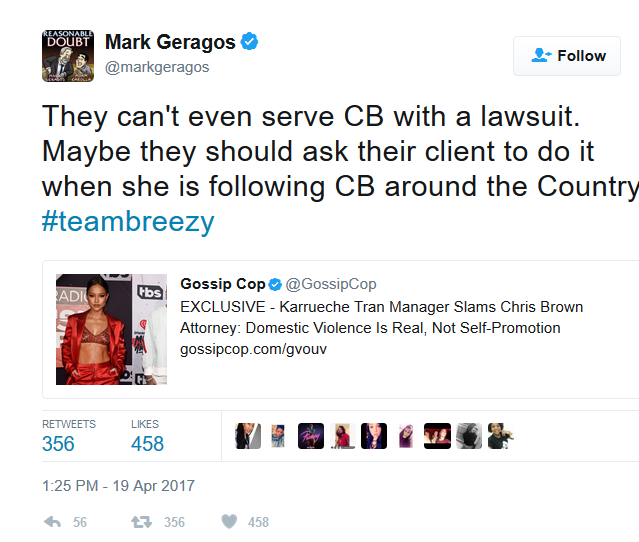 Mark Geragos tweet about Karrueche Tran

To be fair, some entertainers are not easy to serve in lawsuits. Some know they've done wrong and do not want to face the consequences in court. They pretend and choose to be in a state of denial, hoping the problem will go away. For example, schizophrenic actress and miscreant, Lindsay Lohan, is known for deliberately dodging service at every turn, which she has done so many times, as she has been sued by a number of people for non-payment, stealing and assault, among other things.

The problem grew to such extremes that a process server had to serve Lohan at the premier of a movie. In another case, the process server threw the lawsuit in Lohan's rented vehicle, prompting her to scream and fling the document back out of the car. Lohan's career has now dried up, making it even more difficult to serve her legal papers, as she spends her time indoors at various locations getting drunk and high.

I will state this again, Brown is a stalker (Chris Brown Showed Up In My Neighborhood Again and

Chris Brown Showed Up In My Neighborhood). That has been my experience regarding him. I publicly stated online that Brown is a stalker, before anyone else did and I was later proven true and correct. In the two times he tracked me down in my former Miami neighborhood, I was very angry over it, because I knew about the kind of dangerous people he hangs out with. However, as stated before, I realized then he has a drug problem and mental issues and did not bother to pursue a court complaint over the two incidents. And I went public with my allegations about his mental state and drug issues years before Los Angeles judge James Bradley ruled Brown mentally ill and a drug addict and he was later confronted by police for stalking Tran and loudly beating on her front door, disturbing neighbors and frightening her as she hid inside in fear.

Brown did not physically hurt me the two times he stalked me. Therefore, I can't state anything to that effect about him being violent. I have not seen him do that. However, the Rihanna domestic violence case and plea deal, which was an admission of guilt by Brown regarding assaulting a woman, will work against him in court regarding Tran's allegations. Brown has a well-documented history of violence and was ordered to anger management by the court.

I will state this though, if the people around him, including his family, truly care about him, they will stage an intervention, even if he financially cuts them off for it. Brown needs a more thorough rehab plan and compulsory out patient treatment. He also needs daily visits from a medical professional, such as a nurse, to make sure he takes his medicine for mental illness. The absence of medication for his mental illness is what is driving his paranoia, rage, mood swings and acts of violence. He is using narcotics as a substitute and getting worse and worse. He's either going to kill someone or overdose and die young.

STORY SOURCE

Chris Brown's Lawyer Karrueche's Out for Self-Promotion Domestic Violence Claims are B.S.

4/19/2017 10:46 AM PDT - Karreuche's manager Jacob York calls Geragos' claims laughable ... telling us it's insane to think Karreuche would take legal measures against Chris just for press. York adds, "please don't use Karreuche's name to distract from your client's current negative issues ... let's handle it in court."Chris Brown is the victim of a bunch of thirsty people who make fake allegations to make themselves more famous, and Karrueche Tran is on that train ... so claims Brown's lawyer.

Karrueche's restraining order hearing was put off again Wednesday because she still hasn't been able to locate Brown to serve him with legal docs. Tran claims Chris has punched her, pushed her down the stairs and threatened to shoot her. Brown's lawyer, Mark Geragos, tells TMZ her claims are bogus, adding, "A lot of people use Chris to enhance their profile." Geragos says Karrueche's restraining order case is "doomed to failure." As for why Geragos hasn't simply accepted service on behalf of Chris, he says, "I'm not here to help anybody increase their profile for self-promotion."

RELATED ARTICLES

Chris Brown Hit With Restraining Order For Punching Karrueche Tran In The Stomach, Throwing Her Down A Flight Of Stairs, Threatening To Kill Her And Beat Up Her Mother, Brother And Friends

Chris Brown Hit With Restraining Order From Karrueche Tran's Best Friend He Sent Thugs After And Threatened To Shoot And Kill

Chris Brown's Music Industry Neighbor Called Police After Hearing Him Beating Karrueche Tran Who Was Screaming

Chris Brown Backs Out Of Soulja Boy Boxing Match Angry Over Karrueche Tran Restraining Order

Chris Brown Dodging Service On Karrueche Tran Restraining Order

Billboard Magazine: Chris Brown Calls Himself The Devil

Chris Brown Showed Up In My Neighborhood Again