Barack Obama Pledges To Create 2.5 Million Jobs
...By 2011
November 24. 2008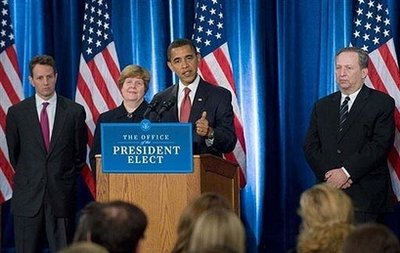 President-elect Barack Obama
President-elect Barack Obama held a press conference today to announce his plans for the presidency and introduce his economic team, who has been selected to advise him on repairing the far reaching, globe effecting, U.S. financial crisis. He spoke of several ways he plans to address the crisis and his hopes for America's future, in the devastating wake of what has been the Bush years.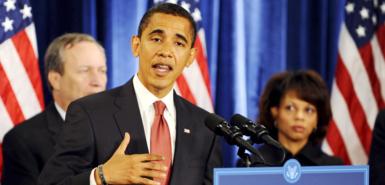 Obama Plan to Create 2.5 Million Jobs by 2011
President-elect Barack Obama is promoting his economic plan to create 2.5-million jobs in his first two years in office. Mr. Obama says the plan will put people to work rebuilding roads and bridges, modernizing schools and developing alternative energy sources. VOA's Kent Klein reports from Washington.
President-elect Obama says the United States faces "an economic crisis of historic proportions," and more must be done to put people back to work. "I have already directed my economic team to come up with an economic recovery plan that will mean 2.5-million more jobs by January, 2011, a plan big enough to meet the challenges we face, that I intend to sign soon after taking office," he said.
Existing home sales fall, buyers sidelined
WASHINGTON (Reuters) - Sales of previously owned U.S. homes fell in October, with the median home price notching its biggest drop on record as tough economic conditions kept buyers on the sidelines, data showed on Monday.
Adding to the gloom for the U.S. economy, a separate report from the Federal Reserve Bank of Chicago showed its National Activity Index contracted again in October, staying mired in negative terrain for 15 straight months.
Wall Street's crisis could cost New York 225,000 jobs
Mon Nov 24, 2008 3:24pm EST - NEW YORK (Reuters) - Wall Street's painful downsizing could cost 225,000 New Yorkers their jobs over the next two years as it recent era of outsize profits may have ended and it adapts to less leverage, the state comptroller said on Monday.