As Predicted Mariah Carey Breaks Up With Boy Toy Who Cost Her Billionaire Fiancé And Is Running Up Bills
April 11. 2017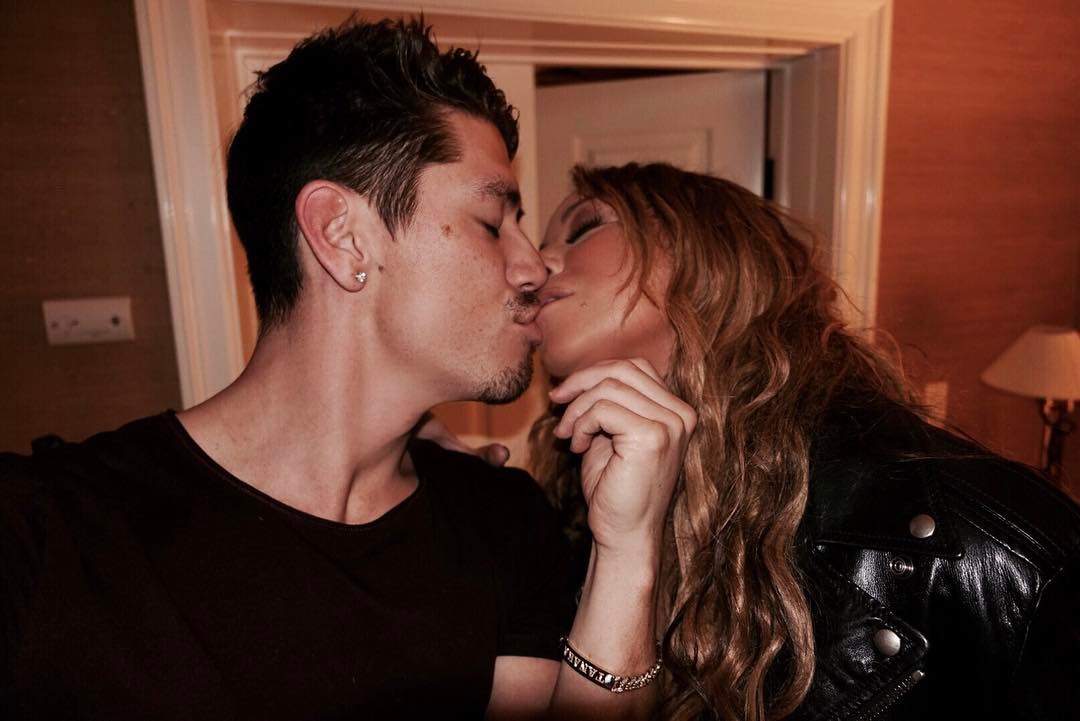 Bryan Tanaka and Mariah Carey engaging in cringe-worthy, forced looking kiss, trying to make James Packer jealous after he dumped her for cheating and being money hungry
As I predicted, pop singer Mariah Carey and her boy toy back-up dancer, Bryan Tanaka, have broken up after a few months of dating. In the December 9, 2016 Judiciary Report article "Mariah Carey's New Boyfriend Bryan Tanaka Looking For Financial Favors From The Recently Dumped Star" I stated, "This relationship fragile Carey has inadvisably gotten into right after being publicly dumped by Packer for being a gold digger, is going to end in heartbreak and disappointment, as he is not sincere. Tanaka is in the relationship for what he can get from Carey's money and fame. A credible source informed me, "He likes what she can do for him and his career."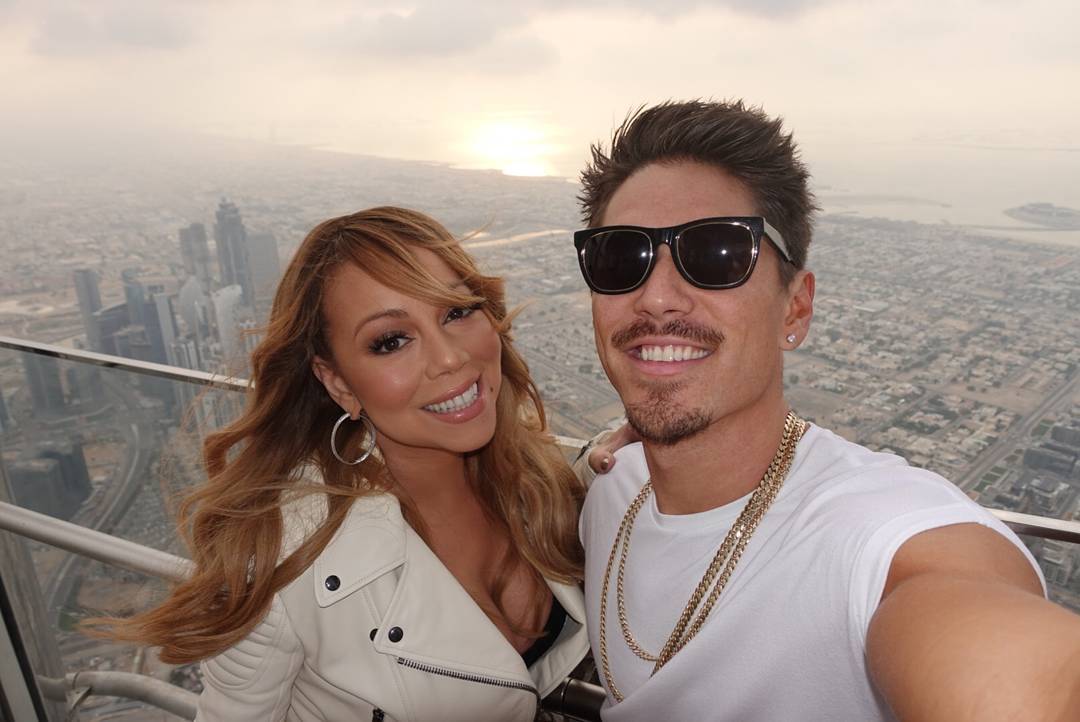 Mariah Carey and Bryan Tanaka on vacation
Carey, being a cougar, ruined her engagement with a man her own age, billionaire James Packer and was dumped. Carey was lustfully bedding her back up dancer, Bryan Tanaka. Packer grew tired of Carey's financial demands on his money and her lack of loyalty. Tanaka was just looking for fame and money. Carey thought it was something more serious. Tanaka was living the high life with Carey and going on lavish shopping sprees, with the singer picking up the tab.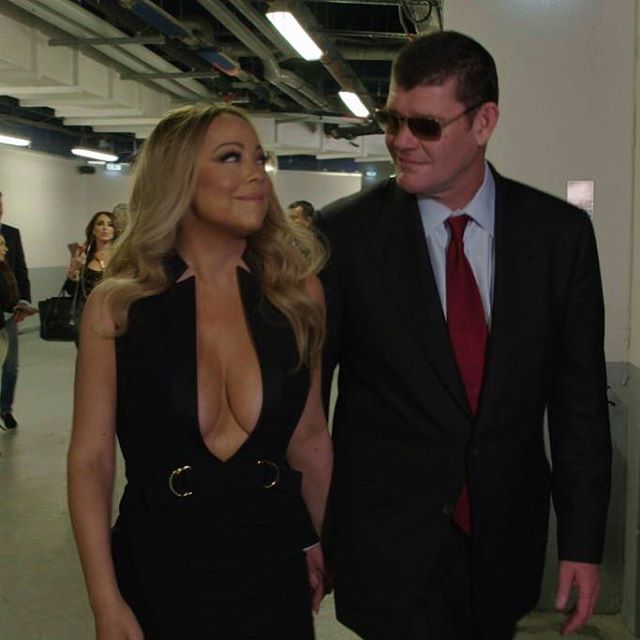 Mariah Carey pretending to be in love with James Packer
Carey even created a fake job title for fame hungry Tanaka, making him "co-choreographer." Oh please! Even the real choreographer was giving Mariah crazy looks for that one. It's not the Alvin Ailey dance troupe of Bolshoi ballet, with a slew of meticulously trained dancers doing complicated, intricate steps that must be planned and performed in perfect step. It's a Mariah Carey performance, which consists of some shirtless, suspect dudes wearing body glitter and baby oil, twirling, twerking, then hoisting the aging singer into the air, who is not as thin or young as she used to be, but refuses to stop wearing booty clothes that look like she stole from an 18-year-old's closet. If you're gonna dress like that, you've got to make sure your butt looks like J-Lo. Carey could get her life together if she tried, but she keeps making poor decisions.
STORY SOURCE
'His endgame was fame': Mariah Carey, 46, and Bryan Tanaka, 33, 'SPLIT following his insane jealousy over her relationship with Nick Cannon... as she grew tired of footing the bill for his lavish sprees'
Published: 05:01 EDT, 10 April 2017 | Updated: 08:39 EDT, 10 April 2017 - Mariah Carey and backing dancer Bryan Tanaka have reportedly split over his issues with jealousy and her tiring of funding his lavish shopping sprees. According to TMZ, the pair have mutually gone their separate ways after a five-month romance, which occurred shortly after her split from former fiancé James Packer.
Sources told the site 33-year-old Bryan struggled with Mariah's close relationship with her ex husband Nick Cannon, who she holidays with. 'His endgame was fame': Mariah Carey and Bryan Tanaka reportedly SPLIT following his insane jealousy over her relationship with Nick Cannon'
RELATED ARTICLES
Mariah Carey Looks Back On Wedding Dress From Cancelled Engagement With Sadness After Being Dumped By Billionaire James Packer While Her Current Husband Knocks Up Aspiring Star
Mariah Carey Blames Dick Clark Productions For Her Botched Lip Sync Job At New Years Eve Show In Times Square But They Slam Her For Defaming Them (Videos)
Mariah Carey Blames Everyone But Herself Including Her Dancers For Her Latest Fall From Grace On New Years And Flopped Single 'I Don't'
Mariah Carey Taking A Break From Social Networking And The Press After New Years Eve Mauling Due To Her Botched Performance
'Mariah's World' A Real Snoozefest Giving Audiences More Of The Same Old Stuff That Puts Mariah Carey In A Bad Light
Mariah Carey Mocked By NBA Basketball Team The San Antonio Spurs Over Botched New Years Eve Show (Video)
Mariah Carey's New Boyfriend Bryan Tanaka Looking For Financial Favors From The Recently Dumped Star
Mariah Carey Lied About Sex With Ex-Fiance James Packer Who Dumped Her
Mariah Carey Sues Promoter Over Concerts She Cancelled In South America
Mariah Carey's Mental Illness Apparent In 'Mariah's World' Reality Show
Mariah Carey Postpones Poorly Selling Tour While Under Vocal Strain