Another 'Glee' Actor Found Dead As Mark Salling Is Discovered Hanging From A Tree While Awaiting Sentencing On Child Porn Charges
January 31. 2018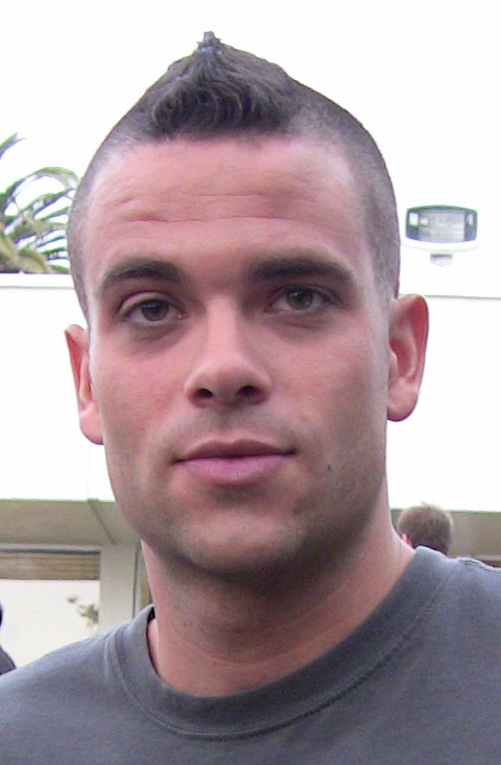 Mark Salling
People are referring to the former Fox (Rupert Murdoch) show "Glee" as cursed (see external STORY SOURCE below). One of its former stars, Cory Monteith, 31, was found dead from a heroin and alcohol overdose. Naya Rivera was arrested for beating up her husband Ryan Dorsey in the presence of their small child, a couple years after aborting her baby just to remain on the television show.
On Tuesday, "Glee" actor Mark Salling, 35, who also dated Naya Rivera, was found dead, hanging from a tree near his apartment in Los Angeles, while awaiting sentencing on child porn charges, which was to occur in one month. Police found no suicide note near Salling's body or in his apartment.
In 2015, an ex-girlfriend of Salling tipped off police that he is a pedophile who has images of child porn on his computer. Police raided Salling's home and found over 50,000 encrypted child porn images on his computer and a thumb drive. Salling was arrested in 2016 and convicted in 2017, when he pleaded guilty. He was facing 4-7 years in prison, where pedophiles are treated very badly. The pending prison sentence, court judgments against him for criminal misconduct of a sexual nature and the loss of his career caused him to commit suicide, rather than facing his punishment like a man.
There is a lot of pedophilia and molestation in Hollywood. I have warned about it for years on this site and encouraged people to avoid Hollywood. I heard things from a reliable source regarding numerous people in Hollywood being pedophiles and wrote the warnings on this site for that reason.
I also warned for years about casting couch problem in Hollywood and that some women were
I wasn't jealous or being a "hater", as I don't want to be a part of Hollywood. However, as I have maintained for years, Hollywood is sick and dangerous and people needed to know the dangers before they tried to get into the business.
People online are stating "Glee" is cursed. However, I think the problem is Hollywood on the whole. Many people in Hollywood have been dying in strange, non-heroic ways. Hollywood is a very evil place, a cesspool like Sodom and Gomorrah, where people literally worship the devil, join satanic cults, rape men and women, molest children, sexualize kids in entertainment mediums, commission assaults and invasion of privacy via private investigators and thugs, as seen in government indictments (see RELATED ARTICLES below for detailed examples).
If you invite darkness and evil into your life by making very poor, highly questionable choices that harm others, don't be surprised when it destroys your life. Hollywood keeps disseminating dark, satanic films and music that is going into people's homes. They insult God at every turn, while calling themselves the "Illuminati." They have brought bad upon themselves and the country in doing so, via this spiritual evil and abuse of others. That's why all these unprecedented bad things keep happening in the country.
Hollywood has literally invited evil on the country with this Satanism and toxic behavior they are pushing on the public, via their so-called entertainment and deranged interviews disseminated into people's homes. It is inspiring evil and attracting it on America. Something very bad is upon the country. Pray for America.
STORY SOURCE
Mark Salling's apparent suicide, Cory Monteith's untimely death and Naya Rivera's personal struggles... is hit teen musical Glee cursed?
Published: 00:27 EST, 31 January 2018 | Updated: 07:23 EST, 31 January 2018 - Glee star Mark Salling was found dead on Tuesday in Los Angeles, becoming the second original cast member of the Fox TV show to die an untimely death. He was found hanged in a Little League park, having apparently committed suicide ahead of his sentencing on child pornography charges in March that would see him serve up to seven years in prison.
Salling, 35, starred for four seasons as Noah 'Puck' Puckerman and then continued as a recurring character for two more seasons before the series ended in 2015. Salling's body was found 'hanging from a tree' near the Starwood Riding Club, an equestrian facility located roughly six miles from his Sunland home in Los Angeles, California.
The actor's career came crashing down in 2015 after he was arrested for possession of appalling child pornography showing victims as young as three. Investigators found 50,000 images and videos on his computer, more than 4,000 on a thumb drive and tens of thousands more on an encrypted hard drive. He was due to be sentenced by a judge on March 7 and faced between four and seven years after taking a plea deal in December...
RELATED ARTICLES
Madonna's Rabbi Yehuda Berg Sued For Sexual Assault And Threatening To Beat And Kill Student At The Kabbalah Center For Not Having Sex With Him
Famous Athletes Being Threatened And Forced Into Gay Sex By Madonna And Jay Z's Kabbalah Center As An Initiation Into The Hollywood 'Illuminati'
Kevin Spacey Groped The Penis Of A Member Of The Norwegian Royal Family And Sexually Assaulted 20 Men At The Old Vic Theatre In London
Katy Perry Slammed For Being A Devil Worshipper
Jay-Z, Beyonce, Rihanna And The Occult - Part 2
Jay-Z, Beyonce, Rihanna And The Occult - Part 1