Al Qaeda And Taliban Still Close
June 3. 2009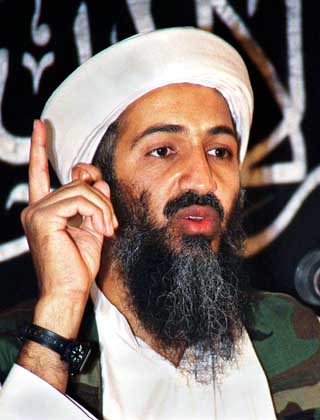 Osama
This is a follow up to yesterday's article "FBI's New Global Terrorism Fight" where I wrote of Osama, Al Qaeda and the Taliban communicating with each other regarding the FBI's cluelessness on so-called domestic terrorists. It was previously believed there is a split between the two terror groups, but a report today based on a newly released Osama tape, illustrates there is no division between them. I don't know why the U.S. government thought otherwise. If there is one thing George W. Bush did was solidify and unite them.
Not to mention, Bush created homegrown wannabe terrorists and sympathizers out of Americans, due to his corruption and lies that left many Americans disillusioned and ashamed of what he'd done. I implore you not to turn to violence.
Bin Laden Tape Signals Al Qaeda, Taliban Still Close
Wednesday, June 03, 2009 - In speaking up for the Taliban, Usama bin Laden signals that hopes for a split between Al Qaeda and certain factions of the Taliban are still just that. Usama bin Laden's latest audio tape threatening retaliation for U.S. support of the crackdown on militants in Pakistan seemed to throw cold water on the idea that Al Qaeda and the Taliban could be going their separate ways.
The tape was broadcast Wednesday by Al-Jazeera as President Obama touched down in Saudi Arabia to start a three-day Mideast trip. In the tape, bin Laden accuses the United States of sowing "new seeds of hatred against America" for supporting Pakistan's fight against the Taliban in the Swat region of the country.
In speaking up for the Taliban, bin Laden signaled that speculation about a split between Al Qaeda and certain factions of the Taliban may have been wishful thinking, at least for now. Malou Innocent, a foreign policy analyst with the Cato Institute, said bin Laden's message was a sign that his network continues to fund and support the factions that make up the multilayered and scattered Taliban. Though the Taliban is a more indigenous group with more local goals than Al Qaeda, Innocent said they continue to cooperate, "for the sake of unifying against a common enemy."...