18-Year-Old Malia Obama Caught Illegally Visiting Another New York Bar While Looking Inebriated (Video)
April 6. 2017
Press image for video of Malia Obama inebriated again:
Malia caught in another bar that she is not supposed to be in as it is a criminal violation of the law for minors to patronize such places and or drink alcohol.
Malia Obama, the 18-year-old daughter of former U.S. president, Barack Obama, was recently exposed for drinking alcohol in a bar in New York, though the legal drinking age is 21 (Malia Obama Accused Of Screaming At Reporter Who Outed Her For Being Underage At Adult Club That Serves Alcohol). A guest at the bar even remarked Malia was so high he had to help her find her coat.
Malia was caught again at another bar in New York city. Two men approached her in the bar, while she appeared to be inebriated and began filming her with a mobile phone camera. Malia looked stoned and like she was having trouble standing up straight. The video was then uploaded to social networking.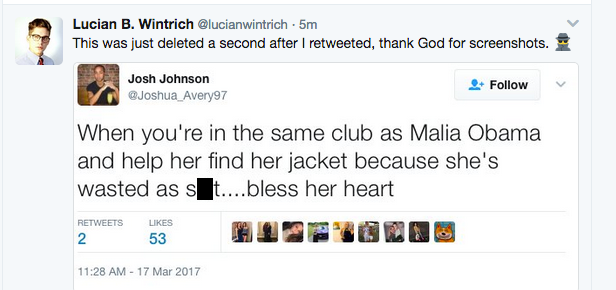 Journalist Lucian B. Wintrich posted a screencap of a tweet from another bar patron who saw Malia Obama high out of her mind in a New York bar she was illegally in
As stated in previous articles, the U.S. Service has left Malia to her own devices, as she has repeatedly defied their instructions and advice. Malia is very determined and strong willed. She wants to do things her way, which I'm sorry to state, is not the best. Malia's indiscretions has brought her public scorn and and denouncement by many on social networking, as setting a bad example. Malia's conduct is also bringing massive scrutiny on her parents, with people openly questioning her family's values.
As stated in past articles, Malia has a drug and alcohol problem. For anyone to state her dad did drugs and it is okay for her to do so as well, is unwise. When addiction hits a second generation in a family, it becomes even worse. The kids often start off using illegal drugs earlier than their addict parents and do far more damage to their minds and bodies at a quicker rate (such as Whitney Houston and her daughter Bobbi Kristina Brown).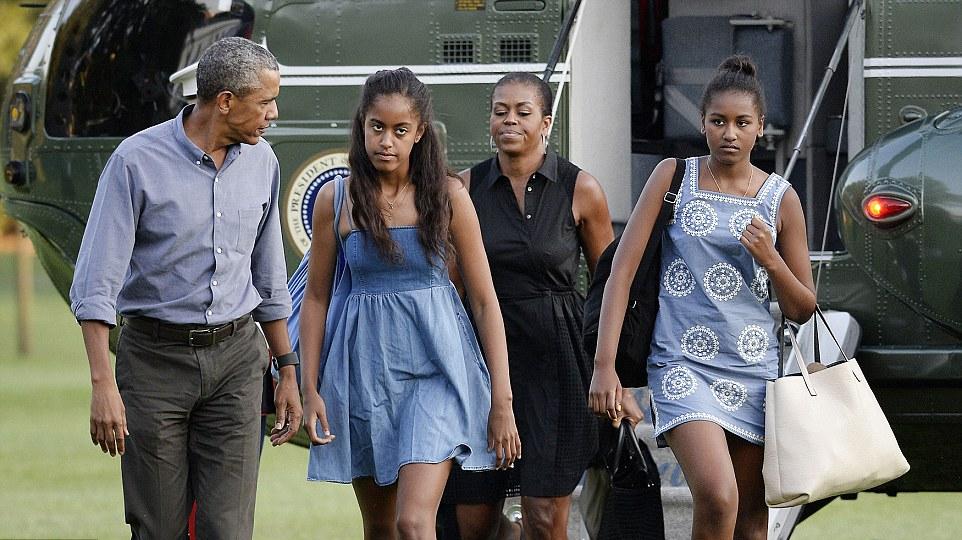 Former president Barack Obama, daughter Malia Obama, wife Michelle Obama and daughter Sasha Obama
I know two very smart people who were accepted to top universities in their teens. One was accepted to the University of Michigan, the other an Ivy League school. Their parents did everything right and provided well for them. None of their parents did drugs or were alcoholics. However, friends led them into substance abuse, under the infamous peer pressure. Both teens started to smoke marijuana and drink alcohol and it ruined their lives. They ended up dropping out of university and struggling with addiction problems that derailed their careers and personal lives.
Photos published on mainstream websites such as the Daily Mail UK, show Malia going to work looking hung over with bags under her eyes. Other photos have leaked showing Malia doing drugs and engaging in underage drinking to the point she looks drunk. This is not healthy and if her parents do not intervene with rehab and setting serious boundaries, I am concerned things are going to end badly. Malia is also working and hanging out with Hollywood lunatics who are depraved sex and drug addicts. As the saying goes, "Bad company ruins good morals."

The internet is the gift that keeps on giving. Two people on Twitter fighting over Malia Obama's bad behavior is pure comedy when it is labeled "fat on fat crime" (LOL). Twitter is amazing!
In other news, Malia is being slammed on social networking as a terrible role model for women. There is full scale fighting on social networking regarding those denouncing Malia's bad behavior and others asking people not to talk about the negative things she is doing.
STORY SOURCE
NEW VIDEO: Privileged Malia Obama at YET ANOTHER 21 and Over Club in NYC?
Jim Hoft Mar 26th, 2017 10:37 pm - As Carter reported earlier…Saturday, March 25, 2017, found Malia Obama, the 44th President's oldest daughter, at the Parlor, an exclusive Soho club, for a 21-and-over event. Martina Markota was with Lucian Wintrich and was the first to make note of Malia Obama being there:
The minor had been rubbing shoulders with other guests all night until she spotted the Gateway Pundit's own White House correspondent Lucian Wintrich. She was quick to confront him: Multiple witnesses watched as Malia Obama, Obama's oldest daughter, ran up to Wintrich with the intent of stirring up controversy. Wintrich believes at the point of altercation she was intoxicated, which should bring everyone back to those other moments of infamy when Barack's daughter decided to "act out".
Wintrich attempted to snap a picture of Malia before she ran up to him furious. She asked Wintrich to confirm who he was before accosting him and saying: "If you wanna have a conversation, let's sit down, let's have a real conversation." Wintrich responded in kind by welcoming the invitation: "Absolutely. Let's sit down and have a conversation."
This positive response from Wintrich sent Malia into a tailspin with the former President's daughter saying, "I think you're disgusting." Now there is new video of underage drinker Malia Obama at yet another SoHo club 21 and up party...
http://www.thegatewaypundit.com
RELATED ARTICLES
Lollapalooza Concertgoer Snitches On Malia Obama: She Was Smoking Marijuana And Then Went Off With A Boy When The Secret Service Wasn't Watching!
President Obama's Daughter Taped Lifting Her Skirt, Exposing Her Backside And Twerking At A Festival Causing A Scandal In The Press And Online (Video)
White House Launches FBI And Secret Service Investigation Into Leaked Malia Obama Selfie Wearing T-Shirt Of Explicit Rap Group
Malia Obama Accused Of Screaming At Reporter Who Outed Her For Being Underage At Adult Club That Serves Alcohol
Malia Obama Dances Suggestively At Lollapalooza Again And Is Branded A 'Hoe' On Social Networking
President Barack Obama's Daughter Malia Obama Photographed At Beer Pong Party Again
Underage Malia Obama Secretly Photographed Playing Beer Pong During School Visit
Video Of President Obama's Daughter Malia Obama Smoking Marijuana
President Obama's Daughter Malia Caught Smoking Marijuana (Photo)
Malia Obama Looks Like Someone In The Grips Of Addiction