Nick Cannon And Amber Rose Go Out On A Date
October 18. 2014
Comedian/actor Nick Cannon and former stripper Amber Rose are both going through messy divorces that alos involve their minor children. The two have stated they are just business associates working together. However, Cannon was seen playing with Rose's son, by cheating rapper Wiz Khalifa, while his own twins with Mariah Carey go neglected by him.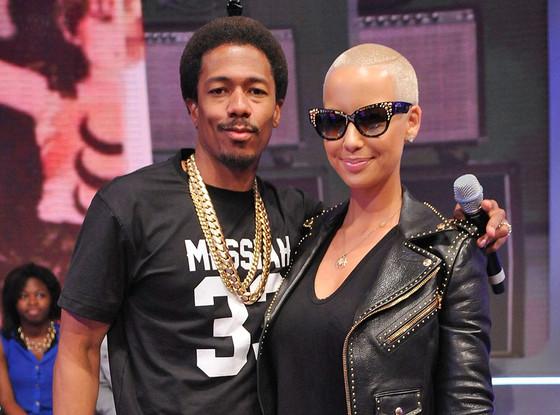 Nick Cannon and Amber Rose
Yesterday, Cannon and Rose were spotted on what sure looks like a date in Los Angeles. In short, they think we're stupid and don't know they're having sex. When Cannon's disgruntled wife, Mariah Carey, sees the vid and stabs Amber, she'll know...(I'm kidding - and violence is wrong).
Nick Cannon Dates New Woman While Mariah Carey's Tour Descends Into A Costume And Vocal Disaster
Nick Cannon Left Mariah Carey Because He Says She Is Mentally Ill
---
Yung Berg Goes On A Date With Hazel's Friend Masika (Wait Till She Finds Out)
October 18. 2014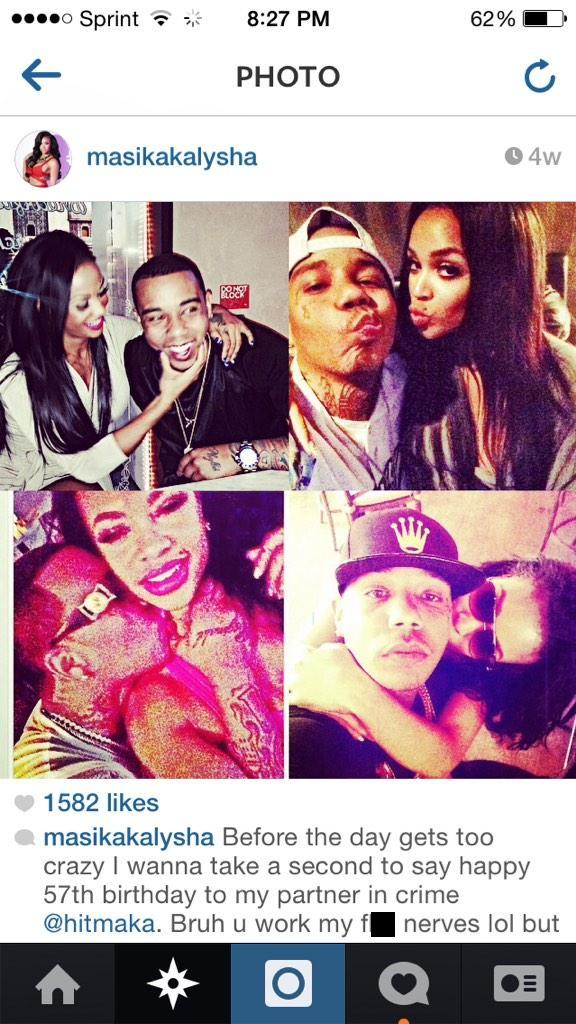 Masika Instagram post about Yung Berg
"Jumping Jehosiphat!" Love And Hip Hop Hollywood reality star Yung Berg was spotted on a date with co-star Masika. This news will not go over well with co-star, Hazel, who is madly in love with Berg, though he treats her badly. Masika and Berg were spotted condoling, walking and holding hands in Hollywood. Mind you, Masika and Hazel are supposed to be friends.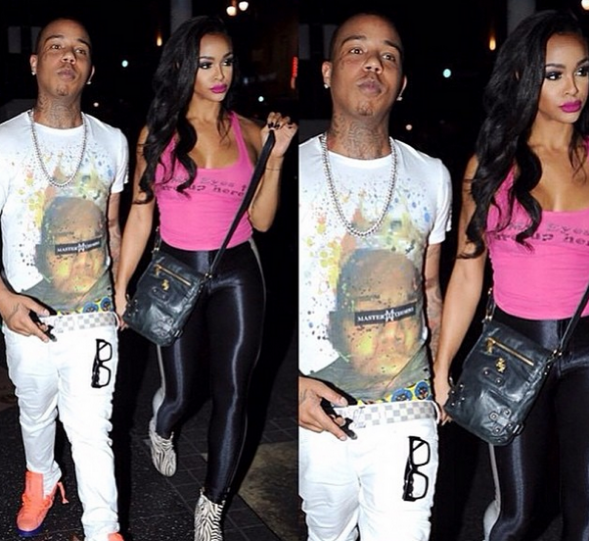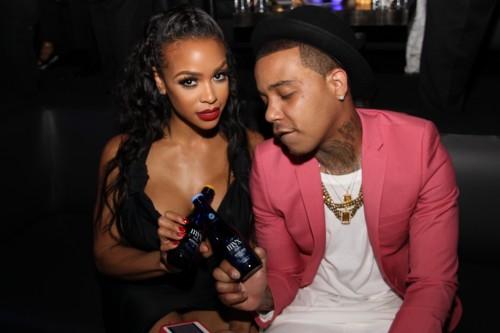 Masika and Yung Berg
Masika was even there when Burg brought another woman to the ASCAP awards and Hazel threw a drink at him for it. Masika told Hazel to get over Berg (clearly so she could get under him). Chris Brown was right, "These girls ain't loyal." The Judiciary Report would like to remind Hazel, if you beat Masika, you could get arrested and sued.
RELATED ARTICLES
'Love And Hip Hop Hollywood' Reality Star Yung Berg Is Playing Hazel For A Fool Stringing Her Along For 8-Years
Was Masika And Nikki Fighting Over Mally Mall On 'Love And Hip Hop Hollywood' A Good Idea
---
Rapper Bobby Shmurda Lashes Out Online About Not Being Paid For Concerts
October 18. 2014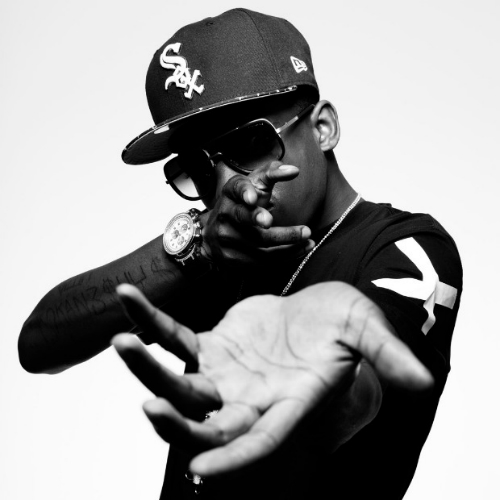 Bobby Shmurda
Rapper Bobby Shmurda is famous for the megahit "Hot N*gga" which dominated the internet this summer. The Miami born rapper, of Jamaican and Haitian parentage, is new to the industry, after the internet made him famous in a few short months. He's finding out the hard way that the industry is smoke and mirrors, filled with financial corruption and pitfalls at every turn.
Shmurda complained online that he is not being paid for concerts he has done. With record sales in America the lowest in decades, artists lean on concert performances and endorsements to earn revenue. Shmurda stated, "Nah idgaf I'm doing all theses show not getting ma money dey got me doing s**t every f***ing day so its hard to keep up Witt dis s**t den I ain't got nobody to trust ain't no help in dis b**** I'm ready to go back to da trap be4 jail #RNS dats how I feel foh."
Shmurda's mother stated, "It's not that he's not getting paid, it's that he's new to the business. There's a chain of command that he has to go through before he gets his payment. I guess he's thinking all the money should go from the front man to his hands — it doesn't work like that. Of course they hold onto it so he actually does the show. Then it goes to his business manager, then to the touring accountant, and then to him."
RELATED ARTICLES
Rapper Chief Keef Faces Second Eviction As Sheriffs Remove Him From His Luxury Chicago Apartment For Non-Payment Of Rent
Chief Keef Arrested For Drugs While Woman Who Committed Statutory Rape Against Him Sues For Child Support
Chief Keef Arrest Warrant Cancelled New Court Date Set
Olympic Athletes Should Seek To Make The Most Of Their Money And Career Opportunities
How To Reap The Benefits Of Boxing While Avoiding The Pitfalls
The Positives And Perils Of Fame
Basketball Wives Star Evelyn Lozada Not Out Of The Woods In Former Fiancé's Completed Bankruptcy
Evelyn Lozada Sued By The State In Antoine Walker's $110,000,000 Bankruptcy Case
Lindsay Lohan Needs To Take A Class In Economics After Spending $90,000 On Limos
Where Did Whitney Houston's Money Go And Did She Die Broke
---
The Son Of U.S. Vice President Joe Biden Kicked Out Of The Navy After Testing Positive For Cocaine
October 17. 2014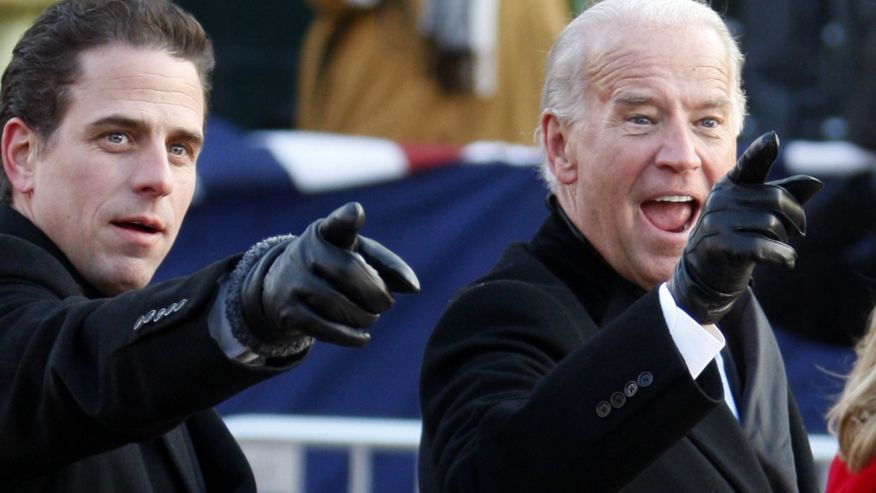 Hunter Biden and Joe Biden
A new scandal has hit the Obama administration. Hunter Biden, the 44-year-old son of U.S. Vice President, Joe Biden, has been kicked out of the Navy, after testing positive for cocaine. Hunter, who is also an attorney, joined the Navy four years ago.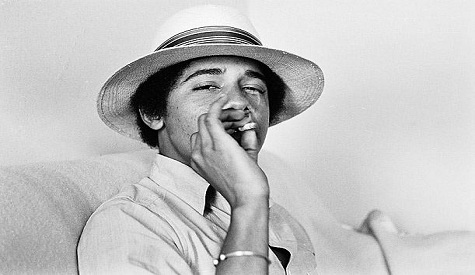 President Barack Obama smoking marijuana in university
Hunter released a statement expressing his regret at what has transpired, " It was the honor of my life to serve in the U.S. Navy, and I deeply regret and am embarrassed that my actions led to my administrative discharge. I respect the Navy's decision. With the love and support of my family, I'm moving forward."
RELATED ARTICLES
The Obama Administration Being Met With Protests Domestically And Internationally
Public Complaints About The Obamas $18,000,000 In Vacations
---
Fizz Filed A Restraining Order Against The Mother Of His Child Who Is Still Fixated On Him
October 17. 2014
Fizz (Dreux)
On episodes of the reality show "Love And Hip Hop Hollywood" Moniece Slaughter, the mother of handsome rapper Fizz's son, Kameron, has come across as still fixated on him. Fizz, a former member of the teen R&B boyband, B2K, obtained a restraining order against Moniece, after she tried to throw a baby car seat at his vehicle, when he came to pick up Kameron.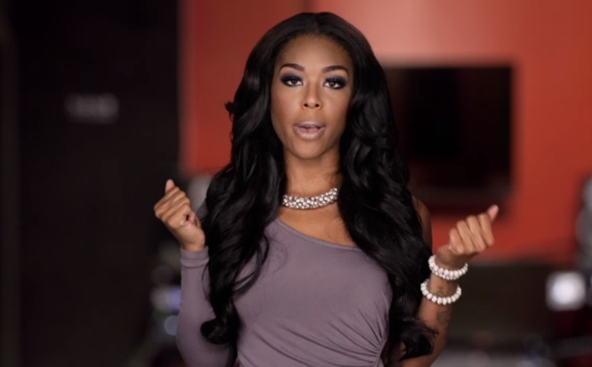 Moniece Slaughter
Moniece was arrested in connection with the incident and Fizz later let the restraining order go that he had filed with the court. Fizz now retains primary custody of his son, with Moniece vowing to get the minor child back. Thus far Moniece has not prevailed in court in this endeavor. The court still deems her an unfit parent.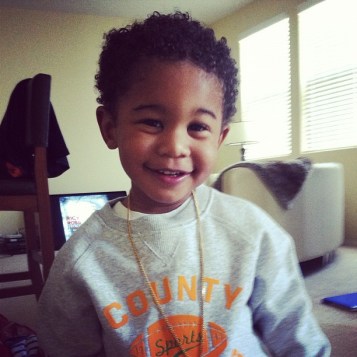 Kameron
Moniece comes across as very bitter. She clearly still has feelings for Fizz. The two have things in common, such as being former members of teen music groups. However, the similarities seem to end there. Fizz has moved on from Moniece, as all they do is argue. Fizz is now dating a woman named Amanda. However, he suspects she may be cheating on him. Moniece, still fixated on Fizz, has become verbally abusive with Amanda and profanely so, indicating she still wants the father of her child.
RELATED ARTICLES
'Love And Hip Hop Hollywood' Reality Star Yung Berg Is Playing Hazel For A Fool Stringing Her Along For 8-Years
Was Masika And Nikki Fighting Over Mally Mall On 'Love And Hip Hop Hollywood' A Good Idea
---
Jay Z Is A Pimp (Rihanna And Rita Ora)
Jay Z Rapped "Big Pimping" And He's Not Lying
October 16. 2014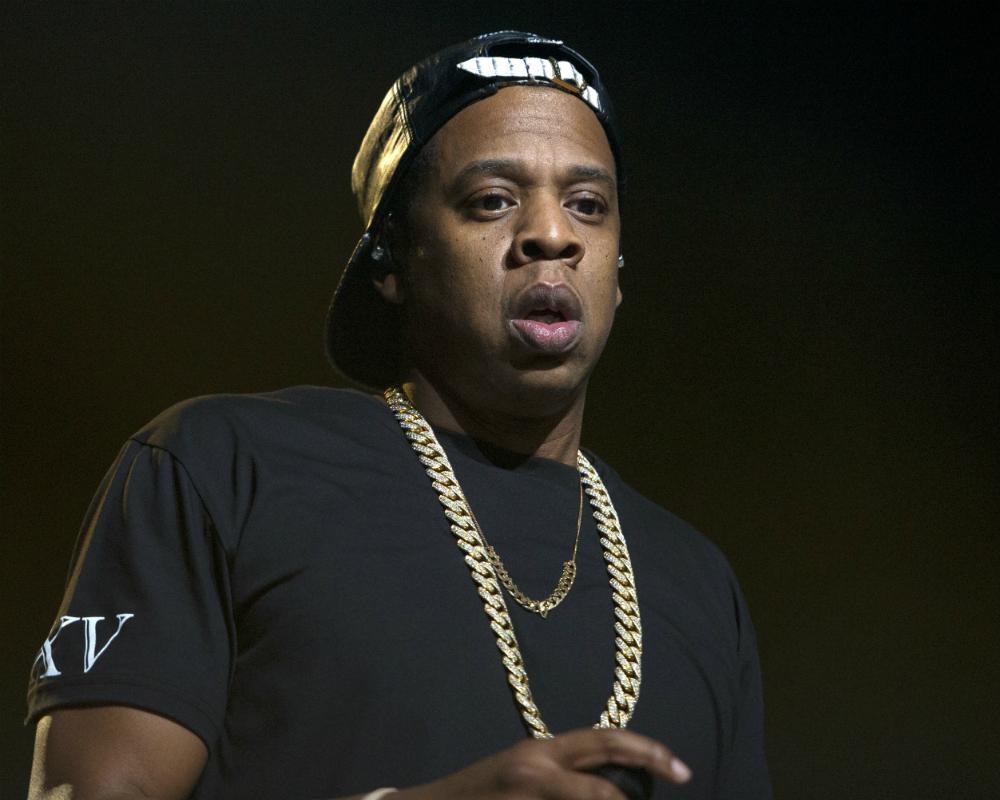 Jay Z
Rapper turned music exec Jay Z likes to brag that he is a businessman, but he has so many lawsuits for copyright and trademark theft, it's hard to believe his claims. Case in point, the Judiciary Report received a credible tip about Jay Z from a source responsible for some of the site's exclusives that were later proven true and the rapper's conduct resembles that of a pimp when it comes to female stars he works with such as Rihanna and Rita Ora.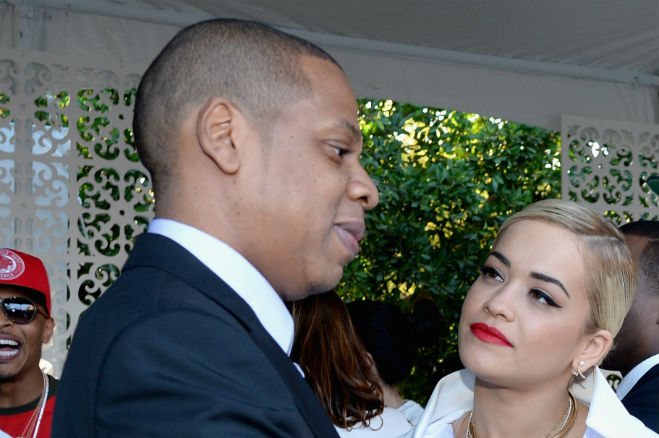 Jay Z and Rita Ora
At times during their careers, to get certain Hollywood executives both in music and film to give them career favors, Jay Z has sent the aforementioned singers, among others, to industry bigwigs with the orders "Take care of him." My source revealed "take care of him" is Jay Z's term for sex. He has been pimping out Rihanna and Rita Ora to industry men in exchange for career favors. He's also sent women he has worked with after unsuspecting athletes for publicity. By definition, that's a pimp.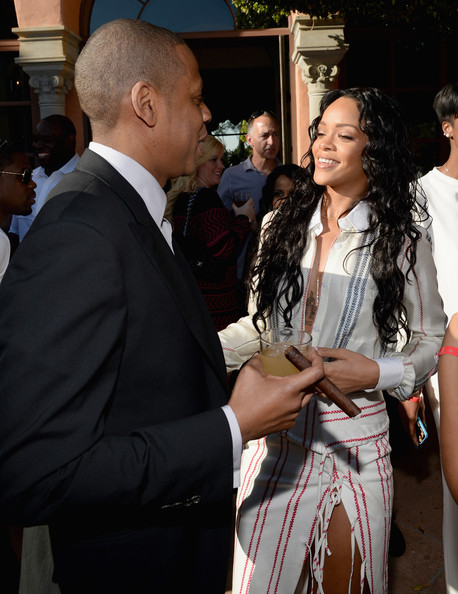 Jay Z and Rihanna
Multi-platinum music producer Dallas Austin once reference to this unsavory industry practice as "f***ing for tracks" where female singers and rappers have sex with writers and producers in exchange for working with them and giving them hits. In the film and television industry it is known as the casting couch. Something Rihanna has been on as well. Look for a forthcoming Judiciary Report article on Rihanna and her unsavory career exploits...
RELATED ARTICLE
Beyonce And Jay Z's HBO Concert Special 'On The Run' Bombs As One Of The Lowest Rated Specials In The Network's History
---
Kesha's Rape Allegations Against Her Producer Rings True For Some
October 16. 2014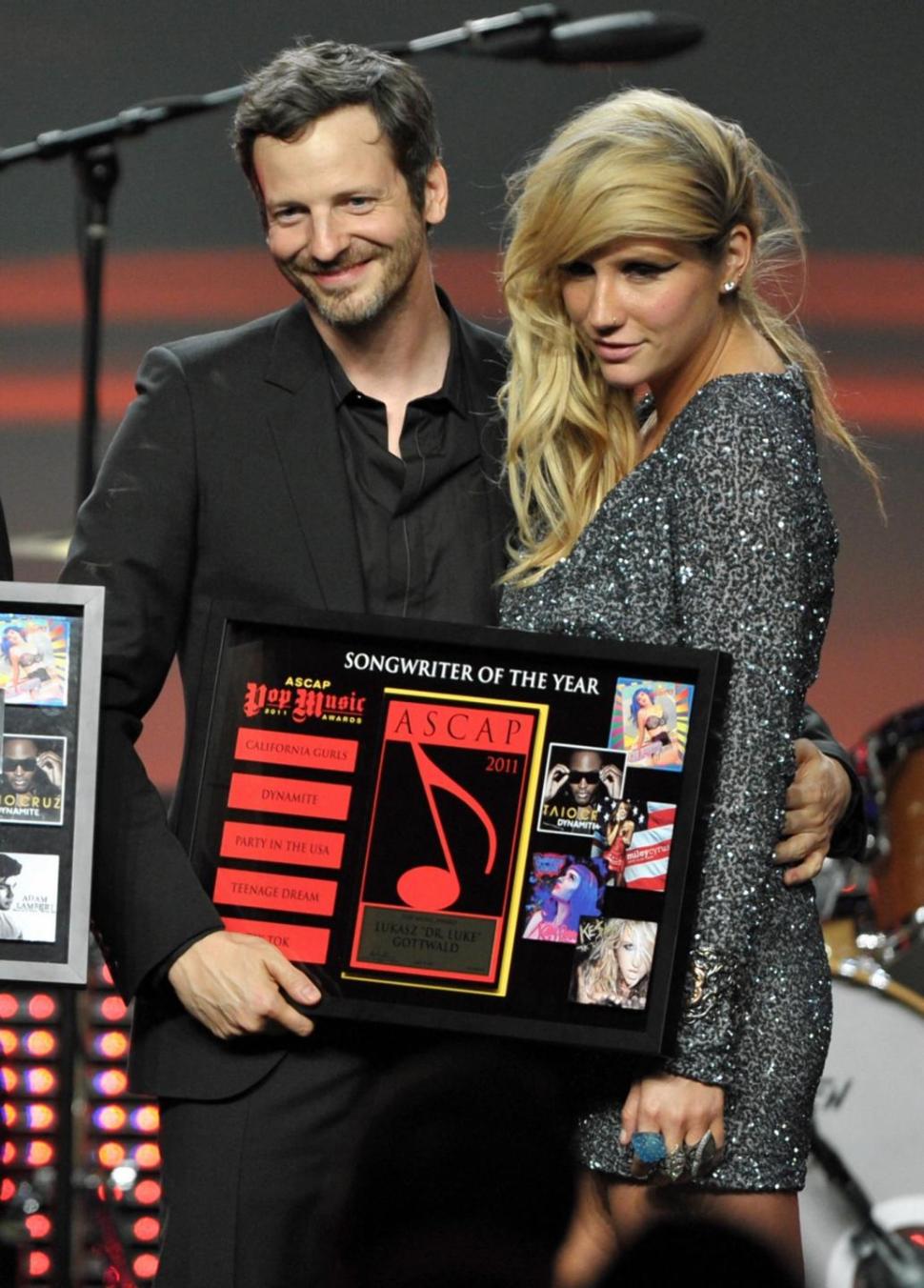 Dr. Luke and Kesha
"Illuminati" pop singer Kesha filed an ugly lawsuit against her corrupt producer, Dr. Luke, alleging he drugged, raped and abused her. The lawsuit was filed on Kesha's behalf by famed attorney, Mark Geragos. The lawsuit alleges Dr. Luke, real name Lukasz Gottwalk, abused Kesha so badly she, "Nearly lost her life." Some women have been abused in the industry.
Kesha accused Dr. Luke of giving her date rape drugs, as well as alcohol and other narcotics to sexually assault her. Kesha complained of waking up the next day naked in his bed and feeling sore. She also contends he constantly insulted her appearance, verbally abusing and bullying her regarding it. The question is why didn't she go to the police regarding the rape allegations. I'm not saying he is innocent, as Dr. Luke is strange, but why file a civil suit first, rather than go to authorities alleging a serious sexual crime has transpired.
Luke has countersued contending Kesha's lawsuit is a stunt to get out of her production contract with him. He alleges defamation and breach of contract and is demanding damages in court. Dr. Luke's lawyer stated, "As set forth in the complaint that we have filed on behalf of Dr. Luke, Kesha and her mother are engaged in a campaign of publishing outrageous and untrue statements about Dr. Luke to third parties, including scurrilous and false statements of purported physical and mental abuse of Kesha..."
STORY SOURCE
Kesha 'Had a Lot of Trepidation' About Suing Producer Dr. Luke

---
Album Sales In America Have Greatly Fallen In A Pattern Worrying Record Labels
October 16. 2014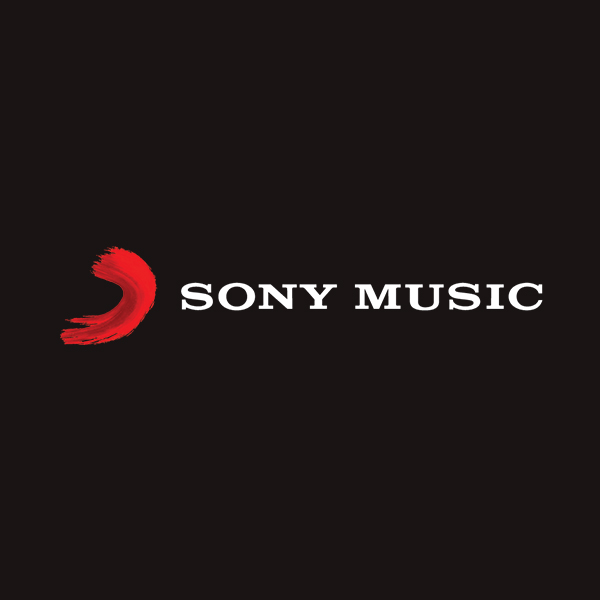 A look at the top 10 albums in America reveals sales are down. Way down. The past year has been a rough one for record labels in America, as albums are not selling well in the states. The top 10 for the past month (even year) show albums barely reaching gold during their shelf life, as the current projects by each artist are selling on average 200,000-300,000 copies.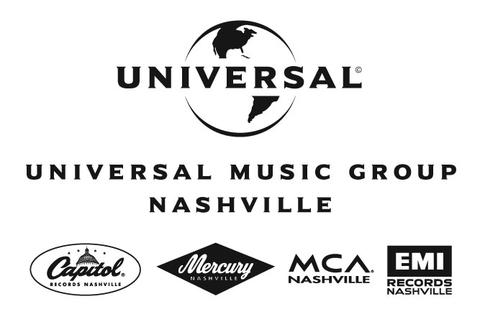 Considering how expensive albums are to record, with some producers charging between $50,000 to $250,000 per song (or beat) in addition to music videos, buying airplay, marketing and advertising costs reaching into the millions, labels are hemorrhaging money on projects with low financial yield.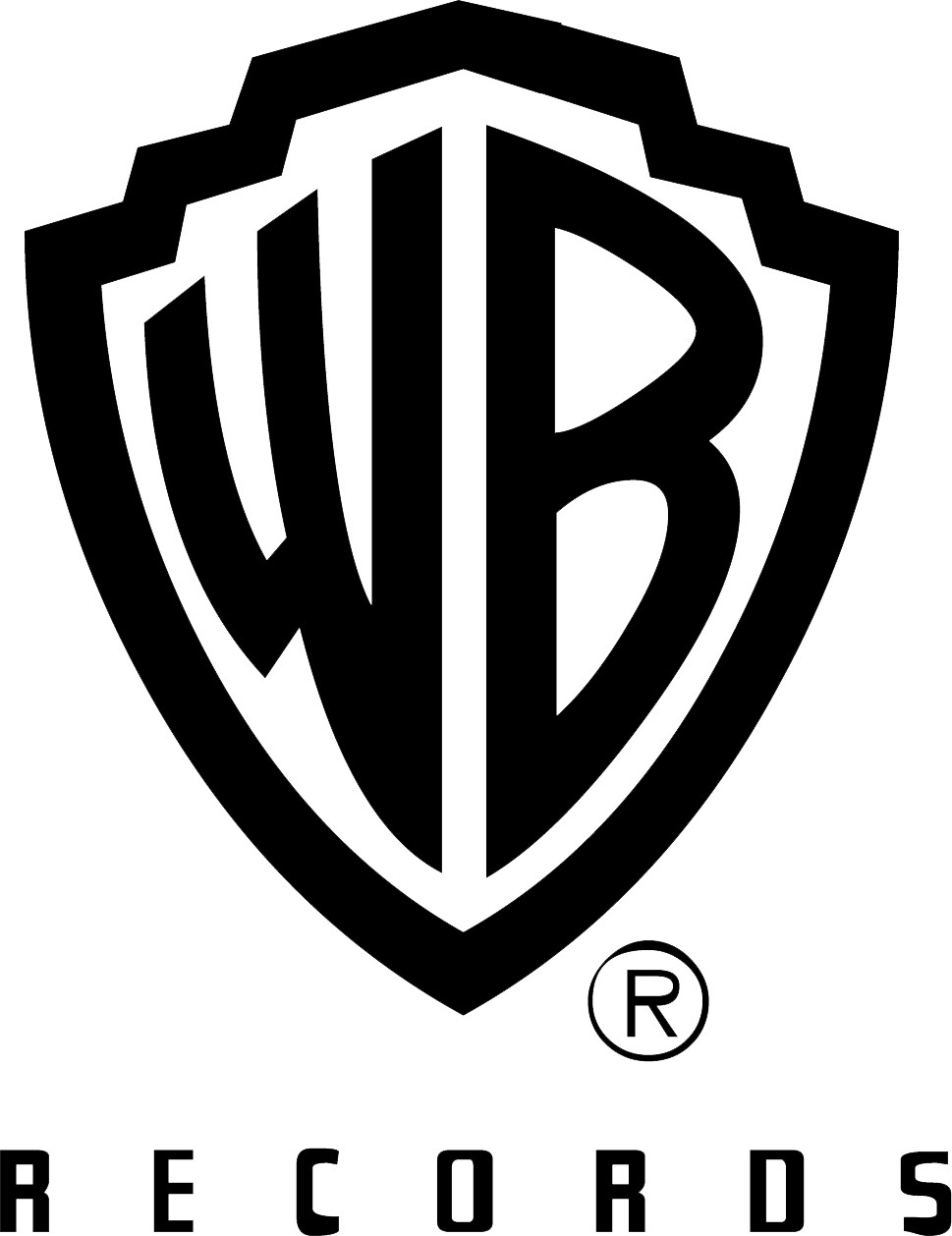 Singles are selling okay, but when you think about the fact artists get a few cents for each one sold, then 20-30 cents per unit goes to retailers and the rest the label and associates, that's not much money. A time is coming when there will be mergers of well known labels to try to stay in business in the face of what has happened.
---
Second Nurse In Dallas Infected With Ebola Traveled On An Airplane After Becoming Ill (CDC Health Advisory)
October 15. 2014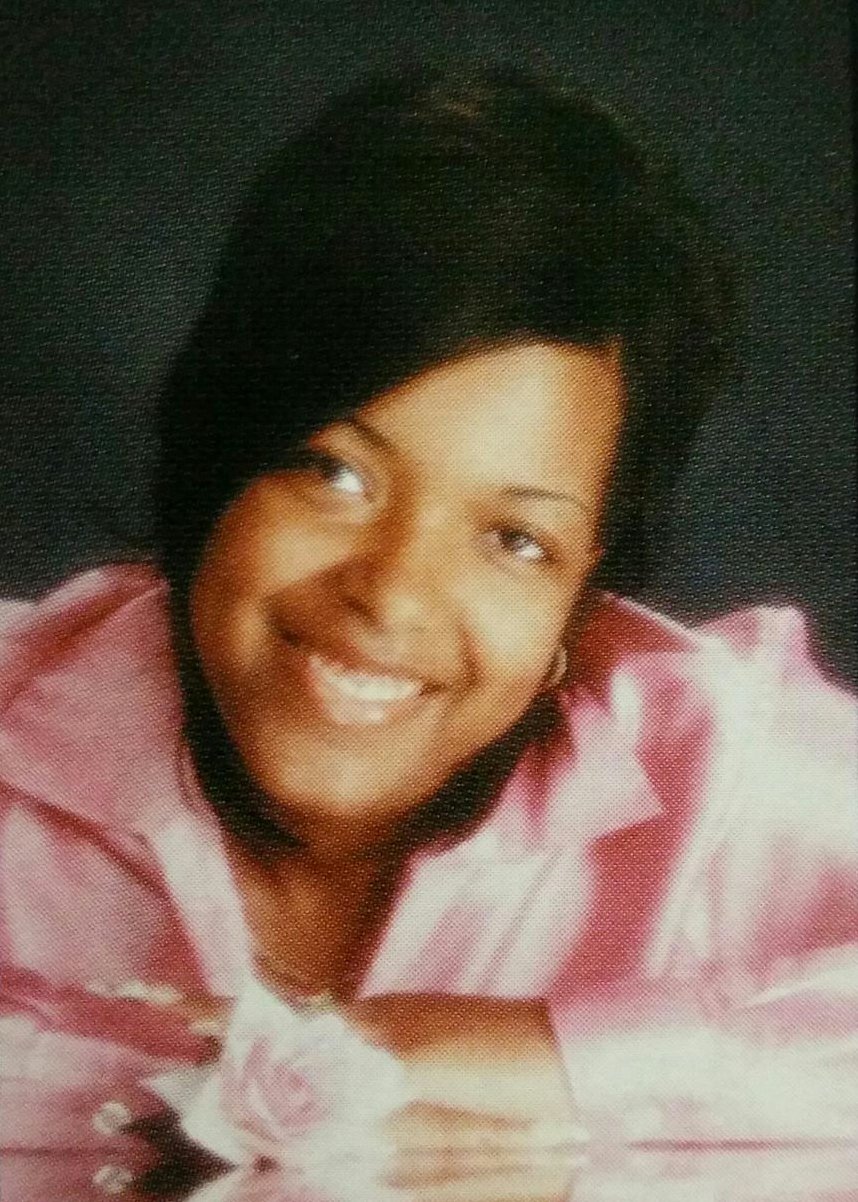 Amber Vinson
29-year-old Dallas nurse Amber Vinson has contracted the Ebola virus at Texas Health Presbyterian Hospital. Vinson is a colleague of nurse Nina Pham, who contracted Ebola from Liberian tourist, Thomas Eric Duncan. He has since passed away, while Pham is under quarantine.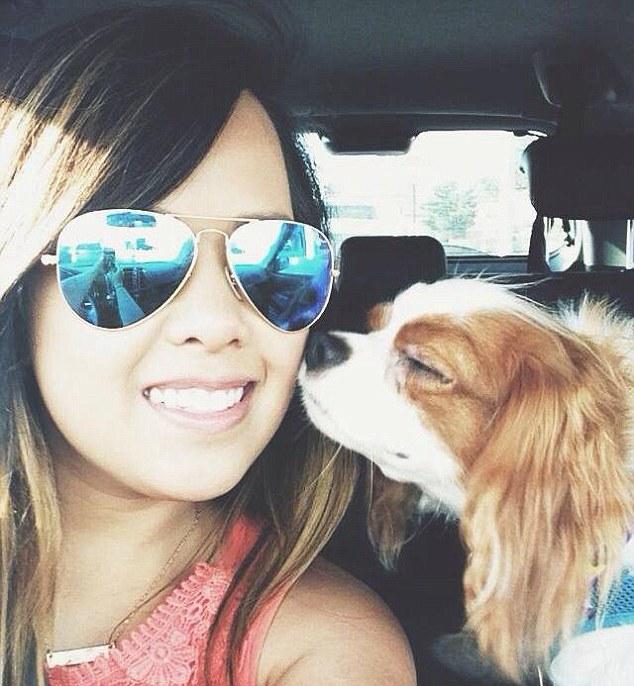 Nina Pham
Vinson is thought to have contracted the disease in this setting. Vinson also traveled on a commercial airliner, not realizing she had become infected. The CDC is now asking, "All 132 passengers on Monday's Frontier Airlines flight 1143 from Cleveland to Dallas-Fort Worth call 1-800-CDC-INFO. The flight landed at 8:16 p.m. CT Monday."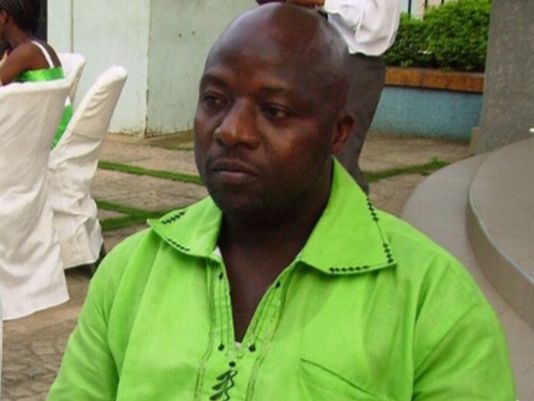 Thomas Eric Duncan
Ebola has not been a problem in America. Therefore, medical authorities did not place emphasis on training healthcare workers to combat the dreadful, hemorrhagic disease. The disease has caught the U.S. health care system flatfooted.
STORY SOURCE
Second Dallas nurse with Ebola was on Frontier Airlines Flight 1143
DALLAS – A second nurse who cared for Ebola patient Thomas Eric Duncan has been diagnosed with the deadly disease — a day after flying from Ohio to Texas, officials said. Amber Joy Vinson, 29, reported a fever late Tuesday and was immediately isolated at Texas Health Presbyterian Hospital in Dallas. Vinson's condition has worsened and she will be flown to a biocontainment unit at Emory University Hospital in Atlanta, federal officials said during a Wednesday news conference.
CDC director Dr. Tom Frieden said Vinson, who was in Ohio to plan her wedding, was not experiencing symptoms at the time of her flight, but "should not have traveled" on her return flight to Texas after learning in Ohio that she was a potential infection risk.
The CDC asks that all 132 passengers on Monday's Frontier Airlines flight 1143 from Cleveland to Dallas-Fort Worth call 1-800-CDC-INFO. The flight landed at 8:16 p.m. CT Monday. Frieden said because Vinson didn't have a fever and wasn't vomiting on the flight "suggests to us that the risk to any person around that individual on the plane would have been extremely low."
RELATED ARTICLE
Texas Nurse Who Cared For Liberian Tourist That Died From Ebola Is Now Infected As Well (Video)
---
U.S. Stock Market Plunges
October 15. 2014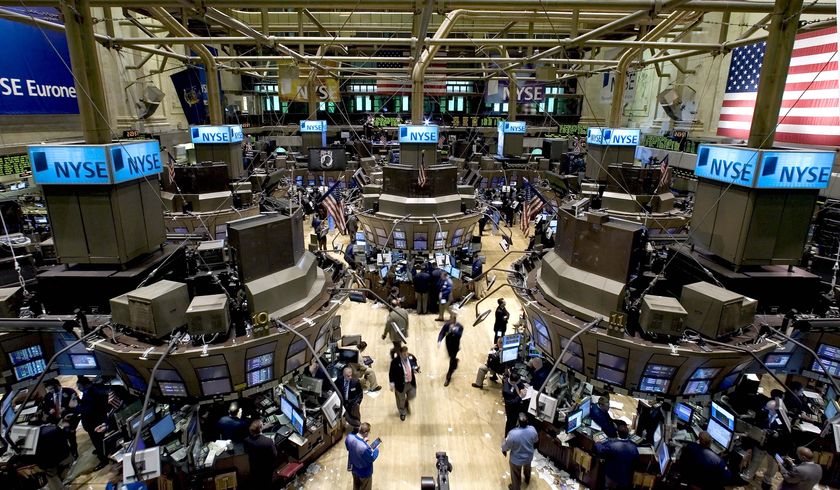 U.S. Stock Market
U.S. stocks dropped 450 points today, sending shockwaves through Wall Street. It was the worst decline in three years, with many scrambling to save their investments. By the end of trading today, the DOW regained 262 points, after a big rally to boost stocks.
The U.S. economy is still struggling under the weight of unemployment, foreclosures and rising cost of living expenses, hitting people's pocketbooks. The Ebola cases surfacing in America has also impacted the stock market in a negative way.
RELATED ARTICLES
New Financial Numbers Reveal The U.S. Economy Is Stagnating Again
The Obama Administration Being Met With Protests Domestically And Internationally
---
Snoop Dogg And Iggy Azalea Get Into Social Networking Fight
October 15. 2014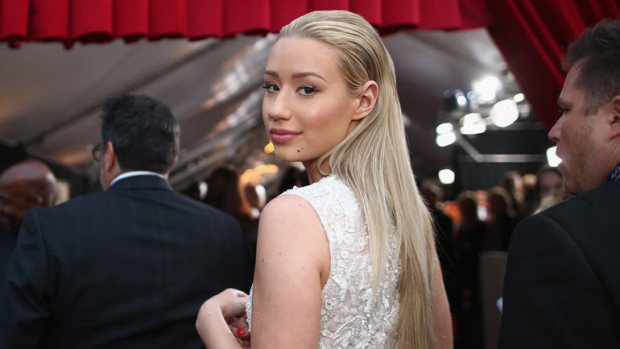 Iggy Azalea
Legendary rapper Snoop Dogg has gotten into a war of words with newbie female rapper Iggy Azalea. Snoop fired off a series of comedic, albeit insulting tweets and Instagram posts about Iggy. When Iggy responded he reminded her he is a rap legend and she is not, stating he had hit records when Iggy, 24, was in diapers. Iggy currently has one hit "Fancy" and a debut album struggling in the sales department.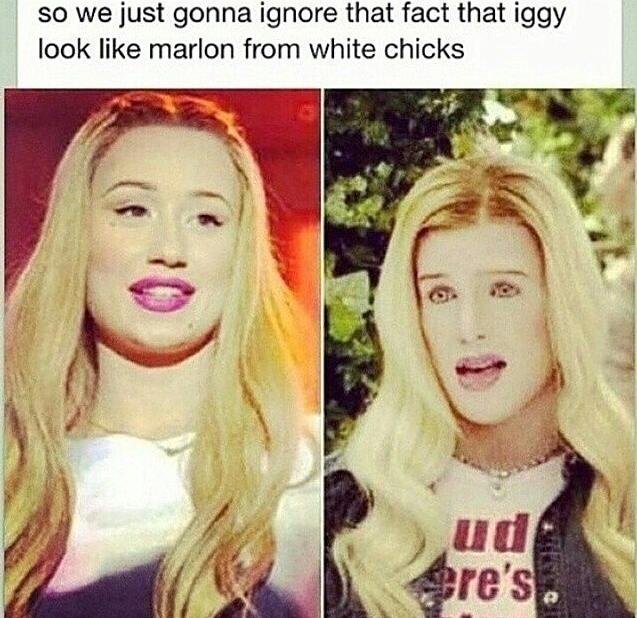 Snoop Dogg's Instagram diss insulting Iggy
Snoop has since apologized, after putting out a clip online that was interpreted as a threat against Iggy. Snoop stated, "Tip called me, it's over. Got a lot of love for cuz, so I let it go! Too much money on my mind to worry bout a biiiii**h ." Iggy accepted his so so apology.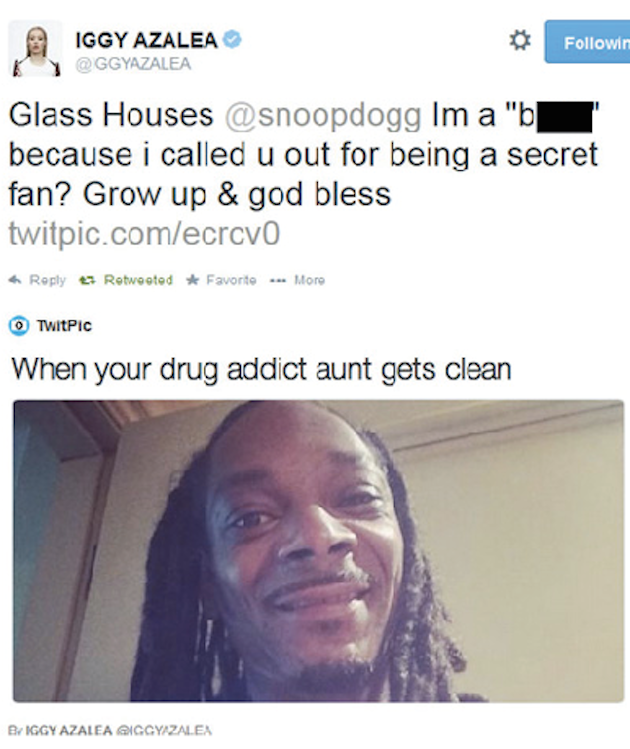 Iggy Azalea's diss to Snoop Dogg
Snoop felt slighted by Iggy and is also a friend of rapper Nicki Minaj. It has been stated Minaj feels as though Iggy has ripped of her career in look and sound. Rapper TI set out to capitalize on the success of Minaj, by creating a white version of her, via Iggy and it worked.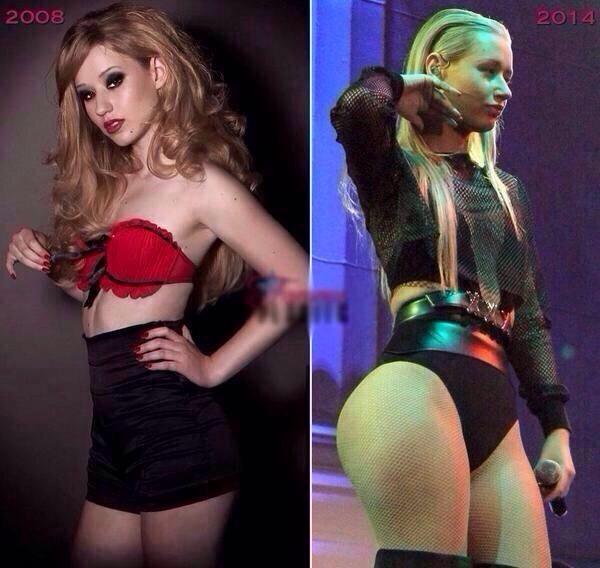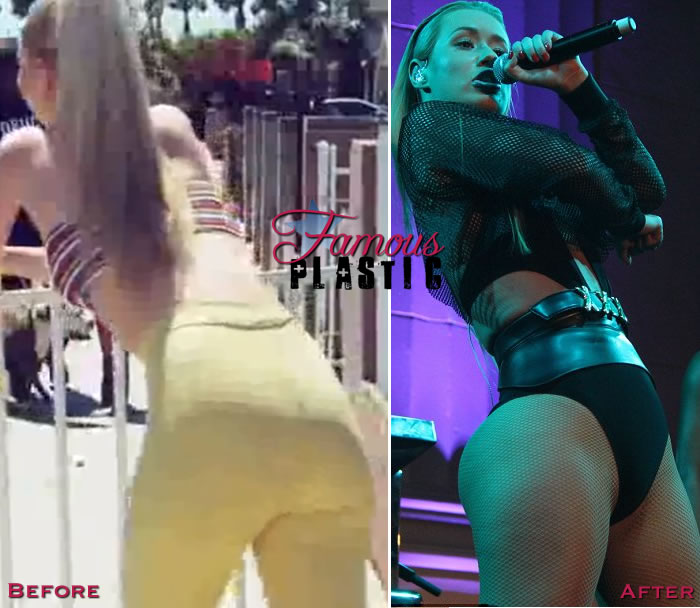 Iggy Azalea before and after butt makeover to look like Nicki Minaj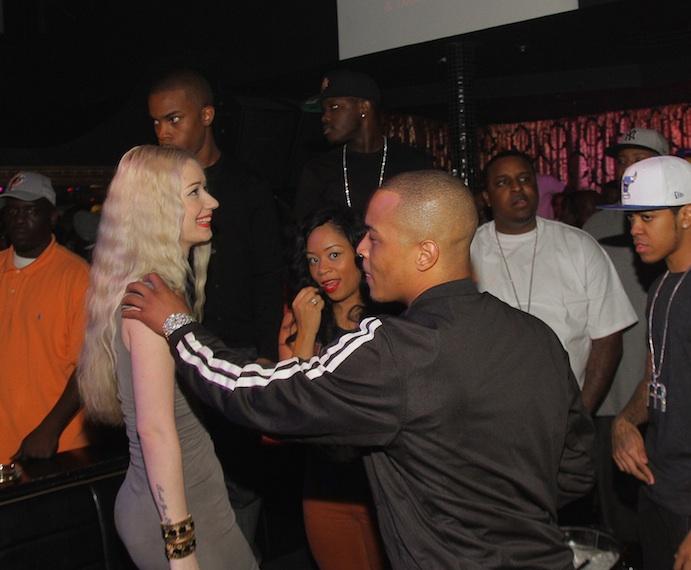 Iggy and TI before the butt work
Similarities exist between the two female rappers. Iggy was given butt enhancement procedures to greatly enlarge her butt to look like Minaj's after it garnered more attention than her music. Minaj has also had butt work done. Their style of rap is also similar, at times leaving them sounding like each other.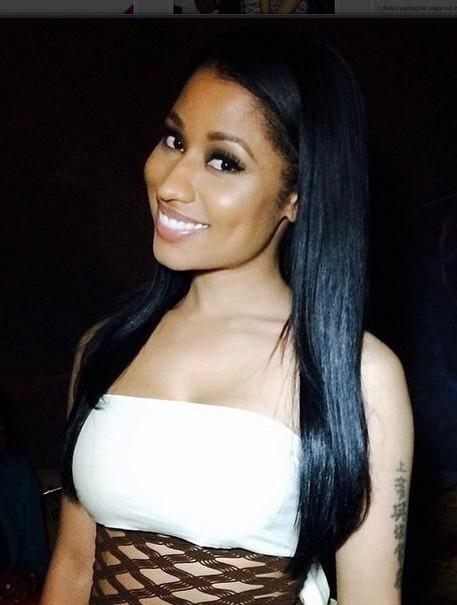 Nicki Minaj
Nicki took a dig at Iggy when she received an award this year, stating she writes all of her raps, unlike a certain artist. The next day, social media and the blogosphere had a number of items stating it was an insult aimed directly at Iggy, who some state has ghostwriters (the same claim was made about Minaj as well). Some believe one of Iggy's alleged ghostwriters is mentor TI.
Ironically, rap legend Lil Kim complained Minaj ripped off her look and sound. Lil Kim released comparative items to illustrate this belief. Once again, there are many similarities between the two. Lil Kim and Nicki Minaj also got into a war of words on social networking, trading barbs over the theft allegations [Lil Kim Disses Fellow Female Rapper Nicki Minaj Calling Her A Copycat (Photos)].
RELATED ARTICLES
Lil Kim Disses Fellow Female Rapper Nicki Minaj Calling Her A Copycat (Photos)
Rapper Iggy Azalea Sues Ex-Boyfriend Over Sex Tape She Says Was Made When She Was A Minor
Rapper Iggy Azalea Makes Racist Remarks On Twitter Against Black And Hispanic People Offending Many
---
Chris Brown Calls Karrueche Tran A Supportive Woman
October 15. 2014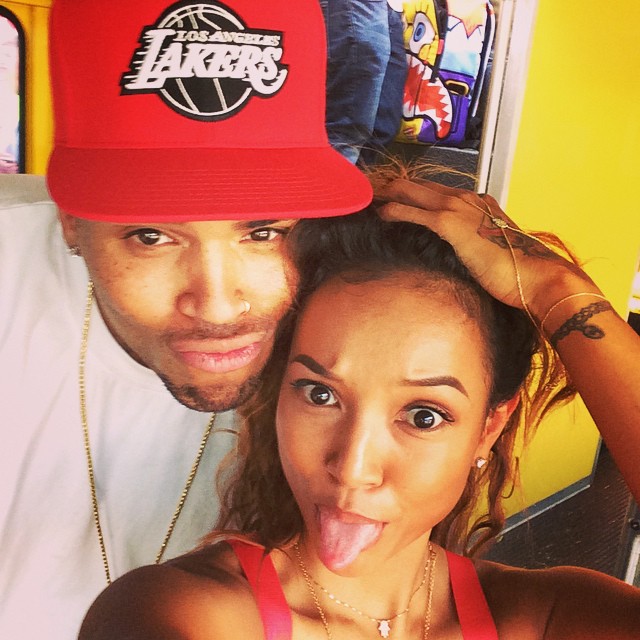 Chris Brown and Karrueche Tran
R&B singer Chris Brown complimented his longtime girlfriend, Karrueche Tran, calling her "a supportive woman." The compliment came via an indirect tweet on the social networking site Twitter, where Brown has lavished the model with compliments before.

Chris Brown tweet
Brown's ex-girlfriend, Rihanna, routinely acts up online, as do her family members and friends, when Brown shows any bit of affection for Tran. They have repeatedly targeted the model online in crazy acts of cyber bullying.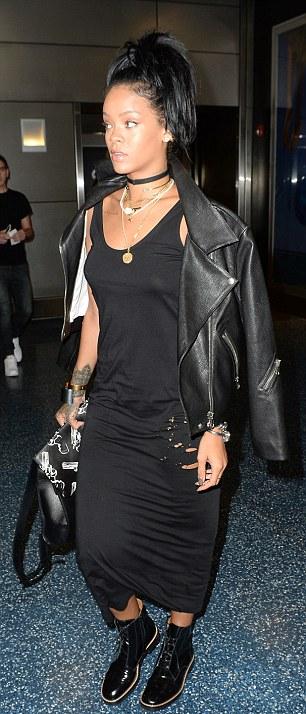 Rihanna
Brown's latest CD "X" has sold an estimated 250,000 copies in America in one month of release. The CD suffered many delays due to legal issues that have now been more or less resolved. Brown has been nominated for a number of awards and his career is back on track.
RELATED ARTICLE
The Fact Rihanna's Brother Was Posting On Instagram About Rival Karrueche Tran's Private Parts Says He Wants Her Sexually
---
Tyson Fury v. Dereck Chisora Fight Contracts Need To Be Signed
October 15. 2014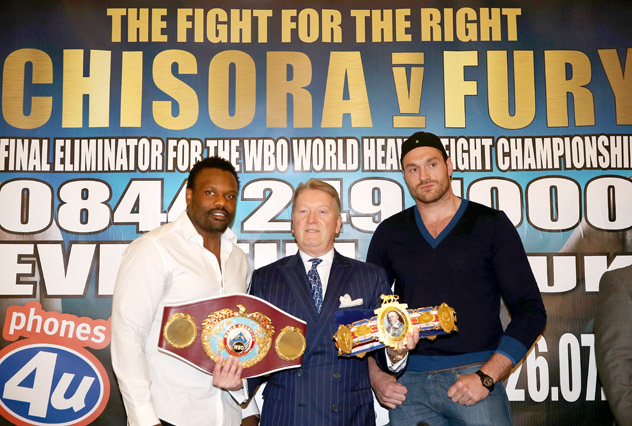 Dereck Chisora, Frank Warren and Tyson Fury
Tickets have been selling well for the Tyson Fury v. Dereck Chisora 2 rematch boxing fight, slated for November 29, 2014 at the ExCel Arena in London, England. I checked Stub Hub and less than 30 tickets were left on their site. However, the contract has not been signed for the fight.
Fury has tweeted at Box Nation owner and promoter, Frank Warren, demanding the contract be signed. The absence of a signed contract has concerned a number of fans who bought tickets to the highly anticipated rematch. Both boxers have been training heavily to be in top form for the bout.
RELATED ARTICLE
Tyson Fury And Dereck Chisora Finalize November 2014 Fight For Big British Boxing Rematch
---
Dog Of Dallas Nurse Infected With Ebola Under Quarantine At Naval Base
October 14. 2014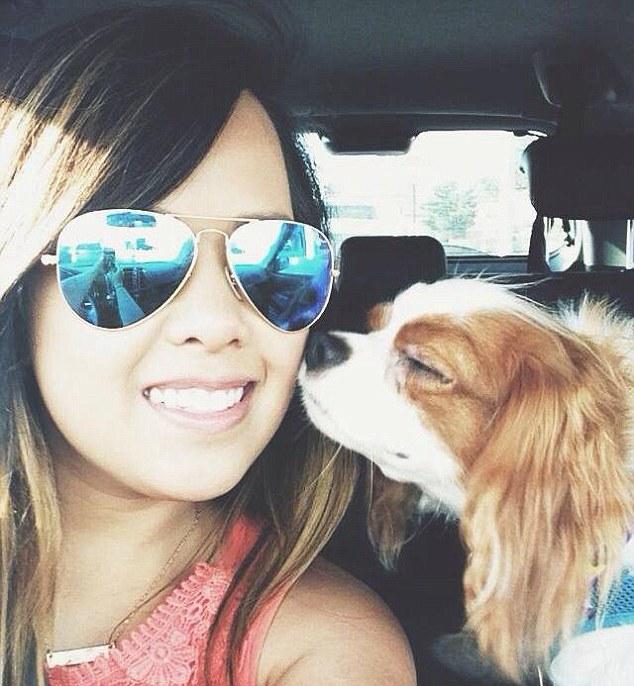 Nina Pham
The dog belonging to Texas nurse, Nina Pham, who contracted Ebola on the job, is under quarantine on "a decommissioned U.S. naval base." Authorities vowed to care for the cute pooch, while his owner is in critical condition. The dog looks quite sad in photos. Dogs can inanely sense things and likely knows his owner is sick.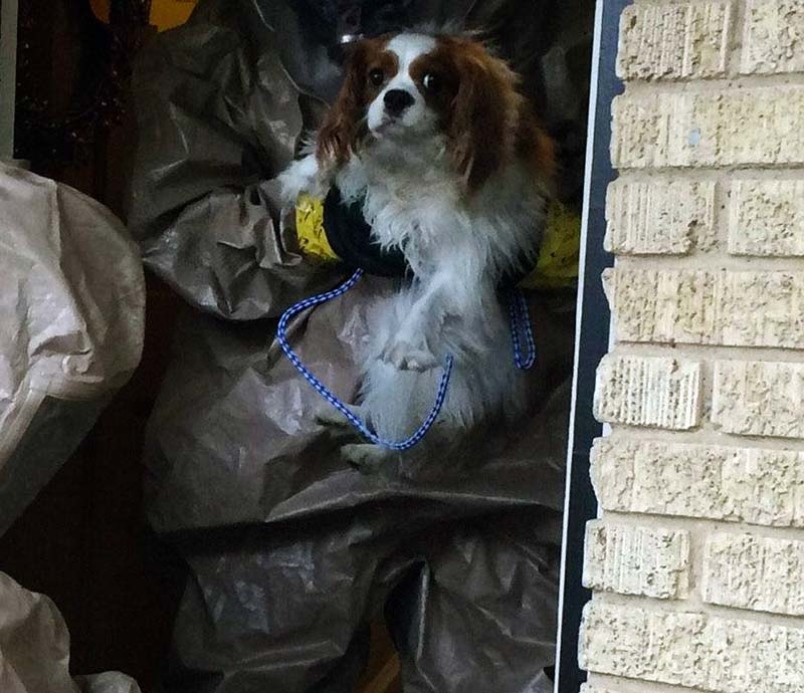 Nina Pham's adorable dog looks sad and scared
The dog is hearing what is being said around him as well. You can teach a dog to obey verbal commands and do tricks based on what you state. Therefore, they understand what is being said, even on a basic level. They also have heightened senses and can be trained to sniff out disease, among other things. The animal is quite aware.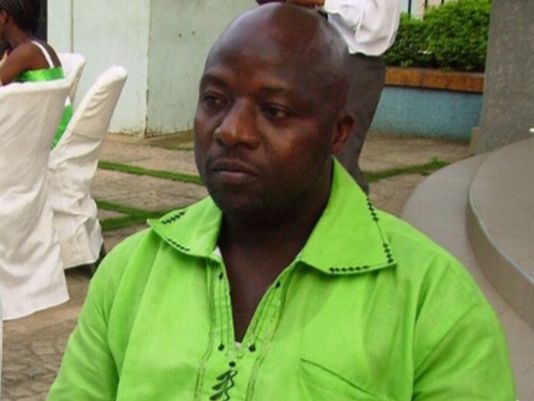 Pham was caring for Liberian tourist, Thomas Eric Duncan, who was suffering from the Ebola virus, when she contracted it through an accidental breach in medial safety protocols.
There was a case in England regarding a dog that kept pawing at one of its owner's breasts. She thought it strange the dog began doing that. She was feeling unwell and had tests run, only to discover she has breast cancer. It is being stated the dog sensed it. Though no definitive tests/studies have been done, there are many stories of dogs being able to sense illness in humans.
Radiation Concerns Regarding Airport Scanning
Scientists: TSA Airport Radiation Doses Are Inaccurate
Vaginal Laser Hair Removal And Fertility Issues
---
Rihanna Wants To Work With Drake And Chris Brown
October 14. 2014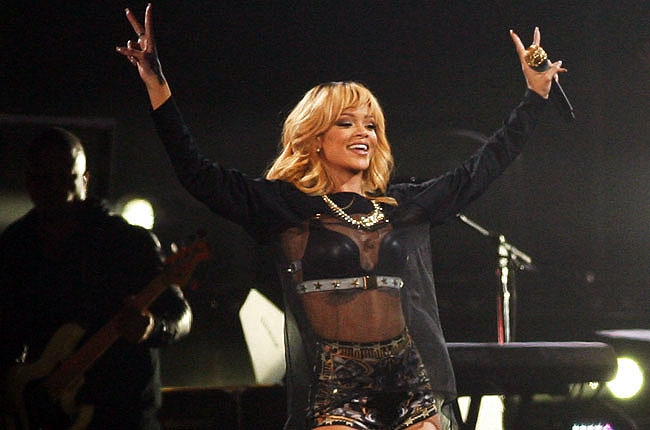 Rihanna
With funds dwindling again due to debts and wild spending, singer Rihanna wants to work with ex-boyfriends, Chris Brown and Drake. Her new CD is slated for release shortly and there has been a struggle to find material. Rihanna is even trying to rap on her new CD, which is laughable.
Rihanna has slammed both Brown and Drake on different occasions. Therefore, to make an about face stating she wants to work with them is ironic. If her new CD fails, she will not recoup the massive costs associated with the project, end up owing the label and will need to find new revenue streams.
Rihanna has arrogantly burned so many bridges with various sponsors, the CBS television network and fellow entertainers she publicly slammed for no reason. CBS took exception to her online insults after they removed a song she recorded from their football programming (Rihanna Curses At CBS On Twitter Over The NFL And They Permanently Pull Her Music From Their Network In A Serious Career Blow).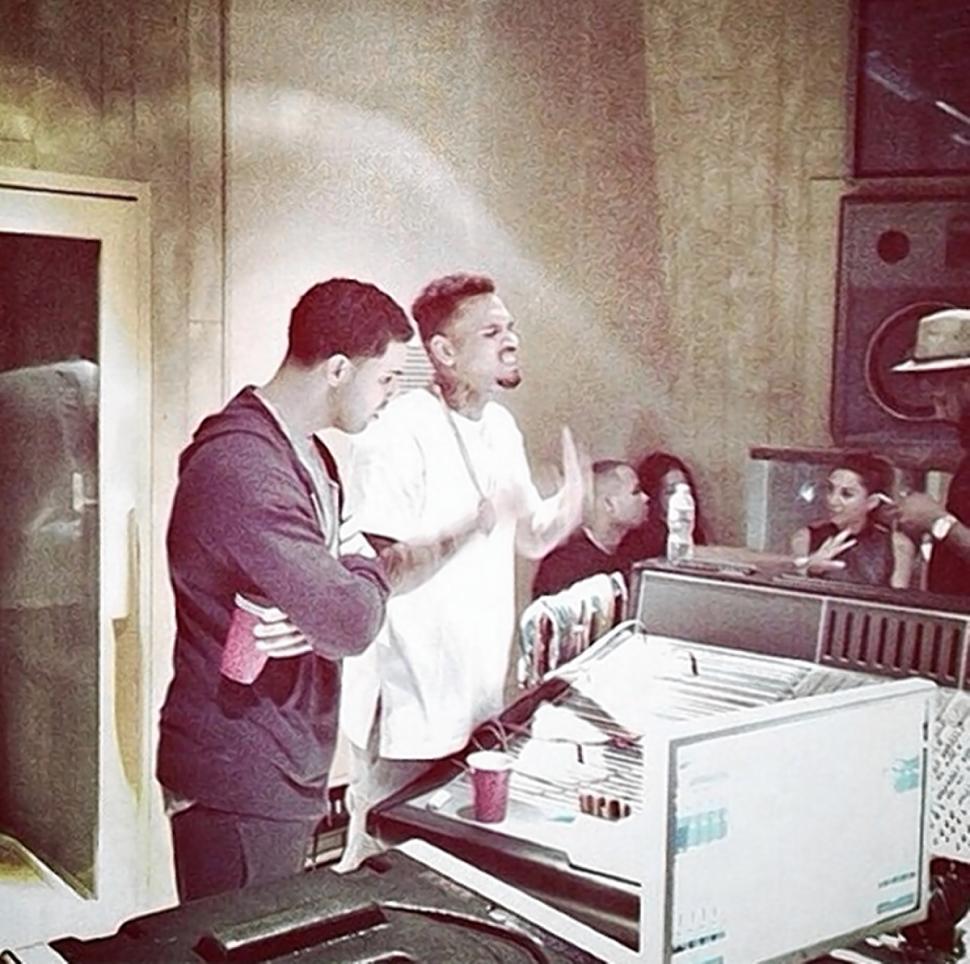 Drake and Chris Brown in the studio a few months ago
It was a bad business decision on Rihanna's part. Rather than first privately speaking to CBS about the issue she took exception to, she went on a profanity laced tirade against them. Offended, CBS has also dropped her from the 2015 Super Bowl.
Rihanna engaged in more wild spending this year, at times spending $500,000 per month. She is renting a massive home in Hollywood, took on a $10,000,000 home in her native Barbados, has people on payroll and continues to shop like a spendthrift, all via proceeds from copyright infringement, which is illegal.
She is overextending herself in a game of financial Russian roulette that saw her at the brink of bankruptcy a short while ago, all while bragging in interviews she is rich. However, her former accountants, Berdon LLP, let the cat out the bag that she is a spendthrift and that is what led to her vast financial problems. At one point Rihanna's bank account had dipped below $20,000, while she publicly claimed she had $20,000,000.
RELATED ARTICLE
Drake Disses Chris Brown On Stage (Video)
---
Hazel Continues To Let Young Burg Play Her While Former Friend Teairra Mari Makes A Career Move With Him
October 14. 2014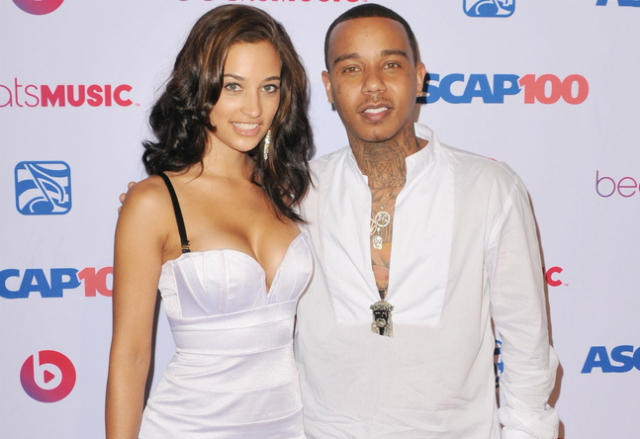 Yung Berg (right) with his date to the ASCAP awards
Former publicist turned rapper/reality star, Hazel, continues to let rapper turned producer, Yung Berg, play her. Yung Berg uses Hazel for sex from time to time and in doing so, giving her false hope one day they will have a real relationship.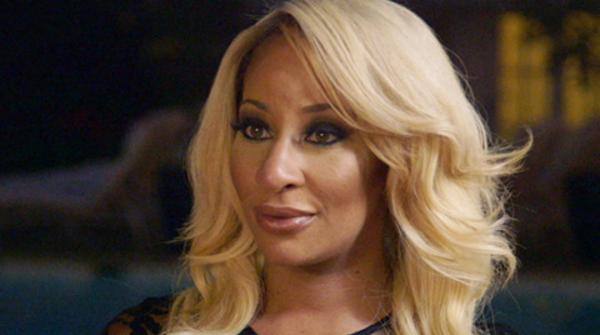 Hazel looking at Yung Berg and his date at the ASCAP awards after he told her he would not take anyone with her. Then she threw a drink on him...
Hazel is in love with prejudice, color struck Burg, who is just flirting and playing around with her. He is not serious about her, using her for sexual gratification then dropping her for other women, which is disrespectful and wrong. Burg needs to stop having sex with Hazel, as it is leading her on and creating emotional damage in a woman who has feelings for him.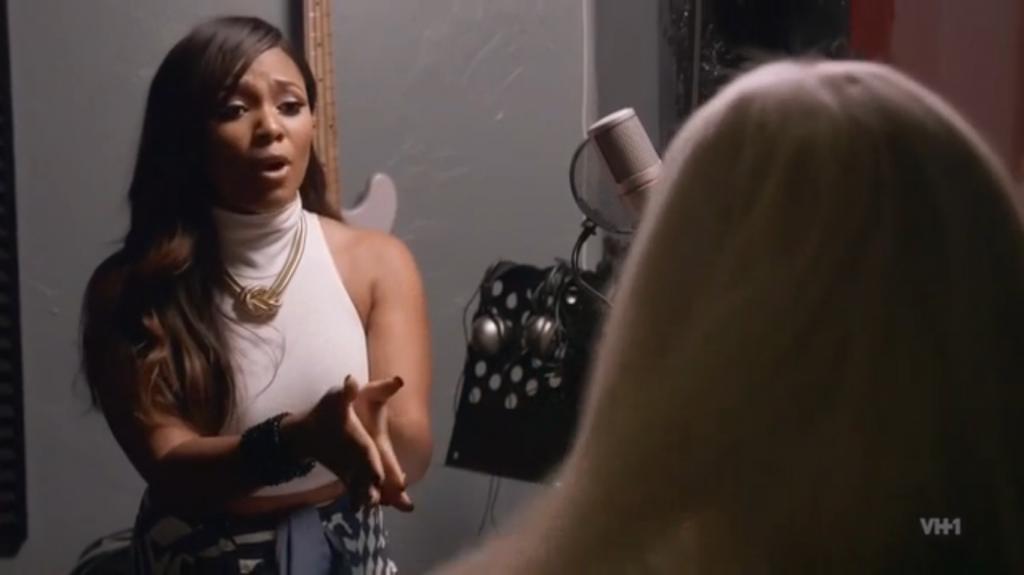 Teairra Mari and Hazel arguing
When Hazel began crying in front of him regarding his mistreatment of her, taking the aspiring rapper for granted, Burg offered to help Hazel launch a rap career, by producing a few songs for her. However, she interpreted it as something else.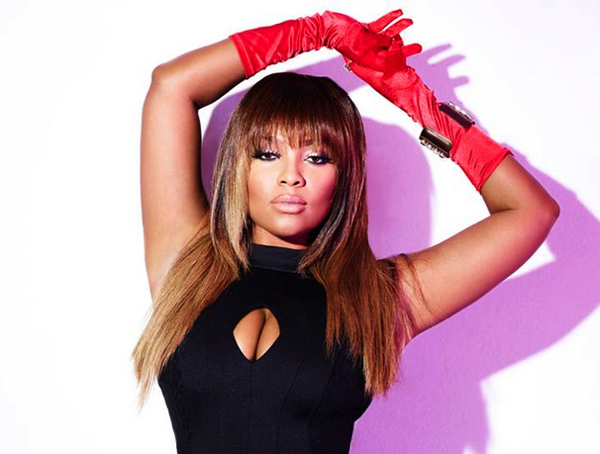 Teairra Mari
Next Hazel was offended and hurt by Burg once again, when she found out he agreed to work with her former friend Teairra Mari. Hazel hit the roof and stated, "Teairra Mari is known for sleeping with her friends men."
RELATED ARTICLES
'Love And Hip Hop Hollywood' Reality Star Yung Berg Is Playing Hazel For A Fool Stringing Her Along For 8-Years
Was Masika And Nikki Fighting Over Mally Mall On 'Love And Hip Hop Hollywood' A Good Idea
---
Floyd Mayweather Lashes Out At ESPN's Stephen Smith Over Manny Pacquiao Who Responds (Video)
What's Going On With Floyd Mayweather
October 14. 2014
Stephen A. Smith expresses shock at Floyd Mayweather slamming him. Mayweather stated, "I ain't never seen Stephen A. Smith dribble a basketball, catch a football, or get in a boxing ring. He's just a critic." For full video click here: http://www.youtube.com/watch?v=Mk1vCxbtOxA
Undefeated lightweight boxer, Floyd Mayweather, slammed one of his top supporters, highly rated ESPN sports analyst, Stephen A. Smith, for stating he should give the fans the fight they want against fellow pugilist, Manny Pacquiao. Many people hold this view, but Floyd was not amused with Smith stating it.
Manny Pacquiao tweeted the video posted above featuring Smith on Twitter with the words, "Last I checked Freedom of Speech was still part of the U.S. Bill of Rights. Bravo!"

Ironically, the man considered by most to be the greatest, not to mention prettiest boxer of all time, Muhammad Ali, tweeted at Mayweather and Pacquiao months ago. Ali congratulated Mayweather on his win in the ring. Ali also complimented Mayweather and politely stated what we've all been thinking and saying, Floyd should give fans what they want, a fight against Pacquiao.
Mayweather did not respond to Ali's tweet, which was stunning. Bro, that was Ali. You should have answered him (when Ali kicks your butt, you'll know - I'm kidding). Pacquiao responded to the tweet and thanked the champ for his kind words.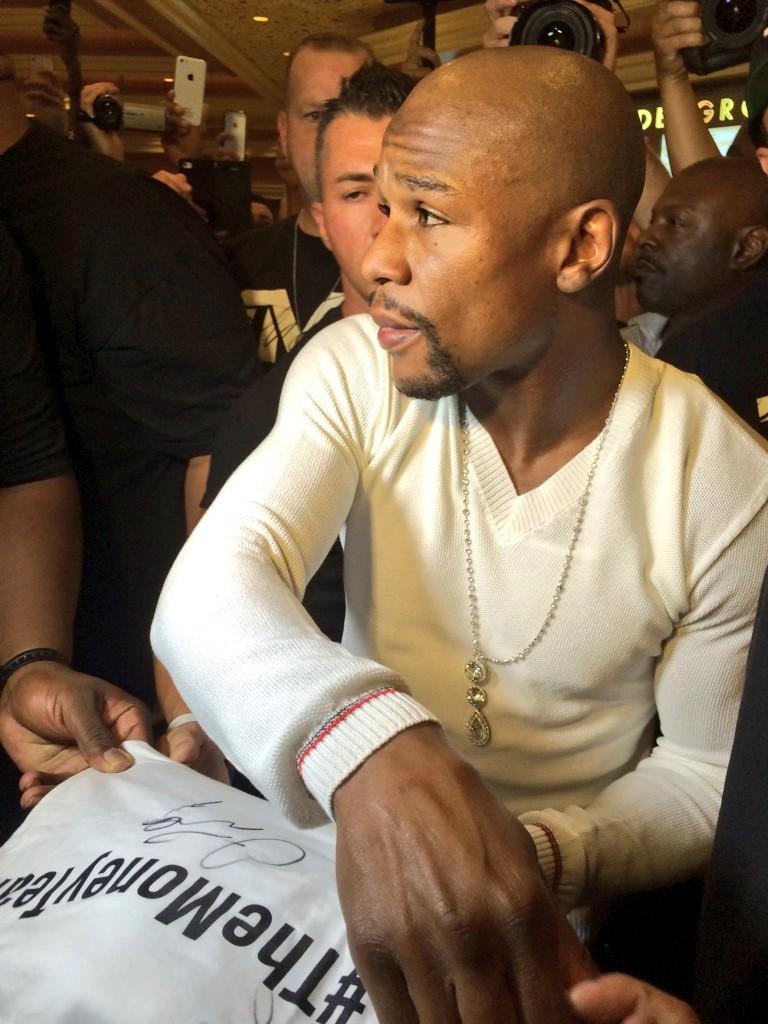 Floyd Mayweather
I will admit, Smith was hard on Mayweather's rival, Amir Khan, in the video, who is a good boxer as well and just wants a shot at the champ. Doesn't everybody! There have also been times when Smith's co-host Skip Bayless ticked me off talking about my Miami Heat, but I digress (watch your back, Skip...I'm joking).
It's all covered by free speech. However, to turn on the ones who support you is not advisable. Something's going on with Mayweather. He's been lashing out at people a lot lately. Recently, he slammed the fastest man in the world, sprinter, Usain Bolt, for no reason. Mayweather was in London, England at a barber shop in Brixton.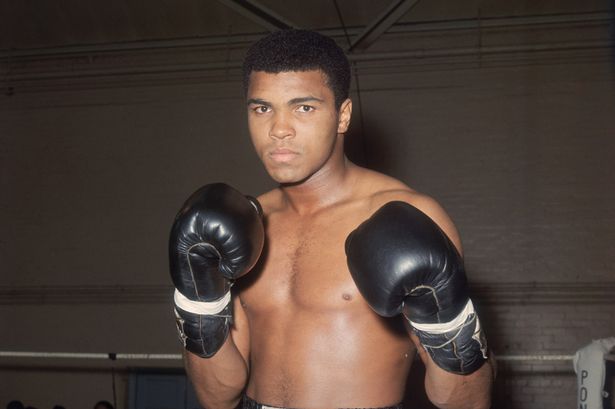 Muhammad Ali
A Jamaican Briton in Britxon asked Mayweather who he is and he became offended and angry that she did not know. Boxing fans in Britain know who Mayweather is, but he's not known by everyone in the United Kingdom. When Mayweather told her who he is, it still didn't ring a bell.
She informed him that she knows who former heavyweight champion Mike Tyson is, but she hadn't seen any of Mayweather's fights. She stated she only watches the big fights. She also stated she knows who Rihanna, Beyonce and Usain Bolt are. When she mentioned Bolt, Floyd became enraged and snapped, "Who the f**k is Usain Bolt."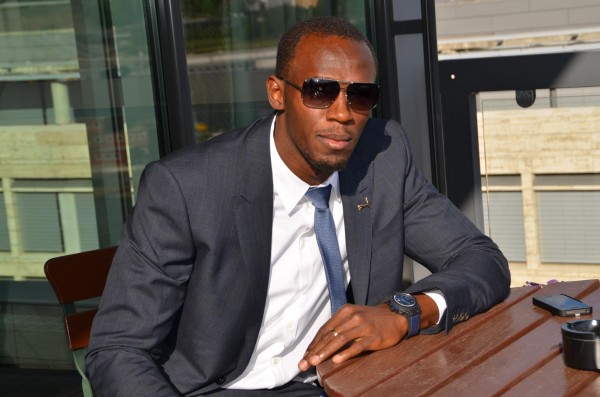 Usain Bolt
As far as I know, Bolt had nothing against Mayweather. Bolt even responded to the video on Twitter, trying not to take Mayweather's diss seriously. However, Mayweather seems to be angry and troubled in general and lashing out at people this year. Could it be ex-fiancée, Shantel Jackson, aborting his unborn twins after lying to him that he stressed her out and caused a miscarriage. Jackson is now suing Mayweather, divulging the details of their tumultuous time together.
Whatever is bothering Mayweather, I hope he gets it sorted out and finds some peace in his life. Even in the face of what happened regarding the twins, he has a lot going for himself. At the end of the day, life's too short to be angry and bitter over the past. Some things in life we've got to let go and move on, as difficult as it may be.
RELATED ARTICLE
Shantel Jackson Confirms She Is Going To Do A Tell-All About Boxer Floyd Mayweather Confirming This Site's Previous Claims (Video)
---
NOTE 10-11-14: Sorry for the delay in publishing last night. The site was hacked by Madonna's Kabbalah Center and it took hours for the computer to repair itself to publish last night's article this morning. Sorry for the inconvenience.
---
PERMALINKS
Madonna's Pedophilic Kabbalah Center
Madonna's Rabbi At The Kabbalah Center Threatened To Beat And Kill A Student He Drugged And Tried To Rape
NSA Workers Admit To Reading The Emails And Listening To The Calls Of Americans In Violation Of The Law
Judge Rules The NSA Illegally Spied On Americans Confirming The Site's Previous Claims (Video)
NSA Admits Employees Illegally Spied On Love Interests And Significant Others Confirming Site's Previous Claims
New Scandal Erupts Regarding The FBI And Justice Department Monitoring Calls Of AP Reporters Confirming Previous Site Claims
IRS Says Sorry For Targeting Conservatives As Obama Denies All Knowledge Of Misconduct
President Obama Fires The Head Of The IRS For Targeting Conservatives (Video)
News Report: The IRS Targeted Christians
FBI Agent Arrested For Accepting A $200,000 Bribe To Derail A Criminal Case The FBI Was Supposed To Be Investigating
Another FBI Agent Caught Taking Bribes To Derail Serious Cases (Video)
Boycott Aventura Mall For Racial Profiling And Negligence