Suge Knight Had Confrontation With Dr. Dre Before Vehicular Homicide Where He Ran Over The Victim's Head With His Truck
January 31. 2015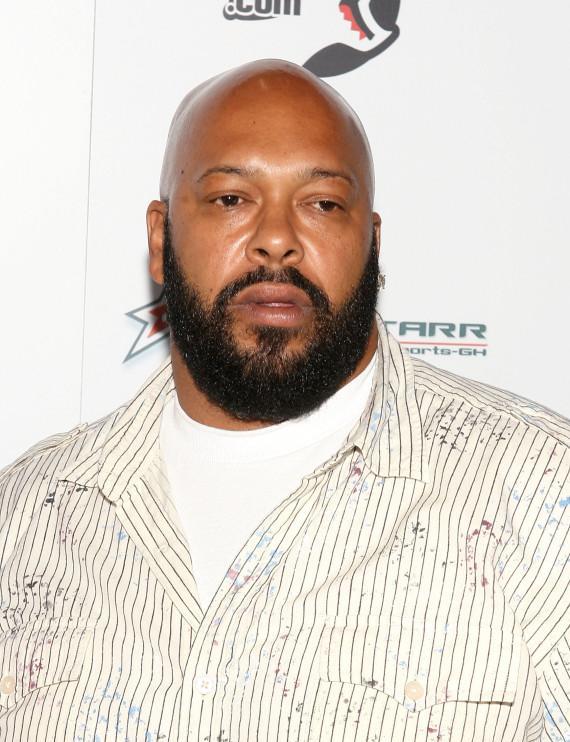 Suge Knight
As reported yesterday on the Judiciary Report, rapper/producer Dr. Dre and former Death Row Records CEO, Marion "Suge" Knight, were having a private dispute over the forthcoming film "Straight Outta Compton" which chronicles the life of the 1980s gangster rap group. Today, TMZ is reporting Dr. Dre had Suge thrown off the movie set on Thursday, January 31, 2015, after he got into a confrontation with security.
As reported on the Judiciary Report yesterday, Suge has been very concerned over how he is being portrayed in the film, after his violent, threatening conduct over the years towards Ruthless Records founder, the late Eazy E, its former music executive, Terry Heller, as well as Dr. Dre (Suge Knight Wanted For Murder After Deliberately Running Over And Killing A Man From The Film Set 'Straight Outta Compton').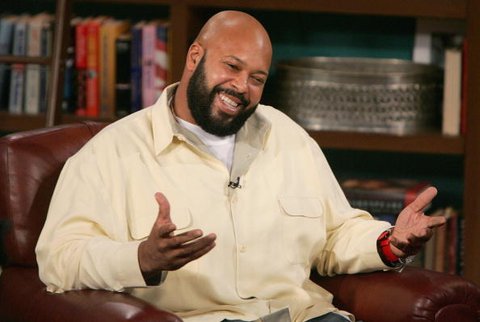 Suge Knight during a previous television interview
In fact, Suge was behind the movie set shooting that took place on the set last year (Shooting Breaks Out On The Set Of NWA Biopic Leaving One Person Injured). The shooting, which left one injured, was a warning shot. However, Dr. Dre and company did not get the message and it escalated into this week's deadly vehicular homicide. The fact of the matter is Suge has been stalking the "Straight Outta Compton" film sets for months.
Industry figures dislike biopics making reference to them, in which they have no control over the film's content. Some filmmakers sensationalize biopics and the truth is nowhere to be found in them (though Suge legitimately did enough dirt there would be no need for sensationalism). However, most do not resort to violence. Suge's raging resentment and jealousy towards Dr. Dre, whom he still feels he owns, hit an all time high when news broke that Apple bought out the music producer's Beatz Audio company, netting the star approximately $300,000,000. News of the biopic recounting Suge's conduct brought things to boiling point.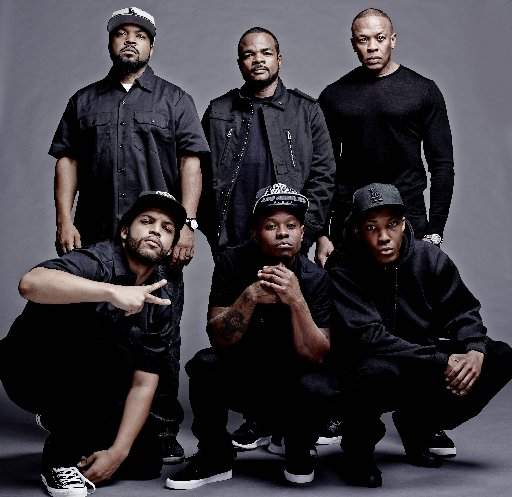 Members of NWA and the cast and crew of forthcoming biopic "Straight Outta Compton"
Suge, who has a terrible temper and refuses to control it in any manner, was already on probation for previous crimes when this violent incident occurred. Witnesses have already given police statements indicating Suge was the aggressor in the vehicular homicide that occurred this week. The mere fact witnesses stated Suge deliberately ran over the victims with his truck, not once but twice, running over "Training Day" actor Terry Carter's head and killing him, then fleeing the scene, will not play well with a jury (witnesses, paramedics and police must have been horrified seeing such a grisly crime scene).
This creates a set of serious circumstances that could see Suge locked up for the rest of his life. He is currently being held in Los Angeles County Jail on $2,000,000 bail. Something tells me Suge is going to end up bending over. If only he had controlled his temper. Things would have turned out so differently. Living the "thug life" always leads to trouble.
RELATED ARTICLES
Suge Knight Wanted For Murder After Deliberately Running Over And Killing A Man From The Film Set 'Straight Outta Compton'
Suge Knight Shuts Up When Police Question Him About Who Shot Him In Attempted Murder Bid Meant For Chris Brown
Witnesses State Chris Brown Was Shot At During VMA Party That Left Suge Knight With 6 Gunshot Wounds
Tupac Shakur's Estate Settles With Death Row Records For $2,200,000 In Back Royalties
Degrading NWA Biopic Casting Call Reveals The Prejudices Within The Black Community
Shooting Breaks Out On The Set Of NWA Biopic Leaving One Person Injured
Suge Knight Commissions Akon Rep House Break-In
New Police Theory On Who Killed Biggy And Tupac
Suge Knight Up To His Old Tricks Again
Suge Knight Arrested Again
---
Mariah Carey Sued By Nanny Of Her Children For Being Unbearable, Cheap And Jealous
Well, Somebody Doesn't Think Mariah Carey Is A "Vision Of Love"
January 31. 2015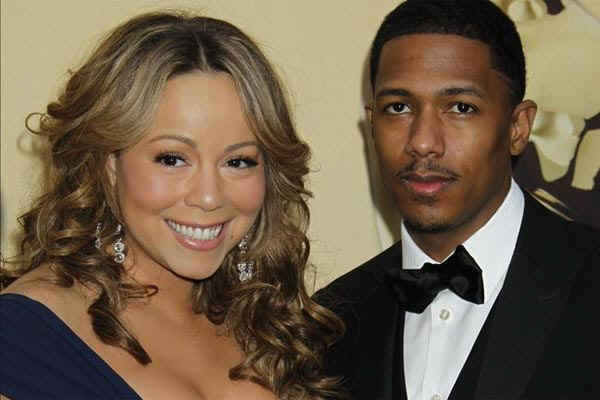 Nick Cannon regarding Mariah Carey: y'all know she's crazy, right!
Can you imagine being a nanny for Mariah Carey, who is notorious in the music industry for being very difficult and unreasonable (see: Mariah Carey Planning Las Vegas Residency But Will Her Voice Hold Up). Carey bragged that she goes through so many nannies, which should have tipped the public off she is putting these women through an ordeal in caring for her cute little twins. Well, one nanny isn't going to take it anymore.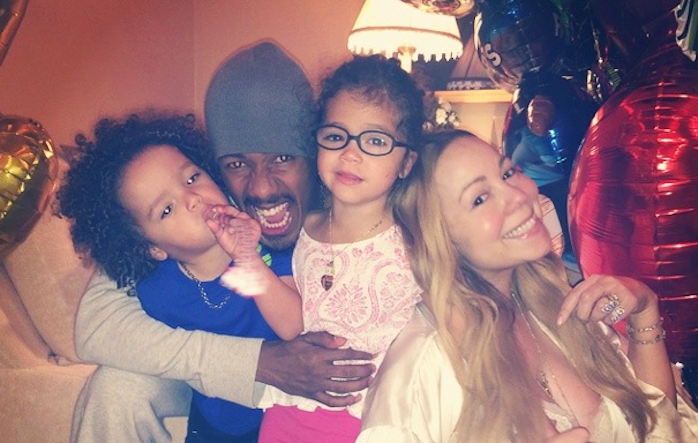 Mariah Carey, Nick Cannon and "them babies"
This week is was announced, nanny Simonette DaCosta, sued Carey and estranged husband Nick Cannon, for wrongful termination, stating the children had grown to love her, which upset the singer, who became jealous. DaCosta also stated Carey failed to pay her overtime, despite working her like a dog, calling the nanny at all hours of the day to perform tasks. DaCosta is requesting overtime and damages in the lawsuit, seeking an undisclosed sum. Let's just hope that the adorable kids will be okay, as they've seen and heard too much from two parents at odds with each other.
RELATED ARTICLE
Mariah Carey Planning Las Vegas Residency But Will Her Voice Hold Up
---
Suge Knight Wanted For Murder After Deliberately Running Over And Killing A Man From The Film Set 'Straight Outta Compton'
January 30. 2015
Marion "Suge" Knight, best known as the violent, former CEO of Death Row Records, who was present when rapper Tupac Skakur was gunned down in the passenger seat of his BMW along the Vegas strip, is in more trouble with the law. Knight is wanted for murder. Knight antagonistically visited the set of the "Straight Outta Compton" movie chronicling the life of the gangster rap group NWA.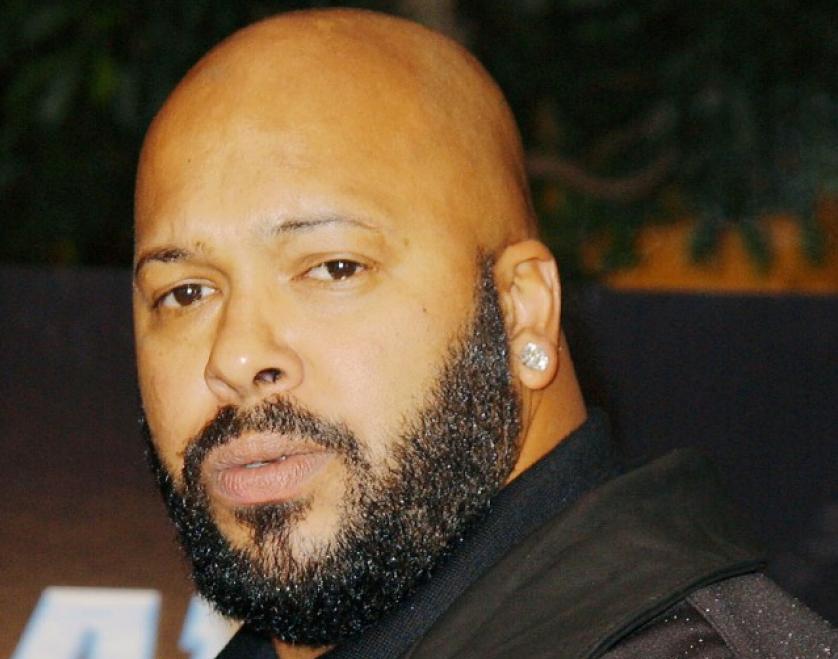 Suge Knight
The film includes items regarding the late Ruthless Records CEO, Eazy E, real name Eric Wright, who died of AIDS. In the 1990s, Knight threatened Eazy E with grievous bodily injury and death, if he did not release rapper/producer Dr. Dre from his recording and production contract with Ruthless Records. Dre was released and created Death Row Records with Knight, which lead to terrible acts of violence, in another deal Dre had to flee with nothing, in order to save his life.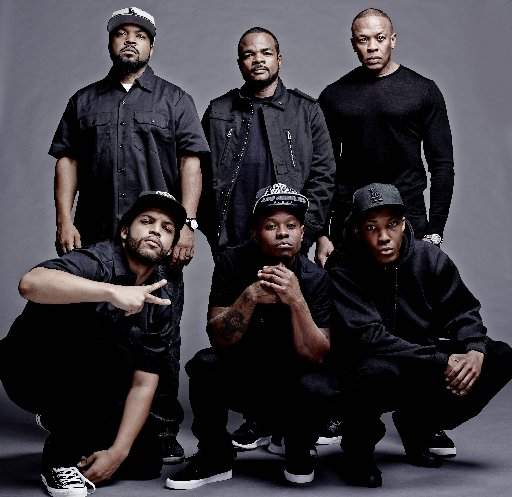 Members of NWA and the cast and crew of forthcoming biopic "Straight Outta Compton"
Knight was worried about how he would be portrayed in "Straight Outta Compton." The film set had already been the target of violence last year, after shots rang out during a courthouse scene in Compton, injuring an innocent person. Tragedy has struck again, after Knight got into a confrontation with the film crew yesterday. Shortly after, Knight hopped into his truck and ran over two men, killing one with his vehicle, at a nearby restaurant. Witnesses state Knight deliberately ran over the two men, then backed up over them. Knight then fled the scene and is wanted by police for murder.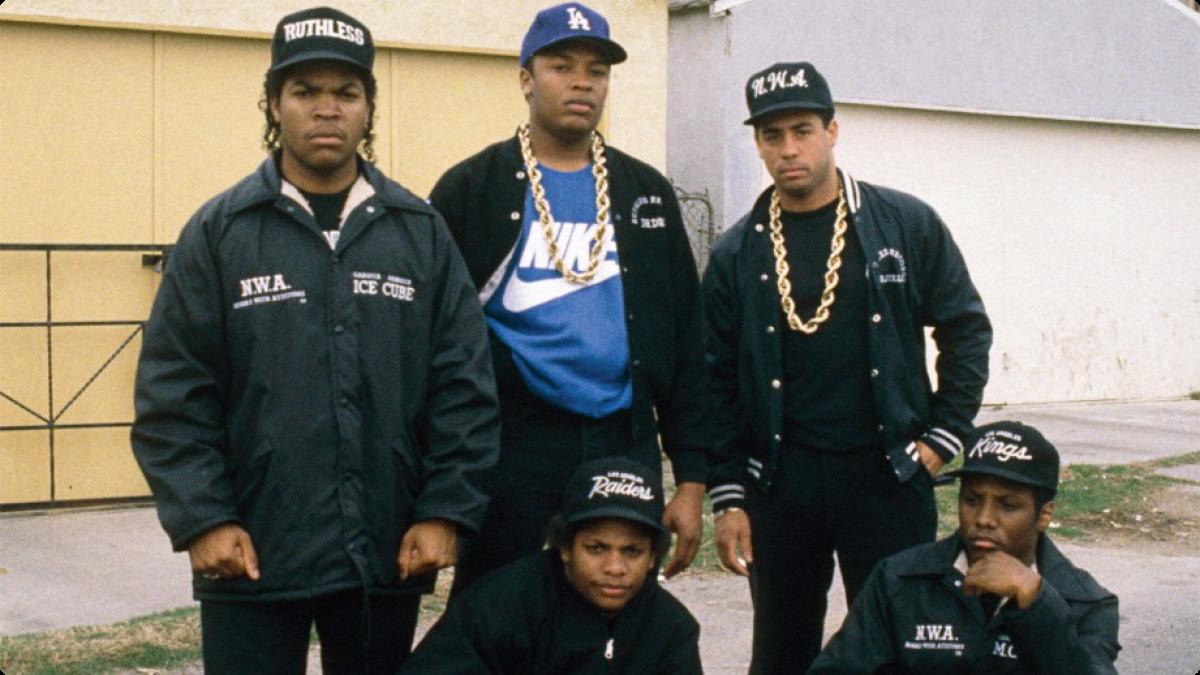 NWA in the 1980s
It is not the first time Knight has been accused of murder. He was previously accused of having a police officer murdered in the driveway of the Hollywood Hills mansion he shared with his wife, after they legally separated (and later divorced). Authorities accused Knight of killing the officer for dating his wife. Many blame him for the death of Tupac Shakur, as he walked away from the drive by shooting with a scratch, while his fellow Hollywood "Illuminati" member was hit with several bullets, then taken off life support, succumbing to his injuries.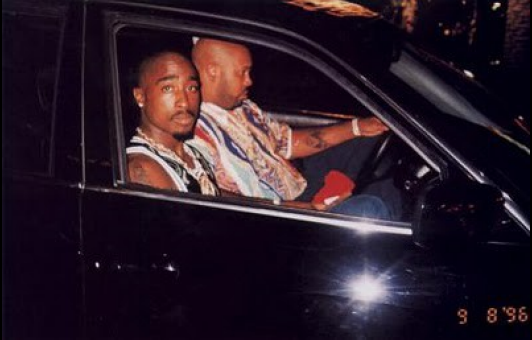 Tupac Shakur and Suge Knight minutes before the rapper's death
Knight was robbing Tupac, much like he did Dre during that time period. Where Dre walked away without the money and copyrights due to him, after the mogul showed up at his house he shares with his wife and kids, with weapon wielding thugs in tow, Tupac openly protested he wanted the $20,000,000 owed to him. Shortly after, Tupac was killed. The rapper's mother had to sue Knight years later in an effort to recoup the many millions owed to her deceased son.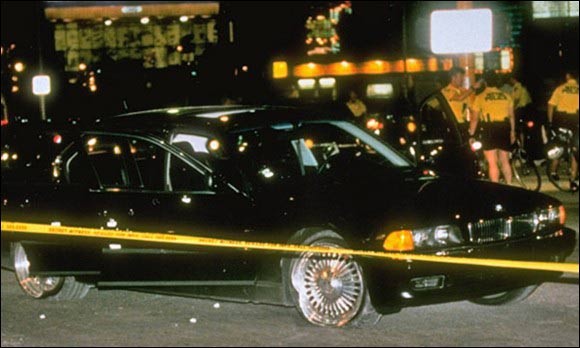 Knight's bullet riddled BMW after the drive by shooting that left him uninjured and Tupac on life support. Tupac died shortly after from his injuries.
The U.S. government knew of the violent crimes being committed by Knight, ranging from aggravated assault to murder, but only arrested him for tax evasion. In the end Knight lost Death Row, his mansion and much of his cash to the government and lawsuits that forced him into bankruptcy court. Knight has refused to change his violent ways, stemming from his days as a street gang member with the Bloods. The Judiciary Report and its sister sites have written about Knight several times for years, imploring him to change his ways. It's regrettable that his conduct has now resulted in the death of another person.
RELATED ARTICLES
Suge Knight Shuts Up When Police Question Him About Who Shot Him In Attempted Murder Bid Meant For Chris Brown
Witnesses State Chris Brown Was Shot At During VMA Party That Left Suge Knight With 6 Gunshot Wounds
Tupac Shakur's Estate Settles With Death Row Records For $2,200,000 In Back Royalties
Degrading NWA Biopic Casting Call Reveals The Prejudices Within The Black Community
Shooting Breaks Out On The Set Of NWA Biopic Leaving One Person Injured
Suge Knight Commissions Akon Rep House Break-In
New Police Theory On Who Killed Biggy And Tupac
Suge Knight Up To His Old Tricks Again
Suge Knight Arrested Again
---
Serial Copyright Thieves Beyonce And Jay Z Sued For Stealing 'Drunk In Love' And Even Including A Clip Of The Original Artist's Voice On The Track
January 29. 2015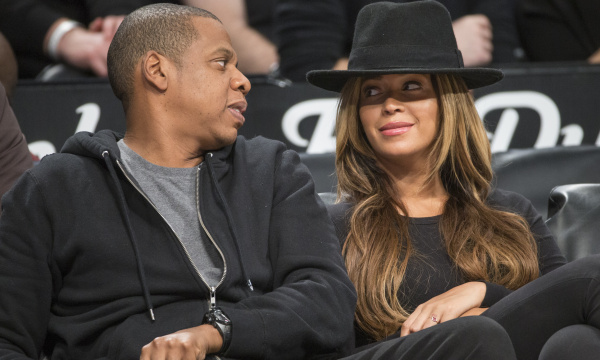 Jay Z and Beyonce
Chronic copyright infringers, Beyonce and Jay Z, have been sued by a Hungarian singer named Monika Miczura for stealing her preexisting, traditional Roma folk song "Bajba Bajba Pelem" for illegal use on their 2013 song "Drunk In Love." The theft of copyright is so brazen, the mentally deficient couple, Jay Z and Beyonce, even clumsily included a small clip of Miczura's actual singing voice on "Drunk In Love" while trying to plagiarize elements of her preexisting tune.
As many of you know, Jay Z and Beyonce, have been repeatedly sued for copyright infringement and financial fraud in stealing people's copyrights, money and or goods. Many people have dragged them into court over stealing preexisting copyrights. Previously, in a similar case, Jay Z was sued for using singer Demme Ulloa's vocals on his track "H To The Izzo" and never paying her. Jay Z was also sued for stealing Egyptian vocalist Abdel Halim Hafez's song "Khosara Khosara" for use on his profane song "Big Pimpin'."
Jay Z and Beyonce
Recently, Beyonce was hit with credible claims she stole the "7/11" music video from the preexisting video of indie artist, OG Maco titled "You Guessed It." Upon viewing both videos, the theft is blatantly apparent. Beyonce also stole the music video for "Countdown" from Anne Teresa De Keersmaeker's "Rosas Danst Rosas. "Single Ladies" was stolen from Bob Fosse's "Mexican Breakfast." "Get Me Bodied" is stolen from Bob Fosse's "Sweet Charity." "Love On Top" is a brazen theft of New Edition's hit video "If It Isn't Love."
There are many more copyright infringement claims against the disgraceful couple. Everything they do is stolen. They've made millions from criminal copyright infringement in acts that make a mockery of the law and decency. Is there any wonder some people on the internet constantly mock Beyonce and Jay Z as "swagger jackers" (see: thieves).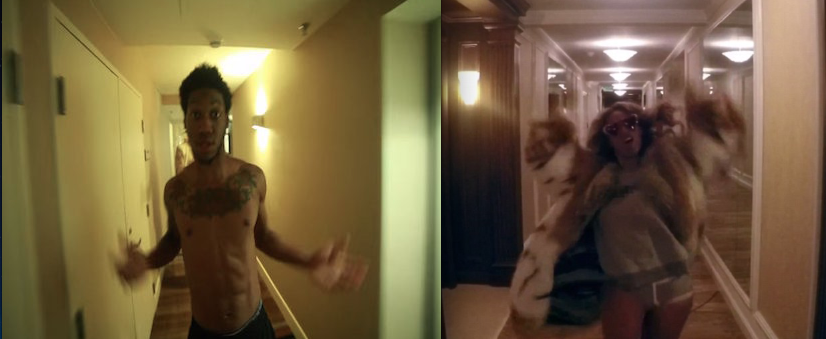 A still from Og Maco's video (left) and Beyonce's subsequent theft (right). Other scenes from OG Maco's videos were stolen as well for the infringing Beyonce clip "7/11."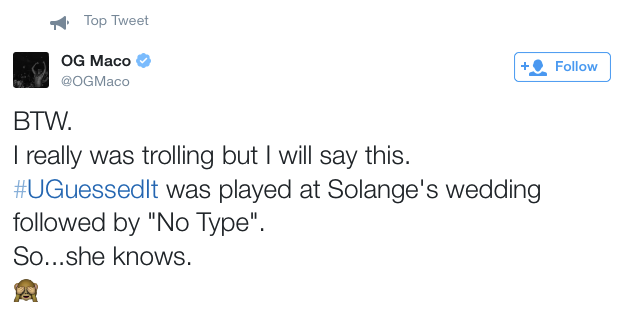 A tweet on Twitter from OG Maco indicating Beyonce and her family knew about his work...before Beyonce criminally stole it.
However, thanks to thieves like Jay Z, Beyonce, Madonna, Rihanna, Katy Perry, Coldplay and Simon Cowell, the federal court system is so utterly and thoroughly corrupt, copyright infringement cases never make it to trial due to bribery (stocks, assets, cash and or checks issued in the judges' names or that of their family members or business associates). I have checked many credible copyright cases filed in the federal court system, where the copying/infringements are absolutely blaring and not a single one made it to trial. A small percentage of them were settled, but 90% of the cases were all dismissed by corrupt federal judges based on opinion and not the law.
It's not like state court, where unethical judges can be voted out for corruption, simply by notifying the public of their bad behavior. Federal judges are appointed and well paid for life on the taxpayers' dime and a number of said jurists behave very badly as a result. There are federal judges illegally playing character witnesses for thieving stars in glowing dismissal rulings, via conduct that is an absolute disgrace to the legal system. It is an alarming trend that has led American and international litigants to forgo suing in America, in favor of courts in Britain and Europe. However, Hollywood has no shame or they would comprehend the disgrace and what it means to actually bring an entire court system into domestic and international disrepute. If Congress does not act on this matter, the federal court system's name will never recover.
RELATED ARTICLES
Copyright Office Corrupted By Madonna And The Kabbalah Center Issuing Bribes To Employees To Backdate Registration Dates And Access Private Copyrights
Beyonce Steals Again But This Time From Sam Cooke, En Vogue And A European Artist
Beyonce Steals "Countdown" Music Video From European Artist's Work
---
Sam Smith Settles With Tom Petty Over Stealing His Song For 'Stay With Me'
January 29. 2015
Captiol Records recording artist Sam Smith has been hit with a copyright infringement claim by legendary singer and musician, Tom Petty. Petty is famous for songs such as "Free Fallin" and "You Don't Know How It Feels." Petty sued 22-year-old newcomer Smith over the 2014 song "Stay With Me." The song bears a striking resemblance to Petty's preexisting copyrighted song "I Won't Back Down" which was released in 1989. Smith has settled out of court, paying a financial settlement, issuing a 12.5% cut of royalties and a songwriting credit to Petty and his co-writer Jeff Lynne.
Smith has been nominated for six Grammys for a song that is stolen. The Grammys have become infamous for giving out the coveted statute to thieving artists such as Madonna, Beyonce, Jay Z, Rihanna and Coldplay, completely devaluing the award. The award isn't worth anything anymore. It's an absolute disgrace and destined for trouble. Something socially and financially negative is already coming out of all this stealing, as U.S. music sales are at an all time low.
Awards need to be rescinded and people forced to give back trophies for having the gall to collect prizes for intellectual property they criminally stole from others. It's is utterly shameful and a black mark on society sending the nasty message, you don't have to work hard in life, just steal. Artists such as Madonna, Beyonce, Jay Z, Rihanna and Coldplay, who are all in Kabbalah, are modern day Milli Vanillis, but worse. Milli Vanilli didn't steal from anyone.
RELATED ARTICLES
Copyright Office Corrupted By Madonna And The Kabbalah Center Issuing Bribes To Employees To Backdate Registration Dates And Access Private Copyrights
Beyonce Steals Again But This Time From Sam Cooke, En Vogue And A European Artist
Beyonce Steals "Countdown" Music Video From European Artist's Work
---
Rihanna Rips Off Jewelry Company
January 29. 2015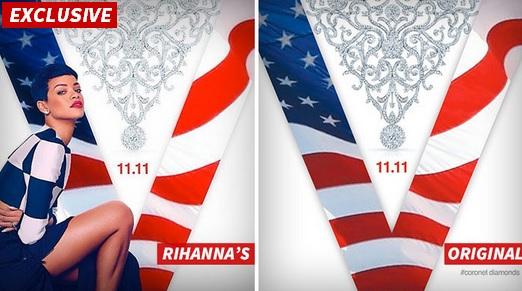 Rihanna's rip off (Photo comparison credit: TMZ)
Rihanna has been publicly slammed by jewelry company, Coronet Diamonds, for stealing their copyrighted and trademarked logo and ad, for use on one of her projects. According to TMZ, Coronet Diamonds sent Rihanna a cease and desist letter regarding her infringing conduct. They demanded she apologize for the theft, but she has refused to do so.
Once again, Rihanna is showing the whole world she is a thief, who does not care about other people's property rights. Rihanna has been sued several times for copyright infringement with claims of the same in the pre-filing stage, backing up at her record label. Rihanna's label has struggled to find new material for her album, that has suffered repeated delays, with two pre-release songs being slammed by the public (a rip off sounding track that steals from Drake and a Paul McCartney and Kanye West collaboration being panned online as wack). For more on Rihanna's brazen, illegal acts of intellectual property theft, see article links below.
RELATED ARTICLES
Rihanna Sued Again For Stealing Copyrights Accused Of Theft Of 'Rockstar 101' Video
Rihanna Sued Again For Stealing Copyrights For Music Video S&M
Rihanna Stole New Video From Photographer
---
Floyd Mayweather And Manny Pacquiao Meet At A Miami Heat Game As Deadline Draws Near For Megafight
January 29. 2015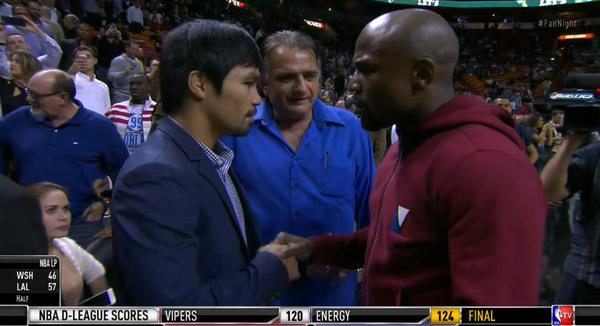 Manny Pacquaio and Floyd Mayweather finally meet after years of trash talking each other in interviews and on social networking. Floyd is looking at Manny like he found the mythical Lochness monster (LOL). Manny looks all tranquil.
Two legendary boxers finally met each other. Manny Pacquiao and Floyd Mayweather met courtside at a Miami Heat basketball game this week. The two sat on opposite sides of the court, but ended up speaking to each other and exchanging telephone numbers. Sports commentators and fans on social networking were happy at the news, as it gave hope the two will finally step into the ring in a boxing bout.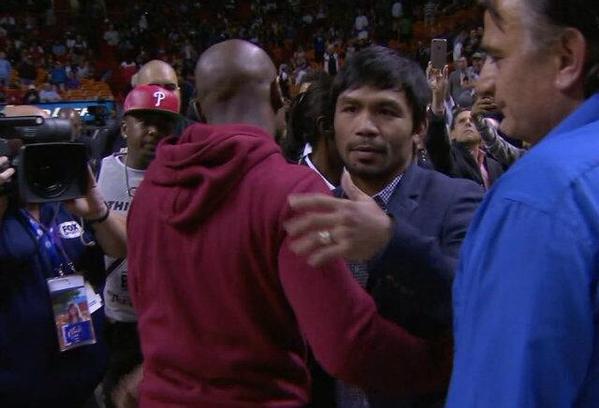 Mayweather and Pacquiao hug each other
For years the two sides have openly argued about terms of a potential fight, but nothing materialized. Two weeks ago Pacquiao stated he gave Mayweather a January 31, 2015 deadline to sign a contract to fight him or he would go elsewhere. A week later Pacquiao met up with British boxer Amir Khan in London, which attracted a lot of attention.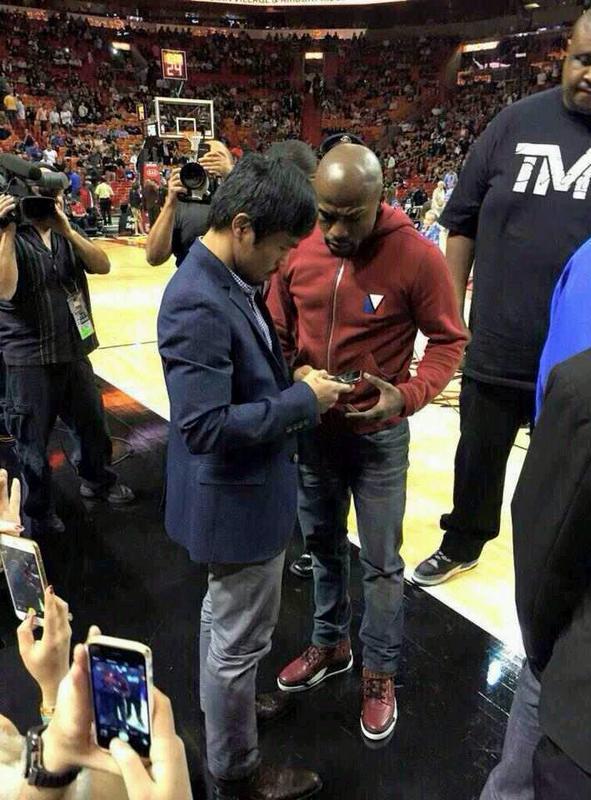 Pacquiao and Mayweather exchange numbers
The informal meeting between Pacquiao and Khan made headlines, as publications announced the two pugilists are in talks for a boxing match. It certainly got Mayweather's attention. Mayweather should fight Pacquiao. It's only fair to the fans who have made them rich. Pacquiao should also fight Amir Khan. It would make for good boxing. Khan should also fight Kell Brook.
RELATED ARTICLES
Manny Pacquiao Gives Floyd Mayweather A January 31, 2015 Deadline To Sign Contract For Potential May 2, 2015 Fight
Amir Khan Mocks Floyd Mayweather With Mask Telling Him To 'Shut Up And Box Me'
Manny Pacquiao Calls Out Floyd Mayweather During Contract Negotiations
---
An Offended Michelle Obama Glares In Anger As Saudi Arabian Men Refuse To Shake Her Hand During An Official Visit
January 28. 2015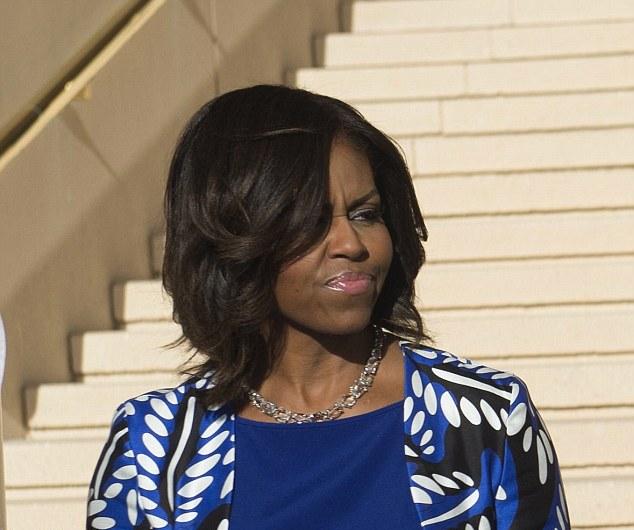 Michelle Obama frowning in Saudi Arabia after being snubbed
First Lady, Michelle Obama, accompanied her husband, U.S. President, Barack Obama, on an official visit to Saudi Arabia, after the death of King Abdullah. The president was greeted with handshakes, but his wife was snubbed (and her face showed it), as women are considered second class citizens in Saudi Arabia, who do not have the same rights as men.
Look at the expression on Mrs. Obama's face (LOL)
Mrs. Obama was required to walk behind her husband and not inline with him during the visit. There are news reports indicating an extremist edited Mrs. Obama out of You Tube footage of the official visit, for not covering her hair and wearing a bright blue jacket. Women in Saudi Arabia are not allowed to drive, must cover their hair at all times and wear black, loose fitting clothes that show no skin.
STORY SOURCE
Michelle Obama is not impressed: Grim-faced First Lady meets the Saudi king as members of his entourage refuse to shake her hand
Published: 14:20 EST, 27 January 2015 | Updated: 21:26 EST, 27 January 2015 - Michelle Obama did not look happy on Tuesday when she had to cut short her visit to India to accompany her husband on a trip to a country where women aren't even allowed to drive cars. The First Lady bowed and beamed as she boarded Air Force One in New Dehli on Tuesday, but by the time she landed in Saudi Arabia a few hours later, she had traded her floral dress for a more conservative long-sleeved jacket and slacks - as well as a new scorned expression.
In pictures at the airport and Egra Palace, Mrs Obama pursed her lips and glared as she stood her husband who cancelled their trip to the Taj Mahal in order to pay respects to the Saudi royal family on the death of King Abdullah.

Outfit change: When the president and Mrs Obama left India on Tuesday, she was dressed in a floral dress. Though her husband wore the same suit and polka-dot tie when they landed in Saudi Arabia, Mrs Obama had changed into a long-sleeve coat and slacks to cover up in the conservative Muslim country.
While the oil-rich Saudis are America's biggest Arab ally, the relationship has come under increased scrutiny over the conservative Muslim country's questionable human rights record - including their treatment of women. In addition to not being able to drive, Saudi women must always have a male chaperone when going out in public, they can't try on clothes while shopping or open a bank account without their husband's permission. And despite most Saudi women being educated, they make up just a sliver of the work force...
Letting her hair down: Mrs Obama did not wear a headscarf on Tuesday, though Saudi women are required not to let any of their hair show in public. Western women who visit the country do not need to cover their hair, but conservative dress like the outfit sported by the First Lady is necessary...
Following the president and Mrs Obama's brief four-hour visit to Saudi Arabia on Tuesday, a video surfaced online showing the First Lady's image blurred out from video broadcast aired on a state television station. The video caused outrage from Westerners online, who thought Mrs Obama was edited out of the broadcast for wearing her hair uncovered and sporting a bright blue jacket. However, it appears that the video was actually edited by a third party with extremist views...

---
Two Vanderbilt Players Found Guilty Of Rape And Are Facing A Potential 15-Years In Prison (Video)
January 28. 2015
Two 21-year-old Vanderbilt university students, Brandon Vandenburg and Cory Batey, were found guilty of rape, stemming from a 2013 incident. The former football players were convicted of raping Vandenburg's girlfriend and filming the ordeal. The men sent the graphic video to friends, none of whom reported the crime to police.
The video showed Vandenburg passing around his drunk, unconscious girlfriend to his teammates. She was thrown on the floor, then penetrated with fingers and penises and her anus violated with a water bottle, as Vandenburg chanted, "Squeeze that sh*t! Squeeze that sh*t! Vandenburg's girlfriend was found the next morning in the dorm corridor by a female friend. Shortly after it was discovered she had been raped. The two remaining suspects, Brandon Banks and Jaborian McKenzie, both age 20, will be tried at a later date.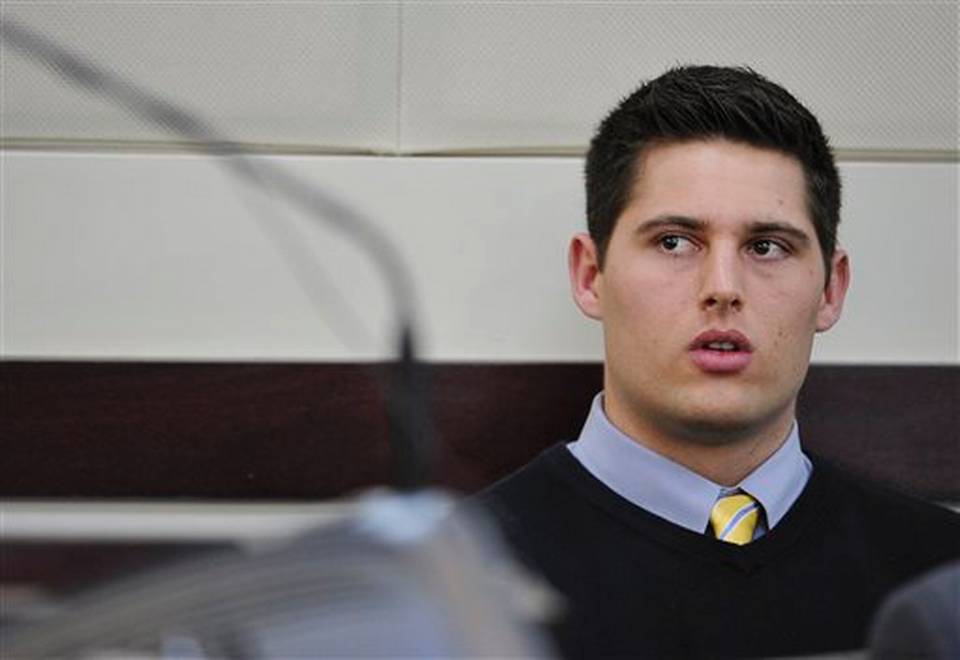 Brandon Vandenburg
The defense attempted to blame the rape on binge drinking and promiscuity, which is a serious problem facing youth in society. However, the jury rejected the claim, insisting the young men be held responsible for their damaging conduct. The jury reached a quick verdict in four minutes, finding Vandenburg and Batey guilty.
The Judiciary Report has repeatedly warned against binge drinking and promiscuity. What can seem like a good time at first, can quickly spiral out of control and lead to terrible situations and lasting damage. People have been raped, assaulted, injured and contracted life altering STDs (sexually transmitted diseases) from being promiscuous and or drunk. If you choose to drink, be responsible and do not test your limits by getting drunk. It can endanger your safety and will damage your health.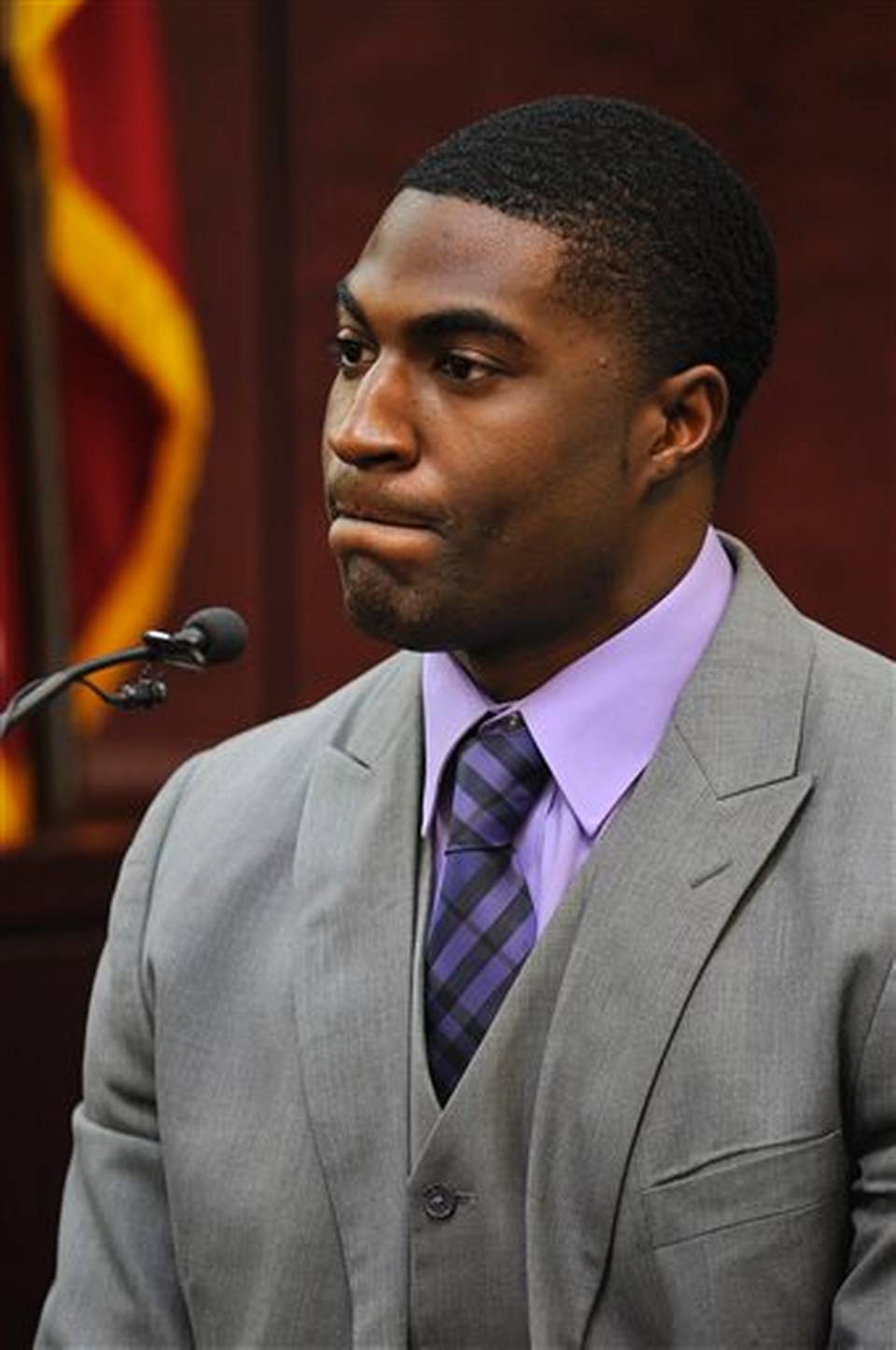 Cory Batey
Pop culture, especially certain celebrities, encourage people to be promiscuous, labeling women prudes and men nerds, losers and wimps, for not having sex with as many people as possible. However, there is always a consequence for living in that manner. Take care of yourselves and realize in life, you can't trust everyone. Bad things can happen, even when you are not at fault. Therefore, be careful and avoid certain situations.
STORY SOURCE
2 former Vanderbilt players are convicted of rape
January 27, 2015 - A jury convicted two former Vanderbilt players on Tuesday of raping an ex-student, rejecting claims they were too drunk to know what they were doing and that a college culture of binge drinking and promiscuous sex should be blamed for the attack. A jury convicted two former Vanderbilt players on Tuesday of raping an ex-student, rejecting claims they were too drunk to know what they were doing and that a college culture of binge drinking and promiscuous sex should be blamed for the attack.
The jury deliberated for three hours before announcing Tuesday that Brandon Vandenburg and Cory Batey, both 21, were guilty of aggravated rape and aggravated sexual battery. The victim, a 21-year-old neuroscience and economics major at the time of the June 2013 attack, cried as each guilty verdict was announced in Nashville, Tenn. The men face decades in prison when they are sentenced March 6.
The jury heard two weeks of testimony from a parade of witnesses, including police, former and current Vanderbilt students and the woman, who said she didn't remember what happened that night, only that she woke up in a strange dormitory room. They also saw cellphone images from the night of the attack Vandenburg sent to friends as it was happening. Despite the photos and video, and witnesses seeing the woman unconscious and at least partially naked in a dorm hallway, no one reported it.
Jaborian "Tip" McKenzie, who is also charged in the case, testified he did not touch the woman himself but also took pictures. No trial date has been set for McKenzie and Brandon Banks, the fourth former player accused in the assault...
---
Real Madrid Star Cristiano Ronaldo Facing Match Ban For Slapping, Kicking And Punching On The Pitch (Video)
January 28. 2015
2014 was Cristiano Ronaldo's year (well, unless you count Germany nearly making him cry in the World Cup LOL). He started 2015 off well, winning the prestigious Ballon d'Or award, but shortly after he broke up with his girlfriend of two years, model, Irina Shayk and got into a fight on the pitch. Ronaldo is facing a potential 12 match ban for slapping, kicking and punching Cordoba players Edimar Fraga and Jose Crespo.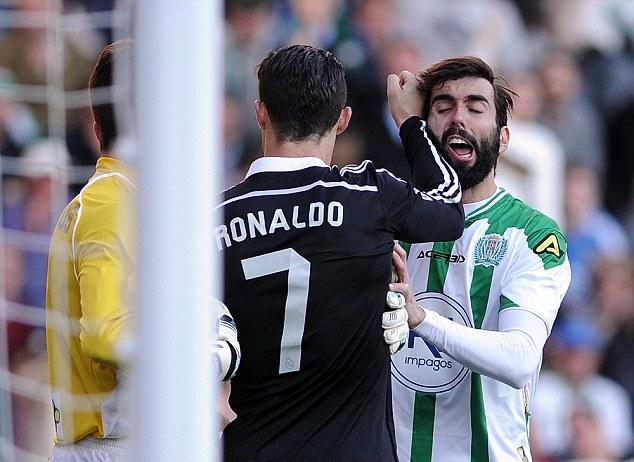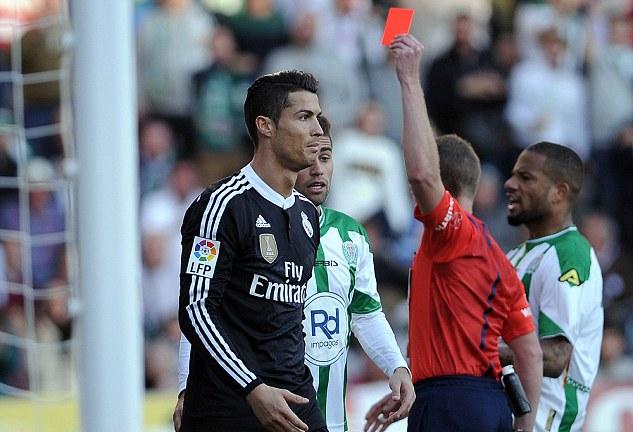 Ronaldo was given a red card and ejected from the La Liga match. The video spread all over social networking, as people looked on shock at his uncharacteristic display of violence. The contrite footballer apologized on social networking for his violent outburst. He is awaiting a formal decision on the potential ban.
RELATED ARTICLE
Former Manchester United Manager David Moyes Gets Into Bar Fight
---
Amber Rose And Nick Cannon's Matching Ferraris Are Sure To Tick Off Mariah Carey
January 28. 2015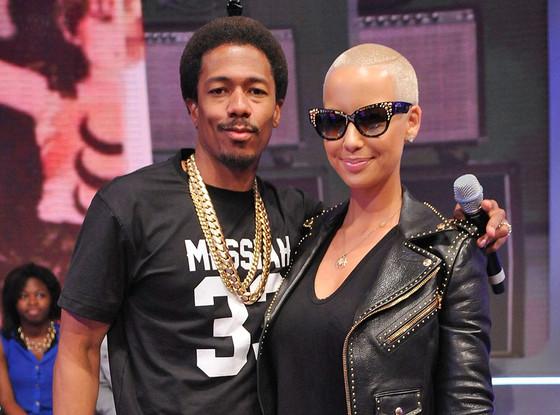 Nick Cannon and Amber Rose
Comedian/actor, Nick Cannon and stripper Amber Rose, clearly think the public is stupid. For months they've repeatedly denied dating, despite the fact they each divorced their respective spouses, singer Mariah Carey and rapper Wiz Khalifa, within weeks of each other. Cannon began stating he is Rose's manager, which in this case was codeword for sex partner.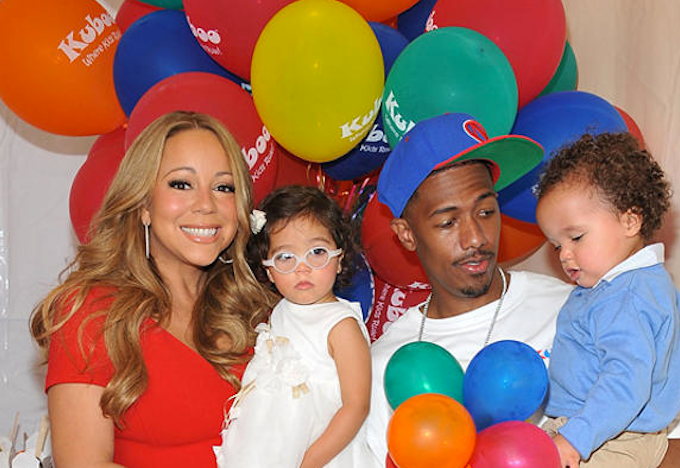 Nick Cannon, Mariah Carey and their kids Moroccan and Monroe
At the end of the day, people do not respect what occurred in this matter. Cannon walked out on his wife and young twins to date a gold digging stripper, who is a major attention seeker on social networking. Rose married rapper Wiz Khalifa for his money, as her whole family, who are prejudice, slammed the idea of her marrying a black man (who are they to get high and mighty with anyone when she is a stripper). This conduct sets a bad example for the public. It's teaching young girls to be strippers willing to sleep with married men for material things. It teaches men to shirk their family and marital obligations.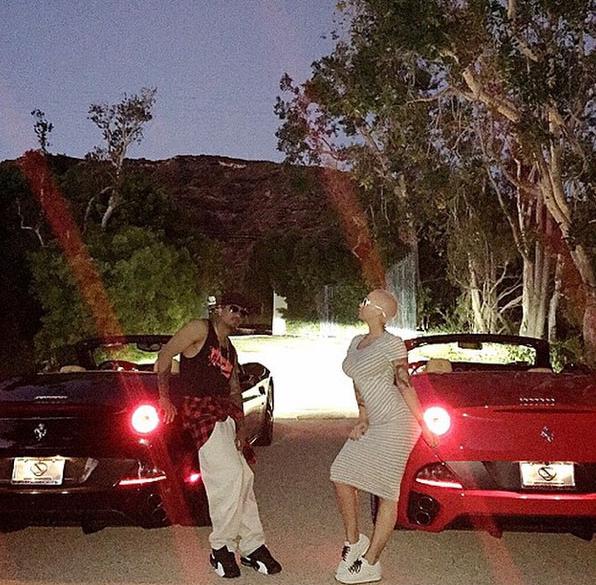 Nick Cannon and Amber Rose's matching Ferraris
Cannon should not have married Carey in the first place, as it did not appear to be based in love, but for career and financial gain. Cannon married Carey, because she was more famous with bigger bank accounts. Cannon entered the marriage with $500,000 and Carey an estimated $140,000,000. It should be noted, not all marriages where one partner has more money is about financial gain.
RELATED ARTICLE
Nick Cannon And Amber Rose Go Out On A Date (Video)
Mariah Carey Booed In Japan As Her Voice Gives Out During Concert Where She Slammed Husband Nick Cannon As A "Motherf******"
Amber Rose And Nick Cannon's Divorces From Wiz Khalifa And Mariah Carey Being Scrutinized As Accusations Of Cheating Surface
Nick Cannon Is Removing The Last Traces Of Mariah Carey From His Life As She Continues To Vocally Struggle On Tour (Video)
Nick Cannon Dates New Woman While Mariah Carey's Tour Descends Into A Costume And Vocal Disaster
Mariah Carey And Nick Cannon Headed For Divorce After He Does Interview About His Sexual Conquests
Men Who Make The Mistake Of Publicly Bragging About The Number Of Women They've Had Sex With
Was Amber Rose Naive To Expect A Rapper Like Wiz Khalifa To Be Faithful
Nick Cannon Left Mariah Carey Because He Says She Is Mentally Ill
---
A Blizzard Wallops Massachusetts And Brings Heavy Snow Fall To New York (Videos)
January 27. 2015
America's east coast is experiencing some extreme weather as a massive blizzard blankets the state of Massachusetts, churning out heavy snow fall in New York as well. Areas of Massachusetts, received 25 inches of snow, covering places like Boston. It's amazing that the weather in Boston is also DEFLATED, with snow coming out the sky like air from a football (just teasing New England Patriots).
Some are criticizing government officials in New York for shutting down much of the city, in a bid to protect citizens, stating the snowfall is not as heavy as what was anticipated. However, better safe than sorry. Hurricane Sandy was not expected to do a great amount of damage in 2012, but the weather phenomenon did, leaving billions in damage and people dead.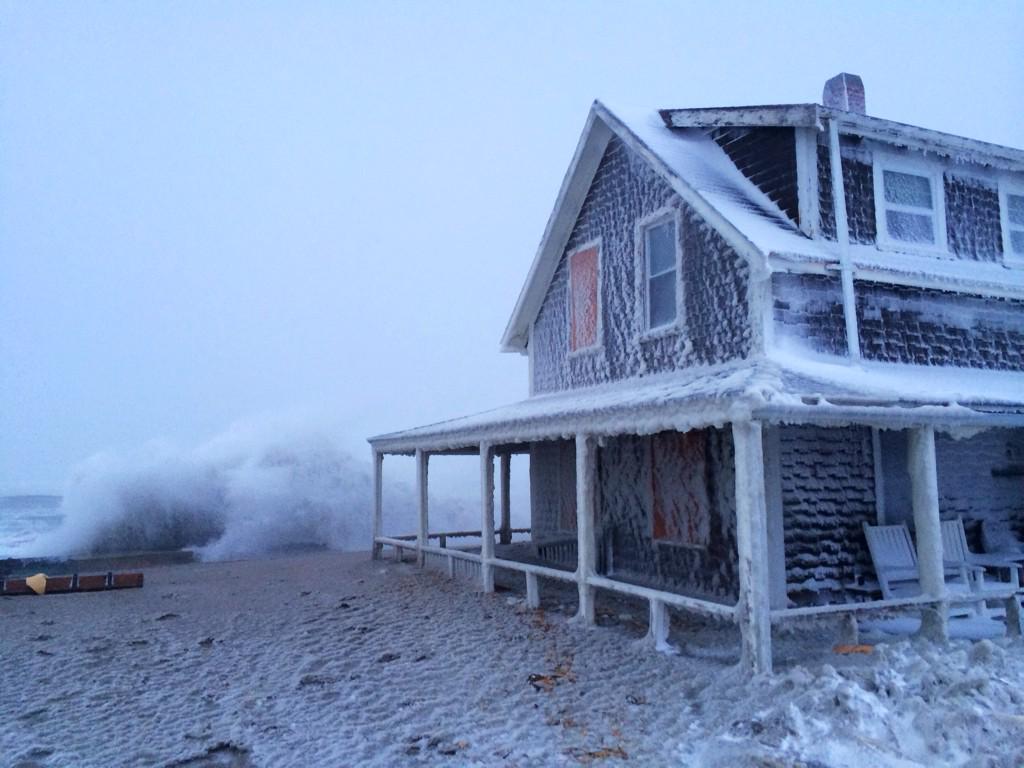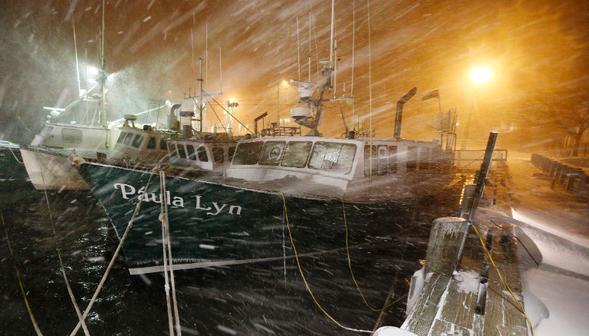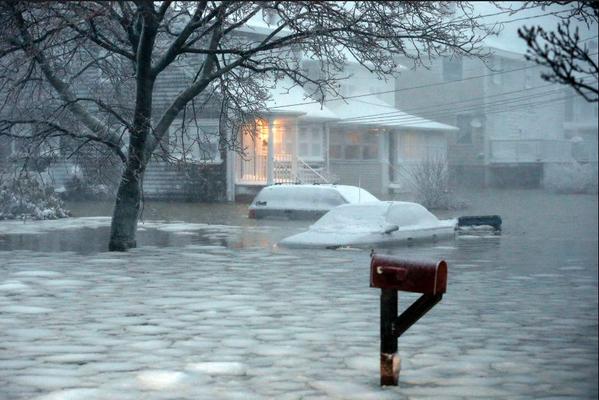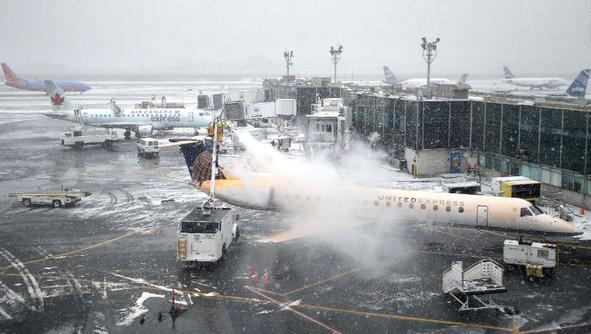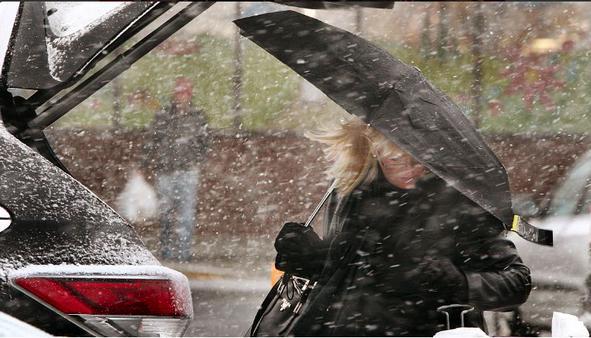 RELATED ARTICLE
Tom Brady And The Patriots Accused Of Deflating Footballs In The Lead Up To The Super Bowl
---
The NFL Interviewing New England Patriot's Ball Boy As A 'Person Of Interest' In The Deflategate Investigation (Video)
January 27. 2015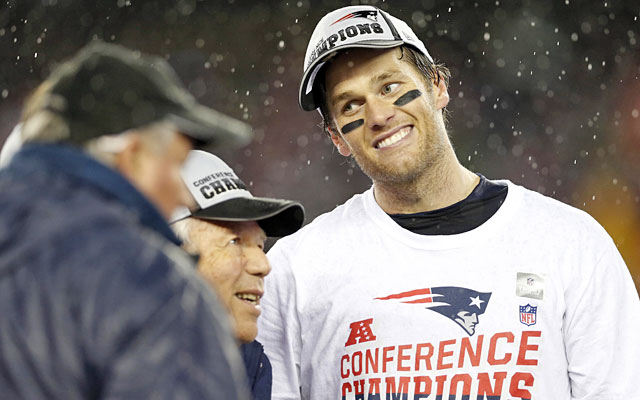 Tom Brady
Reports indicate the NFL (National Football League) are eyeing a New England Patriot's ball boy as the culprit in the Deflategate scandal. The New England Patriots have been accused of deflating footballs for an unfair advantage on the grid iron, in the lead up to their appearance in the Super Bowl. Patriots' quarterback, Tom Brady, who benefited from the deflated balls, has denied any culpability in the incident.
However coach Belichick, made statements during a press conference that lay the blame on the star athlete, who is married to supermodel Gisele Bundchen. The incident has been lampooned on television and the internet, leading Brady to state the insults have hurt his feelings. Previously, the Patriots were caught cheating, via filming rivals plays and utilizing the footage against them for victory on the field.
STORY SOURCE
Report: Patriots Locker Room Attendant an NFL 'Person of Interest' in Deflategate
01.26.15 | 3:43 PM - Days after Bill Belichick attempted to put an end to Deflategate with an impromptu, science-filled press conference, it appears the NFL has made a major step in its investigation. According to Fox Sports' Jay Glazer, the league has "zeroed in" on a Patriots locker room attendant who may have taken footballs from the officials' locker room to another area on their way to the field, terming them a "strong person of interest." Glazer says the league has interviewed this person and "additionally has video," but has yet to determine if any wrongdoing was done.
RELATED ARTICLE
Tom Brady And The Patriots Accused Of Deflating Footballs In The Lead Up To The Super Bowl
---
Drone Lands On White House Lawn While President Obama's Children Were In The Residence (Video)
Another Security Breach
January 26. 2015
A drone flew perilously close to the White House in Washington, DC, landing on the lawn at 3AM yesterday morning. The security breach alarmed the U.S. Secret Service, charged with protecting President Obama and his family. The president's young daughters, Malia and Sasha, were at home during the time of the incident. Secret Service representative Brian Leary stated, "An investigation is under way to determine the origin of this commercially available device, motive and to identify suspects." Acording to reports, a man contacted the government to report his drone accidentally crashed on the White House lawn.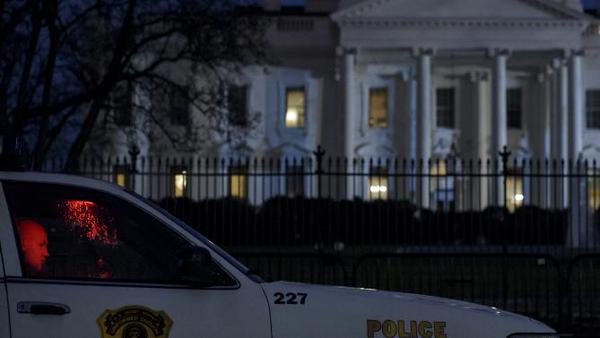 Police car outside the White House
Security experts have expressed their concern at the incident and with good reason. A drone can be used to disseminate deadly substances in the way of bio-terrorism or a bomb potent enough to take out the entire White House. The government is seeking a method of disabling drones that wander too close to the White House. There are high end technological items that use pulse signals and RF that can be used to disable electronic items. They should be effective on drones.
Drone
The Judiciary Report has written in two past articles that the perimeter surrounding the White House's air and physical space needs to be widened. The government should not wait for something bad to happen to implement the necessary changes. The average person does not have bad intentions, but make no mistake, some have the capacity to kill.
RELATED ARTICLES
Latest Secret Service Breach Sees An Intruder Make It All The Way Into The White House (Video)
The White House Covered Up The Secret Service Prostitution Scandal (Video)
---
Global Backlash As Miss Jamaica Places 5th In The Miss Universe Pageant
January 26. 2015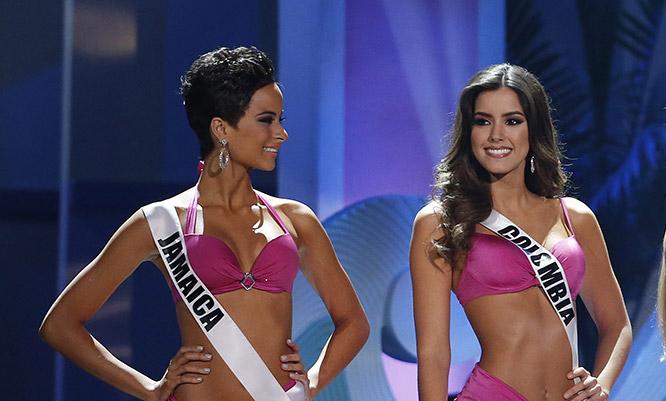 Miss Jamaica and Miss Colombia
The Miss Universe pageant has been rocked by a global backlash that began in the audience of the live, internationally televised show that took place in Miami, Florida this year. Pageant favorite, Miss Jamaica, Kaci Fennell, placed fifth in the competition, leading to loud, spontaneous booing from the audience. It was a first in pageant history. Twitter erupted in anger as people began posting their displeasure at the elimination, stating Miss Jamaica had been "robbed."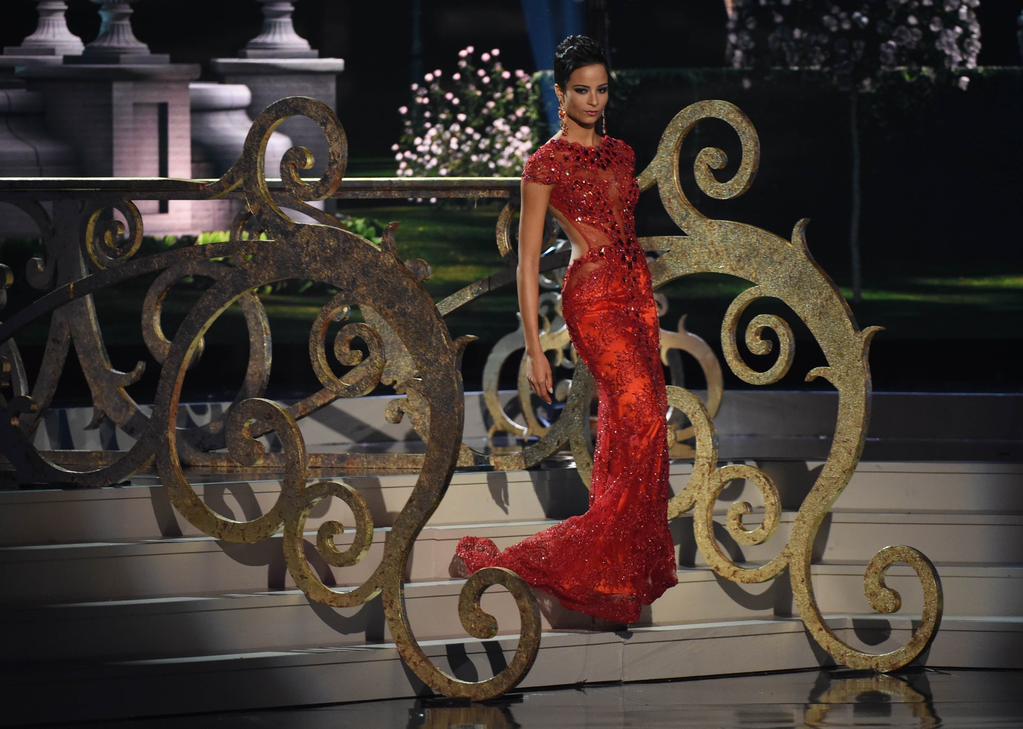 Miss Colombia, Paulina Vega, was awarded the crown. People on Twitter also posted items revealing Wikipedia had updated their website with the winner's name (Miss Colombia Paulina Vega) 15 minutes before the live pageant results were announced on the air, leading people to state the show is rigged.
Many did not display anger at Miss Colombia winning, as she is beautiful as well, but they expressed the view Miss Jamaica should not have placed so low and should have won. Many of the people who made comments on Twitter to that effect are black, white, Hispanic and Asian from a number of countries. The backlash grew so bad, it made global newspapers such as the Washington Post, The Kansas City Star, the Daily Mail (UK) and Inquirer Group (Philippines). It has also featured on a number of global entertainment news programs on television.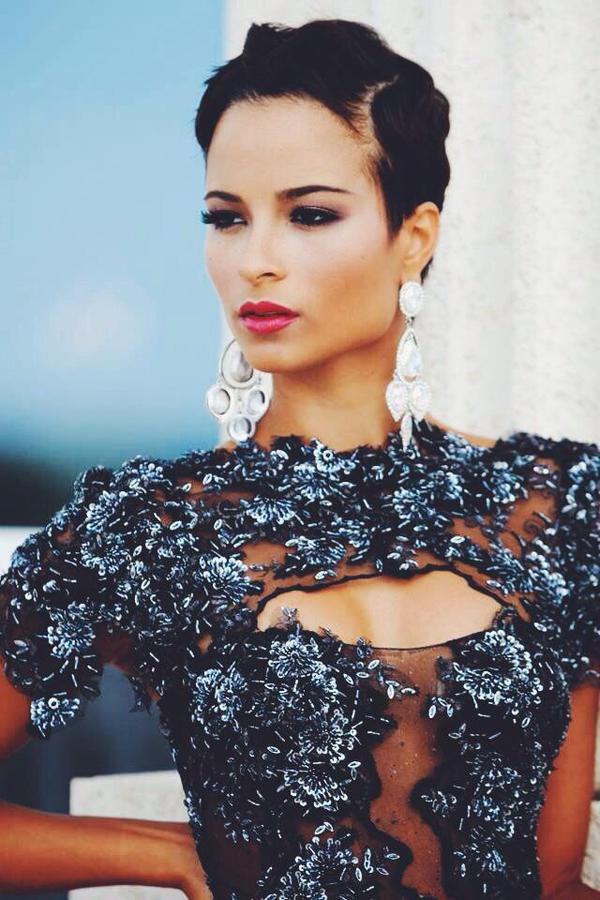 The Huffington Post stated some area blaming race as a factor in Miss Jamaica's shock exit. The website pointed out only 4 black women have won Miss Universe. The finals of this year's telecast certainly lacked diversity. Miss Jamaica was the only black woman among the 15 finalists, when Miss Haiti and Miss Gabon were beautiful as well.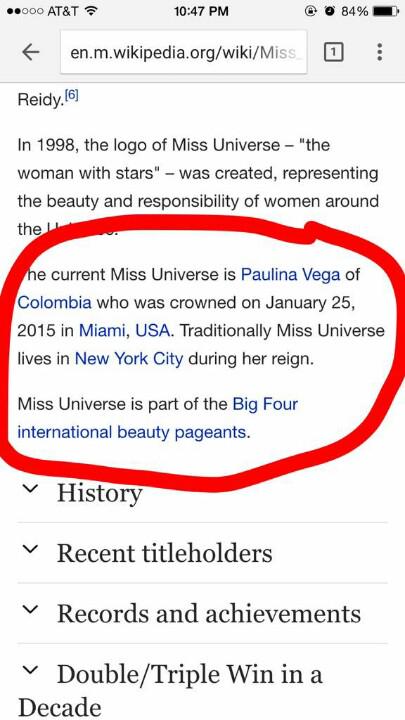 Wikipedia announcing Miss Colombia the winner 15 minutes before it was stated on the live television broadcast
The news gets worse. According to local news reports, taxpayers in Miami footed the bill for the show and at a loss, not getting the return on said investment. Trump used the Miss Universe pageant to promote his new real estate development in the Miami suburb of Doral. The only problem is, while Doral has a number of lovely homes, it is not a central location in Miami. The most sought after suburb of Miami is Miami Beach, which contains South Beach and is the more popular backdrop for filmed projects.
STORY SOURCE
Twitter Is Upset That Miss Jamaica Didn't Win The Miss Universe Crown
Posted: 01/26/2015 9:35 am EST - Not everyone is happy for the newly crowned Miss Universe. On Sunday, Miss Colombia Paulina Vega beat out first runner-up Miss USA Nia Sanchez and contestants from more than 80 other countries at the pageant in Miami, Florida.
However, instead of the usual cheering, the audience booed the judges' decision, making it known that crowd favourite Miss Jamaica Kaci Fennell's fifth place (officially she was fourth runner-up) wasn't good enough. Some people claimed Kaci lost due to her short hair, while others claimed it was due to race. (Only four black women have won the title since the pageant first started in 1952.)
The stunning brunette had a lot of fans due to her obvious intelligence, her beauty and her "unconventional" pageant style, which included sporting a cute pixie cut instead of the traditional long hair that's typical of most contestants... "I don't have long tresses like everyone else, I'm just representing myself and that's what beauty pageants are all about," said Fennell. "You don't have to look a certain way ... and I feel like I represent that." Kaci also called Usain Bolt, the world's fastest short-distance runner, and the late Bob Marley as her country's greatest contributions to the world.
---
President Obama Threatens Repercussions Against House Speaker John Boehner For Inviting Israeli Prime Minister Benjamin Netanyahu To America (Video)
January 24. 2015
Prime Minister Benjamin Netanyahu to America. Prime Minister Netanyahu is expected to formally speak to the U.S. Congress in March 2015. Mainstream publications are citing sources stating President Obama is vowing "a price" will be paid over the "departure" in protocol, as Boehner side stepped with White House in issuing the invitation. Boehner issued the invitation because Obama refused to meet with Netanyahu and America considers Israel an ally.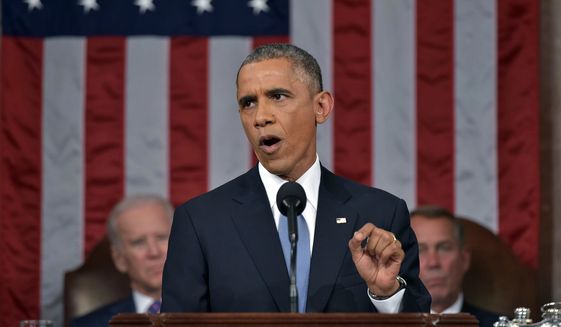 Barack Obama
This is much ado about nothing. What's the big deal regarding the invite. The government should make it a regular policy to invite many heads of state to America. It would help with international relations. Some global relationships between the president and his international counterparts are strained.
RELATED ARTICLES
President Obama's Rival John Boehner Retains His Post As Speaker Of The House In Congress
White House Launches FBI And Secret Service Investigation Into Leaked Malia Obama Selfie Wearing T-Shirt Of Explicit Rap Group
---
Chris Brown Releases Video With Karrueche Tran
January 23. 2015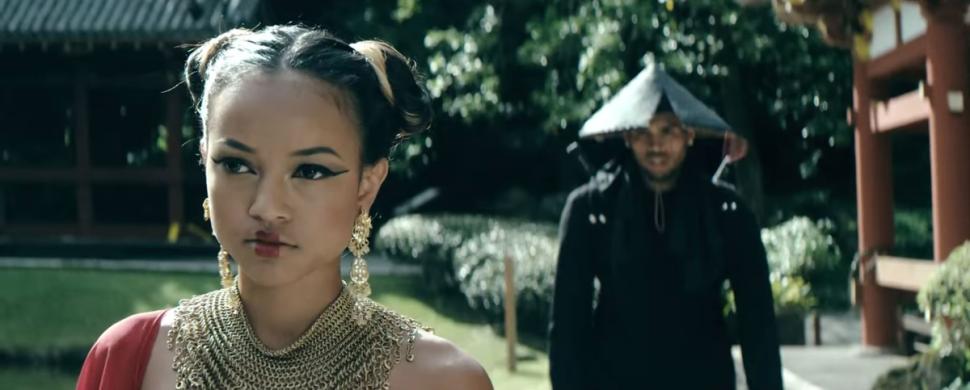 Karrueche Tran and Chris Brown in "Autumn Leaves"
R&B singer Chris Brown has released his latest video "Autumn Leaves" featuring long suffering girlfriend, Karrueche Tran. The clip was filmed last year in Hawaii, before the couple experienced problems, broke up and reunited. "Autumn Leaves" is a track reminiscent of the famous 1990s music quartet Jodeci.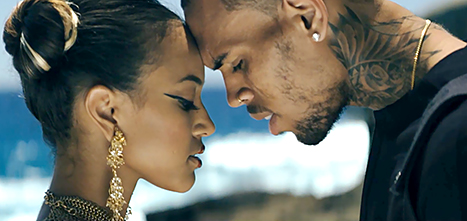 "Autumn Leaves" discusses Brown's problems with his relationship, how he is viewed by society and makes reference to problems of violence ("I've been bleeding in your silence
I feel safer in your violence"). The singer is still struggling to complete the 1,000 hours of community service he was order to complete by Los Angeles Superior Court judge, James Brandlein. A hearing is scheduled for March 20, 2015 to determine if the singer will be sent back to jail. In 2014, Brown spent 4-months behind bars on a probation violation.
RELATED ARTICLES
Chris Brown The Target Of Another Club Shooting Leaving 5 People With Gunshot Wounds (Videos)
Witnesses State Chris Brown Was Shot At During VMA Party That Left Suge Knight With 6 Gunshot Wounds
Porn Star Calls Chris Brown A Bully And Pedophile In Twitter Rant Stating He Paid Her $2500 Then Bullied And Stalked Her For Not Having Sex With Him (Photos And Tweets)
---
Floyd Mayweather's Top Rivals Manny Pacquiao And Amir Khan Meet Up In London Discussing Potential Fight
This Story Much Like Amir Khan Between Fights Is Getting Juicy (Just Kidding Amir, Don't Get Mad/Angry)
January 23. 2015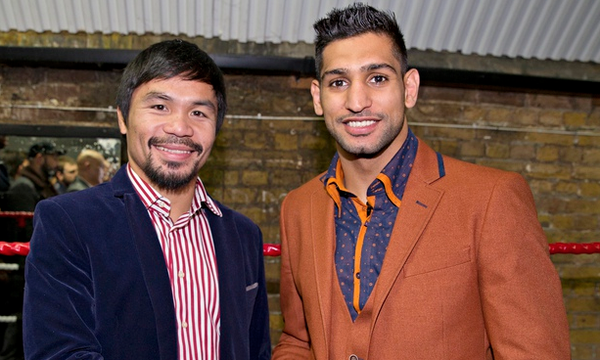 Manny Pacquiao and Amir Khan
Boxing superstar Manny Pacquiao visited London this week and was greeted by some of Britain's top pugilists. Among them was famous boxer Amir Khan. Pacquiao and Khan have something in common. They both want to fight undefeated boxer, Floyd Mayweather, who has been stringing them along.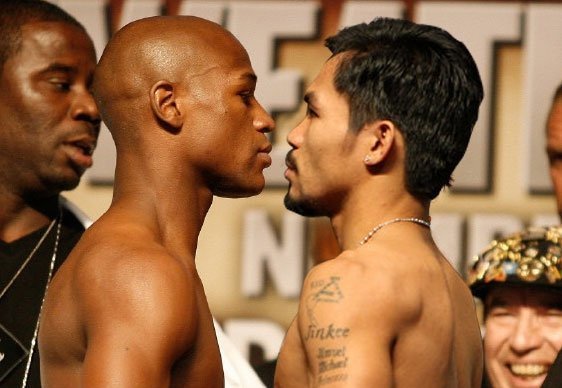 Floyd Mayweather and Manny Pacquiao
In news that will certain catch Mayweather's attention, Pacquiao and Khan discussed a potential bout between them during a visit to Fitzroy Lodge boxing club in London, England. The British boxing scene is hot with a number of top fighters claiming domestic and international belts. Pacquiao vs. Khan would be a big seller, due to their massive respective audiences. It could top Mayweather's next potential fight against Miguel Cotto.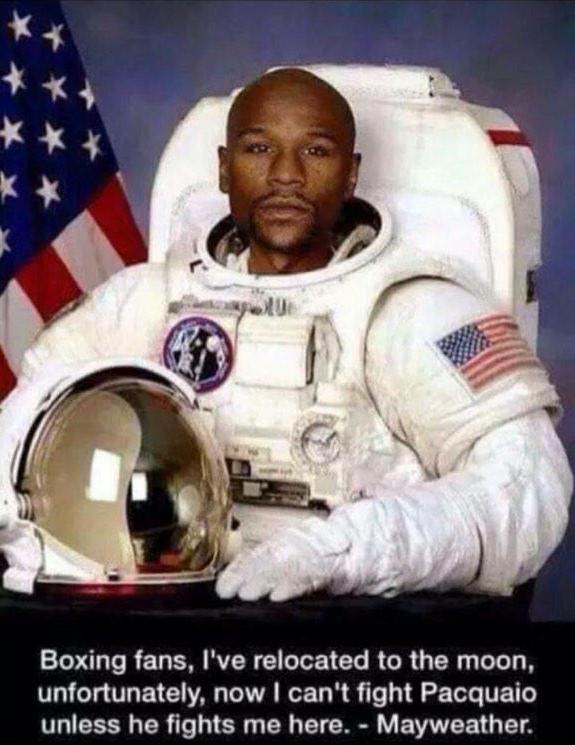 Floyd Mayweather is getting teased on social networking over the frequently delayed Manny Pacquiao fight that has hit another setback
Mayweather was supposed to fight Pacquiao on May 2, 2015, but the bout is now in doubt. Boxing insiders are stating the delays are due to Mayweather. Fans are not happy with the lack of a definite date for the fight and are teasing Mayweather on social networking as ducking Pacquiao.
Manny Pacquiao's promoter Bob Arum discusses Floyd Mayweather
Khan stated of a potential fight against Pacquiao, "It was great seeing Manny again as it's been a while since we last met up. He's a good friend and we chatted about the past when we were training together, his visit to London and also a bit about the future. Even though we have that friendship, if it makes sense then it's a fight that can certainly happen between us. I want to fight the biggest and best names out there and Manny is definitely among them. Within the next few weeks, who I'm fighting should be a lot clearer. I want to give the fans the most exciting and entertaining fights in 2015 – so watch this space."
---
Tom Brady On Deflategate: It Wasn't Me
January 23. 2015
During a press conference yesterday, regarding allegations athlete Tom Brady and his team, the New England Patriots, deflate footballs for an undue advantage during play, the quarterback flatly denied the claims. Brady took the same approach as the song of reggae singer Shaggy "It wasn't me" in denying everything.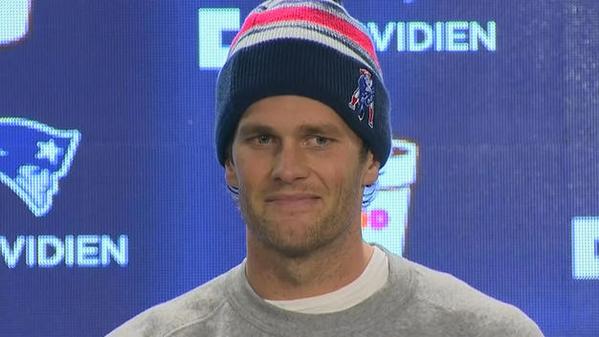 Tom Brady: It wasn't me!
However, Brady's grin is telling another story. Some people believe Brady's denials in this matter and others do not in any measure. Some athletes, such as Hines Ward, have accused Brady of cheating. The NFL continues its investigation into the Deflategate scandal. Wonder why they didn't call it Ballgate.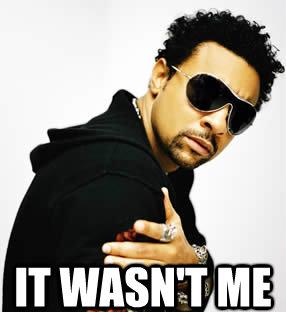 Brady stated in response to Deflategate, "Everyone is trying to figure out what happened. I was as surprised as anybody when I heard Monday morning what was happening. I have no knowledge of anything. I have no knowledge of any wrongdoing. I'm very comfortable saying that nobody did it, as far as I know. I was in the locker room preparing for a game – I don't know what happened over the course of the process with the footballs."
Side Bar: Brady and his wife, supermodel Giselle Bundchen are so beautiful. They're like two pretty unicorns with perfect teeth and flowing hair (LOL).
RELATED ARTICLE
Tom Brady And The Patriots Accused Of Deflating Footballs In The Lead Up To The Super Bowl
---
Politician Mike Huckabee Responds To Criticism From Destiny's Child Member About Beyonce's Bad Lyrics And Stripper Stage Shows (Video)
January 22. 2015
Politician Mike Huckabee is considering another run for President of the United States. He made an appearance on the daytime television show "The View." Michelle Williams, a former member of the music trio, Destiny's Child, made a guest appearance as co-host. Williams complained to Huckabee that his criticism in the book "God, Guns, Grits And Gravy" of her former band mate, Beyonce Knowles, was "low." However, Huckabee is right in his criticism of Beyonce.
In his book Huckabee made reference to Beyonce's songs "Drunk In Love" and "Partition." The latter Beyonce song contains explicit lyrics about fellatio (oral sex), "Driver, roll up the partition. I don't need you seeing 'yonce on her knees...he's so horny he want to fu*k, he bucked all my buttons, he ripped my blouse, he Monica Lewinski all on my gown, oh there daddy, d-daddy didn't bring the towel." What people do behind closed doors is their business. Why does it have to be graphically embedded in songs being disseminated to children, among others.
Huckabee referred to the lyrics as inappropriate, particularly in light of the fact young girls, such the president's daughters, Malia Obama and Sasha Obama, listen to Beyonce's music. Once again, he is correct. It is highly inappropriate for an underage girl or boy to listen to Beyonce's music. It sets a bad example and is full of sexual content and curse words. Huckabee also equates Beyonce's performances on stage with that of a stripper and once again, he is correct.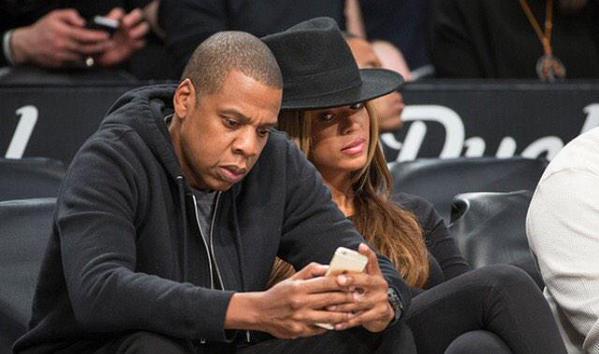 Jay Z and Beyonce
For the Obamas to constantly invite Beyonce and her husband, rapper, Jay Z, whose music is even more debauched, to the White House and related functions, promoting them as well, sets a terrible example. Beyonce and Jay Z are among the biggest intellectual property thieves in the entertainment industry, criminally violating copyright and trademark law for every album they release - laws the President is sworn to uphold (as is his wife, Michelle Obama, who is an attorney, an officer of the court).
Jay Z and Beyonce are a devious, greedy couple, who have broken many intellectual property and financial fraud laws for which the U.S. Code states they should be in prison. However, for campaign donations and other favors, Obama looks the other way. It exhibits appallingly poor judgment on the Obamas' part.
To applaud Beyonce and Jay Z for their alleged achievements is the equivalent of praising Bernard Madoff as a great financial mind. Beyonce and Jay Z are two criminals stealing from everyone, who have the gall to call themselves geniuses. When one listens to a Jay Z or Beyonce interview, it immediately becomes apparent they have profound intellectual deficiencies.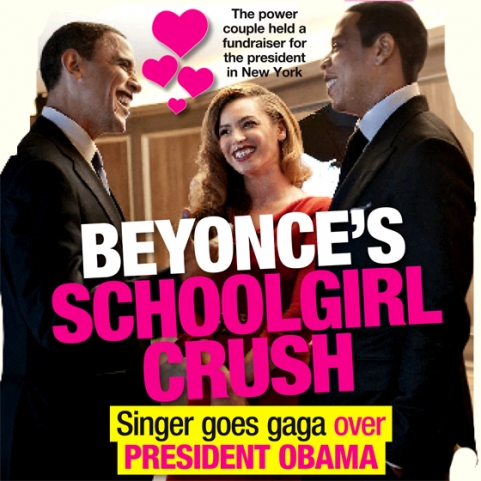 Barack Obama, Beyonce and Jay Z
Jay Z and Beyonce are terrible role models and criminals, who have unlawfully become rich from financial fraud and grand theft larceny. Jay Z and Beyonce are a mentally deficient, unintelligent couple, who do not have the intelligence to author their own intellectual property and have repeatedly resorted to wholesale theft of copyright, stealing a fortune in assets from others, as reflected by court dockets.
I am among the people they have stolen from (copyrighted, preexisting songs, music videos, photos, a fashion line, a restaurant business plan, a music management company business plan, a sports management company business plan, a sports team business plan). However, in my case it is worse, as a portion of the proceeds from my copyrights are meant to go towards cures to life threatening diseases. I've authored groundbreaking articles on the Judiciary Report about cancer, among other things, which were later proven true and correct.
Beyonce and Jay Z constantly stealing items from my preexisting copyrighted catalog in the U.S. Copyright Office in Washington, DC, for undue financial gain, to the tune of millions, is blood money. In the near future, world history shall record it in a terrible way, for the damage their criminal conduct caused disease sufferers worldwide. They are abominable thieves with absolutely no conscience. There is nothing cute or funny about that. It is absolutely evil.
RELATED ARTICLES
Jay Z Is A Pimp (Rihanna And Rita Ora
Boxer Adrien Broner Says F**k Jay Z, Rihanna And Her P***y After The Rapper Pimps Her Out Again (Video)
Adrien Broner Apologizes To Jay Z And Rihanna For Profane Tirade But Does Not Retract His Claims About Them
Forbes Magazine Blasts Jay-Z For Breaking The Law In Poaching People's Clients For Roc Nation Sports
Beyonce And Jay Z's HBO Concert Special 'On The Run' Bombs As One Of The Lowest Rated Specials In The Network's History
Boxer Adrien Broner Has Been Suspended By The WBC For Racist Remarks About Fellow Pugilist Carlos Molina
Jay-Z's RocaWear Is Bankrupt According To Creditor Suing For $450,000 In Merchandise Not Paid For
Jay Z And Beyonce 'On The Run' Tour Is Bombing With Tens Of Thousands Of Unsold Tickets
Jay Z's Extramarital Affairs Become The Subject Of Scandalous Magazine Articles
---
Prince Andrew Denies Underage Sex Allegations At Davos (Video)
January 22. 2015
The Duke of York, Prince Andrew, attended the World Economic Forum in Davos, Switzerland. He issued a statement regarding allegations contained in a Florida lawsuit, filed on behalf of 31-year-old Virginia Roberts, stating he engaged in underage sex with her when she was a minor.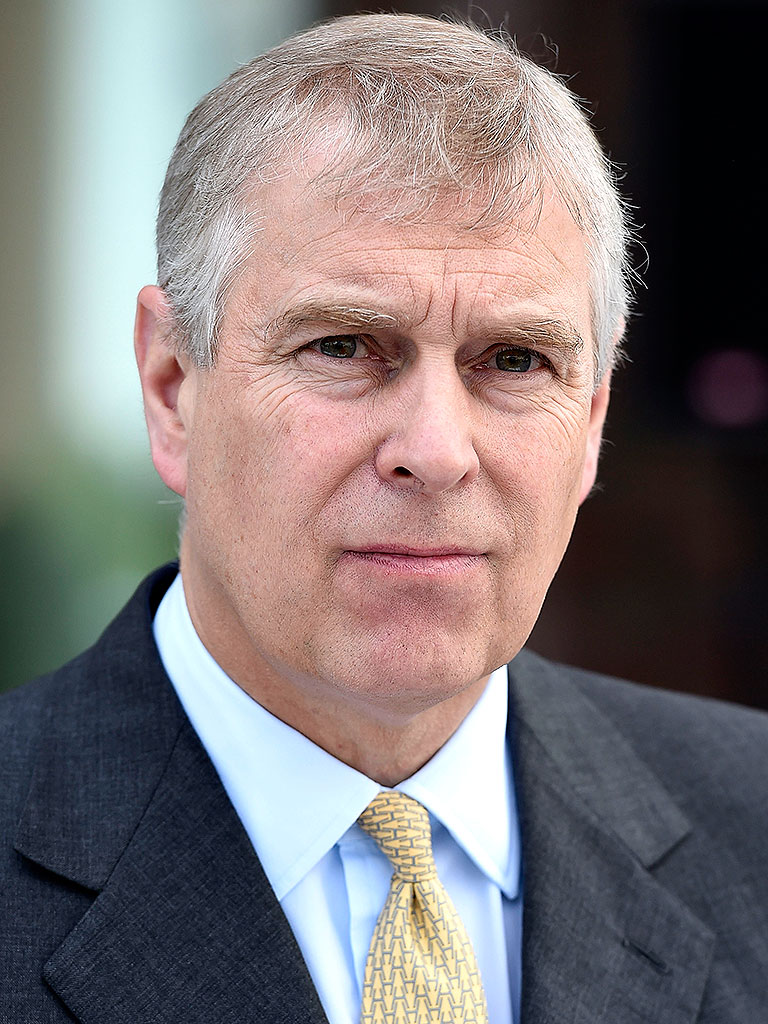 Prince Andrew
Roberts also alleges there was an orgy she and other minors, as young as age 14, were forced to participate in, alleging Prince Andrew was present and a participant. Roberts alleges the underage orgy was arranged by convicted pedophile, Jeffrey Epstein, a friend of Prince Andrew. Previously, Buckingham Palace denied the claims. Prince Andrew went on record today doing the same.
Virginia Roberts
Prince Andrew stated, "Firstly I think I must, and want, for the record to refer to the events that have taken place in the last few weeks. And I just wish to reiterate and to reaffirm the statements which have already been made on my behalf by Buckingham Palace. My focus is on my work and this evening's reception allows me to tell you about just a couple of the initiatives that I have founded and am passionate about."
RELATED ARTICLE
Attorney Alan Dershowitz Threatens To Sue FBI Witness Accusing Him, Prince Andrew And Bill Clinton Of Having Sex With Her As A Minor Against Her Will
---
Floyd Mayweather's Trainer Puts May 2, 2015 Manny Pacquiao Fight In Doubt (Video)
January 22. 2015
Alex Ariza, one of the trainers of undefeated boxer, Floyd Mayweather, did an interview with the Fight Hype website, casting doubt on a May 2, 2015 fight against champion pugilist, Manny Pacquiao. Ariza stated, "We're fighting May 2 but it's not going to be Manny Pacquiao. As soon as we get rid of him (Bob Arum), we can get it on."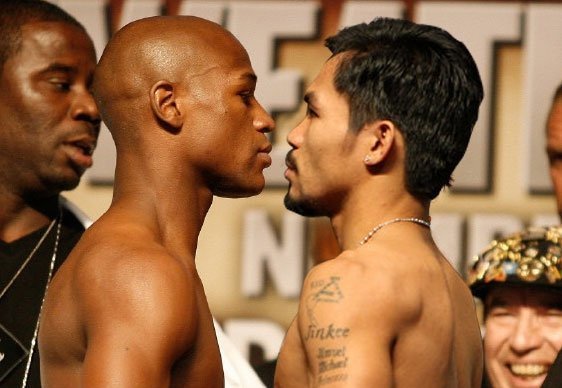 Floyd Mayweather and Manny Pacquiao
Bob Arum is Manny Pacquiao's promoter, Mayweather takes great exception to in every way. However, it should not prevent the fight from happening. Business is business. Many people all over the world do business with people they dislike, but keep it formal and about the financial transactions. Fans are upset at this latest announcement. People are stating Mayweather is ducking Pacquiao out of fear he will receive his first loss in the ring at his hands. This is not good for Mayweather's boxing legacy.
RELATED ARTICLES
Floyd Mayweather Flaunts His Wealth And Manny Pacquiao Jokes About It In The Lead Up To Potential May 2, 2015 Fight
Floyd Mayweather's Eyes On Rival Manny Pacquiao For Billion Dollar Fight After His Massive Victory Against Chris Algieri (Video)
Floyd Mayweather Lashes Out At ESPN's Stephen Smith Over Manny Pacquiao Who Responds (Video)
Tyson Fury And Dereck Chisora Finalize November 2014 Fight For Big British Boxing Rematch
---
Change In Relations Between America And Cuba Underway (Video)
January 21. 2015
U.S. diplomats met with government officials in Cuba in an effort to normalize relations between the two sovereign nations. U.S. President Barack Obama recently eased restrictions between the two nations, which will open up trade and tourism. The 55-year-old embargo can be completely lifted by the U.S. Congress via legislative measures.
Polls reveal a majority of Americans are in favor of this move, as are Cubans on the island. However, there is some opposition to an official decision of this order. The U.S. government seeks to open an embassy in Havana, Cuba. The Cuba government also seeks to open an embassy in Washington, D.C. It would mark the beginning of a new era between the nations.
RELATED ARTICLE
---
PERMALINKS
Madonna's Pedophilic Kabbalah Center (Google Case)
Madonna's Rabbi At The Kabbalah Center Threatened To Beat And Kill A Student He Drugged And Tried To Rape
Andy Coulson Moved From Tough British Prison Belmarsh While Former Boss Rupert Murdoch And His Cohort Madonna Continue Phone Hacking
NSA Workers Admit To Reading The Emails And Listening To The Calls Of Americans In Violation Of The Law
Judge Rules The NSA Illegally Spied On Americans Confirming The Site's Previous Claims (Video)
NSA Admits Employees Illegally Spied On Love Interests And Significant Others Confirming Site's Previous Claims
New Scandal Erupts Regarding The FBI And Justice Department Monitoring Calls Of AP Reporters Confirming Previous Site Claims
IRS Says Sorry For Targeting Conservatives As Obama Denies All Knowledge Of Misconduct
President Obama Fires The Head Of The IRS For Targeting Conservatives (Video)
News Report: The IRS Targeted Christians
FBI Agent Arrested For Accepting A $200,000 Bribe To Derail A Criminal Case The FBI Was Supposed To Be Investigating
Another FBI Agent Caught Taking Bribes To Derail Serious Cases (Video)