Police Apprehend Man Who Beat And Killed Couple, Their 10-Year-Old Son And Housekeeper In Brutal Home Invasion Robbery (Video)
May 23. 2015
34-year-old Daron Wint was arrested for the heinous quadruple homicide that occurred in the home of wealthy businessman, Savvas Savopoulos. Wint was a former employee of Savopoulos's American Ironworks company. Wint knew his former boss had access to large sums of cash in his $5,000,000 Maryland mansion located in the same neighborhood as properties owned by vice president, Joe Biden and former president, Bill Clinton.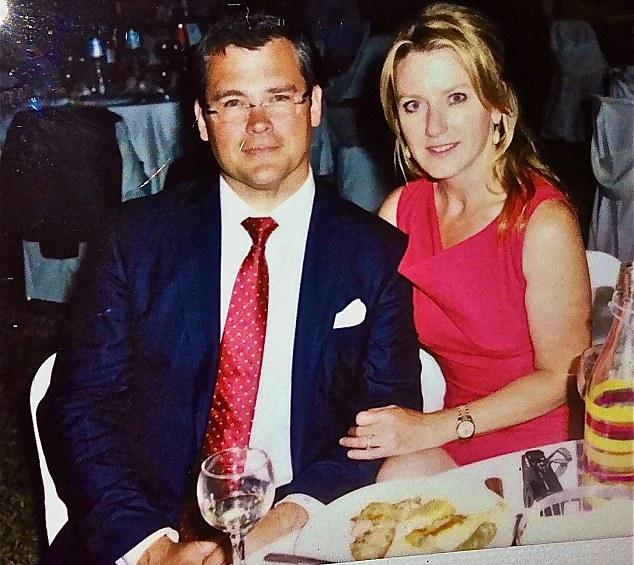 Savvas Savopoulous and Amy Savopoulous
Wint brutally murdered Savvas Savopoulous, his wife, Amy Savopoulous, their 10-year-old son, Phillip and one of the family's housekeepers, Veralicia Figueroa. They were horrifically bludgeoned, stabbed, then set on fire in the cruel murders. Figueroa briefly survived, but quickly succumb to her injuries.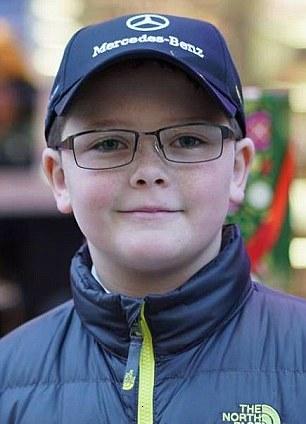 Phillip Savopoulous
The house was then set ablaze in a failed attempt to conceal the crimes. However, medical examiners discovered the victims had suffered foul play via bludgeoning, stabbings and the gunshot wound to young Phillip. Pizza crumbs found at the scene of the crime tie Wint to the murders. There is no such thing as the perfect crime.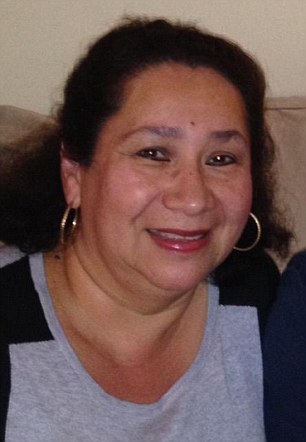 Veralicia Figueroa
Police apprehended Wint, who had fled with weapons and $10,000, after having stolen $40,000 from the Savopoulos family. His brother and two other men were arrested as well. Wint had briefly hidden in his girlfriend's New York apartment, before returning to Maryland, where he was arrested.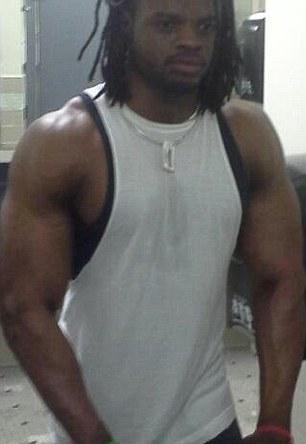 Daron Wint
Authorities believe Wint did not act alone, having accomplices that aided him in the home invasion and brutal murders. Wint, a former marine and ex-con, was previously arrested for assaulting a girlfriend and destroying her property. Wint also threatened another woman he was dating.
RELATED ARTICLE
Food Network Star, Her Unborn Baby And Husband Killed In Grisly Murders (Video)
---
First TLC's 'Honey Boo Boo' Cancelled Over Molestation Claims Now '19 Kids And Counting' As Well
Second TLC Show Pulled Over Cast Member Molestation Claims
May 22. 2015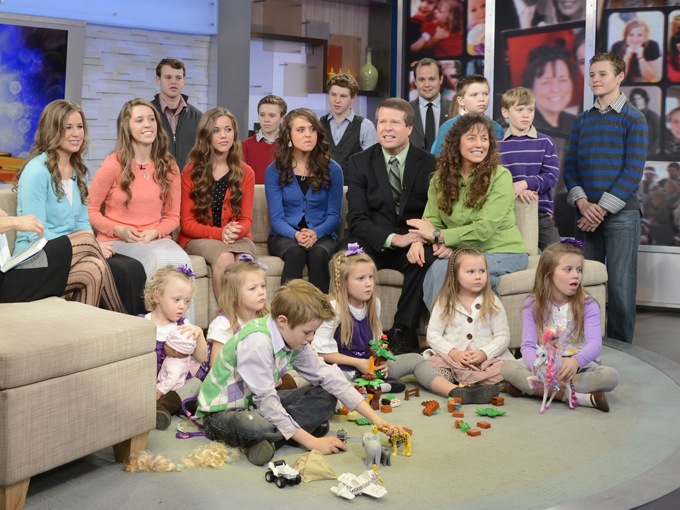 "19 Kids And Counting" cast
Last year the TLC network reality show "Here Comes Honey Boo Boo" was cancelled over claims one of the cast members, Anna "Chickadee" Cardwell, was molested when she was underage by her mother's boyfriend, Mark McDaniel, who is now back in her parent's life after his release from jail. "Mama June" real name, June Shannon, betrayed her daughter in this respect leading to public outrage and fears for her underage daughter's safety (Alana "Honey Boo Boo" Thompson).
Today, the TLC reality show "19 Kids And Counting" has been cancelled over news Josh Duggar, 27, molested five girls, among them some of his sisters, via "forcible fondling" when he was 12-years-old. The matter was reported to police by his parents when he was a minor. Duggar, who is now a Christian, stated he has asked God for forgiveness and mercy (God can forgive him, but he must refrain from engaging in molestation, as it is very wrong and extremely harmful to victims).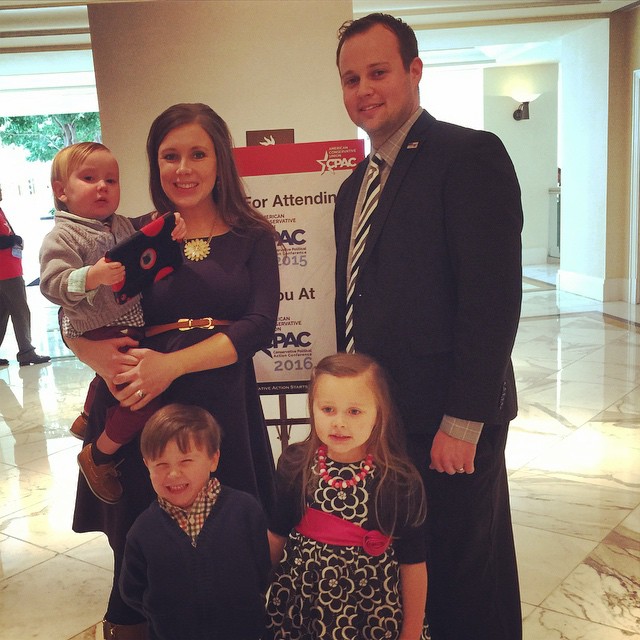 Josh Duggar, his wife and children
Molestation is a serious crime that greatly damages its victims. The girls Duggar molested, including his sisters, will need extensive therapy to help them cope with the trauma of what transpired. The entire Duggar family should also receive extensive therapy, as the molestation that occurred must have shattered their family. Josh Duggar's conduct as a minor indicates serious mental illness that must be properly addressed and treated by health care professionals.
TLC needs to do more to vet its reality shows to spare the public heartbreak. Real life revelations about the shows "Here Comes Honey Boo Boo" and "19 Kids And Counting" has caused the public distress. Molestation and other sex crimes should not be swept under the rug. They should be publicly discussed in an effort at prevention and healing for those affected. However, it should not be done via the public getting terrible surprises and shock, via reality shows with inaccurate representations of cast members, as has occurred with the aforementioned TLC shows.
RELATED ARTICLE
Mama June's Daughter Slams Her For Bringing Convicted Child Molester Around 9-Year-Old Reality Star Honey Boo Boo After Having A Child By A Second Pedophile (Video)
---
Google Calls Black President Obama's White House 'The Nig*a House' And The Supreme Court 'Dumb F**ks'
May 21. 2015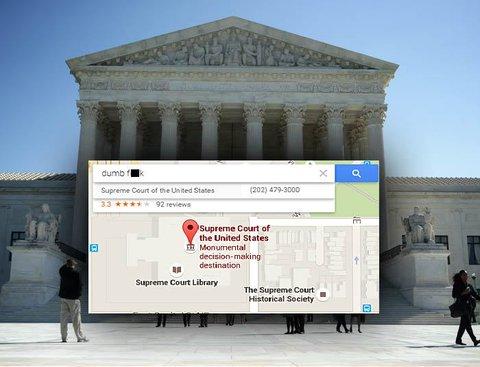 Google Maps labels the White House "nig*a house" and the U.S. Supreme Court "dumb f**ks"
Google has been left with egg on its face after its Google Maps search feature allowed users to incorrectly label national landmarks in America with pejorative names. External websites are pointing out the fact that when the public searched for the home of America's president, the White House, currently inhabited by the nation's first black head of state, Barack Obama, Google maps boldly labels it the "nig*a house."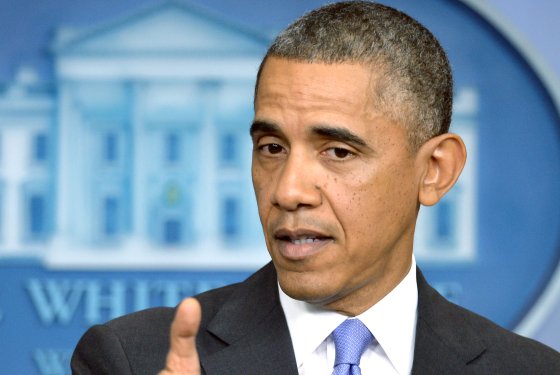 Obama: they called me what...
The U.S. Supreme Court didn't fare well either as Google Maps issued them the identifying tag the "dumb f**ks." Yea, everyone at Google is mysteriously gonna get audited now by the IRS (LOL). One would think Google would have a feature that locked landmarks in Google Maps preventing the public from attaching inappropriate names to them.
RELATED ARTICLE
President Obama's Jokes At The White House About The New England Patriots Met With Criticism And Insults As Tom Brady Pulls A No Show (Videos)
---
Sadomasochistic Prostitute On Trial For Overdosing Google Executive On Heroin On His Yacht Then Leaving Him To Die
May 21. 2015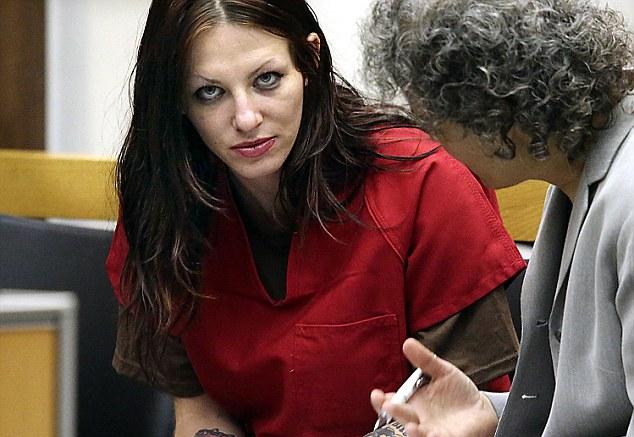 Prostitute, Alix Tichelman, on trial for murder, has a evil look in her eyes and a smug look on her face, unapologetic about killing Google executive, Forrest Timothy Hayes with a lethal heroin overdose. Tichelman is into Satanism and the occult.
26-year-old model turned prostitute, Alix Tichelman, is on trial in California for overdosing 51-year-old Google executive, Forrest Timothy Hayes on his 50 foot-yacht in 2013. Hayes was married with five children. Hayes' family did not want criminal charges filed by the state, due to the embarrassment it would create, regarding the Google executive patronizing a sadomasochistic, satanic prostitute who injected him with a lethal dose of heroin.
The millionaire with a drug habit paid the fetish prostitute for sex and drugs, in an incident that led to his death. Tichelman, who had an obsession with murder and killing sprees, nonchalantly injected Hayes with a lethal dose of heroin, stepped over his body, collected her drug paraphernalia, drank some wine and left him to die. She has been charged with manslaughter, prostitution and drug offenses.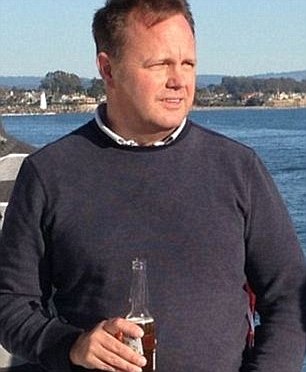 Forrest Timothy Hayes
Police suspect Tichelman in other similar cases where rich businessmen were overdosed on heroin in the same manner. Tichelman had over 200 clients. Tichelman's former boyfriend, 53-year-old Dean Riopelle, who was a musician that owned Masquerade Club in Atlanta, Georgia, died much in the same way Google executive Hayes did in California.
Tichelman is a psychotic murderer. In a post on her Facebook account, Tichelman wrote, "It's really nice to talk with someone about killing sprees and murdering people in cold blood...and they love it too." That's a very telling and troubling statement from a mentally disturbed woman, who is a danger to the public.
STORY SOURCE
The Google Exec and the Model: Silicon Valley After Dark
Dead men appear to play a big role in Alix Tichelman's life. Tichelman, 26, was being held on $1.5 million bail by authorities in Santa Cruz County, California, on manslaughter, drug and prostitution charges in the death of Forrest Timothy Hayes, 51, a Google official who died of a heroin overdose on his 50-foot yacht in November.
Santa Cruz police told NBC News that Tichelman, who was arrested July 4, injected the heroin into Hayes and can be seen on the yacht's own security video calmly collecting her drugs and her needles, closing a blind to conceal the body from view, and leaving. "She steps over the body, reaches over the table and finishes a glass of wine and then goes back about her business," Deputy Police Chief Steve Clark said...
---
Chris Brown Announces More Tour Dates While Paying The Way Of Destructive OHB Crew
May 21. 2015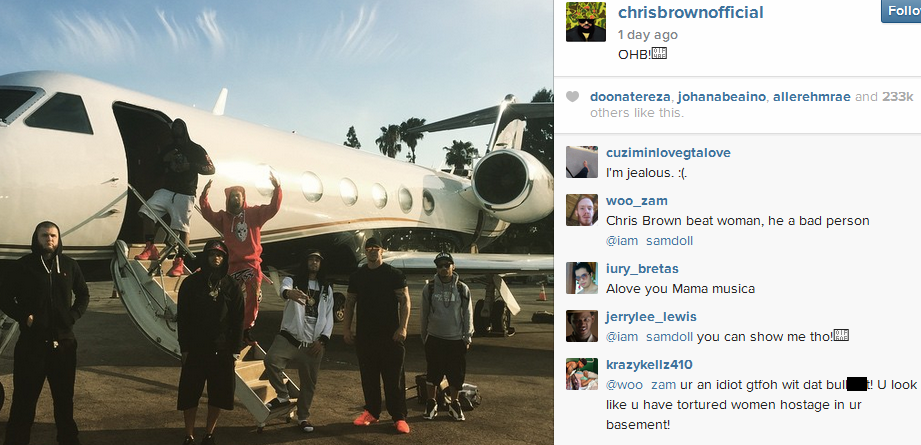 Chris Brown post on Instagram
R&B singer and former felon, Chris Brown, is in Cannes, France, with his destructive OHB friends in tow. OHB stands for Original Hood Bosses. They are a group of people in Brown's circle, some of whom have gang ties. Brown's mother and others in charge of his career do not approve of OHB, as they have encouraged him to engage in negative behavior that bred trouble for the crooner.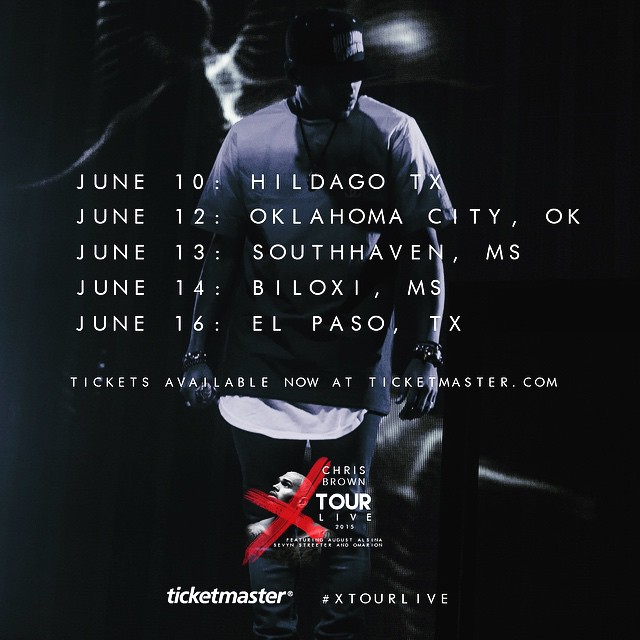 Chris Brown announced new tour dates on his Instagram page
Brown is taking them to Cannes, on his dime, while he makes an appearance in the city. They flew in via private jet and are staying in several rooms of an expensive hotel. While they are in Cannes, Brown will pay their way. Many famous entertainers and athletes have lost a significant amount of money paying the way of people in their circle.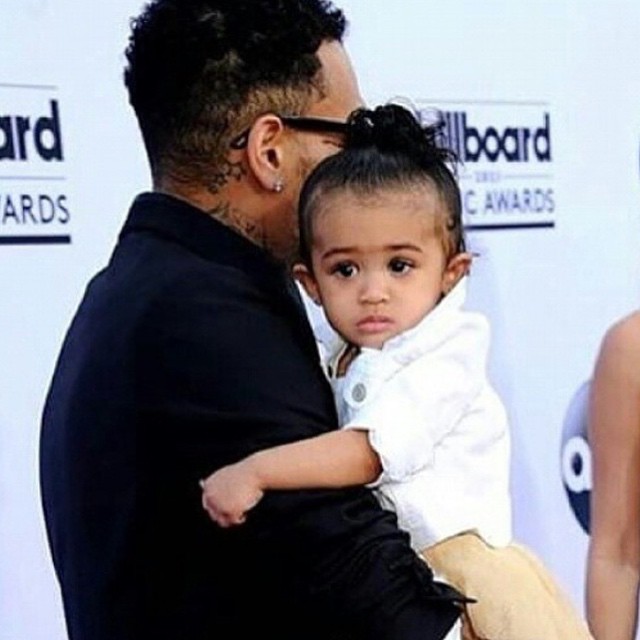 Chris Brown's daughter Royalty
Brown's income has increased due to his joint tour with Trey Songz and is slated to further improve with solo concert dates he has announced. However, Brown has many financial obligations and it should not include paying OHB's way. Brown has a daughter and mother to think about regarding their financial welfare.
RELATED ARTICLES
Chris Brown's Big Child Support Payments Going Towards Supporting The Boyfriend Of His Child's Mother As Well
Chris Brown's Bipolar Medicine Is A Dangerous Mix With His Other Habits
Chris Brown Fresh Off Probation Is Missing Ex-Girlfriend Karrueche Tran
---
A Hospital Should Be Allowed To Force Feed 40-Pound Dying Anorexic Actress
May 21. 2015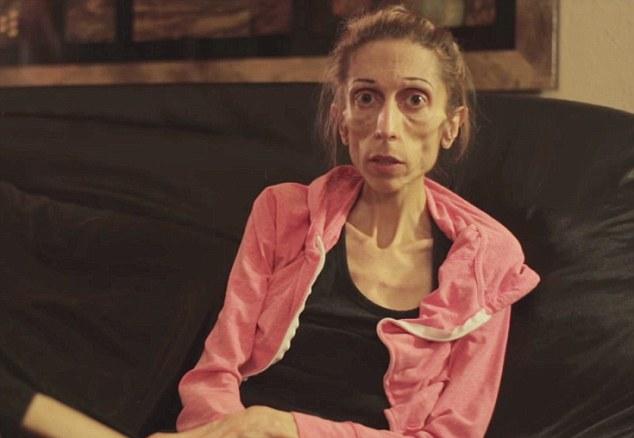 Rachael Farrokh
Anorexia is a serious eating disorder where sufferers of the disease starve themselves to look thin, often sending them to an early grave via malnutrition and organ failure. People seeking to take control of their lives, albeit in the wrong manner, view starvation as the answer, but it initiates a negative nutritional pattern many find difficult to break. It becomes a negative compulsion with the brain stuck in a dangerous pattern.
An actress in California, Rachael Farrokh, is an anorexic on the cusp of death, having starved herself down to an emaciated frame of 40-pounds. Farrokh suffers from dysmorphia, where she sees her body image in the incorrect manner, which led to anorexia nervosa. Farrokh is stating several hospitals, with the exception of one, have informed her she is "too skinny to treat."
Hospitals or medical facilities should be endowed with the legal right to obtain court approval to force feed anorexics in danger of death, via a judicial order enabling them to detain anorexia suffers for weeks, to facilitate the necessary weigh gain to save their lives. High calorie liquid infusions, packed with vitamins and minerals, properly administered over the course of weeks, would be beneficial in returning anorexics to good health.
The government can buy bombs and others weapons of war costing billions of dollars, but give insufficient attention to the health care and nutritional needs of the homeless or helpless such as anorexics. The government's priorities are all wrong. Taxpayers' money could go to more useful and socially beneficial endeavors, such as helping people in need.
STORY SOURCE
Dying anorexic actress, 37, who weighs approximately 40 pounds, makes heart-wrenching video plea for help as hospitals say she is 'too skinny to treat'
Published: 21:50 EST, 20 May 2015 | Updated: 07:20 EST, 21 May 2015 - At five-foot-seven, she weighs a mere '40-something pounds' and is close to death. Now, Rachael Farrokh, from Southern California, is begging the public to help save her life. The 37-year-old actress, who has been battling anorexia nervosa for more than 10 years, has released a video on YouTube describing her fight against the life-threatening eating disorder.
In the footage, she explains how her condition has severely declined in recent months, leaving her emaciated, breathless and too weak to move around on her own at her San Clemente home. She also reveals how her husband, Ron Edmondson, has had to quit his job to become her 24-hour caregiver, while area hospitals won't treat her because her 'dangerous' weight makes her a 'liability'.
'There's one hospital across the country that can help, and my chances are very slim. We need your help,' a gaunt-looking Ms Farrokh says in the video, asking viewers to donate 'anything you can'. Sitting on a couch with a pink hooded top covering her tiny frame, Ms Farrokh, begins the video by saying: 'I need your help. I'm suffering from an eating disorder. It's a very severe kind of anorexia.'
Struggling to get her words out, she continues: 'I've been suffering from this for quite a while now. I'm five-[foot]-seven, 40-something pounds and no hospitals will even take me at this point.
---
Rihanna Jealous Over Chris Brown's Daughter Royalty
May 20. 2015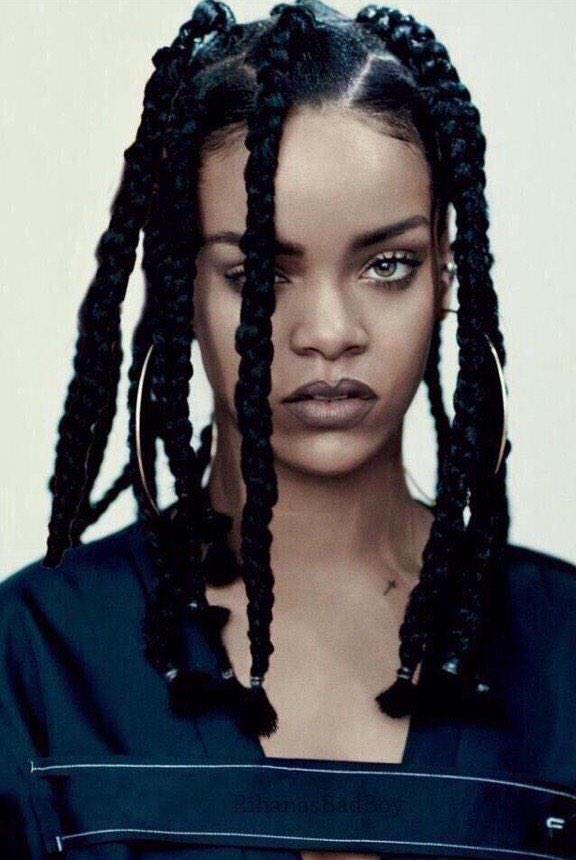 Rihanna
I received a good exclusive tip recently that heartbroken singer, Rihanna, 27, is jealous and sad over her ex-boyfriend, singer Chris Brown, 26, having a baby with former nude model and video girl, Nia Amey, 32. Rihanna, who has a tumultuous past with Brown, due to a high profile domestic violence incident that rendered him a felon, was overheard complaining to someone in the industry regarding his daughter Royalty, "That should have been my baby." Brown recently revealed that Rihanna still texts and tries to spend time with him, though it is not something he wants right now.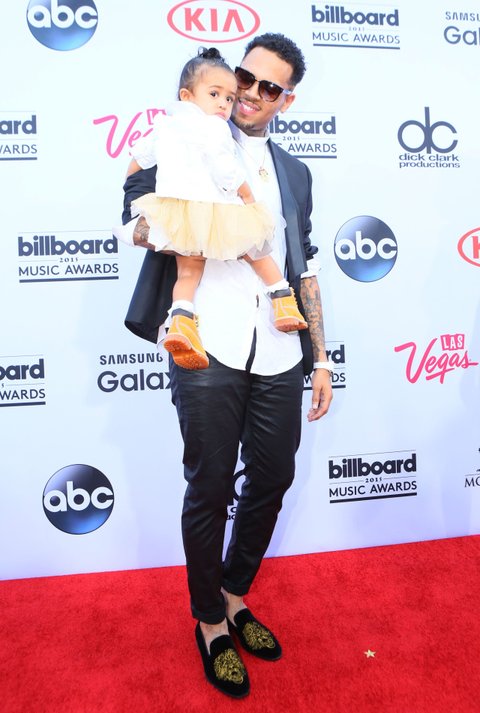 Chris Brown and daughter Royalty
Brown's ex-girlfriend, Karrueche Tran, whom he cheated on with Amey, is also devastated as well, dumping him on Twitter when the news broke. However, Brown still wants her back, but has not succeeded in his goal. Tran is focusing on a career in Hollywood with the hope of becoming a successful actress.
---
King Ba Trying To Use Chris Brown Beef Over His Daughter For Publicity In Launching A Rap Career
May 20. 2015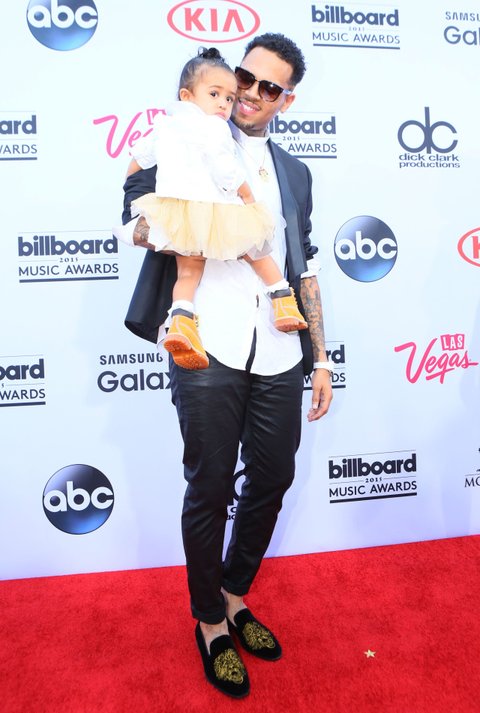 Chris Brown and daughter Royalty
King Ba, the boyfriend of Nia Amey, who is the mother of singer Chris Brown's child, Royalty Brown, is trying to launch a career as a rapper. Ba, who thought he was Royalty's father, but found out after Amey gave birth that he is not, has been arguing with Brown online and in the press for publicity.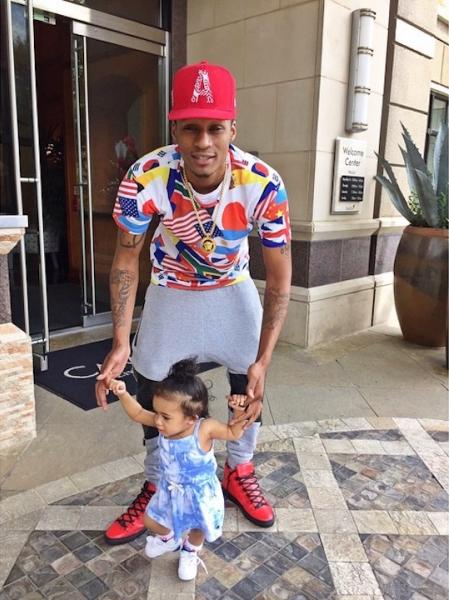 King Ba still stating he is Royalty's dad no matter what and flaunting the fact he is back in her mother's life
While King Ba does care about Royalty, he is trying to get what he can out of what has turned into a bad situation for him. Brown and Amey have exposed him to heartbreak and public embarrassment. For Brown's part, he is trying to quietly improve the situation for the sake of his child, but King Ba is not taking the high road.

---
Man Brags On Instagram About Killing Rapper Chinx In Death Police Believe Is Connected To Rapper Stack Bundles' Murder
May 20. 2015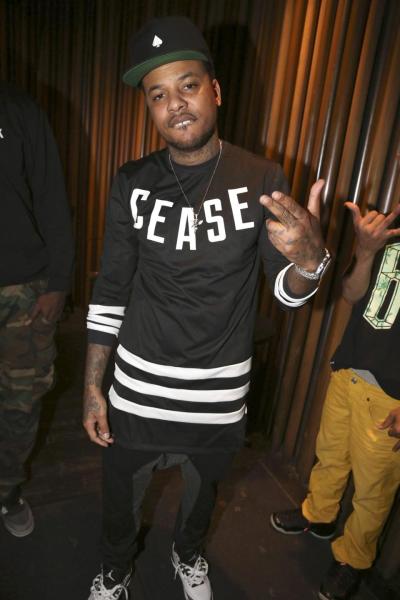 Chinx
One of French Montana's rappers, Chinx, a/k/a Chinx Drugz, real name Lionel Pickens, aged 31, who was apart of his rap collective, Coke Boys, was gunned down in his Porsche Panamera sports car in a drive by shooting that occurred in his hometown Queens, New York on May 17, 2015. Chinx was fatally shot five times in the torso. He was pronounced dead at the hospital.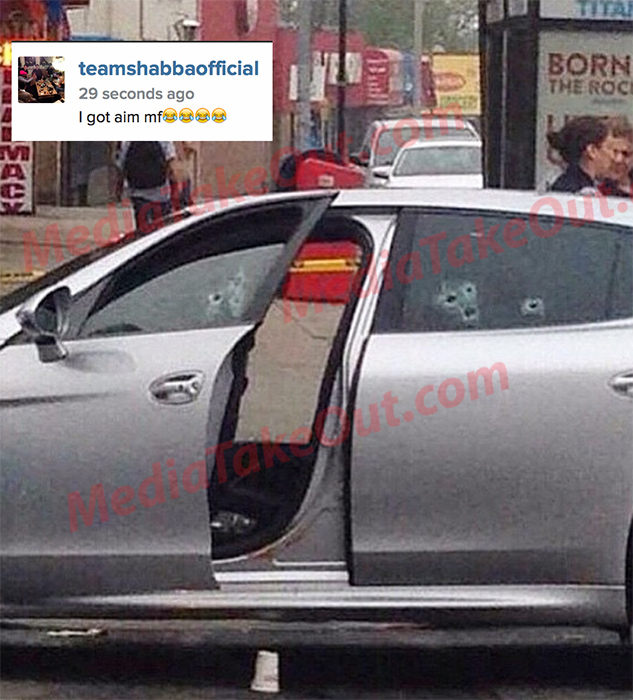 Chinx crime scene
Many of Chinx's songs glorified the deadly drug cocaine, bearing the name of the illegal narcotic in album and song titles. Chinx was also signed to French Montana's Cocaine City Records. Chinx was working on his debut CD when he was gunned down. The website Media Take Out published an item online stating a man using the Instagram username "teamshabbaofficial" bragged on Chinx's page on the social networking site about shooting the rapper to death.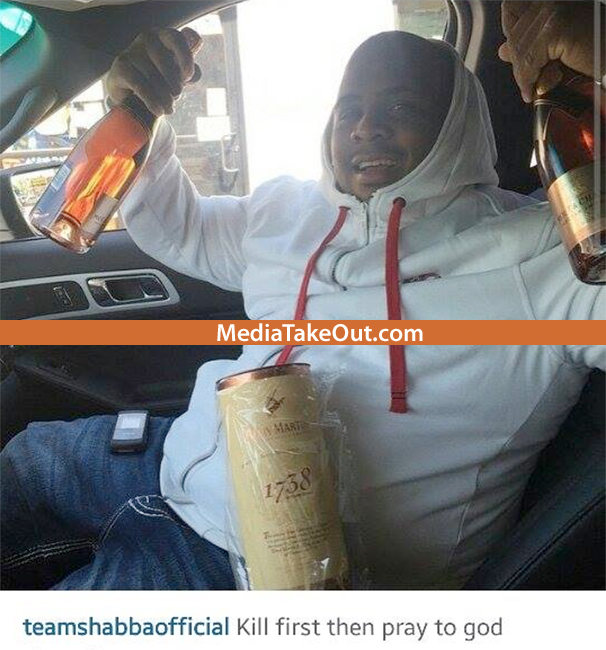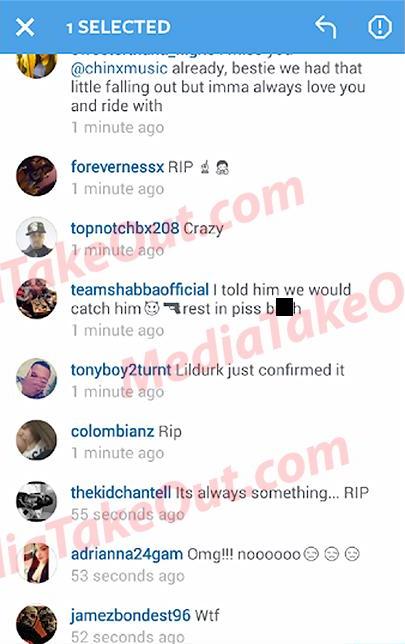 "Teamshabbaofficial" Instagram account bragging about killing rapper Chinx
One post on his Instagram account contained a photo of the Chinx crime scene and the words "I got aim mf" and another stated "I told him we would catch him. Rest in piss b***h" with a devil and gun emoji beside it. A third item on the site states "Ask about us in Queens 124th n***a think we care he a rapper." The account also bore the name "Gang Worldwide."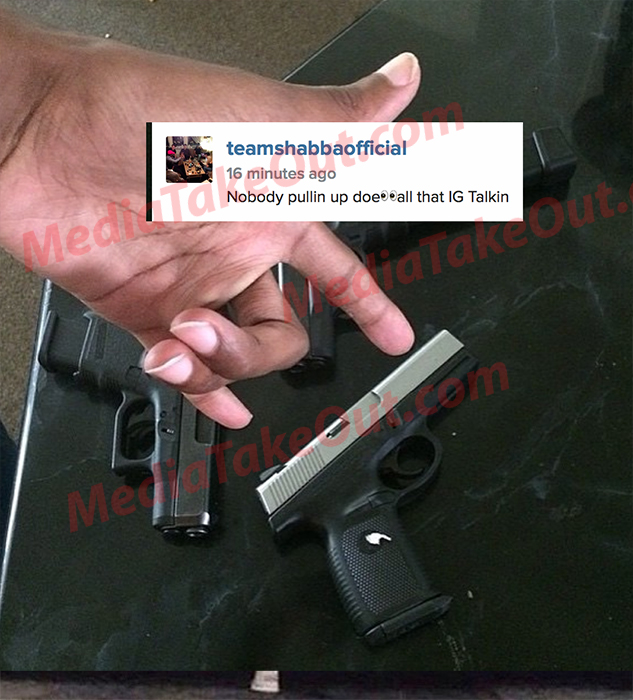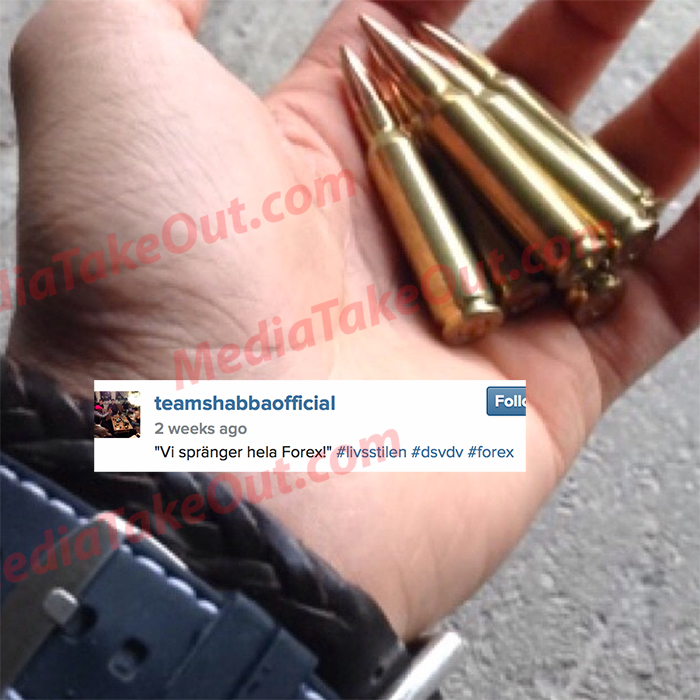 "Teamshabbaofficial" Instagram account bragging about killing rapper Chinx
Other sites are stating Chinx's murder is related to the shooting death of fellow rapper and mentor, Stack Bundles, real name Rayquan Elliott, who was killed in 2007 in New York. Police have stated they are investigating if the two murders are connected, as both rappers were associates. How did a rapper, who had no hit single, afford to purchase a Porsche Panamera, which retails for $80,000. With all the cocaine talk it gives one the impression Chinx was dealing cocaine and other illegal narcotics. Was this a music industry vendetta or was Chinx killed for a drug related matter.
STORY SOURCE
SELF SNITCHED!!! Some Guy Is BRAGGING On Instagram . . . Claiming He's The One . . . Who MURDERED CHINX DRUGZ!!
May 17, 2015: A man is claiming to have been the one who MURDERED Chinx Drugz, and he's bragging about it on Instagram. The IG name is @teamshabbaofficial. Look at some of the things he's posting. It's not clear whether their claim of MURDER is real or a HOAX . . . but the page CLEARLY had photos taken from QUEENS NY in recent days.
RELATED ARTICLE
Producer Teddy Riley Lays Down The Law On Soulja Boy Regarding His Daughter (The Dangers Of Putting Too Much Private Info On Social Networking)
---
Thief And Gunman Apprehended By Police With Fake Modeling Shoot After Becoming A Model And Rapper With Instagram Page
When Instagram Goes Wrong
May 20. 2015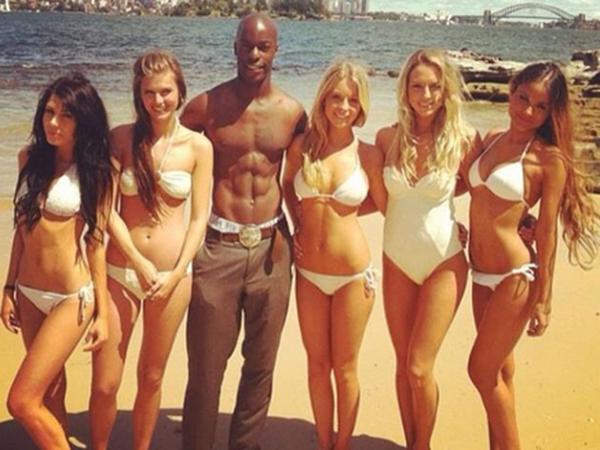 Ben Fiberesima on the set of one of his music videos that received 186,000 views on You Tube
A gangster who fled London for Australia and embarked on a career as a model and musician, was arrested by authorities, after police lured him to a fake modeling shoot. 30-year-old Ben Fiberesima fled North London's South Kilburn, after being arrested and bailed on weapons, theft and fraud charges in England.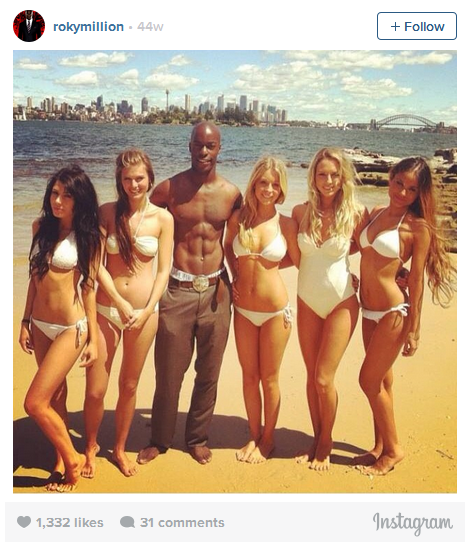 Ben Fiberesima's Instagram account
Fiberesima fled to Australia and became a rapper under the moniker Roky Million, branding himself "the sexiest rapper alive" and modeled for famous designers such as Tom Ford. Fiberesima also authored a self-help book which stated he was worth seven figures. He set up an Instagram account, unwisely refusing to lay low as a fugitive.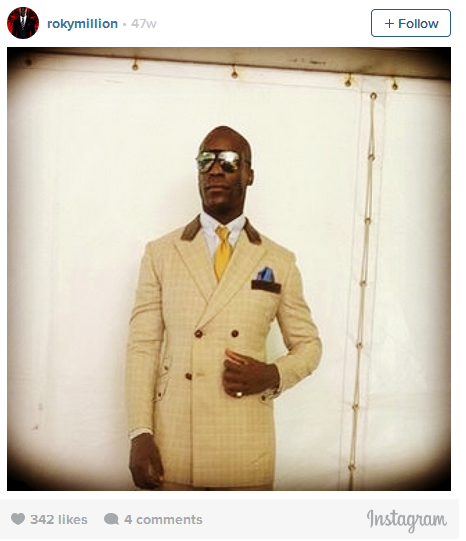 Ben Fiberesima's Instagram account
The Metropolitan Police, much like their police force counterparts worldwide, loves social networking for catching criminals. They've nabbed a number of lawbreaking individuals, who either surfaced online or even more incriminatingly flashed stolen loot and property on social networking for all to see.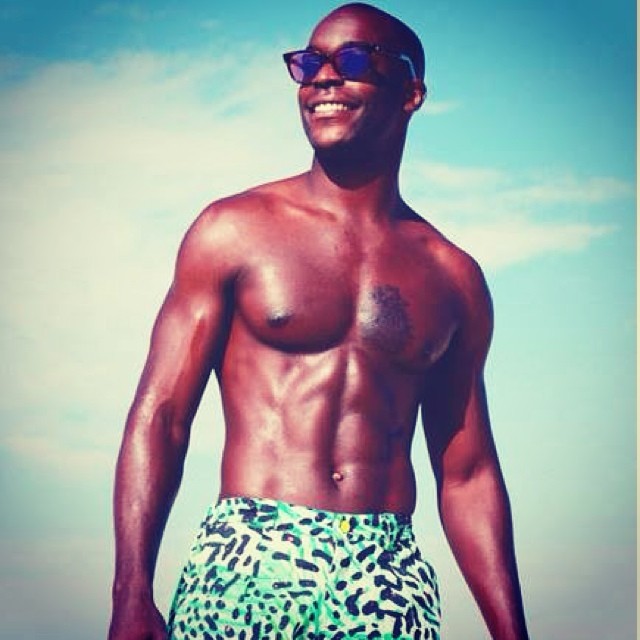 Ben Fiberesima modelling
Someone sent the Metropolitan Police a tip after spotting Fiberesima on Instagram with a bevy of beauties (Fiberesima will no doubt brand the tipster a hater). This prompted the police to set up a fake modeling shoot in the fashionable North London district of Kentish Town, after contacting a top modeling agency he worked for, requesting his services. When Fiberesima showed up to the Kentish Town studio to model, police arrested him. He has been sentenced to 3-years and 9-months in jail.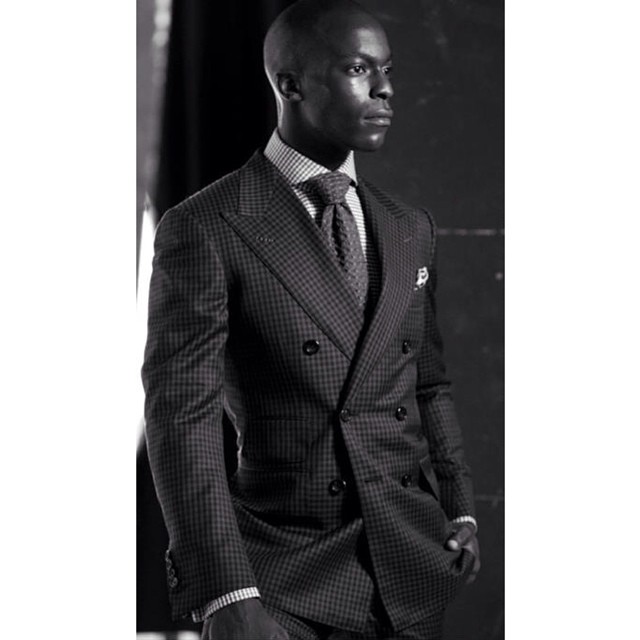 Ben Fiberesima modelling
My question is, Fiberesima clearly has the ability to model and rap, why didn't he just do that in the first place instead of turning to a life of crime. People, work on your goals and dreams and stick to that. It will take hard work and dedication but you can make it. Be sensible with your choices and leave the life of crime alone.
STORY SOURCE
Fugitive model Ben Fiberesima jailed after London police sting
Tuesday 19 May 2015 - Police have snared a gangster from London, almost a decade after he established a second life as a model and musician while he was a fugitive in Australia. Ben Fiberesima, 30, from South Kilburn, skipped bail while on trial for fraud and weapons charges in London seven years ago.
Police arrested him in 2008 after they discovered a stun gun, a canister of CS gas and stolen property at his flat after he reported an attempted burglary. After he was bailed, he absconded and adopted a false identity, the Kilburn Times reported. While on the run, Fiberesima modelled for high fashion labels including Tom Ford, and recorded rap using the stage name Roky Million.
In a self-help book Fiberesima penned last year, he boasted he was "worth seven figures by the age of 26", and used his social media accounts to flaunt his success. But last year Fiberesima's lavish lifestyle came to an abrupt end when an anonymous tipster alerted the police that he had returned to London. Metropolitan Police detectives posed as a fake photograph company to contact a prestigious modelling agency which had Fiberesima on its books...
RELATED ARTICLE
Producer Teddy Riley Lays Down The Law On Soulja Boy Regarding His Daughter (The Dangers Of Putting Too Much Private Info On Social Networking)
---
Chris Brown's Big Child Support Payments Going Towards Supporting The Boyfriend Of His Child's Mother As Well
May 19. 2015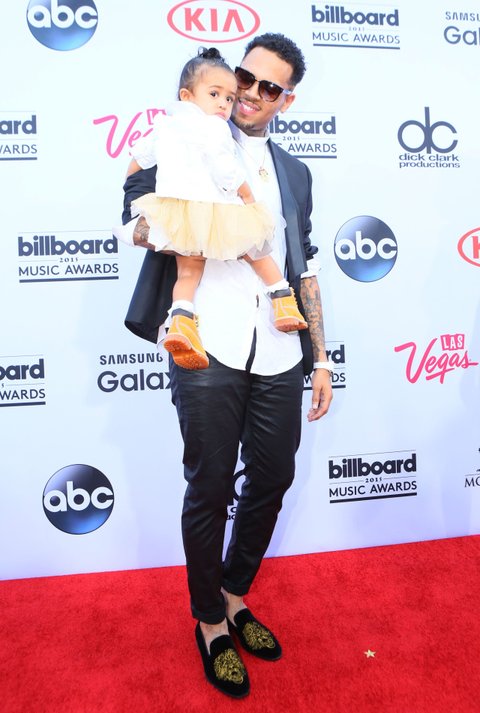 Chris Brown and daughter Royalty who is absolutely adorable at the Billboard Music Awards
R&B singer Chris Brown has been paying big child support payments to Nia Amey, the drug and alcohol addicted nude model and video girl turned nursing student, he knocked up while she was married. Amey's boyfriend Brazil, also known as King Ba, is back in the picture and enjoying the benefits of life on Chris Brown's child support checks, being issued in support of the singer's beautiful 10-month-old daughter, Royalty Brown.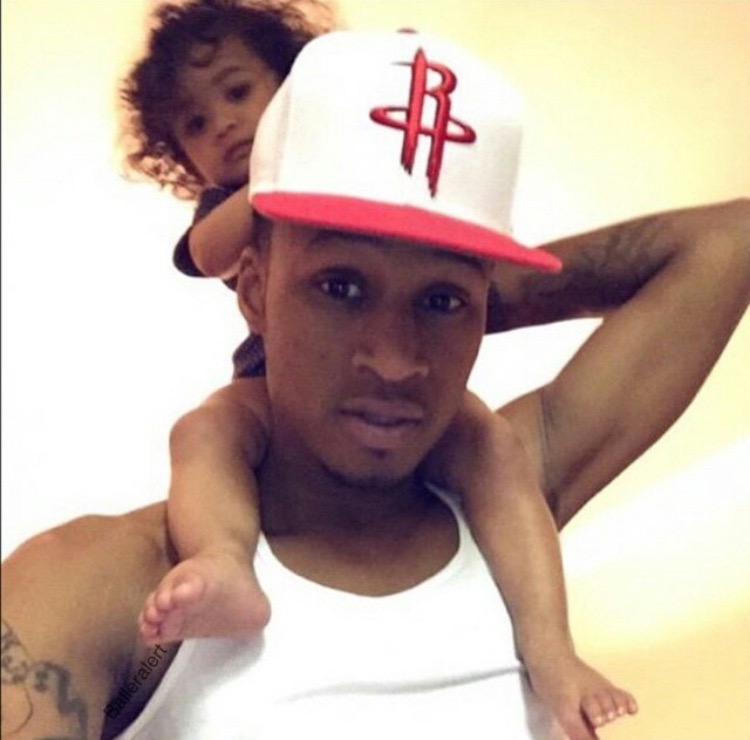 Royalty to her mom regarding King Ba: girl, are you sure he's my daddy
King Ba originally thought Royalty was his baby, but found out a year later the child was sired by Brown. The singer has been giving more money than required, but due to the fact Amey began leaking his business, Brown wants to take the matter to court. Initially, Brown did not want it known he had fathered a child outside of his high profile relationship with model Karrueche Tran. However, Amey leaked it for financial reasons to force Brown's hand.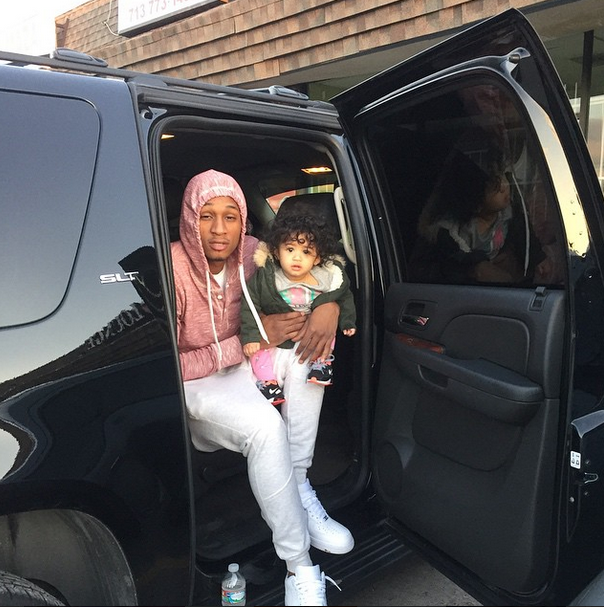 King Ba and Royalty Brown
Amey would marry Brown, but he does not want to get married anytime soon and Tran has been his focus. King Ba, who is understandably bitter over having begun the process of raising a child, who was not his, though he was told otherwise, has slammed Brown as a "sperm donor" (keep it up, you're gonna mess around and talk smack on a day Chris forgot to take his medicine, then we'll all read about how the hospital valiantly tried to remove his foot from your...). King Ba needs to let go, as Brown is Royalty's father.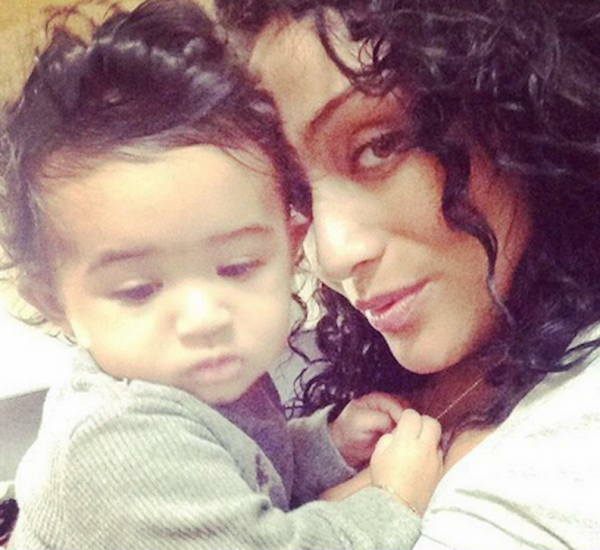 Royalty, who looks a lot like Chris Brown in this pic, posing with her mom Nia
King Ba has been reaping the financial benefits of seeing Amey, whose income has increased due to Brown's generous child support payments. King Ba is eating and living well thanks to the singer. Brown knows King Ba is back in the picture and has offered to move Amey from Texas out to Los Angeles, near his Encino home, to be closer to his daughter and get him out of the picture.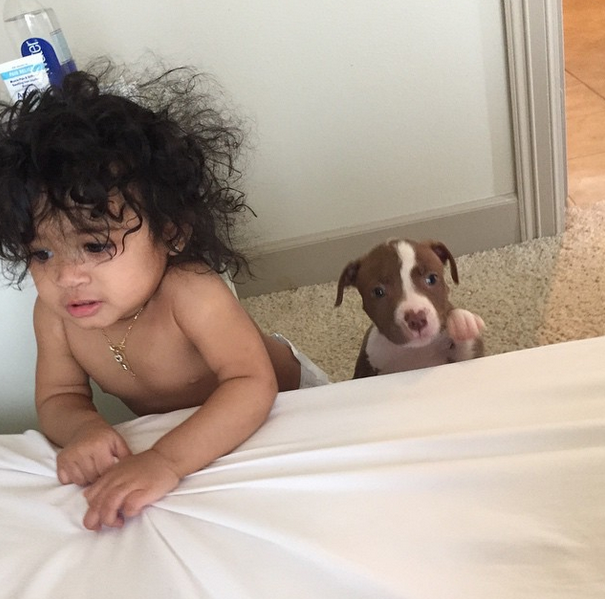 Royalty Brown
Men need to be careful with their sperm. You could end up supporting a child you find out is your own, the child's mother as well as her boyfriend with your child support payments. It has bankrupted many men, who were looking for sex and nothing more. Fatherhood is a serious responsibility. Your money should go to your offspring, not helping to support other men.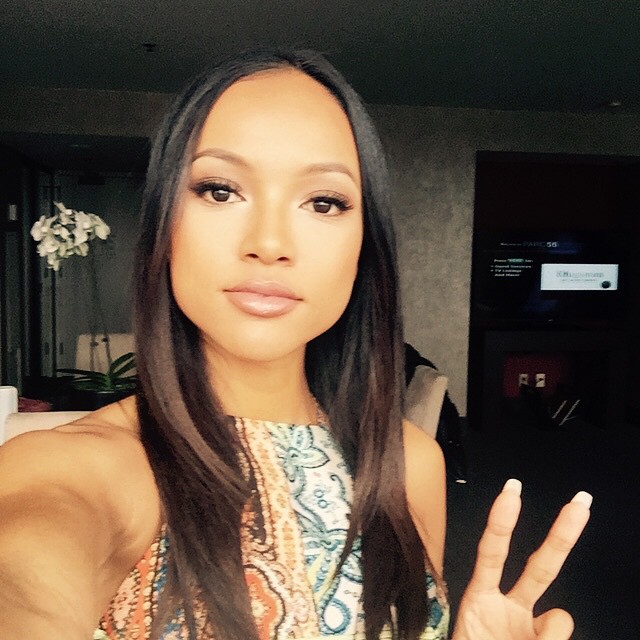 Karrueche Tran
Side Bar: for a few weeks people online were asking me if the baby was really Brown's child and I said yes. Meanwhile, I'm looking at Brown's Twitter account for him to confirm it and he was like = *crickets.* Not a word out of him (LOL he was scared of Karrueche).
RELATED ARTICLES
Chris Brown's Bipolar Medicine Is A Dangerous Mix With His Other Habits
Chris Brown Fresh Off Probation Is Missing Ex-Girlfriend Karrueche Tran
---
Iggy Azalea Gets Plastic Surgery To Boost Profile But Her Career Is In Trouble (Photos)
Public Turning Iggy Azalea Into The New Vanilla Ice
May 19. 2015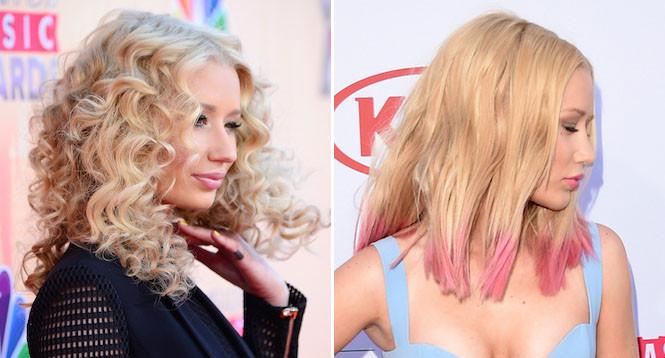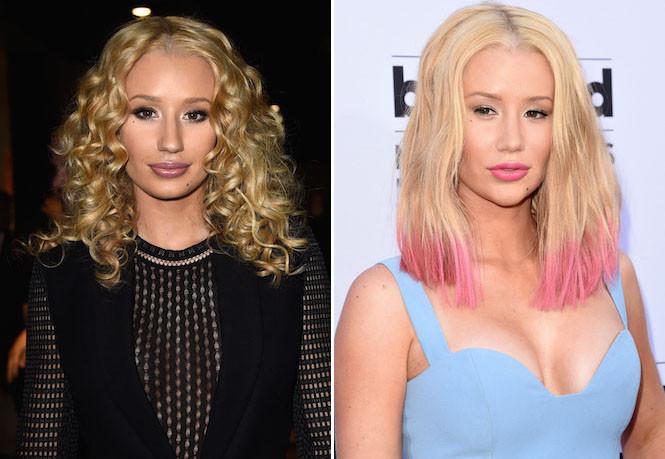 Iggy Azalea on the left (March 2015) and on the right (May 2015)
It's no secret a number of singers, actors and actresses have undergone plastic surgery in a bid to boost their careers. Add rapper Iggy Azalea to that list. Social networking have destroyed Azalea's career with memes that have the world laughing and not in a good way. Famous and non-famous people have been tearing her career and appearance apart. For Iggy, plastic surgery was the next natural step. Iggy previously had work done on her butt, to enlarge it like singer Jennifer Lopez, reality star Kim Kardashian and rival Nicki Minaj.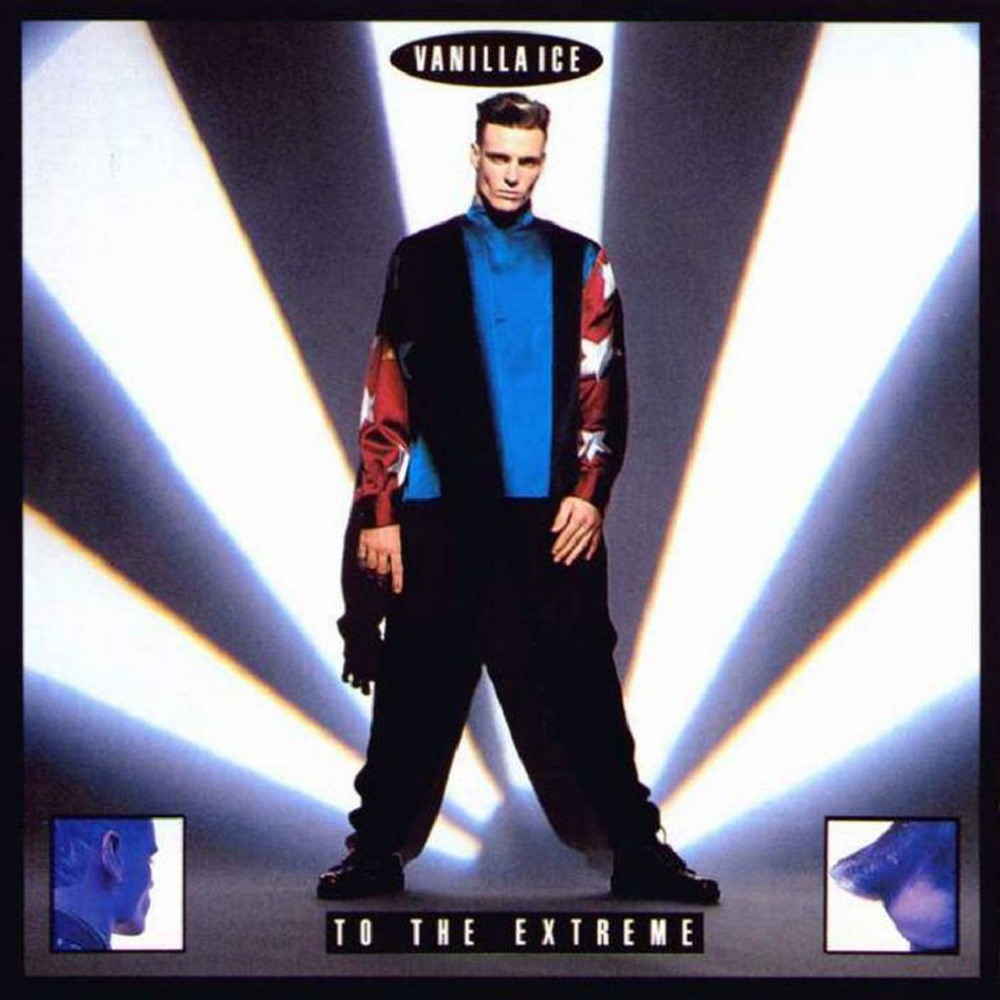 Vanilla Ice's CD"To The Extreme" sold 15 million copies in the 1990s
Now Iggy has undergone plastic surgery via work on her chin, jawline and a nose job. However, career wise, she has greater problems. In the 1990s, Miami rapper, Vanilla Ice became a big music sensation. However, not long after he became superstar, the public began tearing him down as inauthentic and it ended his music career. It reminds me of what is happening to Iggy now. People have voiced the opinion Iggy is destroying rap. It has turned her into a novelty, which is not helpful to a music career.
STORY SOURCE
Just When You Thought Iggy Azalea Couldn't Get Any Sadder ...
5/18/2015 11:00 AM PDT - Time really is a funny thing, huh? It can change so many things in so very many ways: for example, that photo on the right is Iggy Azalea at last night's Billboard Music Awards, and the photo on the left is from the iHeartRadio Music Awards all the way back on March 29th! Yep, Iggy's face changed this much in just under two months. What a wacky world we live in! In an interview last night, Iggy said "I'm having an image overhaul," which seems pretty accurate. Something about her eyes looks a little different, as does her chin and jawline. Also, she added some pink to her hair!...
RELATED ARTICLES
Rapper Iggy Azalea Flees Twitter After People Slam Her Over Cellulite Bikini Pics (Photos)
Are Butt Enhancement Procedures Used By Kim Kardashian, Nicki Minaj, Iggy Azalea And Nikki Mudarris Safe
---
Lil Kim's Ex-Boyfriend Gets 6 Life Sentences For Multiple Murders And Drug Dealing Mimicking The Movie 'New Jack City'
May 19. 2015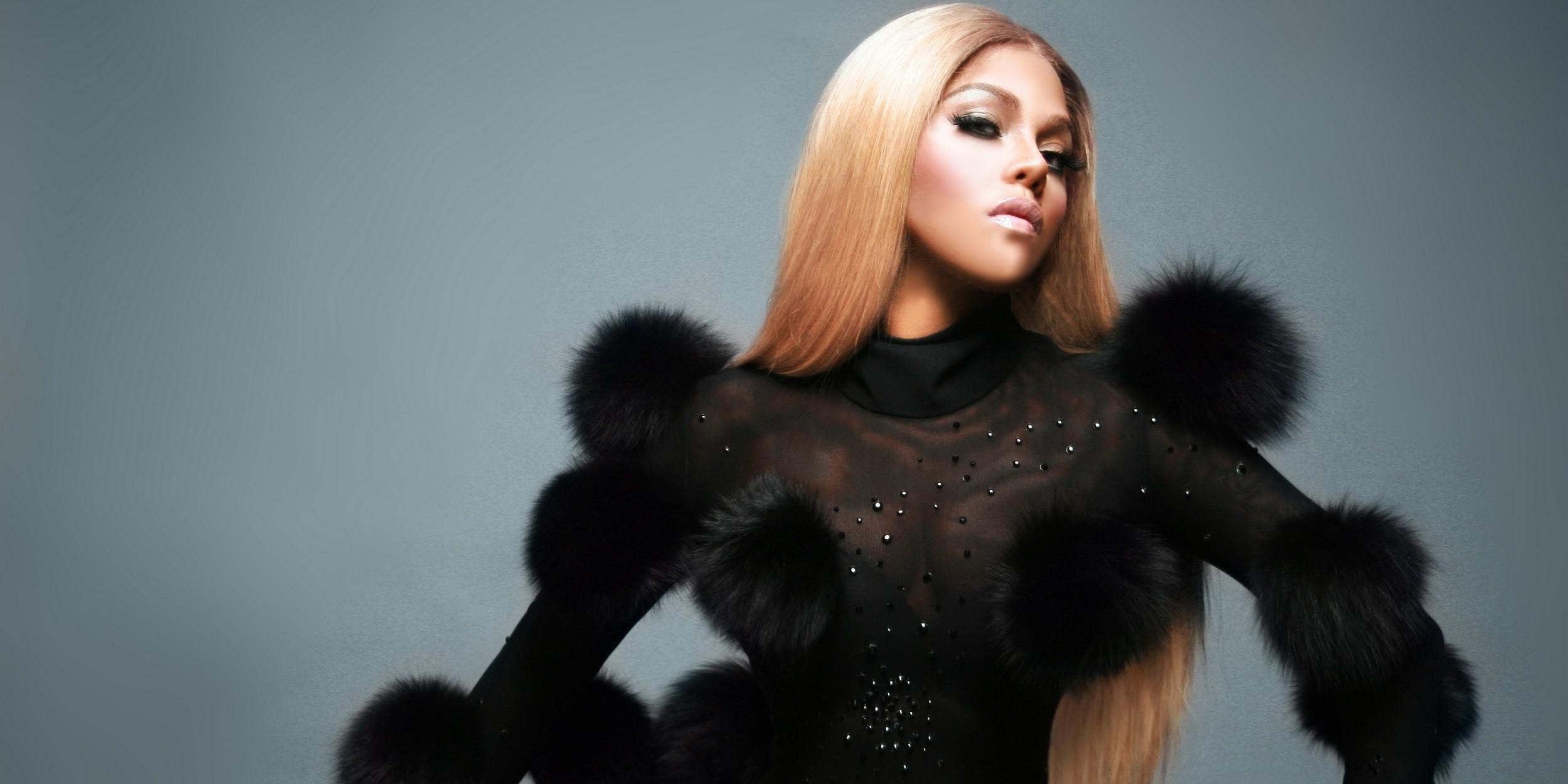 Lil Kim
A bad example of life imitating art has surfaced regarding Damion Hardy, 40, the drug dealer and ex-boyfriend of rapper Lil Kim. Hardy, a fan of the 1991 film classic "New Jack City" tried to become like the lead character Nino Brown, a murderous drug dealer, who took over an entire apartment block in New York, using the moniker "Cash Money Brothers" for his outfit's moniker.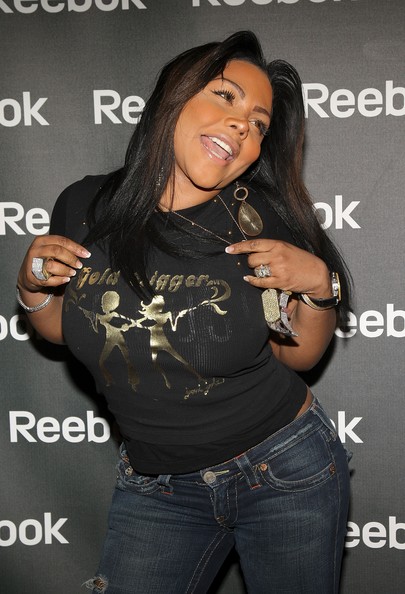 Lil Kim wearing a gold digger t-shirt
Hardy, who used to live with Kim in her New Jersey mansion, has been sentenced to six life sentences for drug offenses and commissioning the murders of dozens of people in New York, via his "Cash Money Brothers" drug and murder outfit. One of Hardy's henchmen, Aaron Granton, was also found guilty. Family members of the deceased slammed Hardy and Granton after the guilty verdicts were read for robbing them of their loved ones.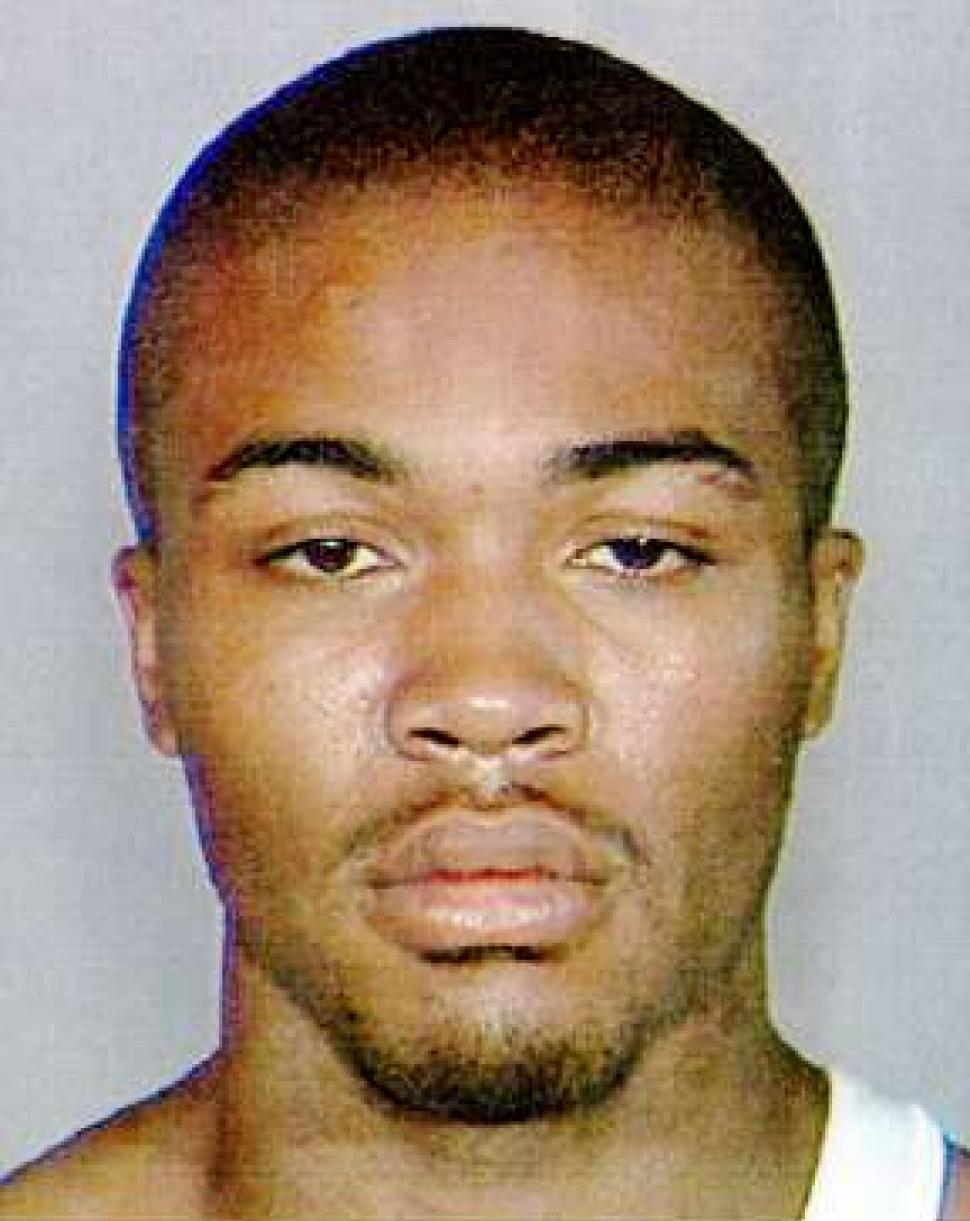 Damion Hardy
While running his drug outfit from the Lafayette Gardens housing projects in Brooklyn, New York, Hardy ordered the murder of the brother of the former bodyguard to champion heavyweight boxer Mike Tyson. Hardy also ordered the murder of a man he believed disrespected him at a roller skating rink. The government successfully prosecuted Hardy and Granton on six murders, but there are believed to be many more.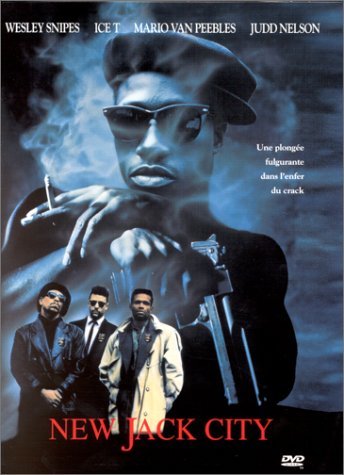 "New Jack City" film
The U.S. government stated, "CMB maintained control of Lafayette Gardens through acts of violence that included near-daily gun battles with rival organizations and numerous murders. For example, in 1998, Hardy ordered a junior gang member to shoot and kill Michael Colon because Hardy believed Colon disrespected and humiliated him at a roller skating rink. In 1999, while Hardy was incarcerated, his brother Myron was shot and killed in Lafayette Gardens. Hardy and other CMB members believed that a rival drug dealer named Ivery "Peanut" Davis and other members of Davis's drug organization were responsible for the murder. While Hardy lay wounded in the hospital, Damion Hardy, from his prison cell, directed his gang members to exact revenge and ordered CMB members to murder Darryl Baum, James Hamilton, Tyrone Baum, and Ivery Davis—each was murdered by Granton. Davis's killing also resulted in the death of an innocent bystander, Johan Camitz."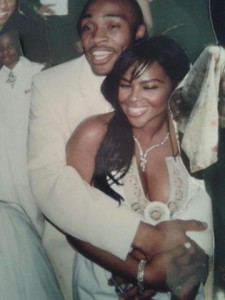 Damion Hardy and Lil Kim
Often rappers brag about drug dealing and organized crime in their music, videos and on social networking, but it is a dead end that has proven very harmful and destructive to many. If you are dealing drugs, the Judiciary Report implores you to leave that lifestyle and find an honest living, as you will end up in terrible situations - either behind bars or dead - if you don't stop.
RELATED ARTICLE
Lil Kim Disses Fellow Female Rapper Nicki Minaj Calling Her A Copycat (Photos)
---
Athlete Who Spread HIV To Unknowing Sexual Partners Sentenced To 60-Years In Prison
May 19. 2015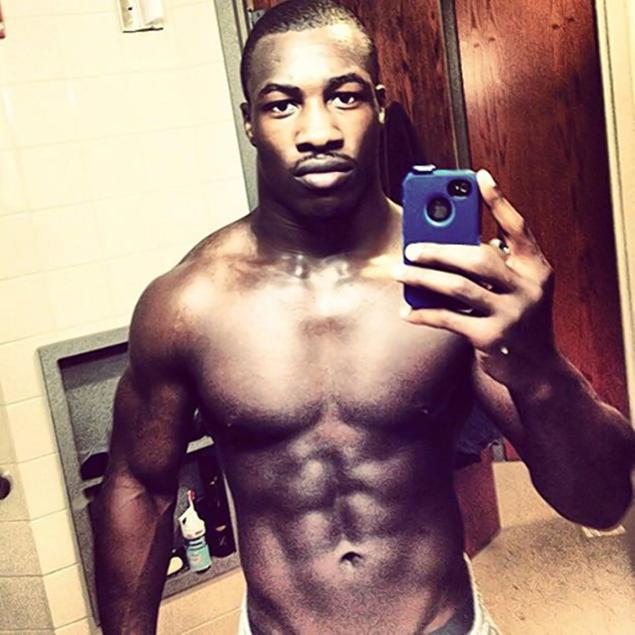 Michael L. Johnson went by the name "Tiger Mandingo" and was having sex with men in his university dorm room
23-year-old athlete, Michael L. Johnson, was indicted and convicted of infecting a sexual partner with HIV, the virus that causes AIDS. Johnson, who has been incarcerated in St. Louis, Missouri since his arrest in 2013, was formally accused of exposing several men to HIV, deliberately withholding the fact he has the virus. The prosecution subpoenaed the university wrestler's medical records and spoke with staff at two clinics, which revealed Johnson was aware of his HIV positive status. However, he refused to refrain from sexual activity with men he lied to stating he is HIV negative.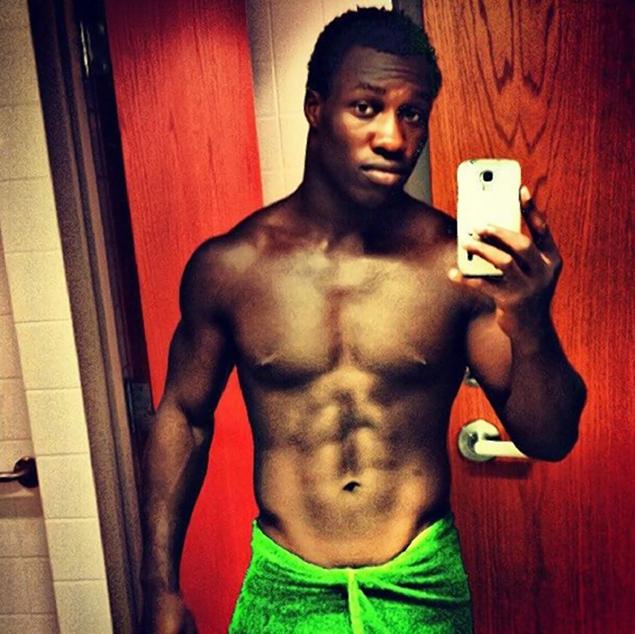 Michael L. Johnson
Prosecutor Phil Groenweghe referred to Johnson's conduct as deliberate and malicious, "What we have here is a perfect storm of malice" and "He didn't just fail to disclose his status. When he was specifically asked if he was clean... he lied." Under domestic and international law in many nations, people who knowingly infect others with HIV are subject to indictment and imprisonment. They are also subject to financially devastating lawsuits from those they infected, which could lead to bankruptcy. While my sympathy goes out to anyone who is sick, please act responsibly and allow others the health you are currently being denied. Have hope that science will produce a breakthrough.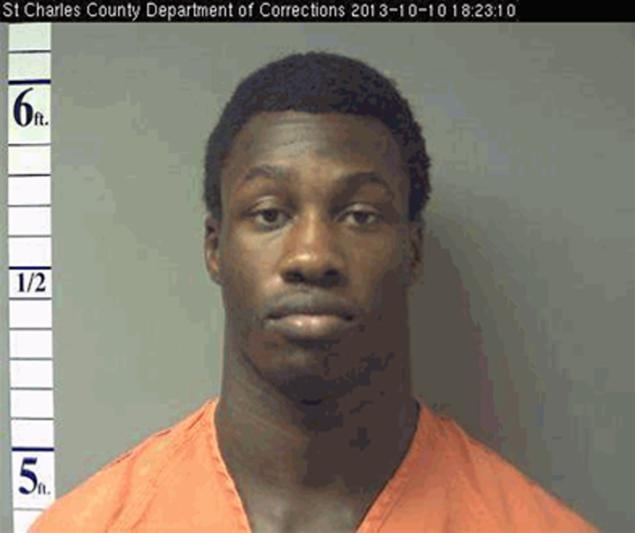 STORY SOURCE
Ex-Missouri student found guilty of exposing partner to HIV
Updated 4:36 am, Friday, May 15, 2015 - ST. CHARLES, Mo. (AP) — Jurors in Missouri have found a 23-year-old man guilty of infecting another man with HIV and endangering four others with the disease while attending college in suburban St. Louis. Former Lindenwood University student Michael L. Johnson was convicted Thursday on one count of recklessly infecting another with HIV and four counts of recklessly risking infection of another with HIV, the St. Louis Post-Dispatch reported (http://bit.ly/1RMlPhe ). He was found not guilty on a sixth charge of exposing another man to the virus that causes AIDS.
Johnson, a college wrestler, was expelled from the university in St. Charles and has been jailed since his arrest in 2013. During closing arguments, Assistant Prosecutor Phil Groenweghe told the jury that Johnson knew he was HIV positive but lied to his sexual partners. "What we have here is a perfect storm of malice," said Groenweghe...
RELATED ARTICLES
Reality Star Contracts HIV From Stripper In Las Vegas
Herpes And HIV: Life Altering STDs Are On The Rise
No Angels Pop Singer Convicted Of Spreading HIV
HIV Positive German Pop Star Freed From Jail
---
Pitbull's Song 'Fun' Featuring Chris Brown Rips Off 'Conga' By Gloria Estefan And The Miami Sound Machine Who Were Not Given Credit Or Payment (Videos)
May 18. 2015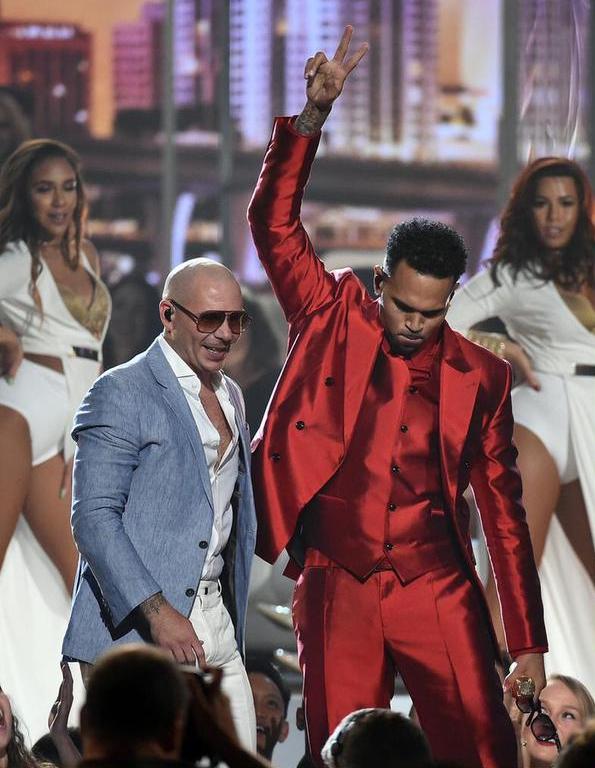 Pitbull and Chris Brown performing "Fun"
Yesterday at the Billboard Music Awards, Miami rapper, Pitbull, performed his song "Fun" featuring singer Chris Brown. Pitbull has released a song "Fun" produced by Miami producers The Monsters And The Strangerz that sounds an awful lot like the big 1985 hit "Conga" by fellow Miamians and Cuban-Americans, Gloria Estefan and the Miami Sound Machine.
A search online regarding the song reveals no songwriter's credit or sampling credit for "Fun" has been given to Enrique E. Garcia who wrote Gloria Estefan and the Miami Sound Machine's "Conga." Both "Conga" and the later released "Fun" have very similar beats and melodies. The songs also share a few mutual lyrics especially the hook:
Pitbull (2015): "Loosen up your body baby come undone"
Gloria Estefan and the Miami Sound Machine (1985): "come and shake your body baby"
2015's "Fun" by Pitbull
1985's "Conga"
Album credits for Pitbull's "Globalization" which contains the song "Fun" do not give any credit to the songwriters of Gloria Estefan's preexisting song "Conga"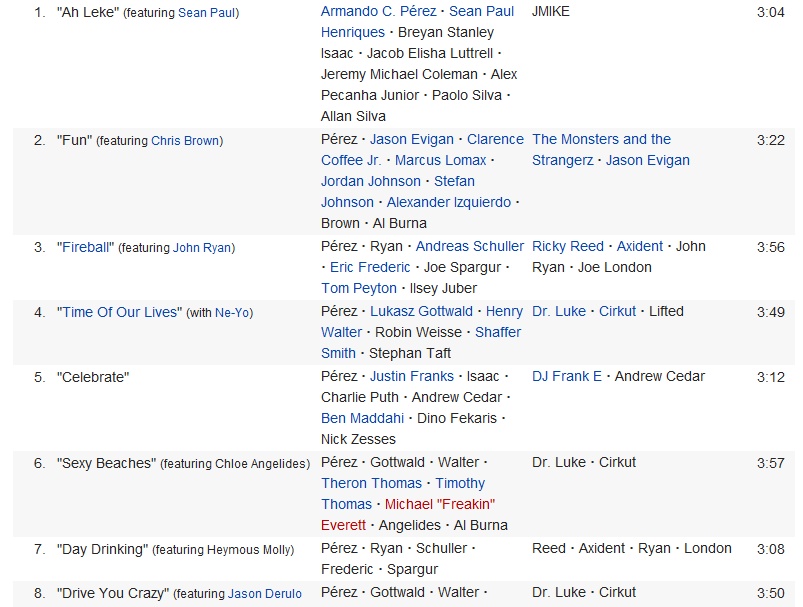 RELATED READING
Pitbull and Chris Brown Bring 'Fun' to 2015 Billboard Music Awards [VIDEO]
May 18, 2015 12:58 AM - Pitbull brought Miami to Las Vegas at the Billboard Music Awards while Chris Brown delivered the moves during their performance of "Fun" on Sunday night (May 17). Channeling Michael Jackson as he often does, Breezy, dressed in a crimson-colored shiny suit, christened the stage before Pit descended from the "rooftop." The set was built to resemble the type of scenery one might see on South Beach.
Spitting in both English and Spanish, the Globalization creator got the crowd jumping in their seats and maintained the high energy throughout the performance. The two even hit a couple of merengue steps together. "Loosen up your body baby, come undone," Brown sang pleadingly, while fans in the audience happily obliged.
Before CB joined forces with Pitbull for "Fun," he graced the red carpet with a surprising date. The singer brought along his 10-month-old daughter Royalty to experience her first awards show. Looks like Breezy decided to create his own Bring Your Daughter to Work Day.
---
Mariah Carey's Disastrous Billboard Music Awards Appearance Slammed On Social Networking (Videos)
May 18. 2015
Mariah Carey tries to hit the whistle register she is famous for and misses:
Mariah Carey's Billboard Music Awards performance descended into disaster. Social networking slammed Carey left right and center over her subpar vocals. The social networking comments were overwhelmingly unfavorable, due to the state of Carey's vocals. Carey forgets we live in an age where software enables people to strip background music and backup singers to hear what an artist sounds like live. Someone removed all the background music and signers from Carey's performance and the singer's vocals were bad. Jennifer Lopez and Kylie Jenner looked at Carey with awkward expressions over the poorly received performance.
Mariah Carey's full 2015 Billboard Music Awards performance:
This comes on the heels of Carey canceling a performance of her Las Vegas residency last week citing bronchitis. Carey did not sound like someone with bronchitis, but a singer whose voice has deteriorated. The Judiciary Report stated in January 2015 that Carey needed to take a break, spend some time with her kids and work on getting her life together. It was abundantly clear to the site she was not ready for any music endeavors, but she went ahead and signed up for a vocally strenuous Las Vegas residency and live performances, such as the Billboard Music Awards and it has turned into one disaster after another.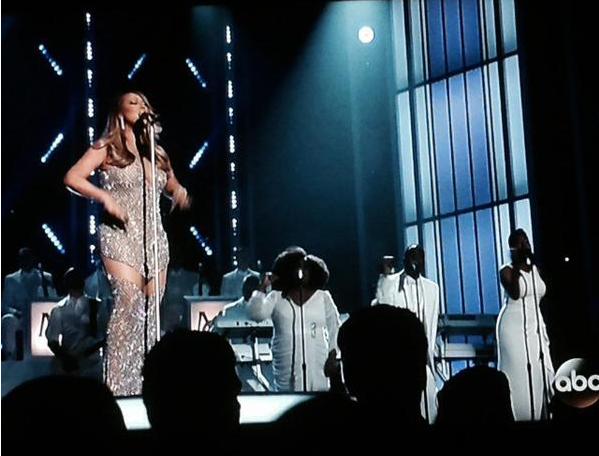 Mariah Carey performing at the Billboard Music Awards
It does not make sense for singers, especially those in Carey's genre, to go out there when they are not at their best. Seriously, why go out there when you are not at your best. While Carey sounds better than Britney Spears and Rihanna, who can't sing, she still sounds way less than her best and that was automatically going to invite criticism and damage her legacy.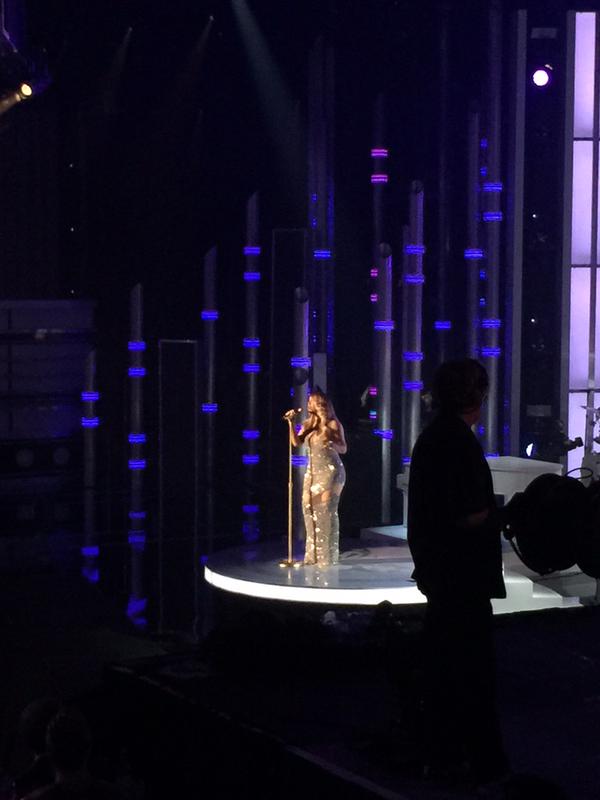 Mariah Carey performing at the Billboard Music Awards
However, listening to advice has always been Carey's problem. During her years at Sony, especially when she just started her career, she would fight against the executives decisions, who had experience. She was routinely offbase with what she was fighting for. An example of this would be she wanted the impressive songs "Love Takes Time" and "Someday" left off her debut album, but kept talking up "All In Your Mind" which is average. They repeatedly warned Carey about her choice in clothes and behavior, but she started to fight against them when she had more clout and her sales began to plummet due to the changes. An artist who won't listen to constructive criticism and advice is their own worst enemy.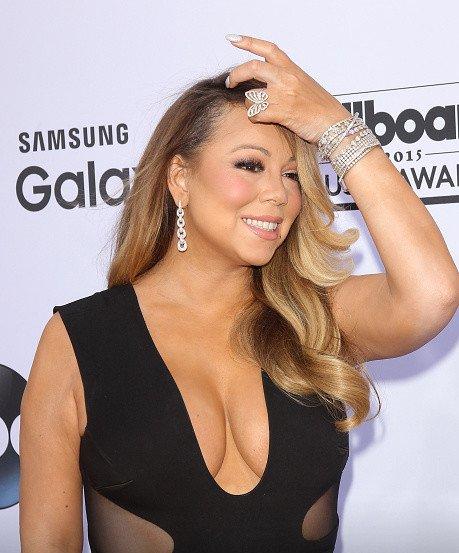 Mariah Carey on the red carpet and the Billboard Music Awards
We see that again this year, as Carey, who reads this website and has for years, rushed forward with the residency that is experiencing low ticket sales and had a cancellation by her, after the first week. She is onstage out of breath and being wheeled around on prop after prop because the show is too taxing for her. It has nothing to do with age, because Patti Labelle and Tina Turner put on energetic shows with great vocals and they are in their 70s.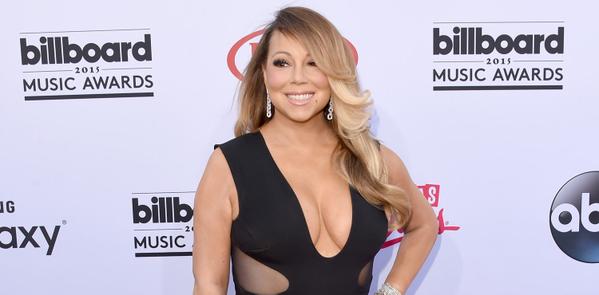 Mariah Carey on the red carpet and the Billboard Music Awards
Carey doesn't need the money for the shows, as her divorce proceedings regarding husband Nick Cannon revealed she has $150,000,000 in cash and assets. Conversely, with the money and other resources at her disposal, she has the ability to get help for her voice, appearance and health, but refuses to do so. Carey is not too old to be a relevant and successful star with big hits. She is engaging in conduct that is working against her. She has no one but herself to blame for what is happening to her career. However, apart of the problem is Carey is addicted to fame. So she's going to go out there at all costs, even if it means embarrassment and damaging her legacy.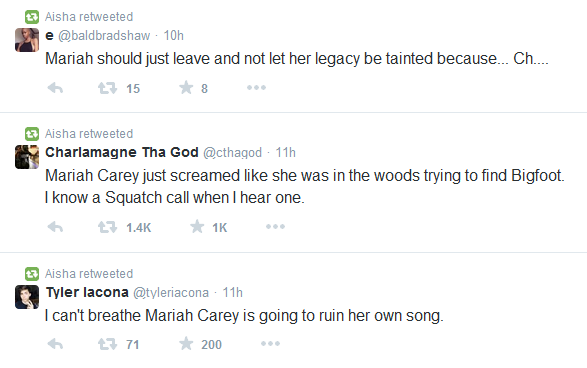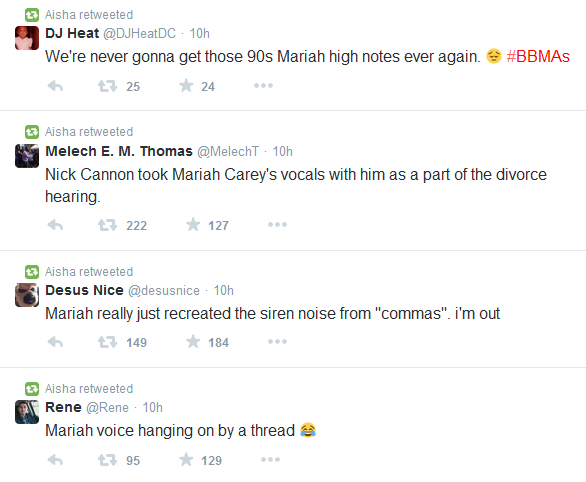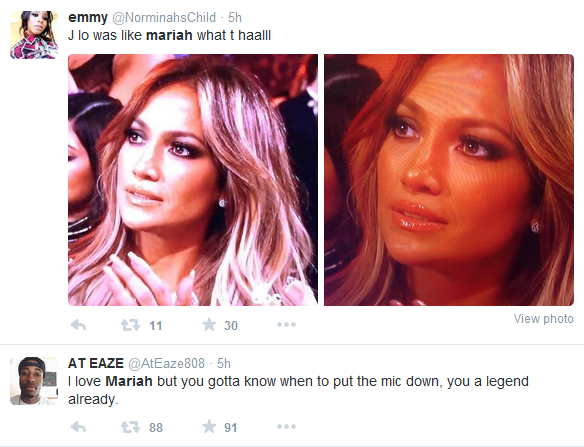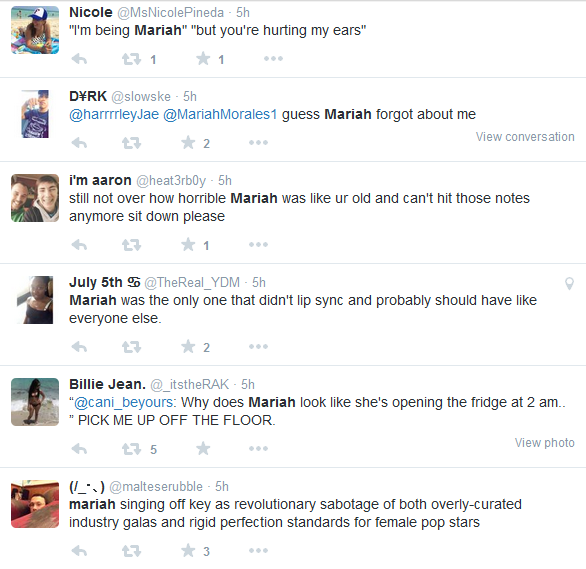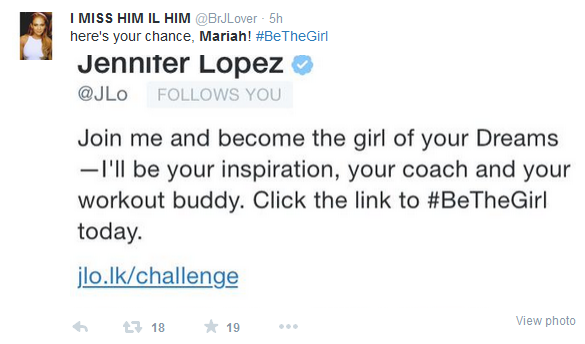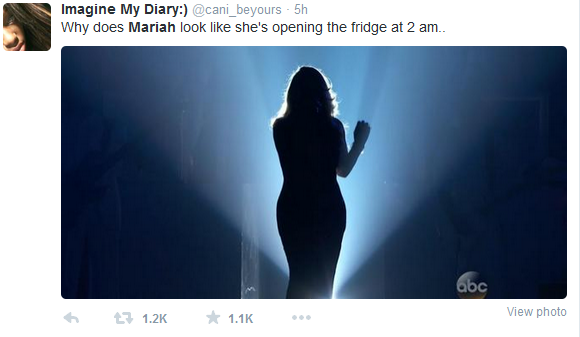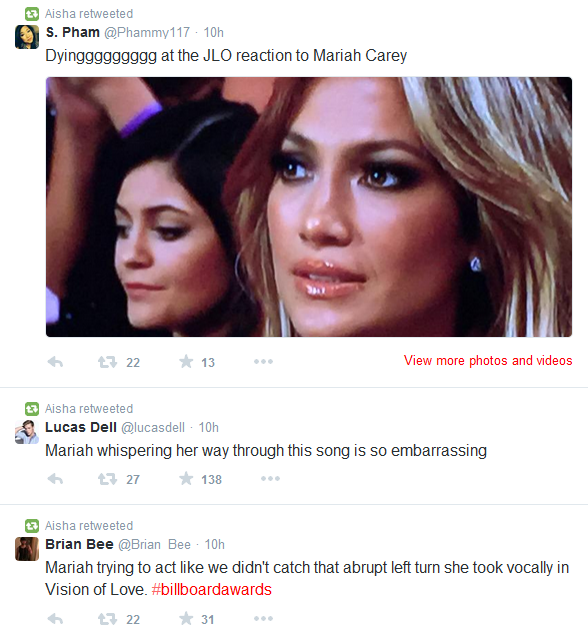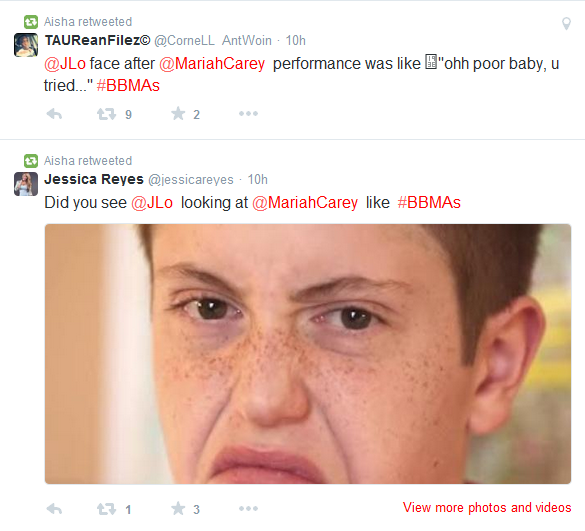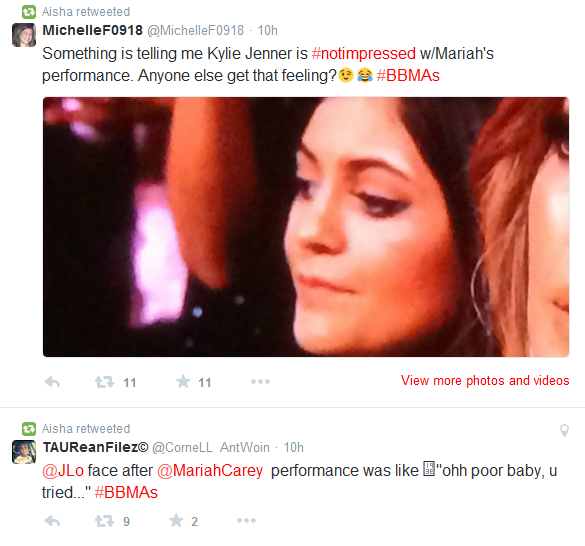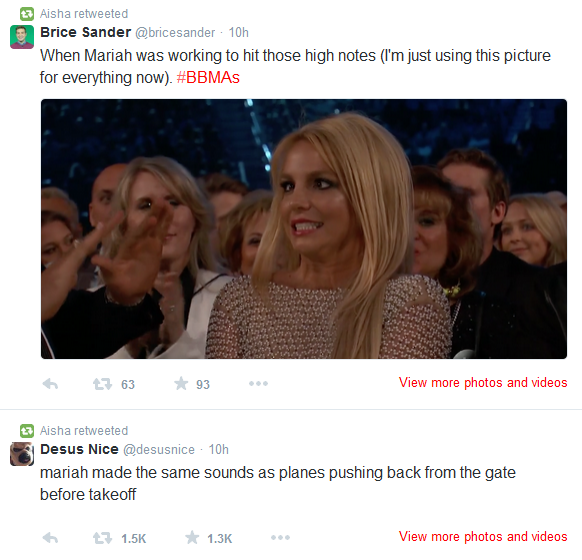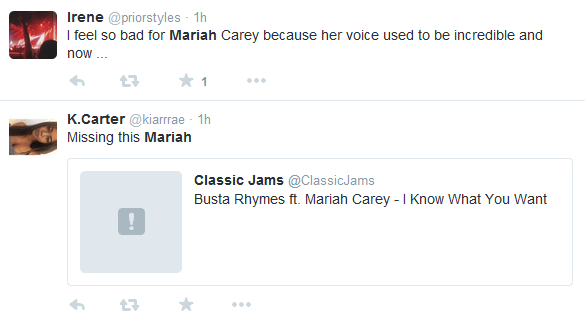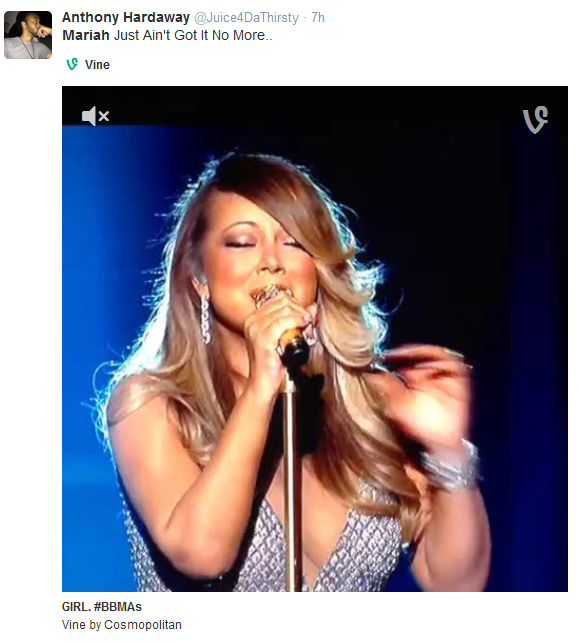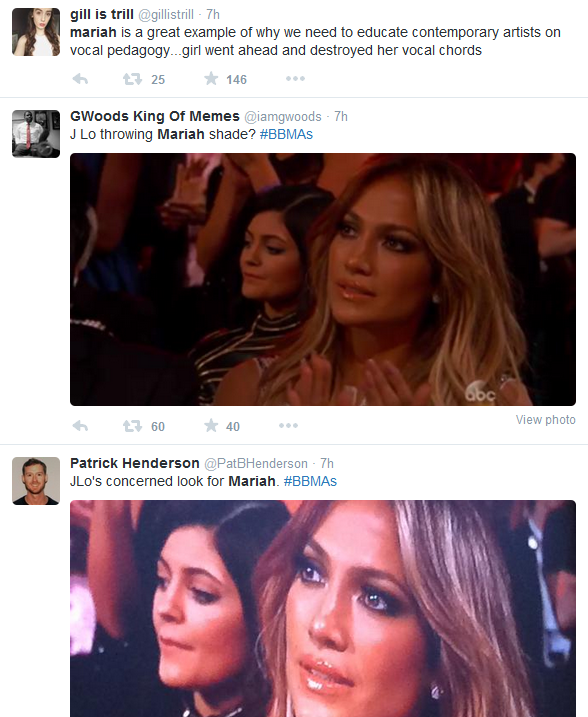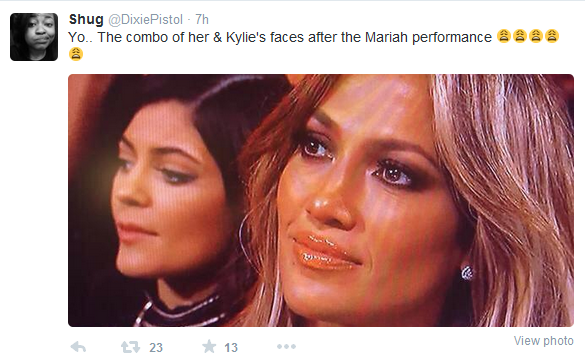 RELATED ARTICLES
Music Legend Aretha Franklin Gives Candid And Unintentionally Humorous Opinion Of Contemporary Singers Taylor Swift And Nicki Minaj (Video)
Mariah Carey's Disastrous Tree Lighting Performance In New York Leaves Critics And Fans Slamming Her (Video)
Mariah Carey Cancels A Show Of Her Vegas Residency After One Week With Vocal Trouble (Videos)
Mariah Carey Planning Las Vegas Residency But Will Her Voice Hold Up
Mariah Carey Asked If She Will Lip Sync Live Residency In Las Vegas
Mariah Carey Dropped By Husband, Record Label And Famed Publicist
Mariah Carey Slammed For Lip Syncing During Live Concert (Video)
Heartbroken Over Nick Cannon Mariah Carey Has Let Herself Go
---
Kylie Jenner And Kendall Jenner Booed By Billboard Music Awards Audience (Video)
May 18. 2015
Mariah Carey wasn't the only one who had a bad night at the Billboard Music Awards. Reality stars Kylie Jenner and Kendall Jenner were booed by the audience as they took to the stage to introduce their irritating brother-in-law Kanye West. Many have commented online regarding the audible booing of the Jenner sisters, who star in the reality show "Keeping Up With The Kardashians." The whole Kardashian and Jenner family are overexposed.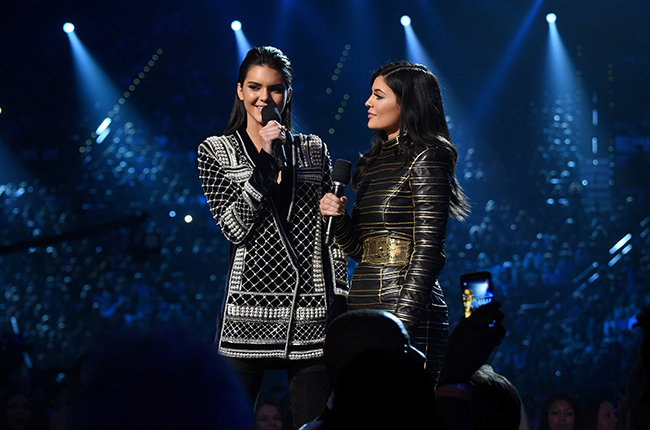 Kendall Jenner and Kylie Jenner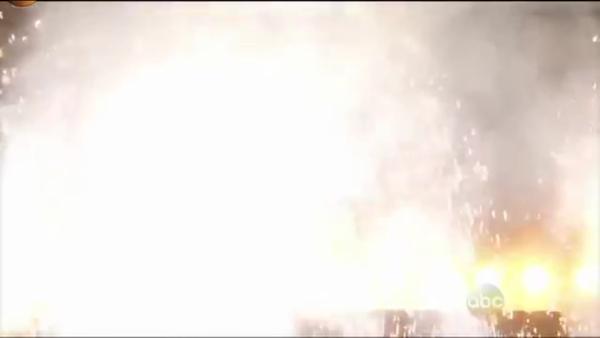 Kanye West (yea, he's in there somewhere)
Most of Kanye's performance was beeped out by the ABC network, as the rapper's song contained many expletives and the n-word. Audiences stated they could not hear most of the performance or see Kanye well due to the excessive pyrotechnics in the background overshadowing him.
STORY SOURCE
Kendall and Kylie Jenner Get Booed at the 2015 Billboard Music Awards
May 17, 2015 11:21 PM EDT - Kendall and Kylie Jenner were on hand at Sunday's Billboard Music Awards to introduce a performance by their brother-in-law Kanye West -- but some members of the MGM Grand audience were apparently less than pleased about their presence at the show. The sisters, most famous for their roles on Keeping Up With The Kardashians, were booed when they took the stage...
---